Looking for a unique breakfast treat that's easy to make and ready in just 15 minutes? This Vegetarian Naan Breakfast Pizza's deliciousness is only matched by its ease to make!
A delicious crispy on the outside, soft in the inside crust smothered with cheese, and flavorful sauce and toppings can only be made better by topping it with an over-easy egg. And when it's as simple as piling on ingredients and sticking it in the oven, you'll be tempted to make this again and again.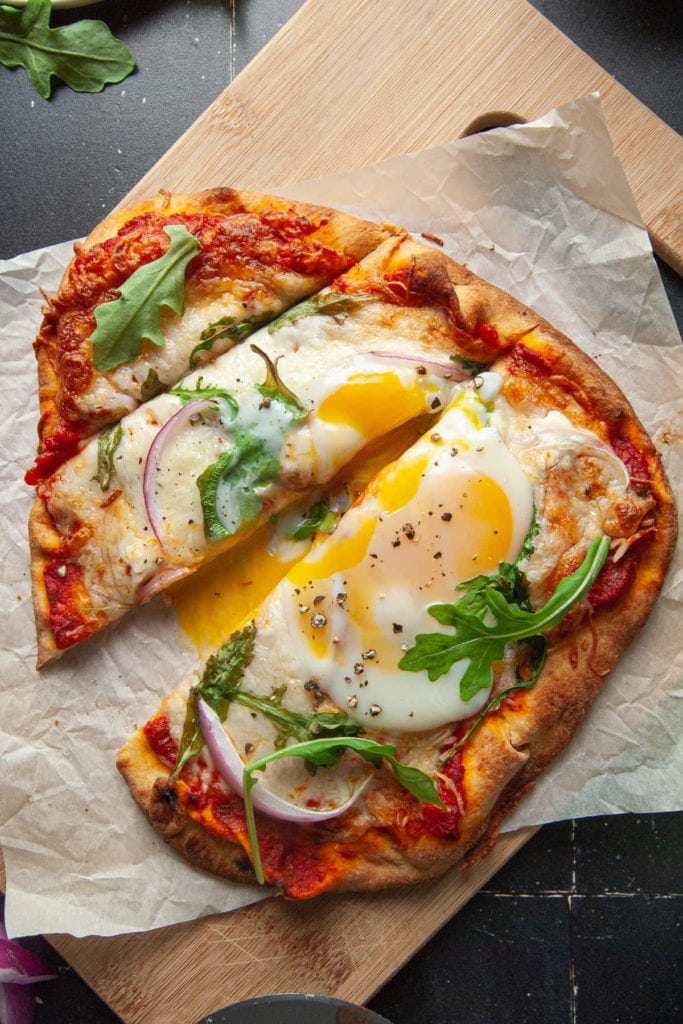 As an environmental scientist, I'm always looking for what I call clean-out-the-fridge recipes to avoid food waste. And this breakfast pizza is one of them!
Extra veg? Throw it on! Need to get rid of those olives before they go bad? Chuck 'em on. It's versatile and can handle whatever you throw at it!
Naan Breakfast Pizza Tips and Tricks
---
---
Gather Your Ingredients
I kept this recipe super simple. I added red onion and arugula to mine pictured here, but you can easily omit those add-ons or sub them for something else to make it your own!
Here's everything you need:
Choosing Your Sauce
We want a low-moisture red sauce to avoid a soggy crust. You can buy pizza sauce or make your own.
If you are using a marinara or other jarred tomato sauce, just make sure it's not too liquidy. You can always cook it off by simmering it on the stove first to release some of the excess liquid.
Spread it evenly across your naan and then you'll be ready for your cheese and toppings!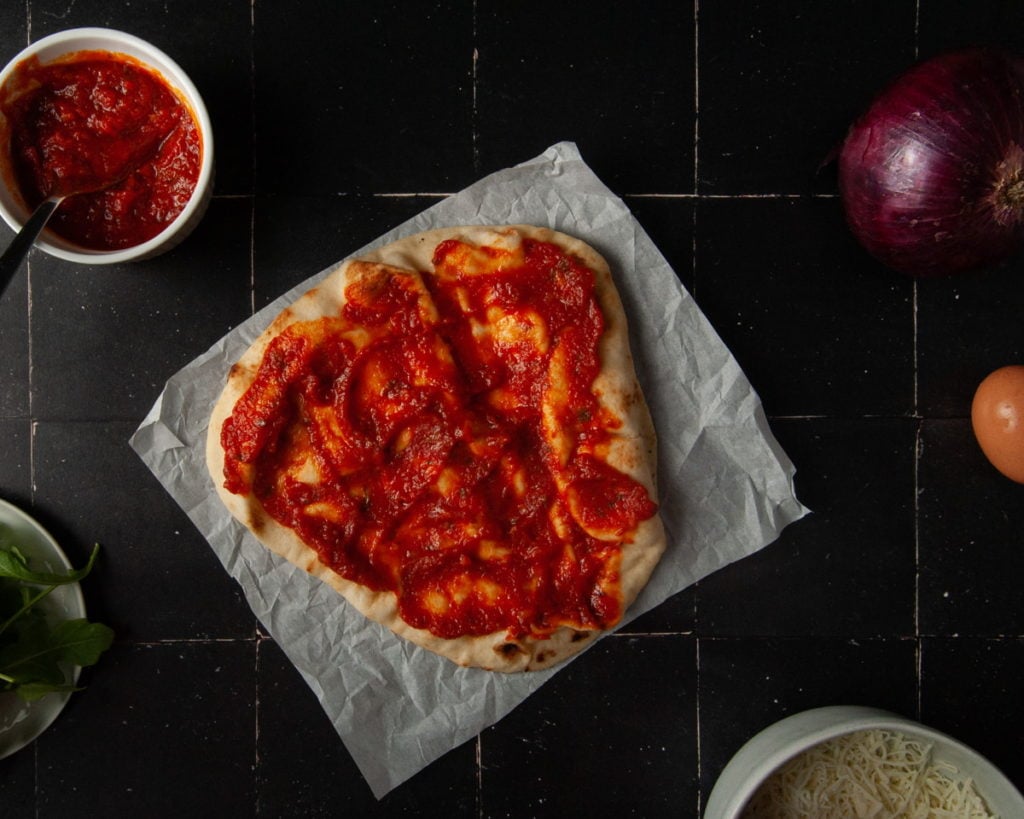 Pile It On
An even layer of cheese, followed by your topping choices.
I like to use a shredded Italian Cheese blend for this Naan Breakfast Pizza. It melts quickly, easily, and evenly, and adds some saltiness.
You can also have success with really any shredded cheese or a grated or thinly sliced fresh mozzarella. I wasn't lying when I said this is a clean-out-the-fridge breakfast.
Make it Your Own
This breakfast pizza can handle whatever you want to throw at it. I've had it with mushrooms, olives, spinach, garlic, and even eggplant.
Think seasonal and get creative!
Green tip: Eating seasonally is one of the best (and most delicious) ways to support local and decrease your carbon footprint. Local foods have less associated transportation costs and fuel emissions. Check which veggies are in season in your area with this Seasonal Food Guide.
A Note On The Egg
It's always best to crack your egg into a little bowl or cup first just to make sure you don't get any shell on the pizza. I will usually crack it into a little ramekin and then carefully transfer it on top of the pizza.
The cook time on this recipe is intended to leave you with an over-easy egg. So a solid white, with a runny yolk.
If you want your egg to be more well done, no problem! Just give your pizza up to 7 more minutes. After that, you risk burning the naan or making it too chewy and hard to eat.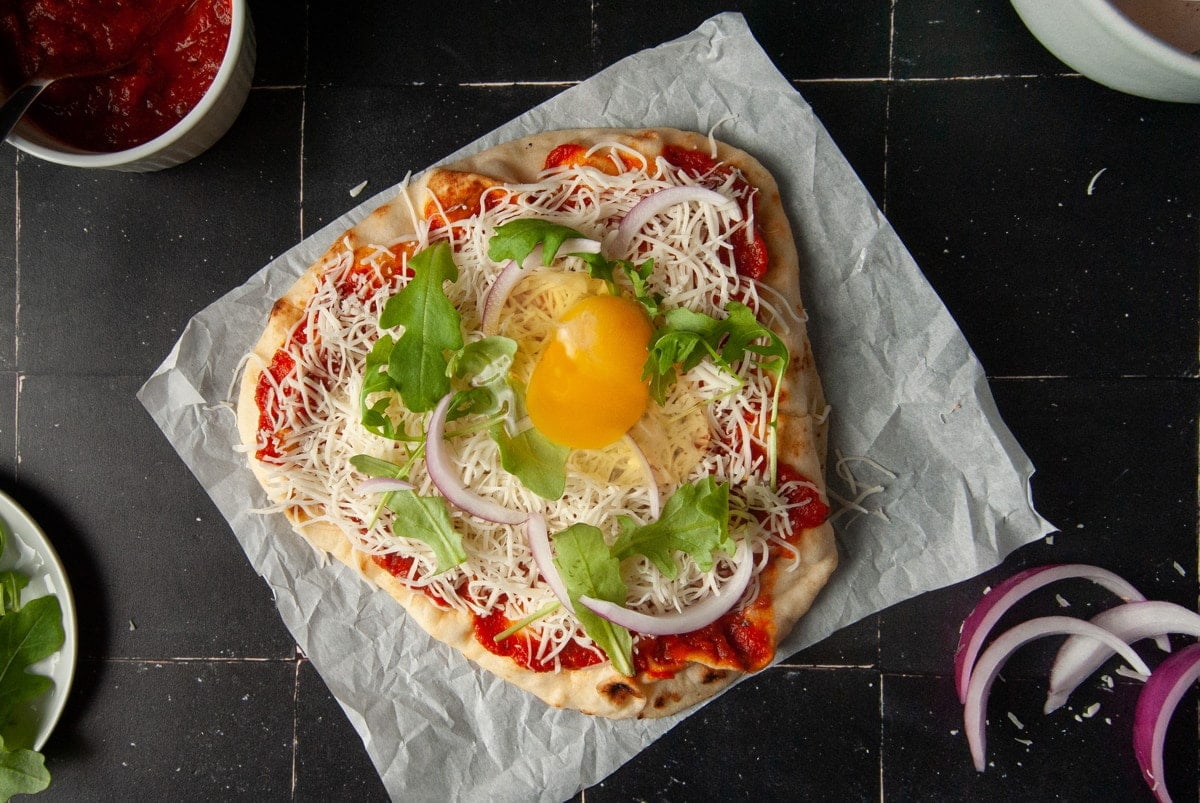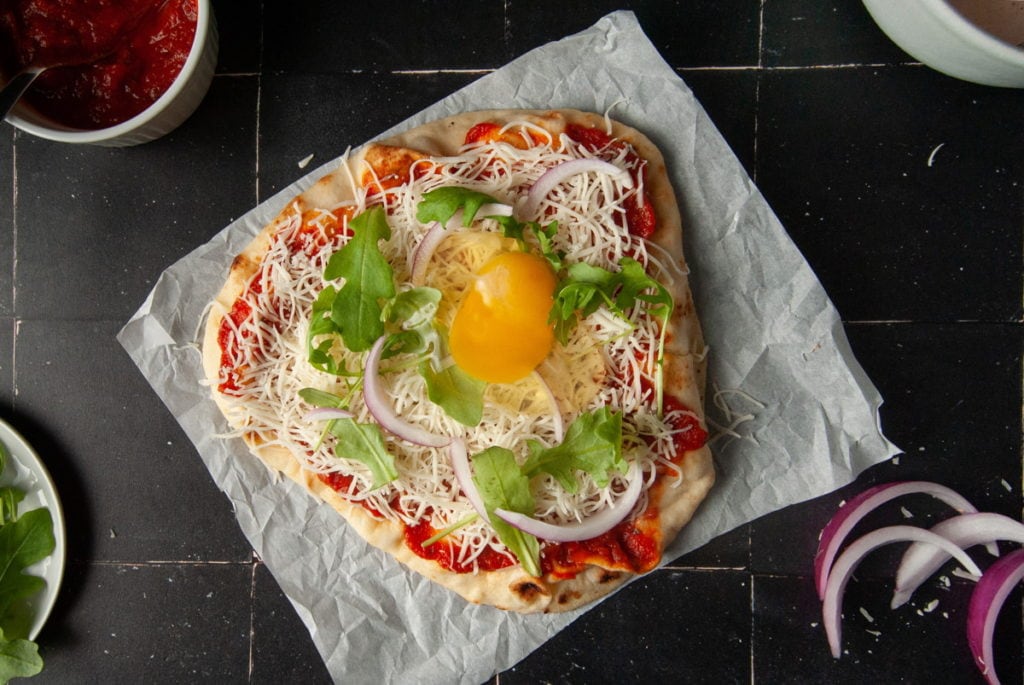 Doubling, Tripling, Quadrupling The Recipe!
This is such a fun family breakfast. Mix and match different toppings or each grab a piece of naan and make your own. They can all cook at the same time in the oven, but there are two things to keep in mind:
First, make sure you are not overcrowding your baking sheet. You want your naan to lay flat so that everything cooks evenly and the egg doesn't slide right off onto the sheet pan.
Secondly, heat rises in the oven. So, if you have two pizzas on the top rack and two on the bottom rack, the ones on the bottom may need an extra minute or two.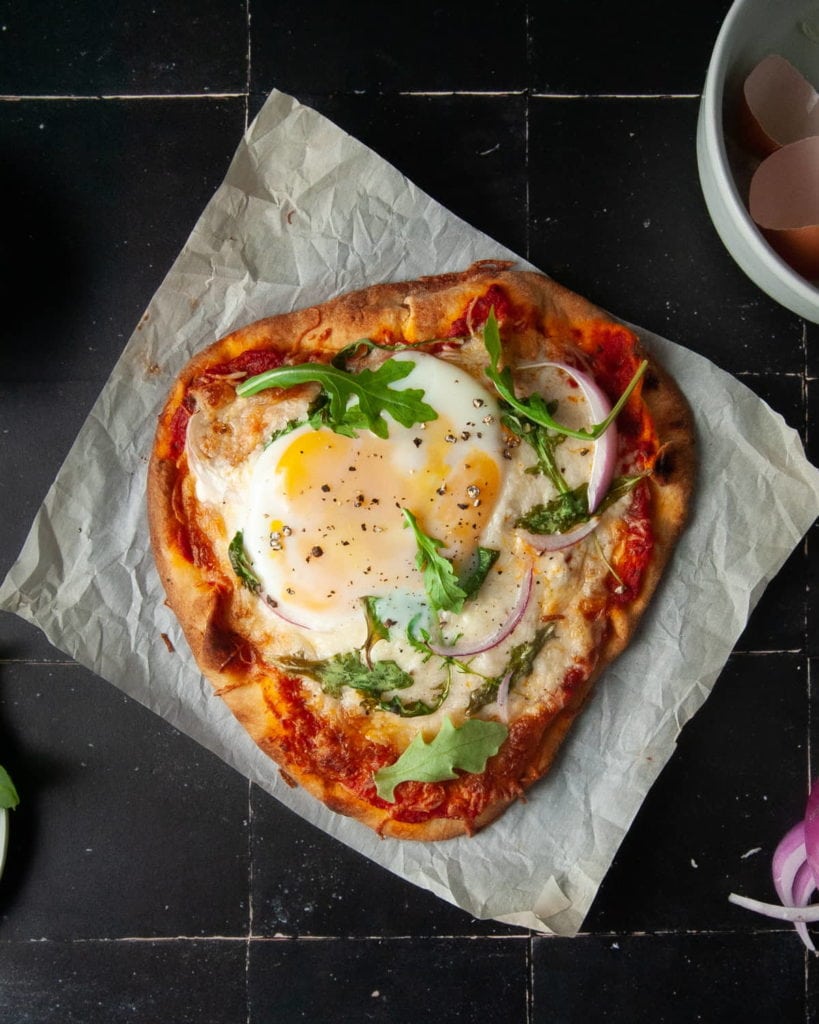 Why You Should Make This Naan Breakfast Pizza
---
---
It's so easy! Pile everything on the naan and throw it in the oven. Done and done.
It's versatile. Mix it up with the toppings to tailor it to your taste.
It's crazy quick. just 10 minutes in the oven and you're good to go.
If you're loving this Naan Breakfast Pizza and are looking for other easy breakfast ideas, check out this Savory French Toast Casserole and these Mini Veggie Quiches!