Anyone else peel their eyes open in the morning and immediately think "hmm, what's for breakfast?". If so, this Heavenly Smoked Salmon Eggs Benedict should be at the top of your wish list.
For me, It's usually an elaborate inner monologue struggling to decide between savory or sweet, healthy or indulgent, quick or elaborate. And when I do decide to go all out—I choose this dish every time.
It's one of those treat-yourself breakfasts (hence the claim "heavenly") perfect for birthdays, Christmas morning, or Sunday brunch with friends.
Because this combo of zesty Hollandaise poured over a perfectly poached egg and stacked atop creamy avocado, smoked salmon, and a warm toasted English Muffin is a special occasion-worthy treat.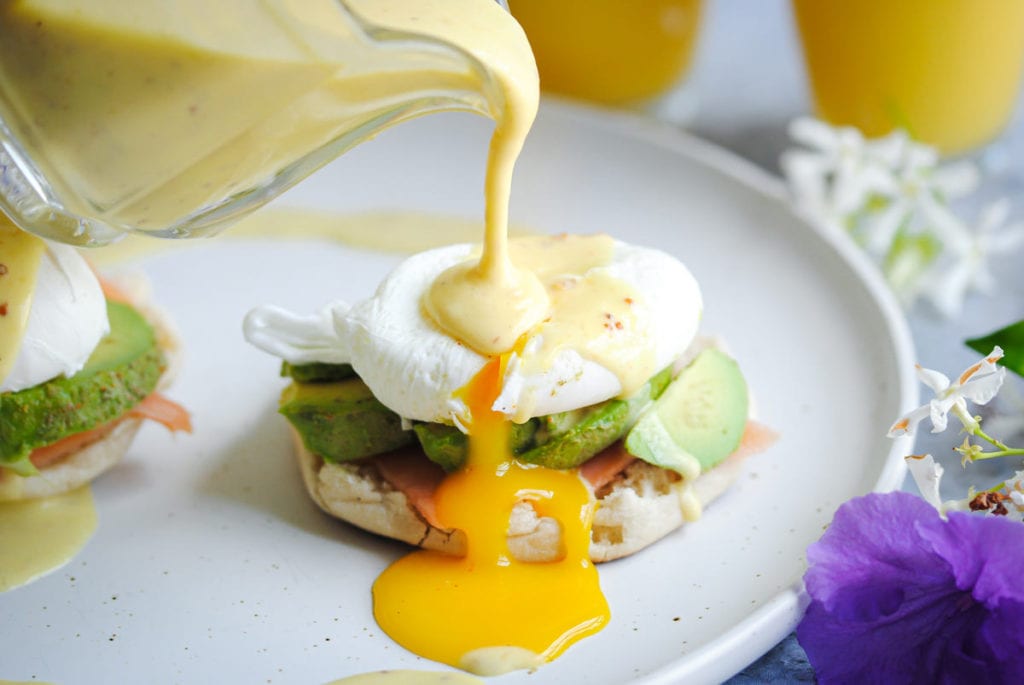 Okay, I think we are all officially hungry now. Let's get to it.
Smoked Salmon Eggs Benedict Ingredients
---
---
Here's what you'll need:
Unsalted butter. Melted, to form your hollandaise sauce.
Eggs. Yolks for the Hollandaise, and of course whole eggs to poach.
Grainy mustard. To add flavor to the Hollandaise.
Lemon juice. To add citrus and freshness to your sauce.
Cayenne pepper. For a little bit of heat.
White vinegar. To get the perfect poached egg.
English muffins. To serve up your benedict on.
Avocado. For creaminess.
Smoked Salmon. The hero of this dish!
Salt & pepper. To amp up the flavor.
Paprika. For garnish on top.
Smoked Salmon Eggs Benedict Tips and Tricks
---
---
You can't have heavenly Smoked Salmon Eggs Benedict without a perfectly poached egg.
Get that perfect poached egg with these 5 tips:
1. Always crack your egg into a separate dish first
The ONE time you don't will be the ONE time you break your yolk or get a dreaded bloody egg. It's also easier to get closer to the boiling water, so your egg doesn't have to jump off the high dive to get poached.
2. Use a large pot
I know it seems silly to use such a large pot for such a small egg, but you want to be able to comfortably fit at least 12 & 1/2 cups of liquid into the pot without it boiling over.
This allows you to take a wooden spoon and stir vigorously to form a little whirlpool in the center of your liquid. That way, when you drop the egg right in the center, it will remain in the middle of the pot, keeping it intact and cooking it evenly.
3. Use a mixture of water and vinegar
This recipe calls for 12 cups of water and 1/2 cup of white distilled vinegar. Why vinegar? The vinegar actually helps the egg white cook faster so that it doesn't separate from the yolk and scatter all around the pot.
4. Allow your eggs to dry before adding them to your Benedict
The biggest mistake you can make is transferring your egg straight from the boiling water directly onto your Eggs Benedict. Your English Muffin will get soggy and the Hollandaise Sauce will slink sadly off the side of your eggs and onto your plate. I actually like to put them on a drying rack to ensure that all the water comes off.
5. Always time yourself
It's really hard to tell how cooked your eggs are while they are in your water, and even still after you take them out. Cutting into them with your knife is the moment of truth! After much trial and error, I can confidently say that 3 minutes will get a large brown egg perfectly poached. If you are using a larger egg or if you like your yolks a little more well done, add 30 more seconds to your cook time.
Following these five tips is a surefire way to get that perfectly poached egg for your Heavenly Smoked Salmon Eggs Benedict. Now it's time for you to dive in!
Green tip: Did you know that of the billions of pounds of food wasted annually, it is estimated that 50% of it happens in our homes. It's always best to avoid food waste as much as you can! Don't toss your egg whites, use them for this Egg White French Toast or these Candied Nuts.
Why You Should Make These Smoked Salmon Eggs Benedict
---
---
The sauce. This Hollandaise is buttery, zesty, and spicy. It's simply PACKED with flavor.
The yolk. I've said it before and I'll say it again. Nothing beats a perfectly poached egg.
The nooks and crannies. The English muffin is the perfect vessel to sop up that yolk and the sauce.
The avocado. No better way to start your day than with a nutrient-rich and heart-healthy creamy fruit.
It's fancy. Fit for a king (or queen).
For other scrumptious breakfast ideas, check out my Light & Airy Whole Wheat Pancakes, Spicy Feta Shakshuka, and Lox and Schmear Omelette. And as always, let me know how yours turns out!
The Inspiration Behind This Dish
The first time I had this brunch beauty was at my favorite breakfast joint Briarpatch, which has quickly become my go-to morning hangover spot (because nothing cures a hangover like a black coffee, a five stack of pancakes, and a heaping pile of scrambled eggs and hashbrowns).
My husband and I have a delicious—and in my opinion, romantic—tradition of splitting the Smoked Salmon Eggs Benedict and Classic French Toast. So it became my mission to perfect this dish before our wedding anniversary.
It is now a new anniversary breakfast in bed tradition.
Cheers!