Looking for a new take on a campfire classic? These Toasted Marshmallow Cookies are reminiscent of an ooey gooey, perfectly golden brown, warm toasted marshmallow, but in cookie form!
This easy cookie recipe has a brown sugar base that complements the toasted marshmallows perfectly, bringing out the caramel flavor. Plus, they only take 30 minutes to make and require no chilling time!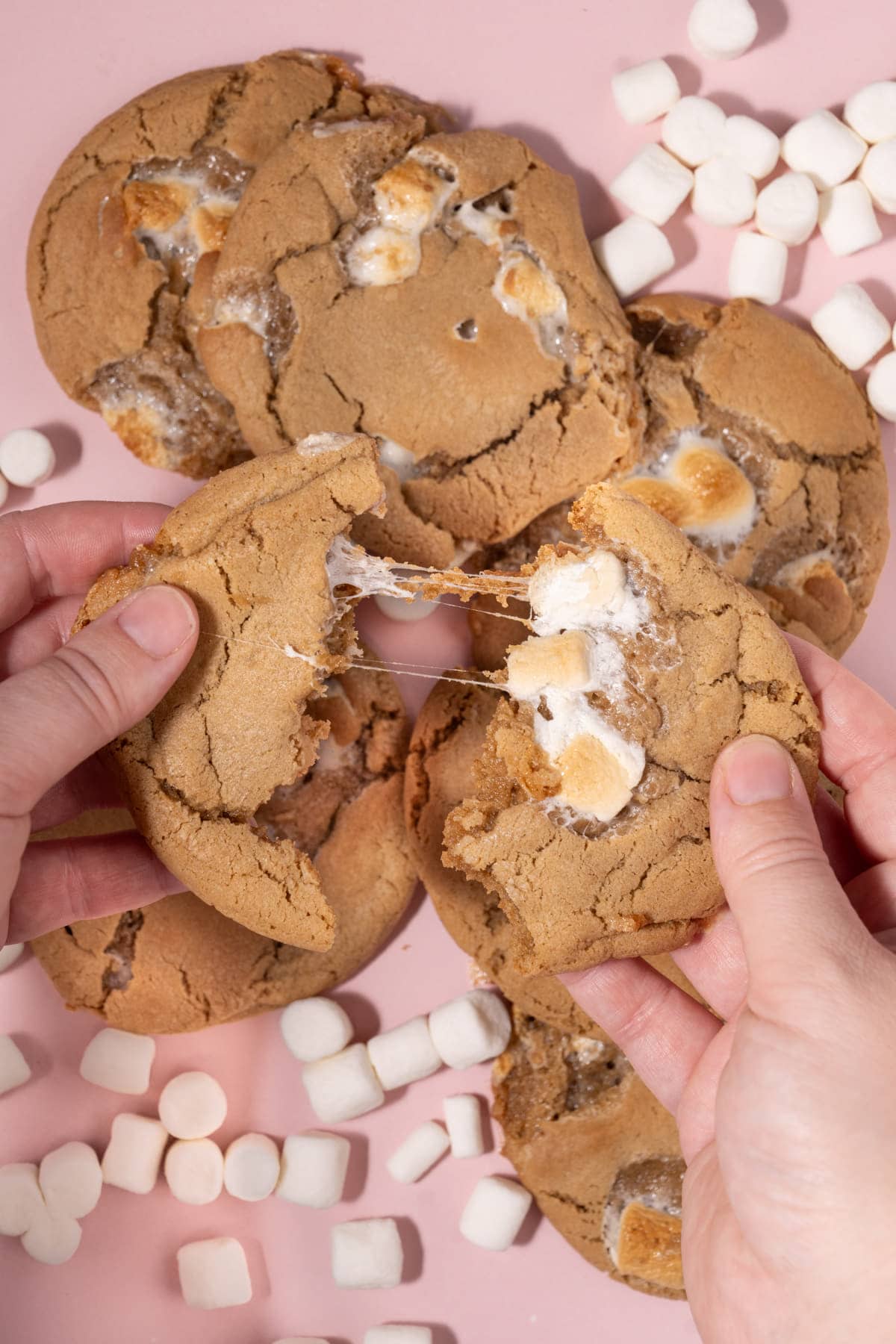 I absolutely love that this recipe requires only one bowl! As a busy mom and environmental scientist, One-Bowl baking is hands down my favorite! Less clean-up means I'm saving on both time and water. Thats a win, win for me!
Green tip: Speaking of cleanup, if you have a dishwasher-use it! Comparing dishwashing to handwashing, using an efficient dishwasher uses 1/6th the amount of water to get your dishes clean!
Toasted Marshmallow Cookies Ingredients
---
Here's everything you need:
Unsalted butter. As opposed to salted butter, unsalted butter allows you to control the amount of salt you are adding to your cookies. Make sure that your butter is softened (not melted!) in order to get the perfect consistency.
Dark brown sugar. This cookie recipe uses all dark brown sugar to give it more of that caramelly flavor that really plays well with the toasted marshmallows.
Vanilla extract. For flavor.
Egg. To bind your cookies together and to give them a little lift.
All-purpose flour. This acts as the base of your cookie dough.
Salt. To enhance all of the other flavors.
Baking soda. To help the cookies rise.
Mini marshmallows. The star of these cookies! If you don't have mini marshmallows, you can easily chop up full-sized marshmallows.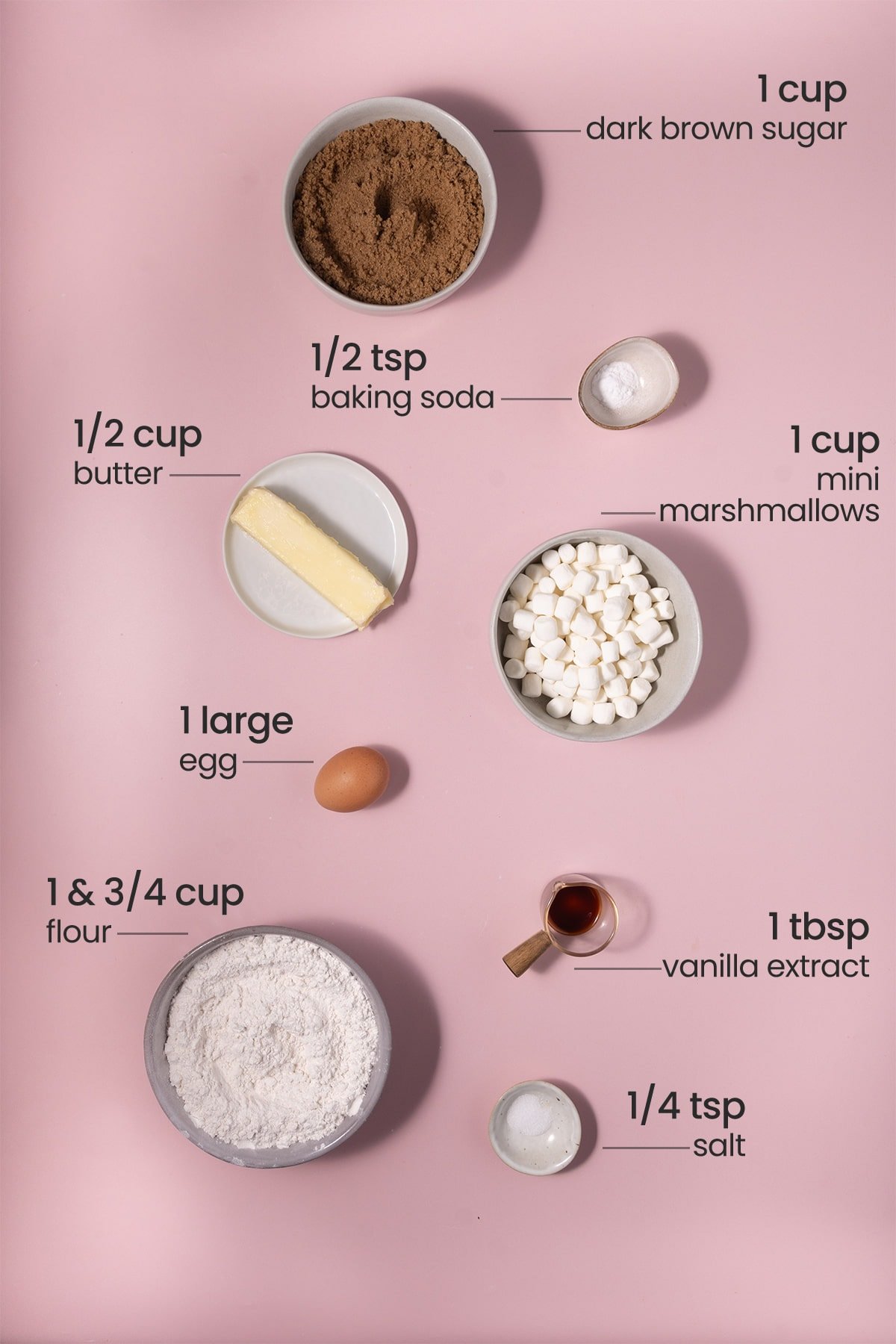 Toasted Marshmallow Cookies Tips and Tricks
---
Set Yourself Up for Success
The first step to setting yourself up for success for these homemade cookies is to pre-heat your oven and line your cookie sheet. Consider using reusable baking mats for a more sustainable option!
It's imperative that your butter is softened, so make sure to take your butter out early so it has time to come to room temperature.
It's best to take your butter out about 30-45 minutes before you start the baking process, so it has time to fully reach room temperature naturally.
Of course, if you don't want to wait, there are other ways to easily soften your butter quickly. I usually just microwave the stick of butter on high for about 15 seconds. If it's still too solid, continue to microwave in 5-second intervals until it's softened.
The best way to tell if your butter is softened is by poking it! If it's ready, your finger will leave an imprint.
Green tip: Look for organic and palm oil-free butter if you can. Buying organic means you are supporting farms that do not use damaging pesticides and fertilizers, and palm oil production is a huge driver behind deforestation.
Cream Your Butter and Sugar
The key to perfect cookies with marshmallows is to start your dough by creaming your fat and sugar together. This is because the creaming process actually aerates the dough.
The sugar cuts into the butter, adding little bubbles that ultimately give you a chewy cookie with a soft center. Once your butter is softened, it's very easy to cream it!
Add the butter, sugar, and vanilla extract to a large mixing bowl. Use a hand mixer on high to whip the softened butter, brown sugar, and vanilla extract together for 2-3 minutes, until it's well-combined and smooth.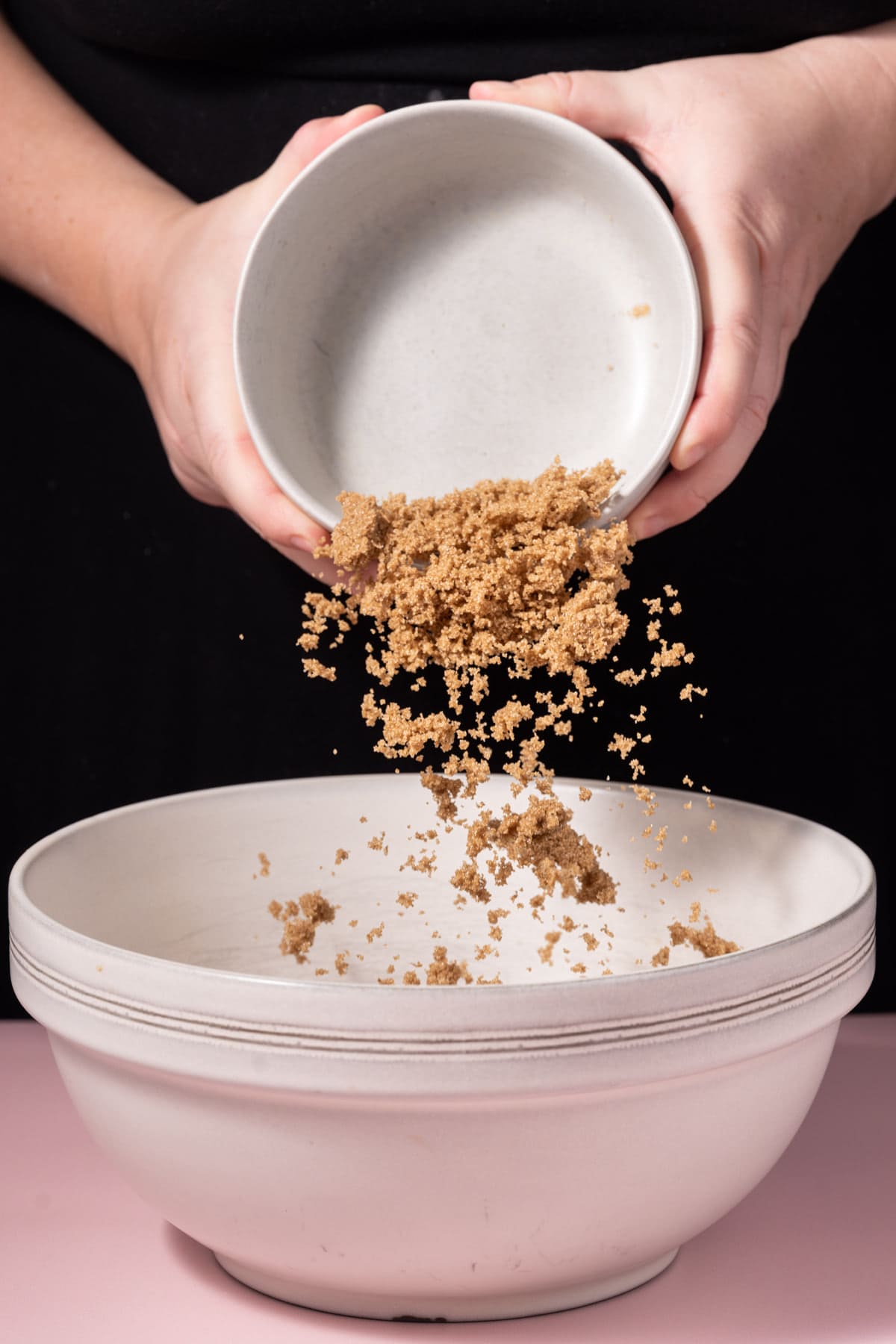 Combine the Egg into Your Cookie Dough Next
With one-bowl baking recipes, the order in which you add your ingredients makes a big difference in preparing your dough. After creaming your butter, sugar, and vanilla extract together, it's time to add your egg.
As always, this is my cue to remind you that the best practice is to crack your egg in a separate dish before adding it to your dough.
This will give you a chance to spot and extract any eggshells that may fall into the dough. It also means that in the rare chance you get a bloody egg, you won't be wasting the ingredients and progress you've made so far.
Of course, if you like to live your life on the wild side (guilty!), then you can take a chance and crack your egg directly into your bowl. Just do so at your own risk. 😉
Once you add your egg, use your hand mixer on low, mixing the dough just enough to integrate the egg, so that you don't overbeat the mixture.
Green tip: Look for pasture-raised eggs (over free-range or cage-free) to support agriculture that is less reliant on chemicals and fossil fuels.
Add Your Dry Ingredients Next
Next comes all of your dry ingredients! Add the flour, salt, and baking soda to the butter/sugar/vanilla/egg mixture. Grab your hand mixer for a third time to combine those dry ingredients into your dough, careful not to leave behind and lumps.
If need be, use a spatula to scrape down any dry ingredients that are left on the side of the bowl, adding to your bowl to completely integrate.
Again, the idea here is to not overwork the dough for soft and chewy cookies every time!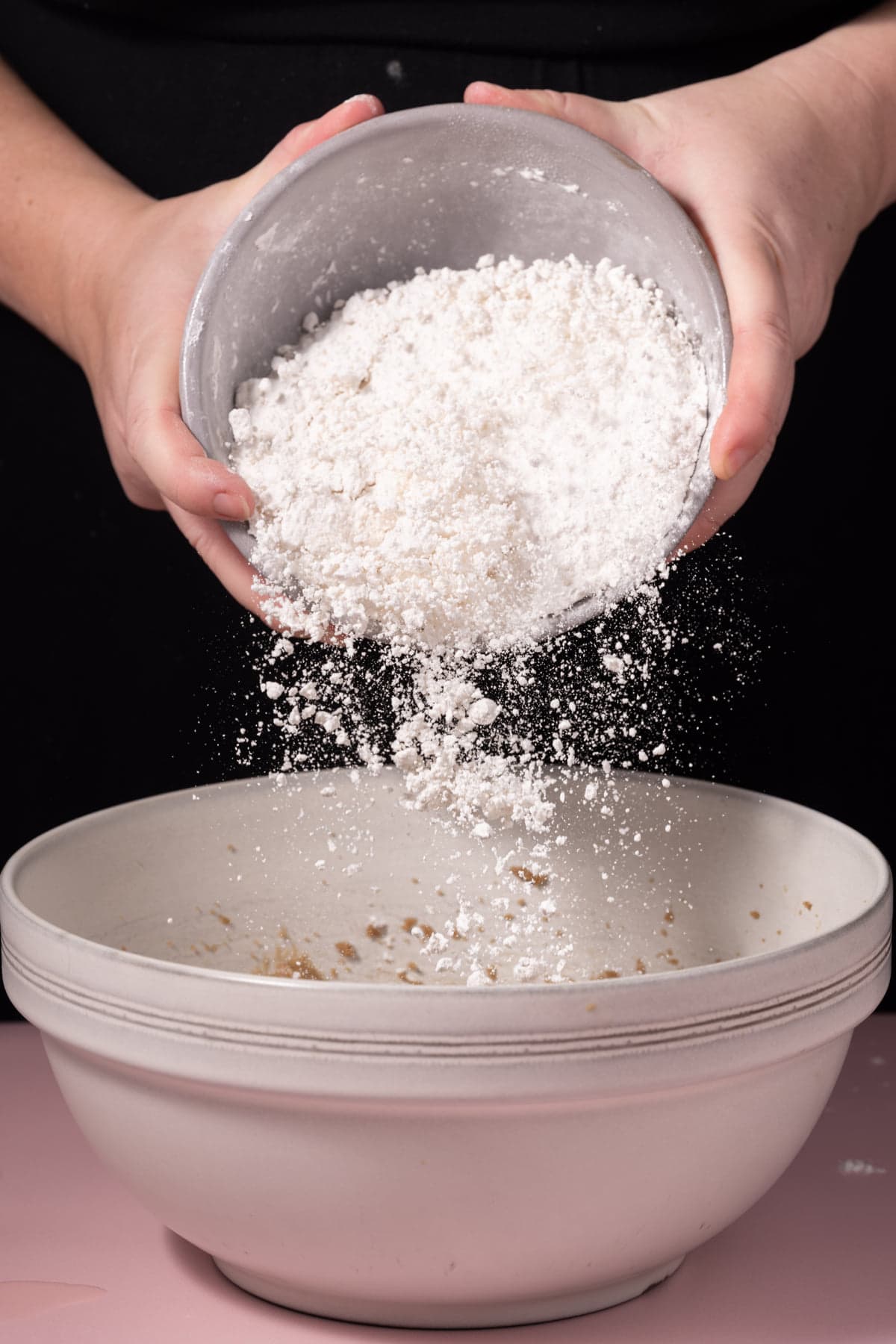 Fold in Your Marshmallows Last
Once your dry ingredients are integrated, all that's left to do is add your mini marshmallows!
I like to conserve just a handful of marshmallows to place a few on top of the cookies once they are shaped, but before they are baked. Making sure there are marshmallows on top and in the center of the cookies will get them nice and toasty.
Pour the rest of your marshmallows into the dough and use a rubber spatula to fold them in, until they are roughly evenly distributed throughout the cookie dough.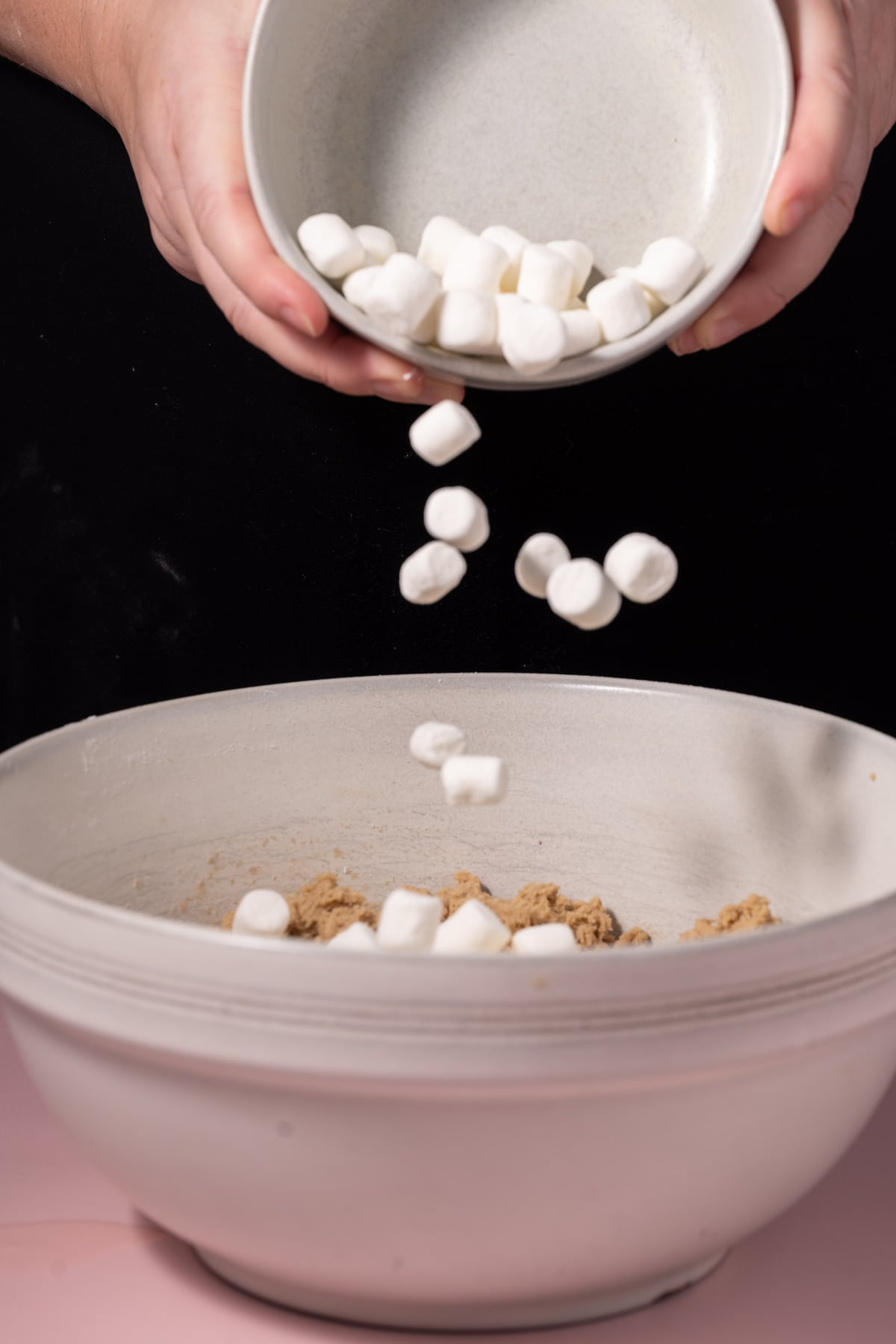 How to Perfectly Bake Marshmallow Cookies
These homemade marshmallow cookies are pretty foolproof and will hold their shape even without any chilling time. You can expect a little bit of spreading, so make sure to keep that in mind as you line up your cookies on your prepped baking sheet.
Additionally, any marshmallows that are closer to the outermost sides of the cookies may ooze and melt onto the baking sheet as they toast, so make sure there is ample space between each cookie.
There is one more important tactic to getting the best texture on these cookies: always bake them on the top rack!
Heat rises, so the top rack of your oven is often significantly hotter than the bottom, so if you place one cookie sheet on the top rack and one on the bottom, there will be a noticeable difference in baking time.
This means, if both sheets don't fit on the top rack at once, I recommend baking the cookies in two separate rounds, so they can all cook on the top rack. This will ensure you get those marshmallows nice and toasty.
These homemade cookies from scratch will bake beautifully in 12-14 minutes. When they are ready, the top and edges will be a little bit crispy to touch if you carefully poke them.
You may notice some marshmallows oozing over the sides, and that;s okay! Just take a spoon and push the melty marshmallow in toward the cookie, so as they cool and solidify they are once again neatly part of the cookie.
Make sure to allow the cookies to cool on the baking sheet before you grab one to enjoy.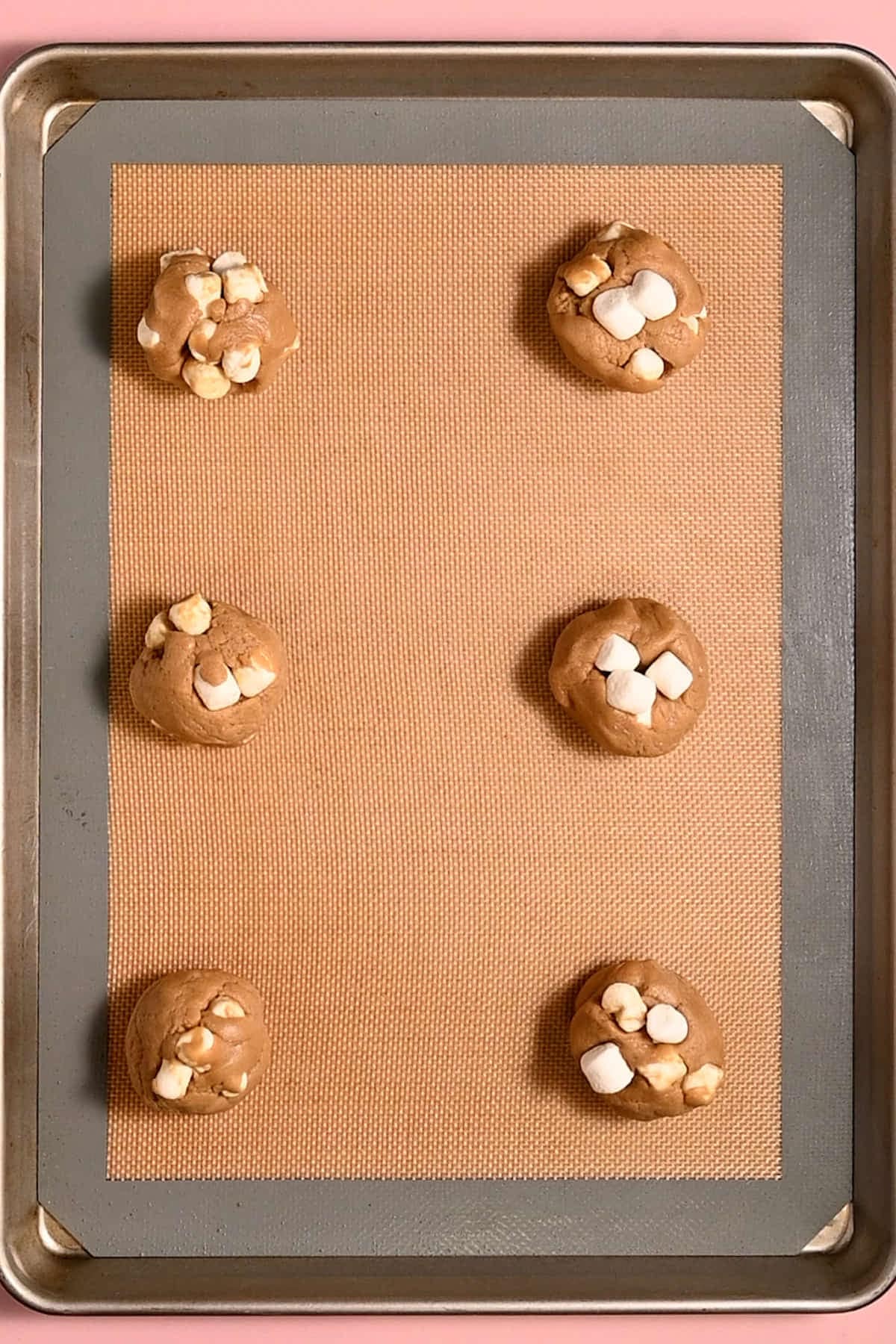 How to Properly Store Marshmallow Cookies
At room temperature, these ooey gooey cookies will last for 5-7 days when they are covered. And in the refrigerator in an airtight container, they can actually last up to three weeks.
Quick tip: Storing your cookies with a piece of bread will keep them softer and chewier, as moisture from the bread keeps the cookies from drying out. This is the perfect use for the end piece!
You can also freeze the cookies once they are baked for up to a year. Just allow them to thaw before enjoying.
Green tip: Of the billions of tons of food wasted annually, 50% of food waste happens at home. Reduce your contribution to food waste by properly storing baked goods!
Freezing Marshmallow Cookie Dough for Later
Instead of freezing the baked cookies, you can opt to freeze some (or all) of the dough for your marshmallow cookies for up to a year. This way, you can have freshly baked cookies whenever you crave them!
I like to shape the cookie dough into cookies and store them flat in a freezer safe storage bag (consider reusable storage bags for a more sustainable option!).
Then, you can just bake the cookies straight out of the freezer! Easy as that. Bake them at the same time and temperature as you typically would.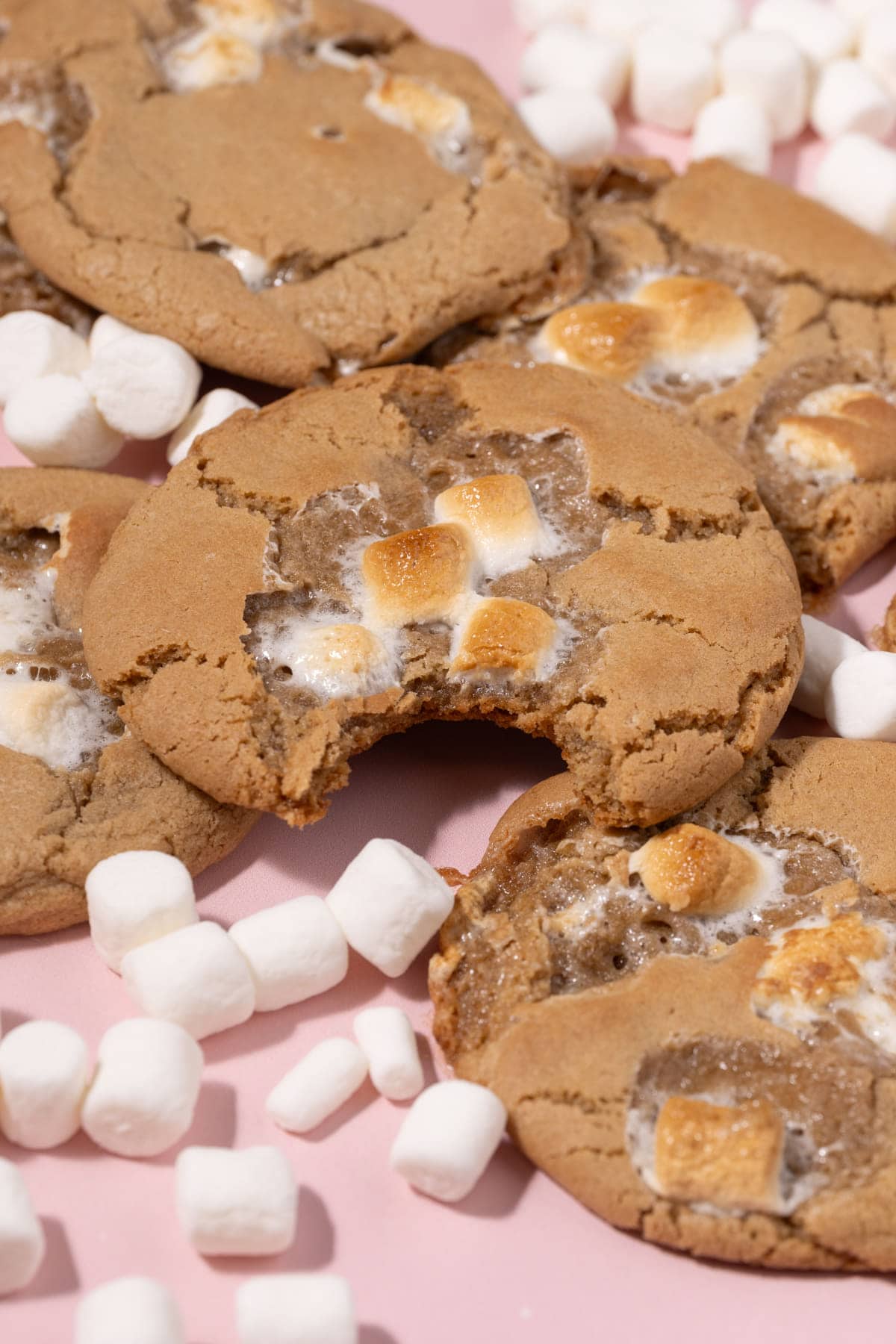 Marshmallow Cookies Frequently Asked Questions
---
What makes cookies chewy rather than crispy?
The texture of the cookie comes from the ratio of liquid ingredients to dry ingredients. This means ensuring your dry ingredients are leveled is important. Creaming the sugar and butter to help aerate the dough helps to ensure you have a soft and chewy cookie.
Want to sharpen your kitchen skills?
Why You Should Make these 30-Minute Toasted Marshmallow Cookies
---
They're messy in all the right ways! Those ooey-gooey melted marshmallows are the best part!
They're easy. One bowl, no chilling time, and 30 minutes start to finish.
They're nostalgic. Each bite will transport you to a campsite bonfire with perfectly toasted marshmallows!
If you're loving these Toasted Marshmallow Cookies and want more marshmallow treats, check out these Colorful M&M Rice Krispie Treats and these Peanut Butter Rice Krispies dipped in Chocolate.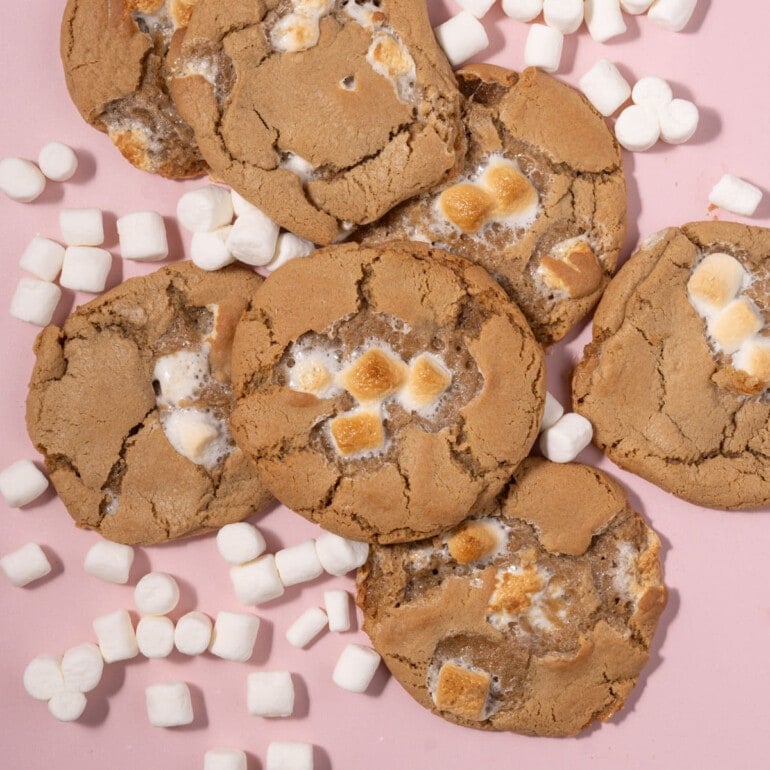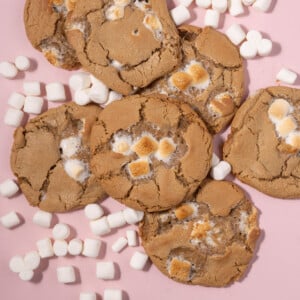 Toasted Marshmallow Cookies
PRINT
PIN
RATE
These Toasted Marshmallow Cookies have a chewy brown sugar base and are stuffed and topped with ooey-gooey toasted marshmallows.
Ingredients
½

cup

softened unsalted butter

(½ cup butter = 1 stick)

1

cup

dark brown sugar

1

tablespoon

vanilla extract

1

large

egg

1 ¾

cup

all-purpose flour

¼

teaspoon

table salt

½

teaspoon

baking soda

1

cup

mini marshmallows
Instructions
To a large mixing bowl, add softened butter, brown sugar and vanilla extract. Use a hand mixer on high to cream together until light and smooth (about 2-3 minutes).

Add the egg and use your hand mixer on low to combine.

Add the flour, salt, and baking soda and mix to combine, careful not to overbeat. Use a spatula to scrape any flour off the sides of the bowl and integrate it into your dough.

Conserve a small handful of marshmallows to add to the top of the cookies once they are formed. Add the rest of the mini marshmallows to your dough and use a rubber spatula to fold to combine.

Use a large cookie scoop or 2 heaping tablespoons of dough to form your cookies, adding them to the prepped baking sheets. Leave at least an inch of space in between each cookie for minor spreading. Add 2-3 extra marshmallows on top and in the center of each formed cookie.

Bake for 12-14 minutes on the top rack. It's okay if they are slightly underdone. If some of the marshmallows spill over the on the sides, use a spoon to push them back into the cookie while the cookie is still hot. Allow them to cool on the baking sheet. Enjoy!
Pro Tips
You can freeze excess cookie dough before baking it to give you fresh baked cookies every time when the craving hits! Just bake them as normal straight out of the freezer.
Cookie monsters are always happy at my house with this delicious selection of my best cookie recipes to choose from! Nom nom nom!
Did you make this recipe?
Let me know by leaving a recipe rating below, or by tagging @marleysmenu on Instagram.