Need a delicious pick-me-up that will caffeinate you in the tastiest way possible? Here's how to make a Coffee Milkshake 3 ways.
Coffee lovers everywhere rejoice! You can now combine your favorite energy-boosting elixir and sip-able sweet treat to make a coffee milkshake with ice cream that is sure to improve your mood.
In this post, I teach you how to make 3 different coffee milkshake recipes at home — a mocha milkshake, vanilla coffee milkshake, and a classic coffee milkshake. Each recipe is oh-so simple, ready within 5 minutes, and incredibly creamy. For a vegan coffee milkshake, simply use non-dairy ice cream!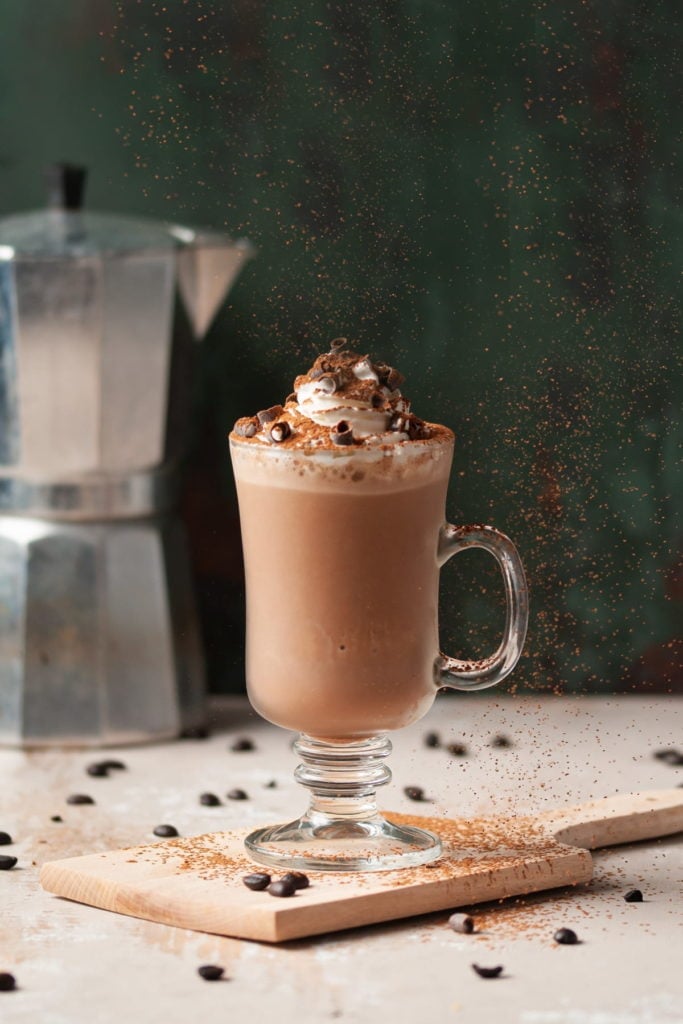 Coffee Milkshake Tips and Tricks
---
Decide Which Flavor You Want
You can make a delicious coffee milkshake in 3 different ways, all yielding uniquely delicious results.
If you're looking for a milkshake that tastes like a creamy iced vanilla latte, use vanilla ice cream and coffee.
If you want a more straightforward coffee milkshake that tastes like sweet thick iced coffee, you'll want to use coffee ice cream and milk.
And if you want a mocha-flavored shake, you'll use chocolate ice cream and coffee just like the one pictured here. Hint: this is my favorite way to enjoy it!
The greatest thing about this milkshake, aside from its utter decadence, is that no matter which way you like it, you only need 2 ingredients.
For an Iced Vanilla Latte Milkshake, you'll need vanilla ice cream and coffee.
For a Coffee Ice Cream Milkshake, you'll need coffee ice cream and milk.
For an Coffee Mocha Milkshake, you'll need chocolate ice cream and coffee (my personal fave!).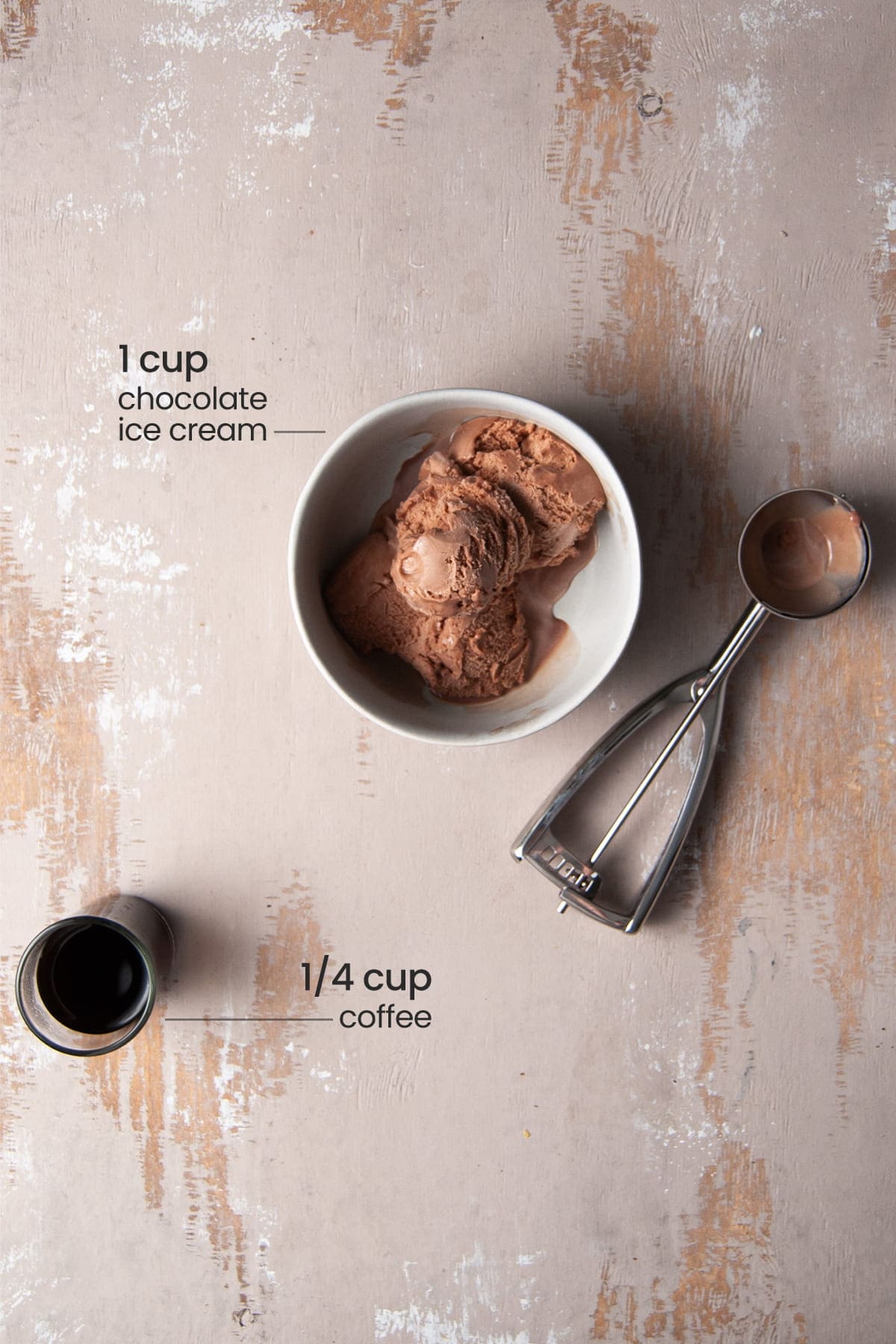 You'll Need a Blender or Food Processor
Okay, so you've gathered your ingredients, now it's time to learn how to make a homemade milkshake!
First things first: In addition to your two ingredients, you'll also need either a blender or a food processor, preferably a blender! I use this Ninja Blender for this milkshake and a lot of my sauces and vinaigrettes. It works like a charm!
Make Sure Your Coffee is Cool
In order to get that thick shake texture for your Coffee Milkshake with Ice Cream, make sure both your coffee and ice cream are cold. Allow your freshly brewed coffee to come down to room temperature or use cold brew.
This step is especially important in this recipe as it uses coffee as opposed to milk or cream and doesn't have an additional thickener like peanut butter in this Easy Peanut Butter Milkshake recipe.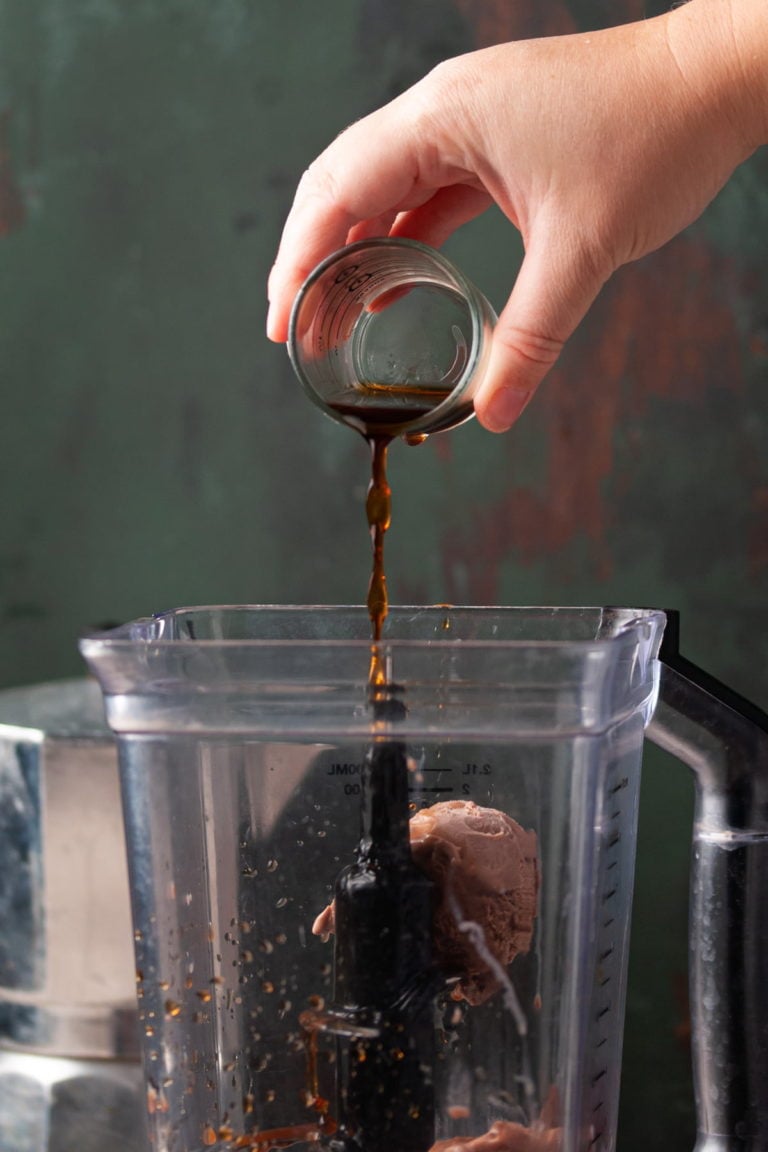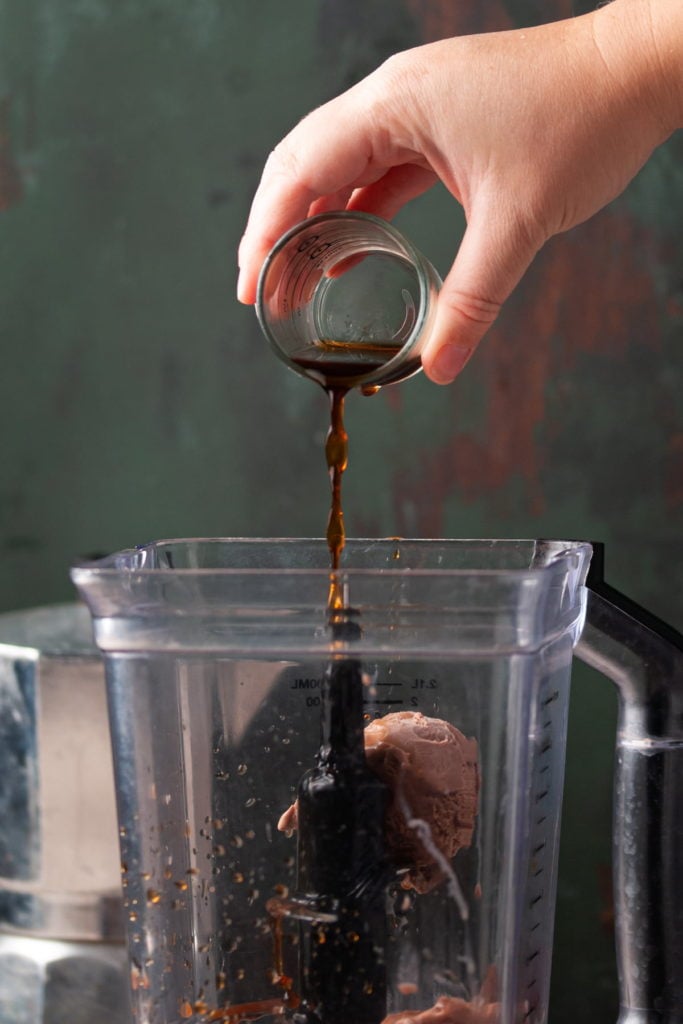 Getting the Right Consistency
I've found that 1/4 cup coffee (or milk) in this shake gets me a fantastic consistency. Just thick and creamy enough, but not too much to stop me from slurping it up through a straw.
Green tip: Consider investing in reusable straws! They are easy to clean and will reduce your contribution to plastic waste that eventually ends up in landfills or makes its way into the environment and becomes microplastics. These stainless-steel straws are my favorite!
That being said, if you find that your milkshake is a little too thick, you can add an extra tablespoon or two of coffee or milk to your blender. Add them one at a time, blending in between, and checking your consistency as you go.
Remember, it's much easier to loosen it when it's too thick than to make it thicker. If your ice cream is a little melted, start with 2 tablespoons of liquid instead of 1/4 cup. Then check your milkshake and add more liquid as needed.
This step is more important in a two-ingredient milkshake because it's more susceptible to becoming overly thin as opposed to a shake with bulkier ingredients like this Delicious Cookie Dough Milkshake.
Tested Substitutions
This milkshake can be made with dairy-free ice cream and come out just as delicious!
Green tip: Industrial dairy production has a huge impact on the environment, especially because of the amount of land it takes to sustain and its high amount of greenhouse gas emissions. Reducing your dairy consumption is one great way to reduce your ecological footprint.
Can I Make This Boozy?
Wanna make this Irish? I've got options for ya.
You can choose to substitute coffee liqueur for the liquid in this recipe for an easy swap, but it does tend to taste a little extra sweet.
My favorite way to make this Coffee Milkshake boozy is to add an ounce of brandy, whiskey, or rum and an extra tablespoon of ice cream. Easy peasy. Cheers to that!
Coffee Milkshake with Ice Cream Frequently Asked Questions
---
What's the best kind of coffee to use in coffee milkshake?
The best kind of coffee to use in a coffee milkshake depends on a couple of factors. For the quickest milkshake, use cold brew. You don't want the coffee hot when you add it, so if you don't want to wait around for your coffee to cool, cold brew is your best option.
If you want the strongest coffee flavor and most caffeinated milkshake, use fresh espresso. Allow it to cool first.
My favorite kind of coffee to use for this regular dark roast, cooled down.
Want to sharpen your kitchen skills?
Why You Should Make This Coffee Milkshake
---
---
It's adaptable. 3 easy ways to enjoy a coffee milkshake depending on your taste.
It's caffeinated. Adding coffee to your treat is the perfect pick-me-up.
It's creamy. That perfect shake consistency.
If you're loving this Coffee Milkshake with Ice Cream and are looking for more delicious shakes, check out this Nutella Milkshake and Banana Strawberry Milkshake!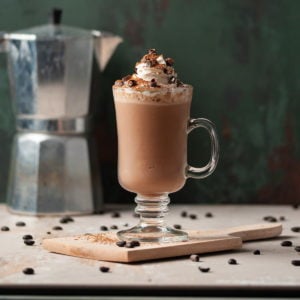 Easy 5-Minute Coffee & Ice Cream Milkshake
PRINT
PIN
RATE
This Easy 5-minute Coffee & Ice Cream Milkshake is delicious, so simple to make and can be made with 3 flavor variations: Mocha, Vanilla, and Classic.
Ingredients
Mocha Coffee Milkhake
1

cup

chocolate ice cream

(dairy or non-dairy)

¼

cup

coffee or espresso, cold
Vanilla Latte Coffee Milkshake
1

cup

vanilla ice cream

(dairy or non-dairy)

¼

cup

coffee or espresso, cold
Classic Coffee Milkshake
1

cup

coffee ice cream

(dairy or non-dairy)

¼

cup

milk
Instructions
Add your ice cream and liquid to a blender and process on high until smooth-about 30 seconds.

Serve ice cold. Option to top with whipped cream and chocolate for the ultimate shake!
Pro Tips
Make sure your coffee (if applicable) and ice cream are cold.
Check out this delicious collection of my best milkshake recipes that are sure to bring all your friends to the yard!
Did you make this recipe?
Let me know by leaving a recipe rating below, or by tagging @marleysmenu on Instagram.