Looking for a fresh way to level up your red wine? This Raspberry Sangria is vibrant and refreshing, and with the special touch of homemade raspberry simple syrup, will be sure to impress!
Utilizing fresh fruit and citrus, you should be warned that this delicious drink is almost too easy to sip on! Whip it up for your next dinner party, or enjoy it with your favorite tapas—it'll be your new favorite Sangria recipe!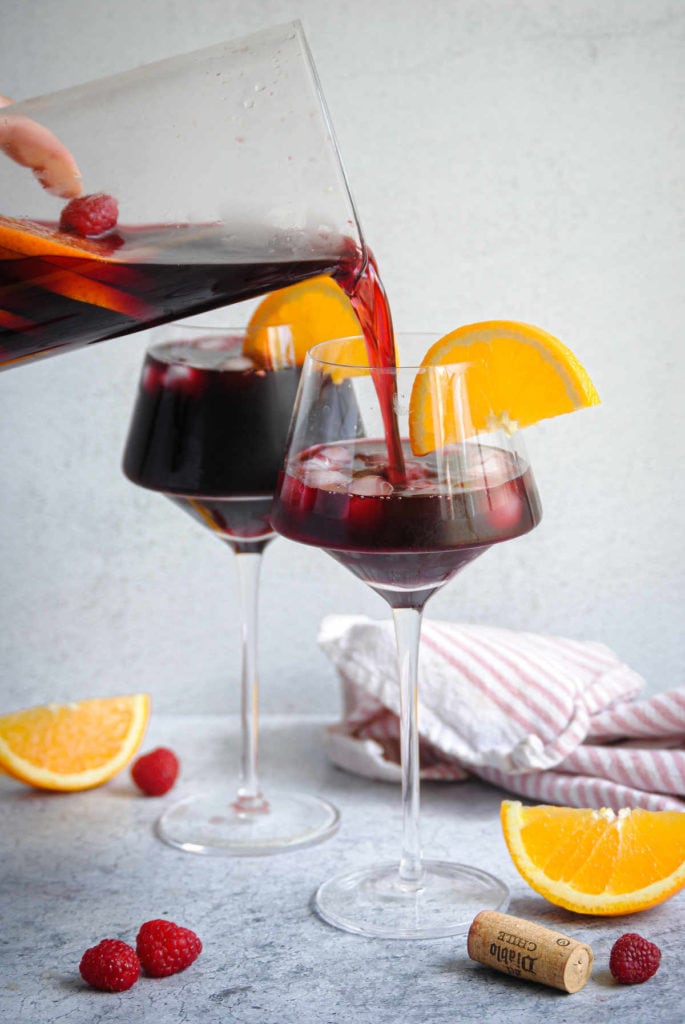 Raspberry Sangria Tips and Tricks
---
You'll Need A Pitcher
Or a punch bowl. Something where you can mix all the ingredients together and let them hang out and get to know each other.
Every ingredient plays an important role to the balance of the overall flavor! Here's what else you'll need: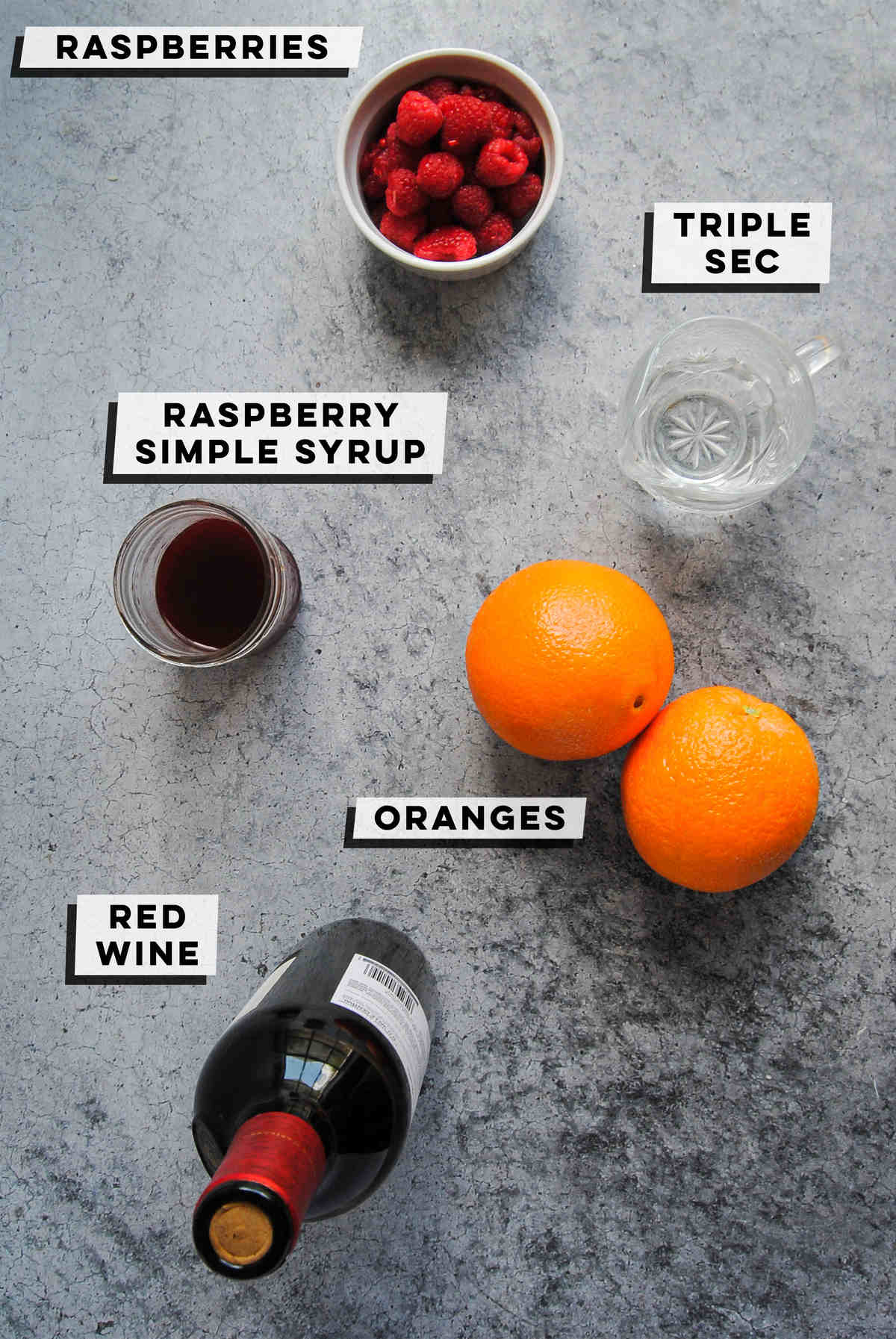 Choosing the Perfect Red Wine
Truly, any red wine you have on hand will absolutely work in this recipe! Preferably, it's best to use a dryer red wine. A dry wine will balance out the sweetness of the simple syrup, triple sec, and orange juice.
I used Cabernet Sauvignon in the Sangria pictured, but also love this Raspberry Sangria with Pinot Noir and Merlot.
Other dry red wines include Sangiovese, Tempranillo, and Syrah. Instead, you can also opt for a blend. My advice is to save the top-shelf stuff for drinking straight! The vibrant flavors you are adding to the wine make this a great way to spruce up your most affordable bottle.
Make Your Raspberry Simple Syrup First
The first thing you'll need to do for this recipe is make the Raspberry Simple Syrup. Don't worry, it's really quite simple to whip up—it's in the name!
Just add your raspberries, sugar, and water into a medium-sized pot over medium heat. Let it simmer uncovered for about 5 minutes. This will allow all of the sugar to dissolve and the raspberry flavor to infuse into the syrup.
Then, pour your homemade simple syrup through a sieve to catch the raspberries. Once all of the liquid has strained through, use a spatula to push down on the raspberries, leaking out any extra juice from the berries into your syrup.
You should be left with a smooth, thick syrup that is a deep shade of red. The Raspberry Simple Syrup is the star of this Sangria, giving it a slightly tart and fresh finish.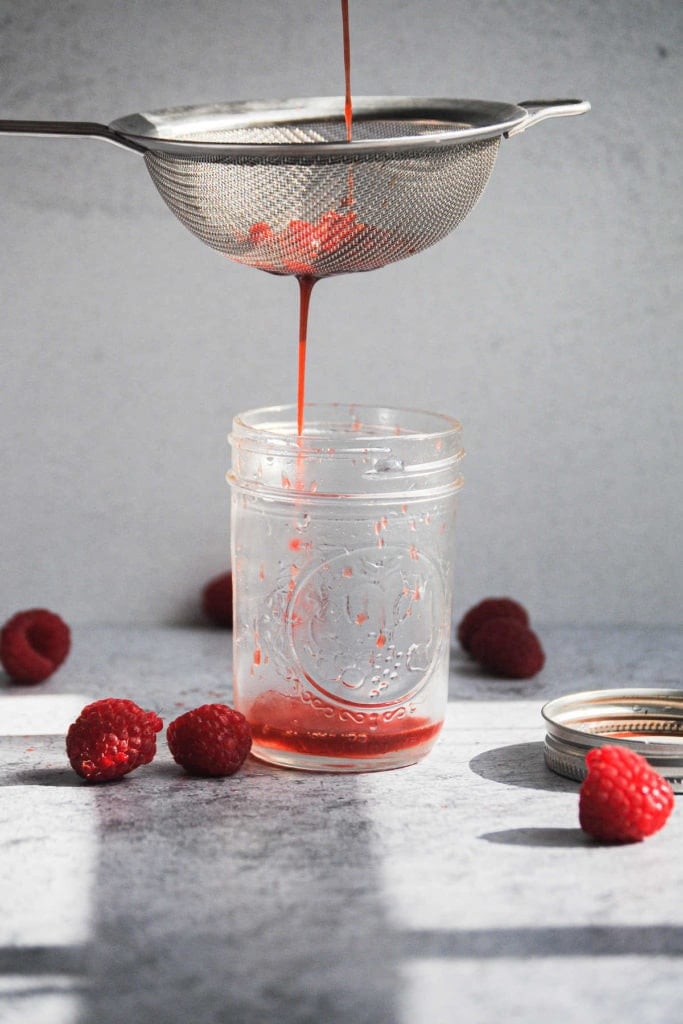 Slice and Juice Your Oranges
This recipe calls for two oranges. You will juice one and slice the other to float in your Sangria. A lot of the flavor of citrus lies in the zest, so floating the sliced orange in this Raspberry Sangria really kicks the flavor up a notch.
Make sure to rinse your orange well, and remove the seeds if possible. We want to avoid any seeds floating in your drink.
Green tip: Eating seasonally is one of the best ways to support local and decrease your carbon footprint. Local foods have less associated transportation costs and fuel emissions. Simply put, eating seasonally = less environmental impact.

Check when raspberries and oranges are in season in your area with this Seasonal Food Guide.
You may want to save a slice or two of orange and a couple of raspberries to garnish your glasses with.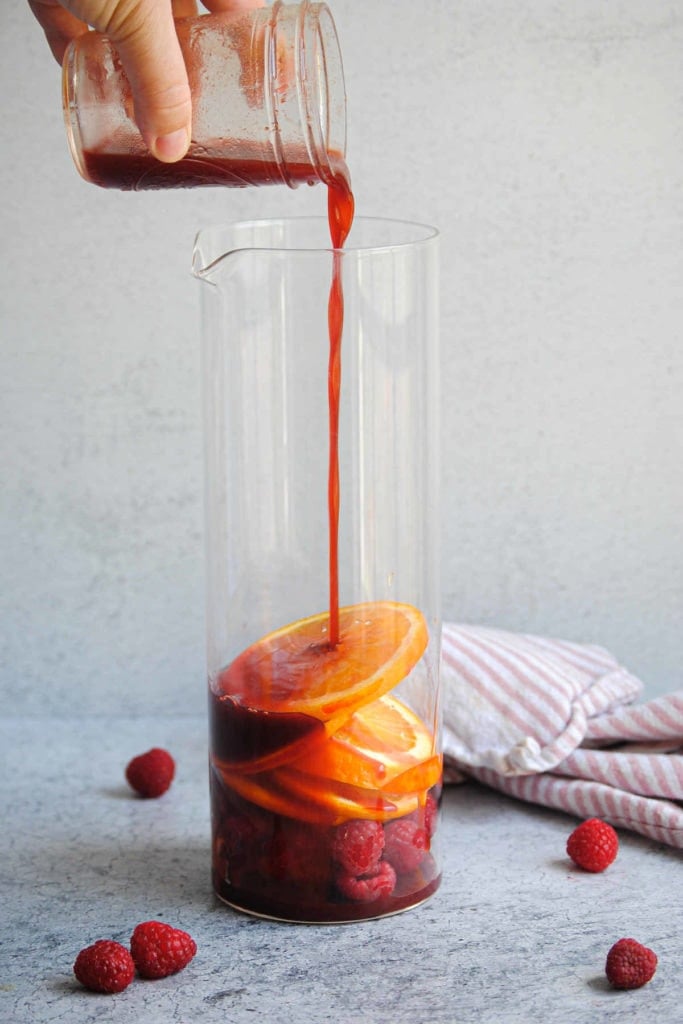 Should You Have Leftovers
If you don't plan on having the full pitcher in one sitting, it's best to add ice to each individual serving rather than adding it straight to the pitcher. The pitcher should give you 6 glasses.
Cover and store your Sangria in the refrigerator for up to 5 days. No ice in the pitcher means you can save it without the ice melting and watering it down.
Green tip: Did you know that of the billions of pounds of food wasted annually, it is estimated that 50% of it happens in our homes? It's always best to avoid food waste as much as you can!
Why You Should Make This Raspberry Sangria
---
It's refreshing! Between the citrus, fresh berries, and ice-cold finish, this is a great boozy thirst quencher.
It's raspberry-forward. Adding the homemade Raspberry Simple Syrup really allows the berry to shine!
It's unique. A new take on classic Sangria that will keep you coming back for more.
If you're loving this Raspberry Sangria and want to try more exciting, refreshing Sangria recipes, check out this list of 9+ Best Sangria Recipes!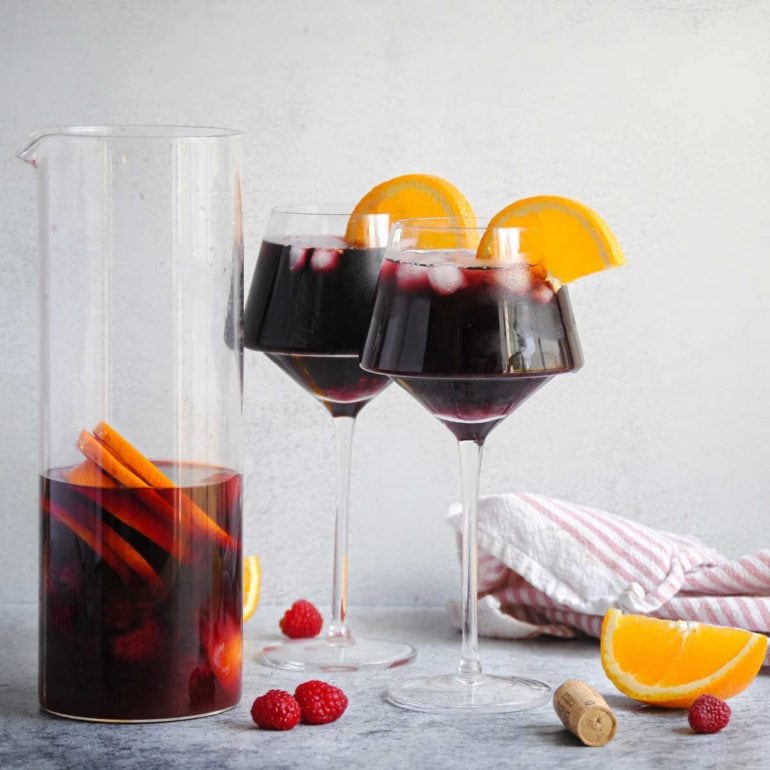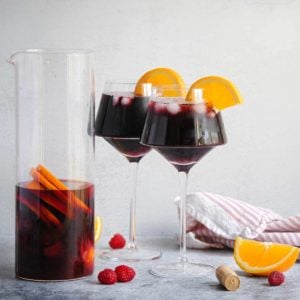 Raspberry Sangria with Homemade Simple Syrup
PRINT
PIN
RATE
This refreshing Raspberry Sangria adds a sweet, tart, and citrusy finish to red wine with homemade Raspberry Simple Syrup to culminate into the perfect sip!
Ingredients
Raspberry Simple Syrup
1

cup

fresh raspberries

¼

cup

water

¼

cup

granulated sugar
Raspberry Sangria
2

large

oranges

½

cup

raspberries

⅓

cup

raspberry simple syrup

¼

cup

triple sec

750

mL

dry red wine

½

cup

ice
Instructions
Raspberry Simple Syrup
Rinse 1 cup of raspberries and add them to a medium-sized pot over medium heat with the water and sugar.

Allow to simmer for about 5 minutes uncovered, so the raspberry flavor has a chance to infuse into the simple syrup and the sugar is completely dissolved.

Pour simple syrup into a glass through a sieve. Use a spatula to push down on the raspberries in the sieve, expressing as much raspberry juice as possible into the glass.

Allow to cool down to room temperature before adding to your Sangria. It should yield just enough simple syrup for this recipe.
Raspberry Sangria
Slice 1 orange in half and squeeze all of the juice from the orange into a tall pitcher. Slice your second orange into circular pieces, about 1/2 inch wide.

Add the sliced orange and 1/2 cup of fresh raspberries to the pitcher with your orange juice. Use a muddler or wooden spoon to press down on the fruit, expressing some extra juice from the orange slices and raspberries.

Add the raspberry simple syrup, triple sec, and wine to the pitcher and stir.

Add ice just before serving in your favorite wine glass.
Pro Tips
Save some raspberries and orange slices to garnish your glasses!
If you won't be finishing the whole pitcher, add ice to each serving glass instead of the pitcher so you can save your leftovers without them getting watered down.
There's nothing like a refreshing sangria, so I had to make a collection of my best sangria recipes!
Did you make this recipe?
Let me know by leaving a recipe rating below, or by tagging @marleysmenu on Instagram.