Love the idea of a margarita but not a tequila fan? This Vodka Margarita is the answer.
With all the refreshing taste of a classic margarita, this simple marg subs out the tequila for vodka and adds some bubbles, for a crisp cocktail that works perfectly on taco night.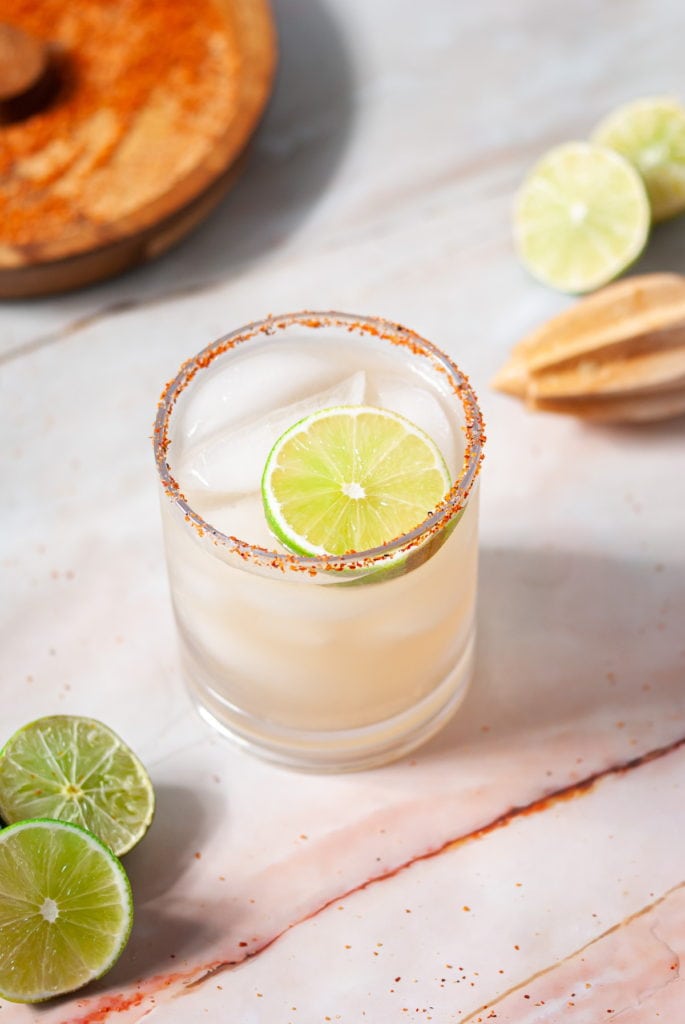 As an environmental scientist, I try hard to keep my ecological footprint low, and one of the best ways to do so is to grow your own veggies, fruits, and herbs!
Green tip: Homegrown fruits have zero associated food miles and are free of damaging fertilizers and chemicals. Consider a fruit-bearing tree if you have the yard and climate for it!
I'm lucky enough to have a lemon and a lime tree in my backyard, both of which thrive in the summer months. And surplus limes means lots of fresh cocktails at my house!
Vodka Margarita Tips and Tricks
---
---
Gather Your Ingredients First
I highly recommend using fresh lime for the best flavor. You should get all the juice you need out of 1 lime, but you may want to use a second one for garnish.
Here's everything you'll need:
Choosing Your Vodka
This cocktail has tons of fresh flavor, and is best off with a non-flavored vodka to allow those flavors to shine!
That being said, if you have a citrus-flavored vodka, that will work here in a pinch.
I used Tower Vodka for this cocktail and loved it!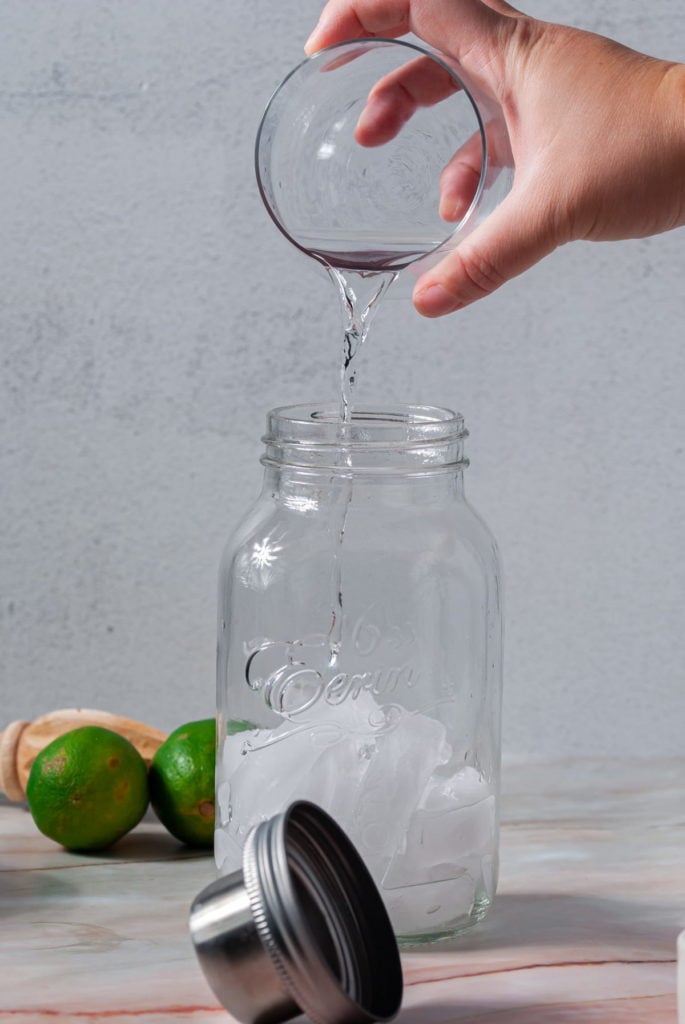 Garnishing Your Rim
This part is optional, but if you want the ultimate margarita experience, it's highly recommended! It's simple to do. Just wet the rim of your glass with a lime and then dip it into Tajin or salt.
You can put the Tajin on a plate, in a shallow bowl, or easiest of all—use a cocktail rimmer. I love using Tajin here—it's such a great addition of salt and spice to the otherwise sweet margarita.
Green tip: Look for vodka and triple sec in glass bottles to reduce your contribution to plastic waste.
Don't Shake Up Your Sparkling Water
I do recommend using a cocktail shaker for this recipe to help integrate all the ingredients together. That being said, shaking up carbonated drinks is never a good idea.
It will probably be a mess and it does tend to flatten it and cause you to lose those refreshing bubbles!
Use the cocktail shaker just to mix up the vodka, triple sec, lime juice, and agave, add that to a glass, and finish it off with your sparkling water
Tested Substitutions
I love using agave in margaritas because it gives you that classic margarita taste! However, you can use any sweetener in place of it here. Use simple syrup, honey, or even molasses in the same amount in its place.
I use sparkling water here because it's mild and allows the flavor of the triple sec and lime juice to really shine. However, if you're a fan of club soda or tonic water, you can use either one of those in lieu of sparkling water.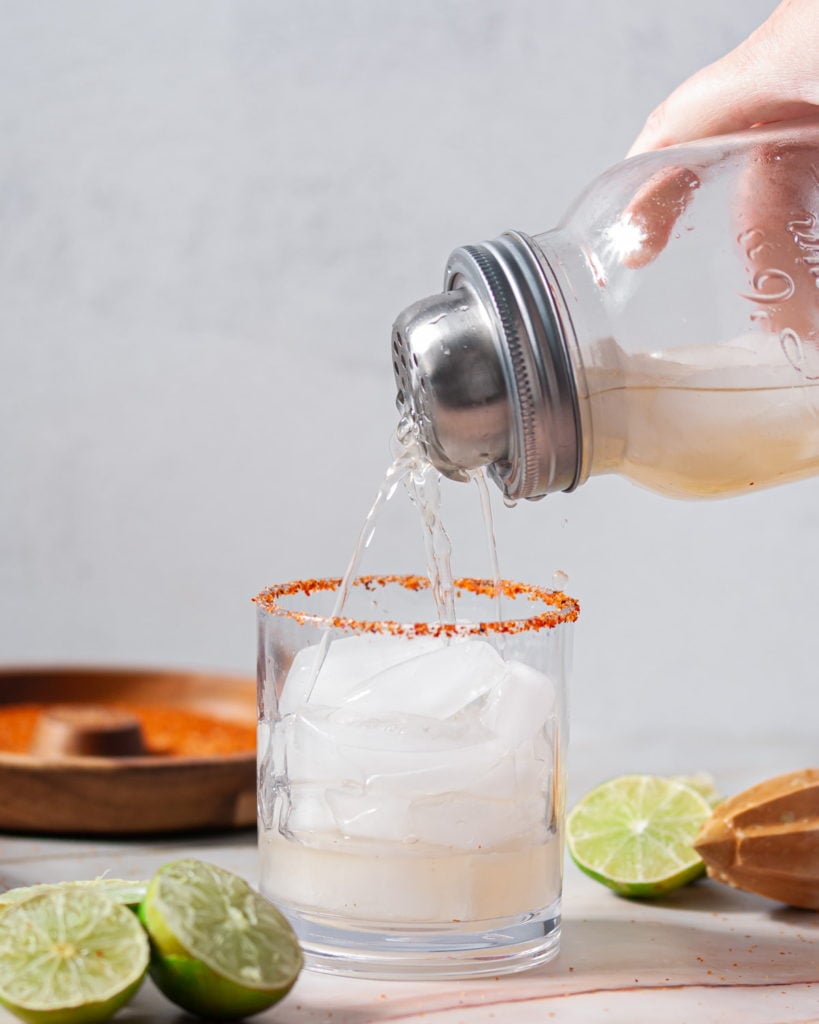 Why You Should Make this Vodka Margarita
---
---
It's refreshing. That fresh citrus and hint of orange from the triple sec makes for a super refreshing sip.
It's smooth. The strong alcohol is balanced by the other fresh flavors and sparkling water.
The best of both worlds! All the fun of a margarita, but without that prevalent tequila taste.
If you're loving this Vodka Margarita and you're looking for more fun sips, check out these Mixology Cocktails To Try At Home and these Best Sangria Recipes.