Looking for an easy way to elevate your brownies this spring/summer? These Fudgy Chocolate Cherry Brownies take classic gooey brownies and stuffs them with vibrant, juicy cherries for a burst of fruity flavor in every bite!
Cherries and chocolate are such a classic combination, and the addition of the sweet, vibrant fruit in these gooey, decadent brownies is no exception! And with just one bowl and ready in under an hour, this recipe is at the top of my list for the best unique brownies!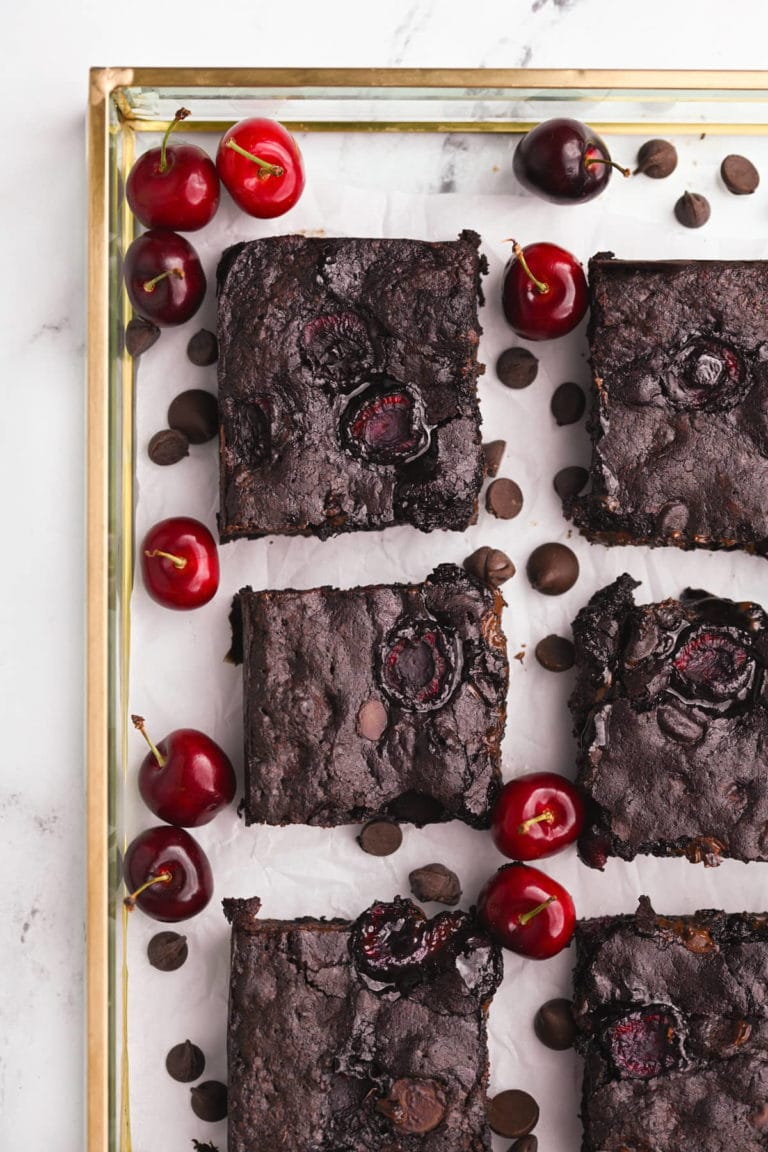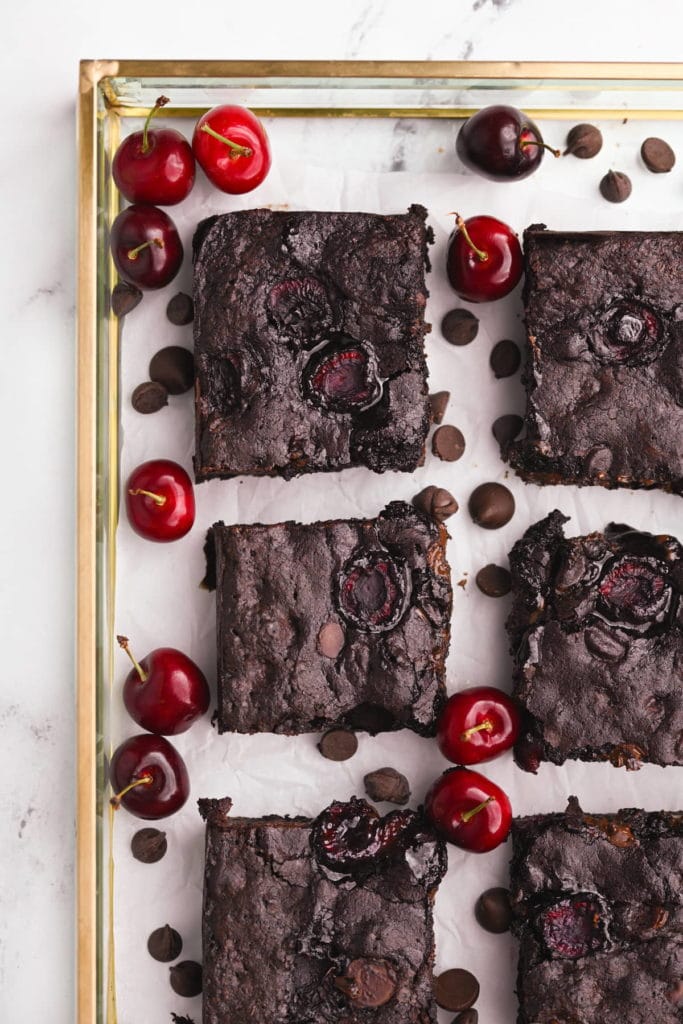 As an environmental scientist, I'm always looking for fun ways to incorporate seasonal ingredients.
Cherries are such a fun addition to baking, making cherry season one of my favorites! I also love adding cherries to cocktails, like in this Queen of Hearts (Cherry Martini).
Green tip: Eating seasonally is one of the best ways to support local and decrease your carbon footprint. Local foods have less associated transportation costs and fuel emissions. Check when cherries are in season in your area with this Seasonal Food Guide.
Cherry Brownies Ingredients
---
Here's everything you need:
Butter. Softened and unsalted.
Oil. Vegetable, canola, or coconut oil in liquid form.
Sugar. Granulated sugar is best.
Eggs. 2 large eggs or 2 flax eggs.
Vanilla extract. For flavor.
Flour. All-purpose flour acts as the base for your batter.
Cocoa powder. Unsweetened. I love to use dark cocoa powder, but any will do!
Cornstarch. This will keep your brownies intact, even with all the extra juices from the cherries oozing into your batter as it bakes.
Salt. To amplify the flavors.
Chocolate chips. For a little extra chocolate. You can use dark chocolate or semi-sweet chocolate chips.
Cherries. The star of this dish! Any type of fresh cherries will work in this recipe—I used Bing cherries. You can also use frozen cherries in place of fresh in this recipe.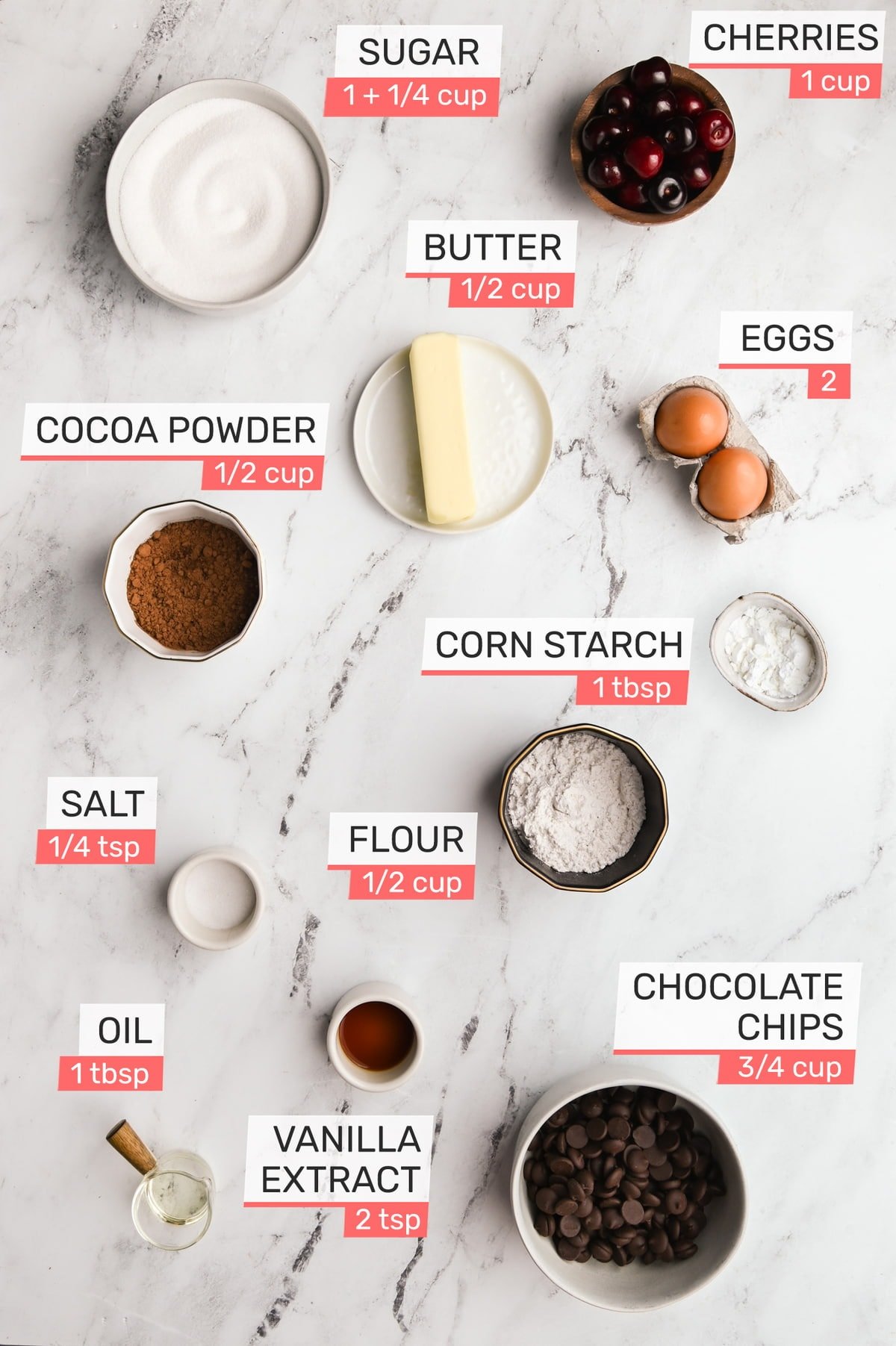 Cherry Brownies Tips and Tricks
---
Prep Your Cherries
I love big chunks of cherries in these brownies! Slice the cherries in half and remove their pit.
Keep in mind that this is a messy job! You'll get deep red cherry juice on your cutting board, and hands, and if you're anything like me, it'll inevitably end up on your T-shirt, too.
I recommend wearing an apron. You can also opt to wear gloves! And use a chopping board that you're okay with leaving some red behind.
You can opt to use a cherry pitter for easy pit removal, but I simply use my index finger and thumb to pinch the pit out once my cherry is sliced in half.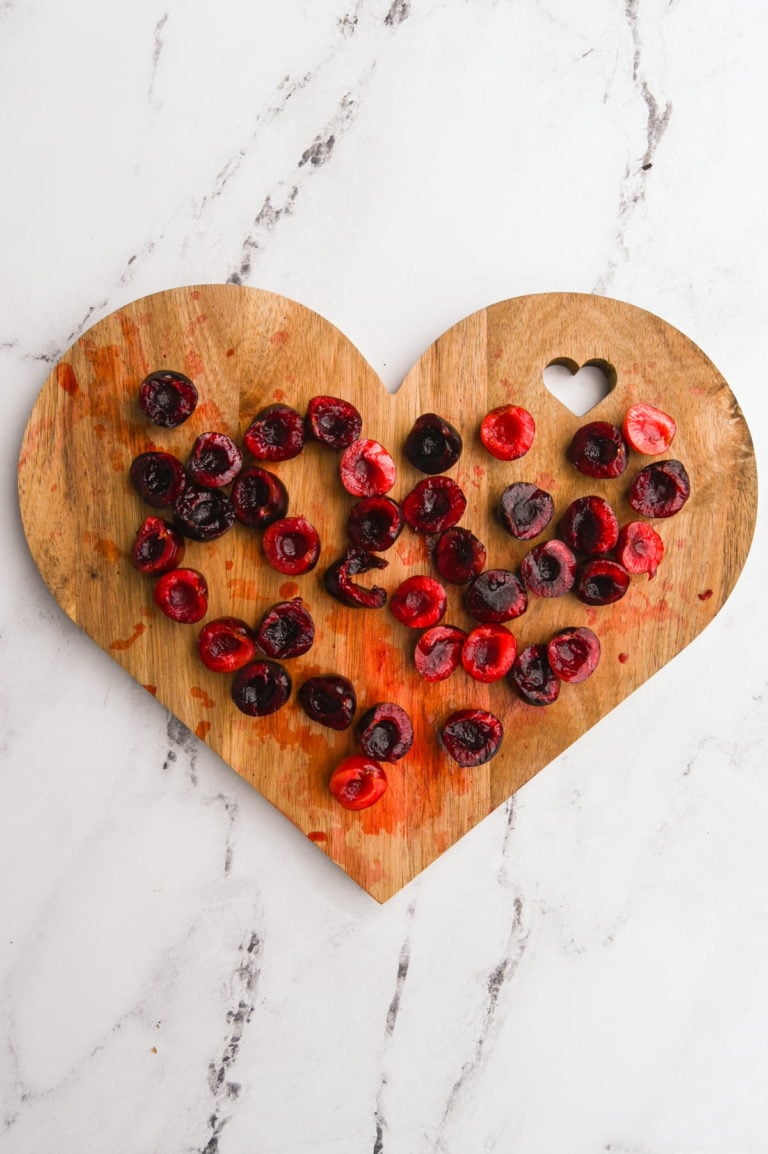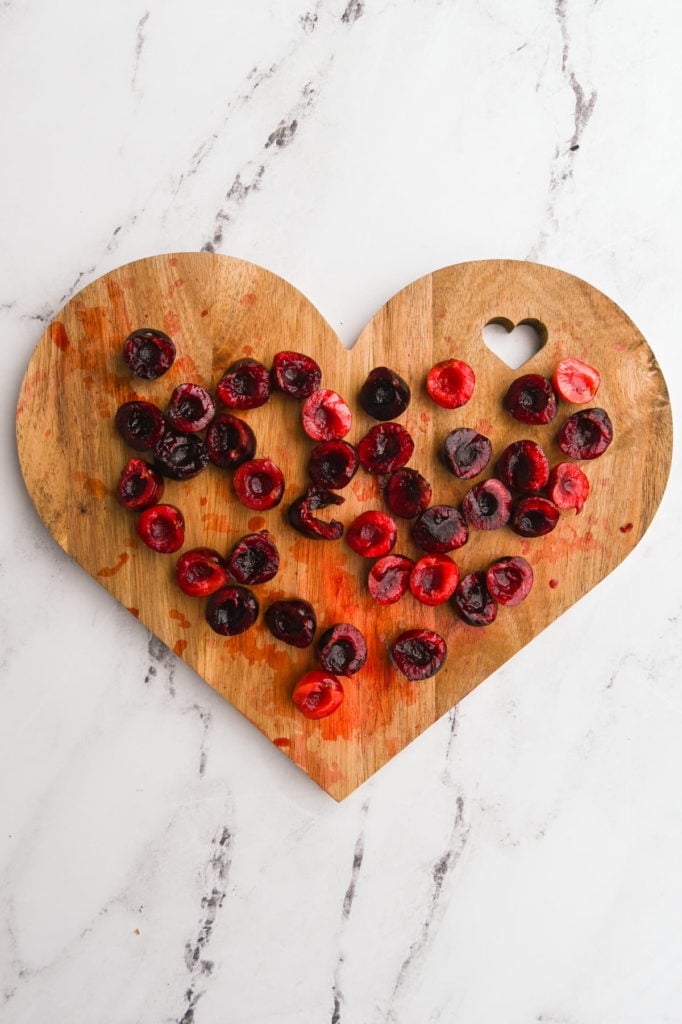 Make Sure Your Butter is Softened
It's best to use unsalted butter in this recipe so that you can control the amount of salt you are adding to your cherry brownies. Your unsalted butter must be softened—not melted, and not too cold and solid, in order to get the best consistency of the brownie batter.
The simplest way to soften your butter is to allow it to rest at room temperature for about 30 minutes before you start baking.
But if you forget—don't worry! You can soften your butter in several ways. I find the easiest is in the microwave! Start with 15 seconds, then drop down to 10 if it's still too solid.
From there, heat it in just 5-second intervals until it's ready. You'll know your butter is softened when your finger leaves an imprint when you poke it.
Green tip: Look for organic and palm oil-free butter if you can. Buying organic means you are supporting farms that do not use damaging pesticides and fertilizers, and palm oil production is a massive driver behind deforestation.
Cream Together the Sugar and Fat
Creaming your fat (in this case the butter and oil) and the granulated sugar together doesn't just combine these ingredients together smoothly, it also aerates them.
Adding little air pockets to the batter is an effective way to get that soft and chewy texture you expect from a fudgy chocolate cherry brownie.
Use a hand mixer on high to get the butter, oil, and sugar mixture nice and smooth.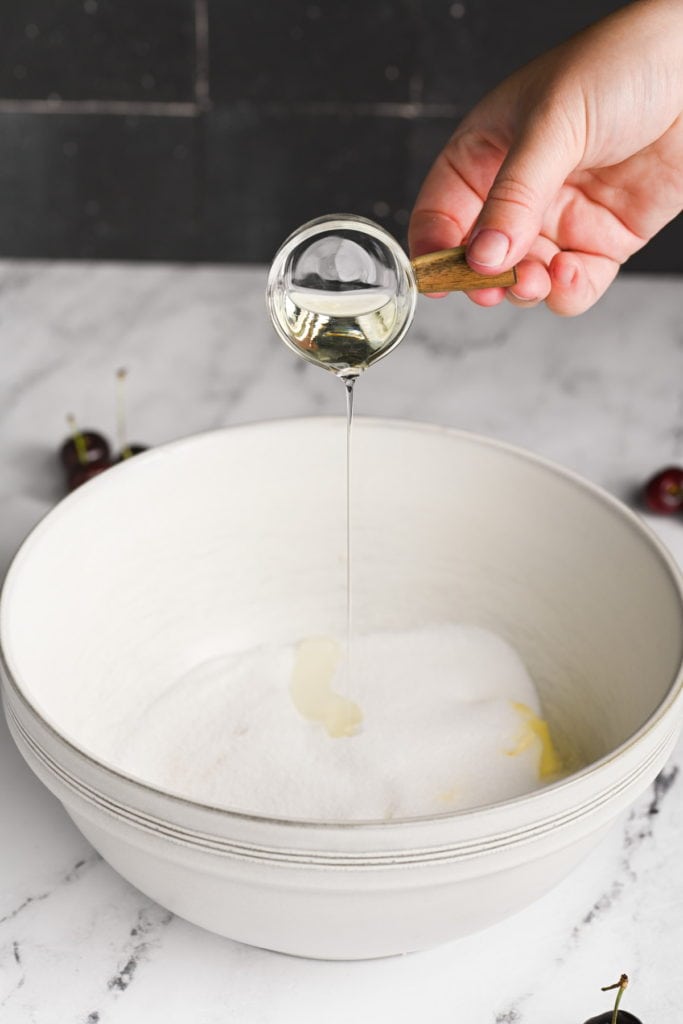 Add Your Eggs and Vanilla
Once you've creamed together your butter, oil, and sugar, you're ready to add your eggs and vanilla extract.
As a general rule of thumb, it's best to crack your eggs in a separate bowl rather than adding them directly to your batter. It's just safest as it allows you to avoid eggshells or a bloody egg.
But to be honest, I often rebel and crack 'em right in!
Use your hand mixer again to combine the eggs and vanilla extract into your batter until it is smooth once again!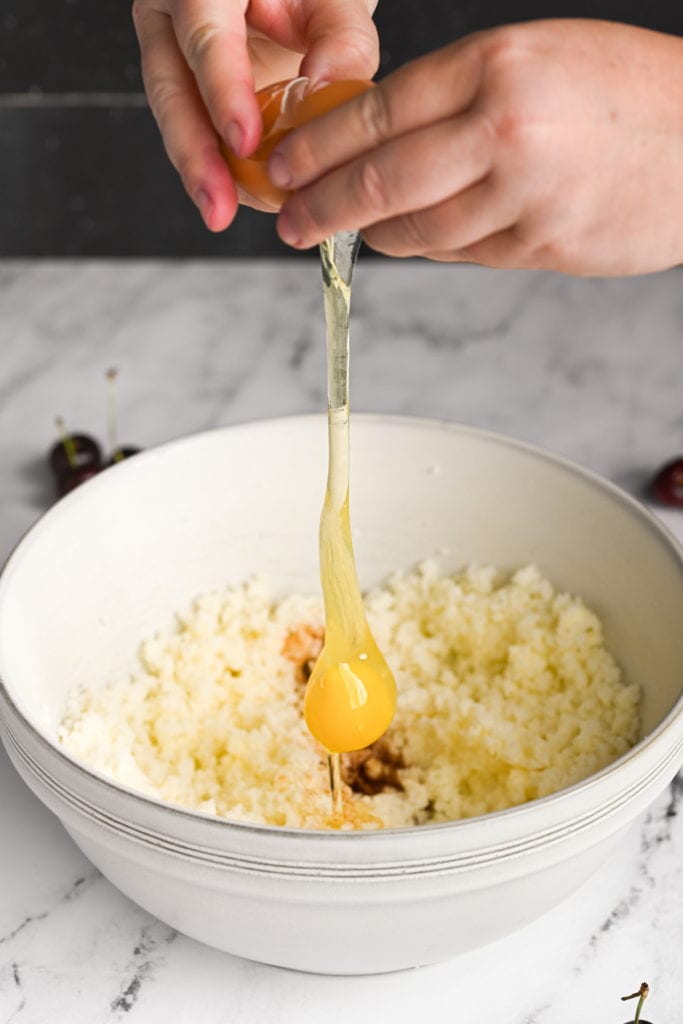 Add Your Dry Ingredients
Time for your flour, cocoa powder, cornstarch, and salt! Your hand mixer is your best friend here!
Use it to integrate your dry ingredients, mixing until there are no visible lumps. Biting into a clump of powder makes for a bitter, unpleasant taste.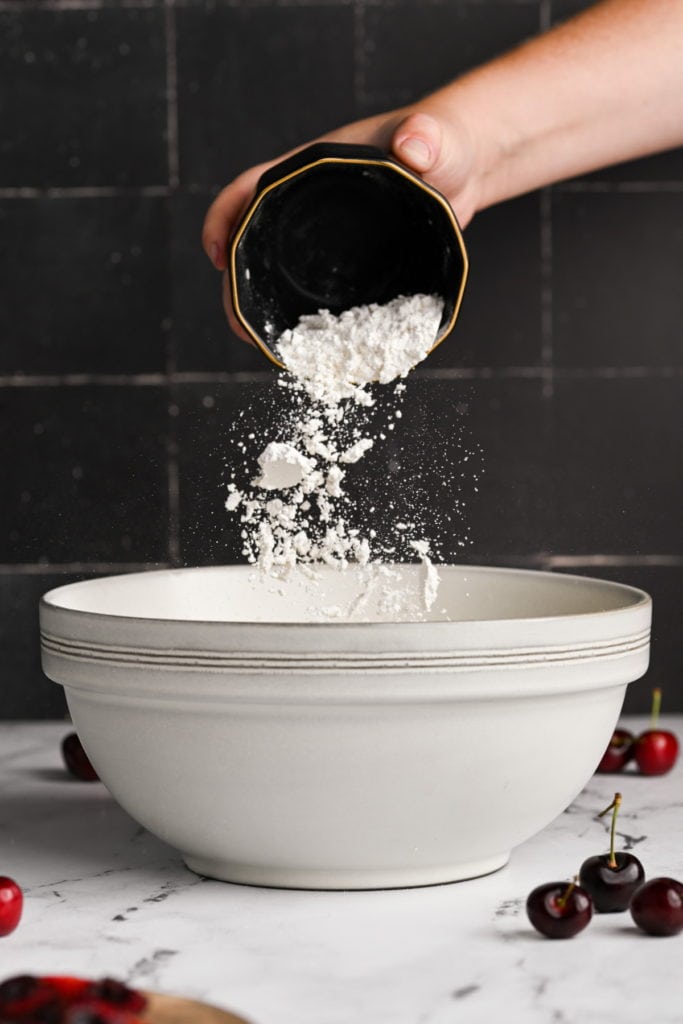 Add Your Chocolate and Cherries
Once your batter is nice and smooth, time to add your flavor enhancers!
Drop your juicy halved and pitted cherries and your chocolate chips straight into the batter and use a spatula to fold them in.
i like to conserve a handful of cherries to place on top, but this is optional.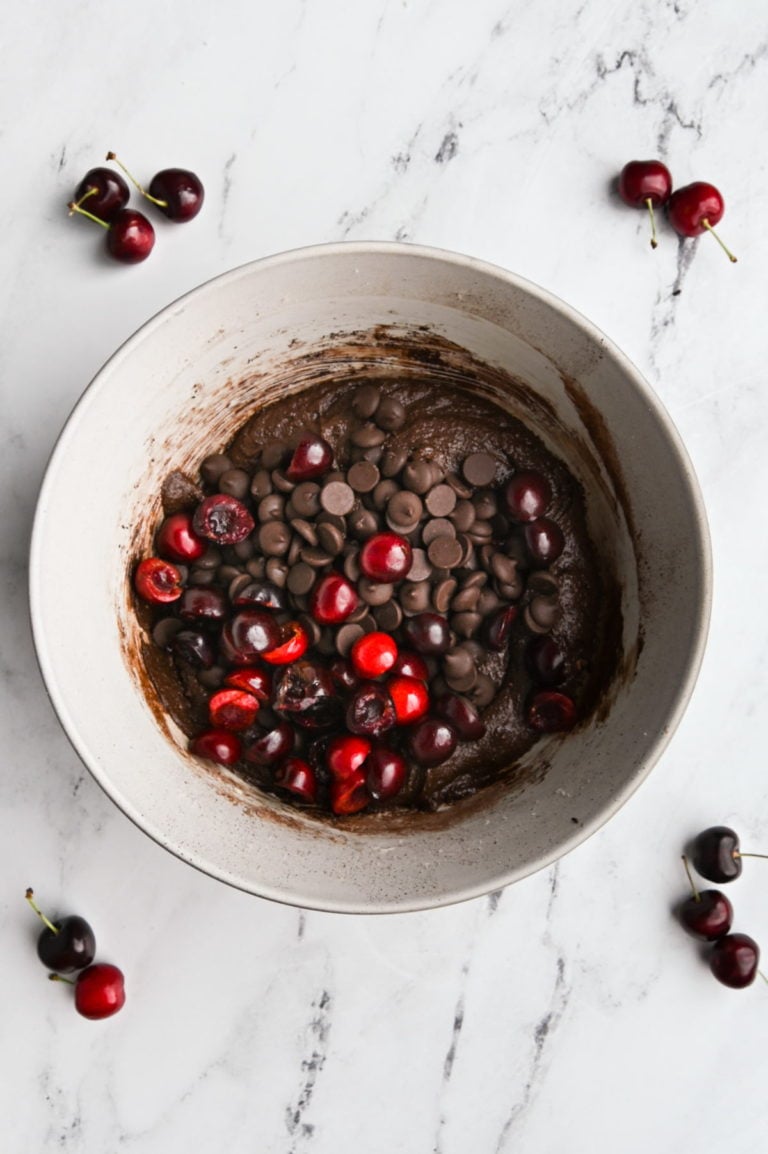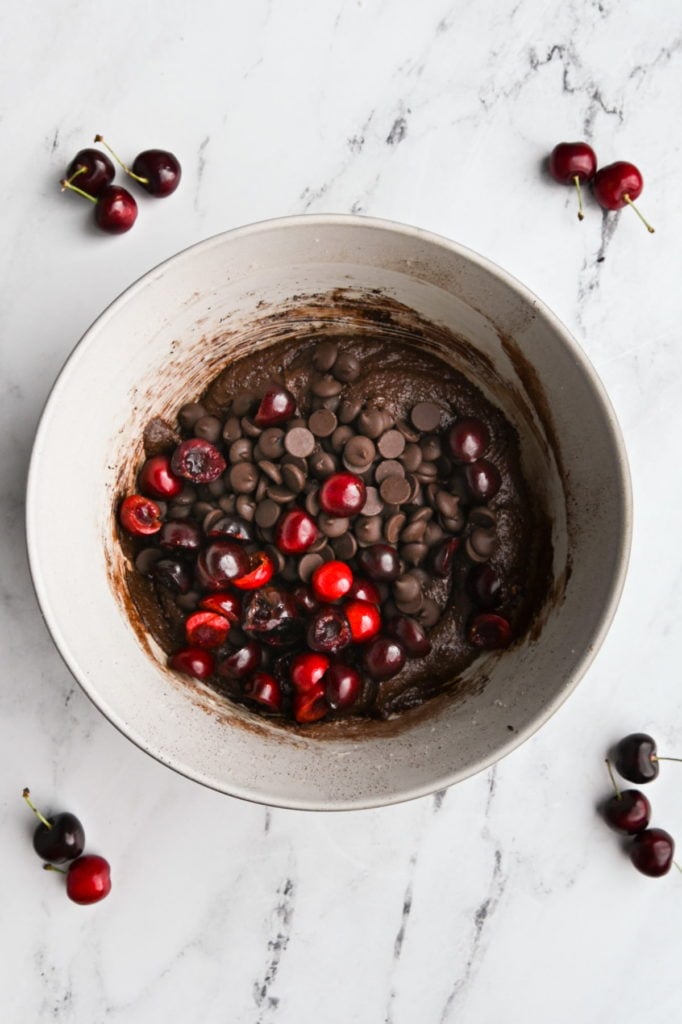 Line Your Pan
Line a 9 x 9-inch square pan with parchment paper so you can easily remove your brownies. These are fudgy and a little bit gooey, so you'll want to make sure your brownies are cool before cutting into them.
The easiest way to speed up the cooling process is to remove the parchment paper with the brownies from the pan and transfer them to a cooling rack.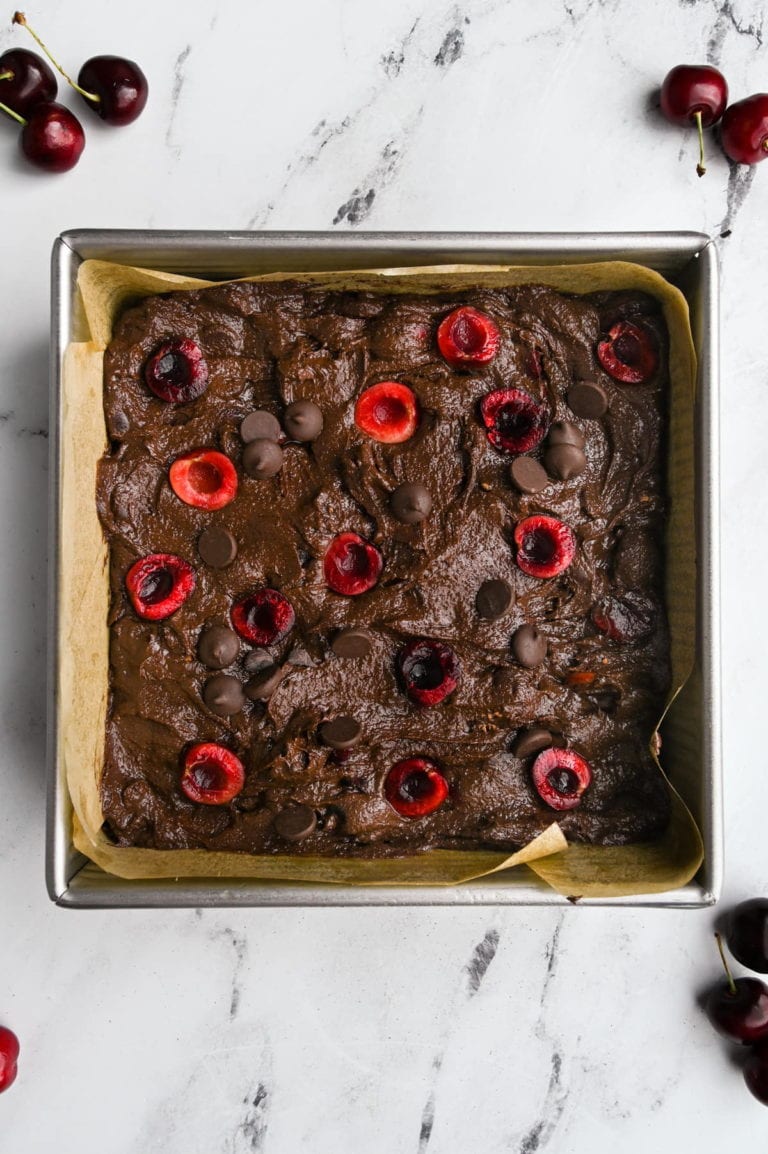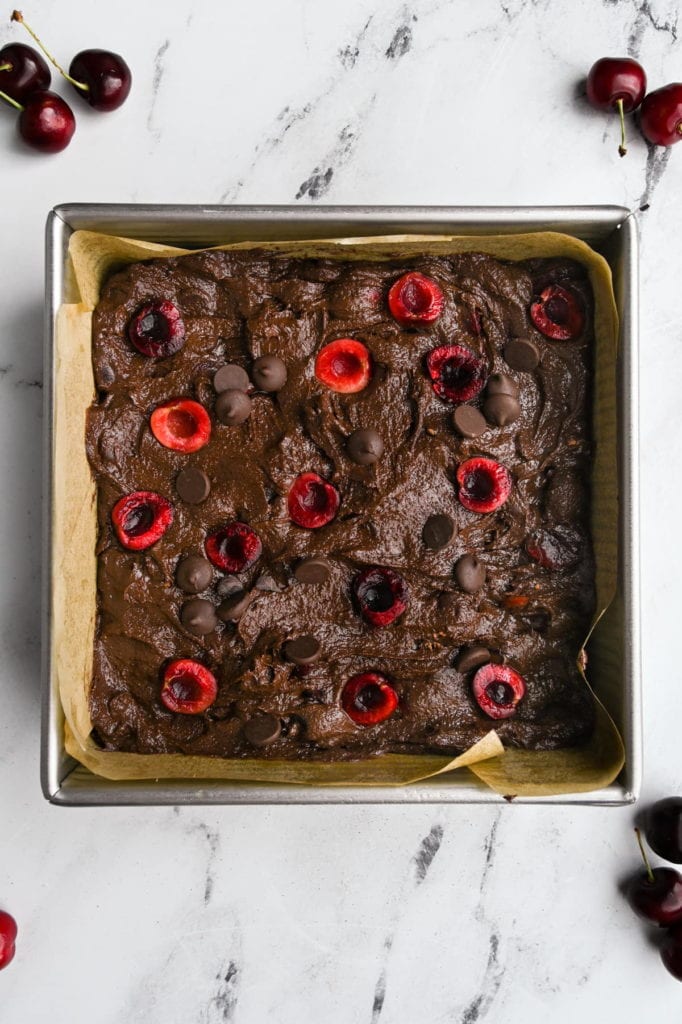 How to Store and Save Fudgy Cherry Brownies
Keep your chocolate cherry brownies in an airtight container or cover them to keep them fresh. At room temperature, these delicious fudgy squares will keep for 3-4 days.
If you want to extend the life of your cherry brownies, you can definitely freeze them! These little gooey guys will last up to 4 months in the freezer in an airtight container. Just make sure to allow them to thaw at room temperature before you eat them.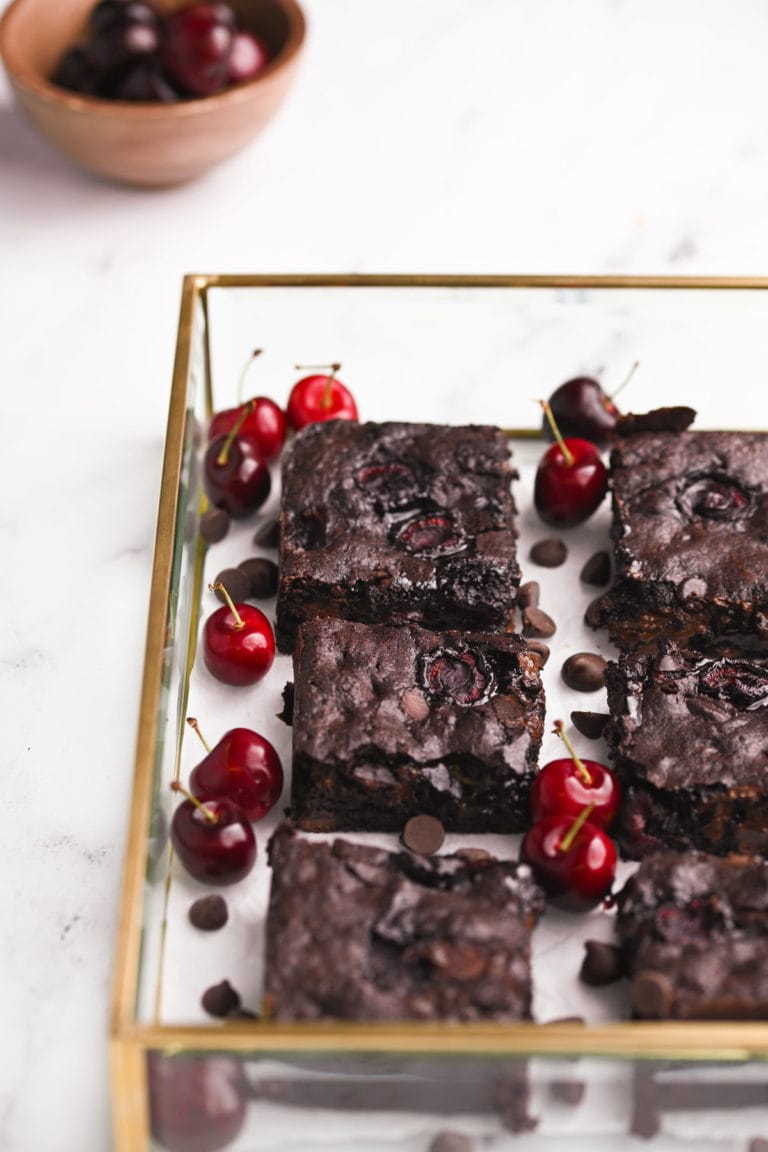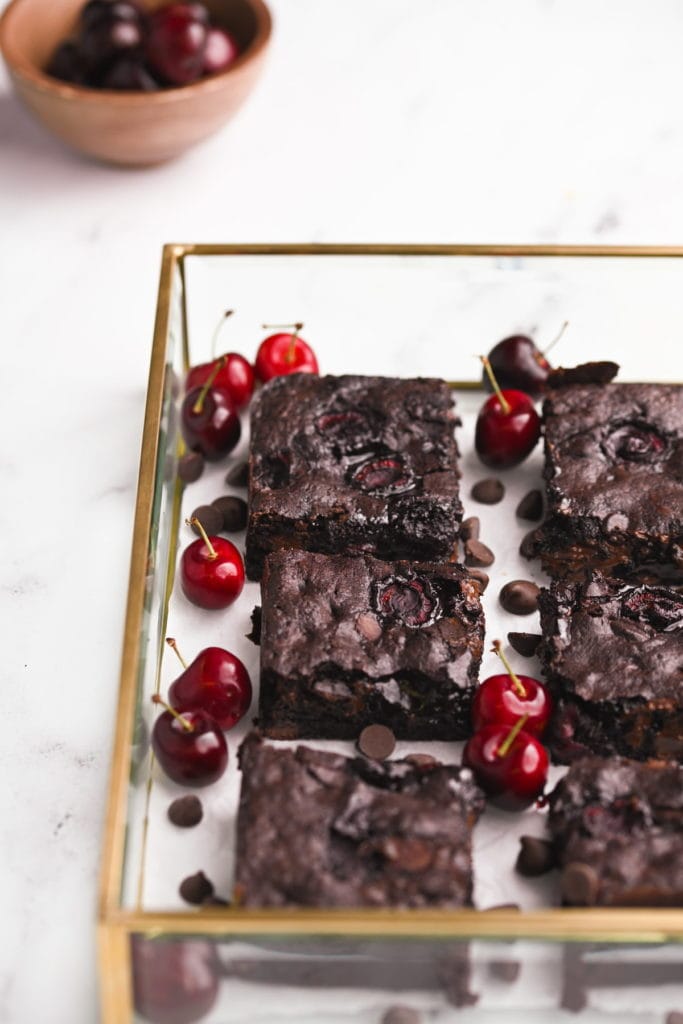 Cherry Brownies Frequently Asked Questions
---
Can I put fresh cherries in brownies?
Absolutely yes! But, they will add a lot of extra moisture to your brownies, so you will also have to account for that.
For roughly one cup of fresh cherries, you will need to add 1 tablespoon of cornstarch to your batter. The cornstarch will help absorb excess liquid, allowing your brownies to solidify, even with the excess juice from the cherries!
Can you add frozen cherries to brownies?
Yes! Frozen cherries can be used in place of fresh cherries in Cherry Brownies.
Want to sharpen your kitchen skills?
Why You Should Make These Cherry Brownies
---
They're bursting with flavor! When you get a bite with melty chocolate and oozing baked cherry, it literally melts in your mouth.
They're decadent. Super chocolatey, and extra fudgy.
They're vibrant. The sweet red cherries add vibrant flavor and color to these brownies.
If you're loving these Cherry Brownies and want more fun brownie recipes, check out these Brownie Blondies and Matcha Brownies!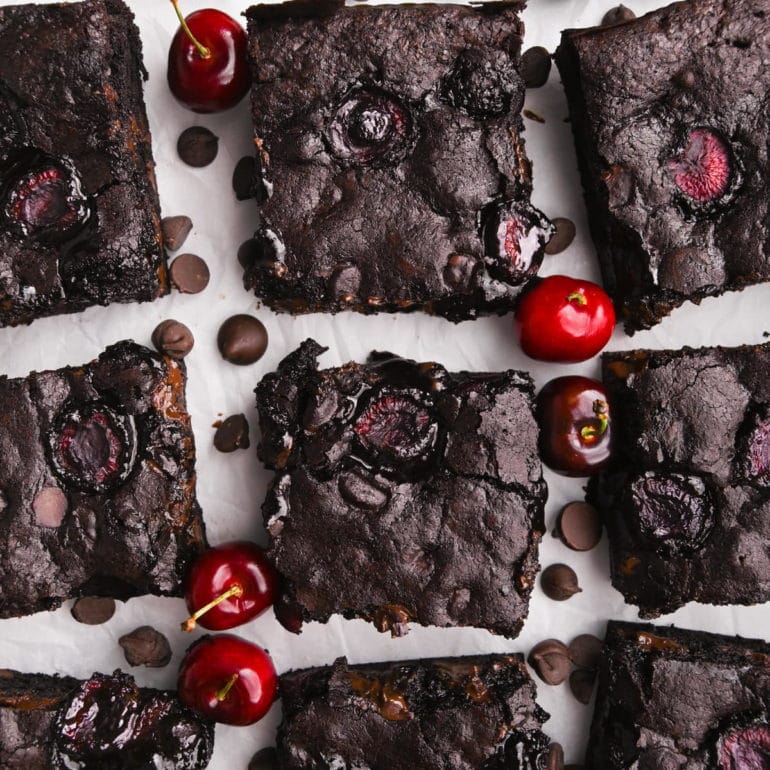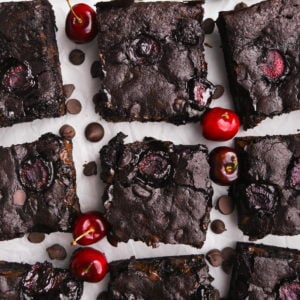 40-Minute Fudgy Chocolate Cherry Brownies
PRINT
PIN
RATE
These Cherry Brownies are fudgy, chocolatey brownies with the addition of juicy, fresh, and fruity cherries to add dimension and depth to the flavor.
Ingredients
½

cup

unsalted butter

(1/2 cup butter usually = 1 stick)

1 ¼

cups

granulated sugar

1

tablespoon

oil

(vegetable, canola, or coconut)

2

large

eggs

2

teaspoons

vanilla extract

½

cup

all-purpose flour

½

cup

unsweetened cocoa powder

1

tablespoon

cornstarch

¼

teaspoon

salt

¾

cup

chocolate chips

(dark or semi-sweet)

1

cup

cherries, pitted and halved

(any type, fresh or frozen!)
Instructions
Preheat your oven to 350°F and line a 9 x 9-inch square pan with parchment paper.

Slice your cherries in half and remove the pits. You can always opt to use a cherry pitter for a quicker, cleaner process.

In a large mixing bowl, cream together the butter, oil, and sugar with a hand mixer on high until the mixture is smooth.

Next, add the eggs and vanilla extract and mix again until combined.

Then, add your flour, cocoa powder, cornstarch, and salt and mix again until well-combined, making sure your batter is smooth and free of clumps.

Fold in your chocolate chips and cherries, with the option to reserve a handful of each to add on top.

Use a spatula to transfer the batter into your lined pan, smoothing it out to spread the batter evenly throughout the pan. If you reserved some of your cherries and chocolate chips, place them on top now.

Bake for 30-35 minutes until you can shake the pan without a lot of wobbling in the center. Allow them to cool completely before slicing. Enjoy!
Pro Tips
You can use any type of cherries for this recipe—fresh or frozen.
If you love brownies as much as I do, you'll love this collection of my greatest brownie recipes!
Chocolate lover? Me too! You'll love the collection of my best chocolate recipes!
Did you make this recipe?
Let me know by leaving a recipe rating below, or by tagging @marleysmenu on Instagram.