Can't decide between a refreshing Mojito and spicy-sweet Moscow Mule? This Fiery Ginger Beer Mojito gives you the best of both worlds.
This ginger beer mojito is truly a perfectly balanced cocktail. Spiced and aromatic ginger beer, white rum, cooling mint, and citrusy lime are all you need for this delicious drink.
Think classic mojito, but substitute the sugar and soda water for ginger beer. Simple as that. It gives it a little more fizz and that fiery addition of ginger that gives this drink the power to make you feel like you're on vacation with one sip.
As an environmental scientist, I try hard to keep my ecological footprint low, and one of the best ways to do so is to grow your own veggies, fruits and herbs!
Green tip: Homegrown herbs have zero associated food miles, no pesky plastic packaging, and are free of damaging fertilizers and chemicals. Plus, they are just so fresh and flavorful.
And surplus herbs mean lots of fresh cocktails at my house!
How To Make the Perfect Ginger Beer & White Rum Mojito
---
---
Muddle That Mint
Muddling is key to releasing the oils from your mint, so you can really taste its fresh herbaceousness. Be careful not to over-muddle. Mint can get a little bitter if it's overworked. About 30 seconds should do the trick.
Don't Just Squeeze Your Limes, Let 'Em Hang Out A While
Utilize both the juice and the peel. The peel has oils in it that are dense with flavor—that's why citrus zest is used a lot in cooking. Squeeze your lime juice into your glass and then drop what's left into your drink. This will allow you to optimize that refreshing citrus taste.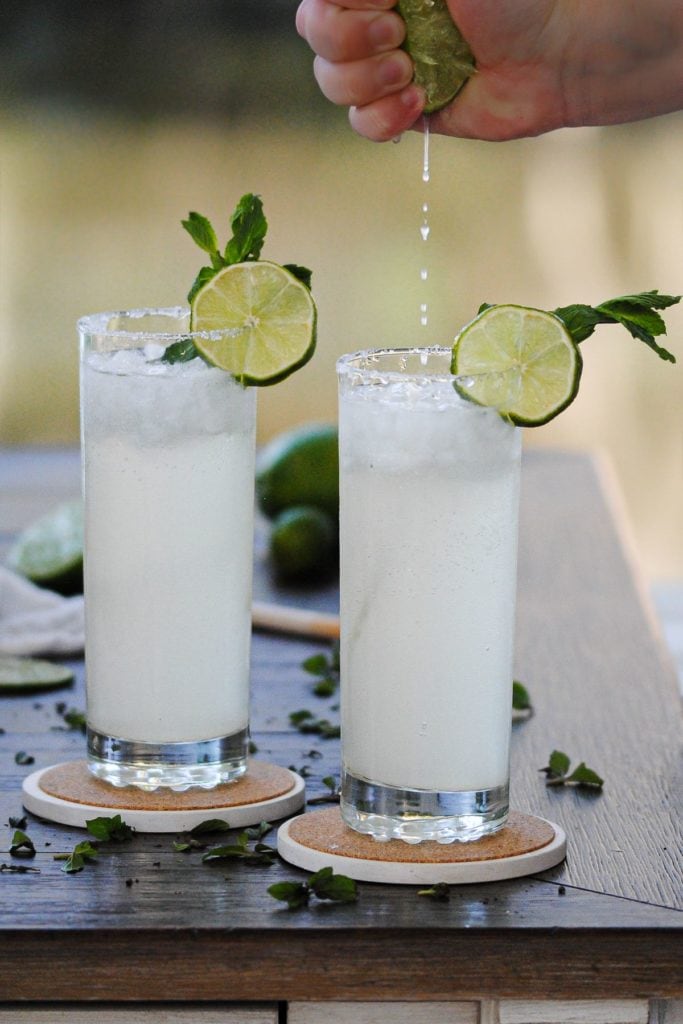 Stirred, Not Shaken
You know how much I love my cocktail shaker, but ginger beer is super carbonated. Using a mixer will not only be a big sticky mess, but it will also make you lose some of those beloved bubbles.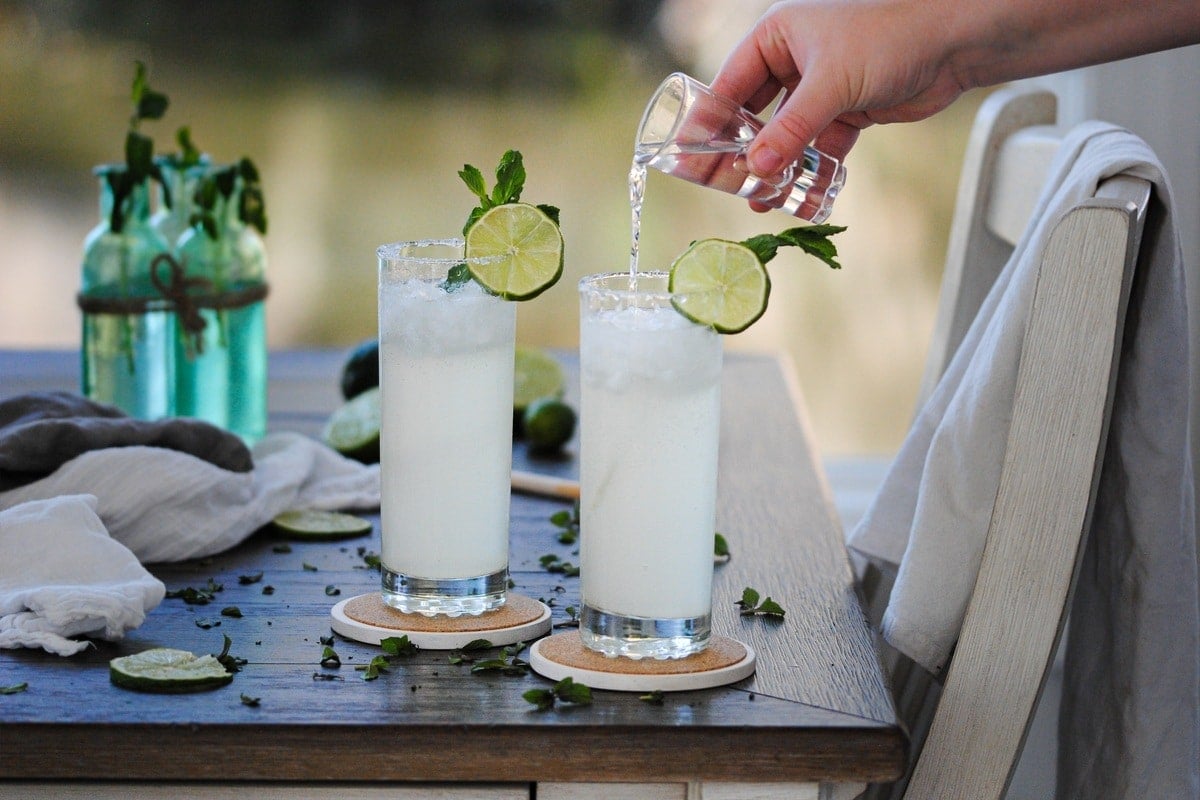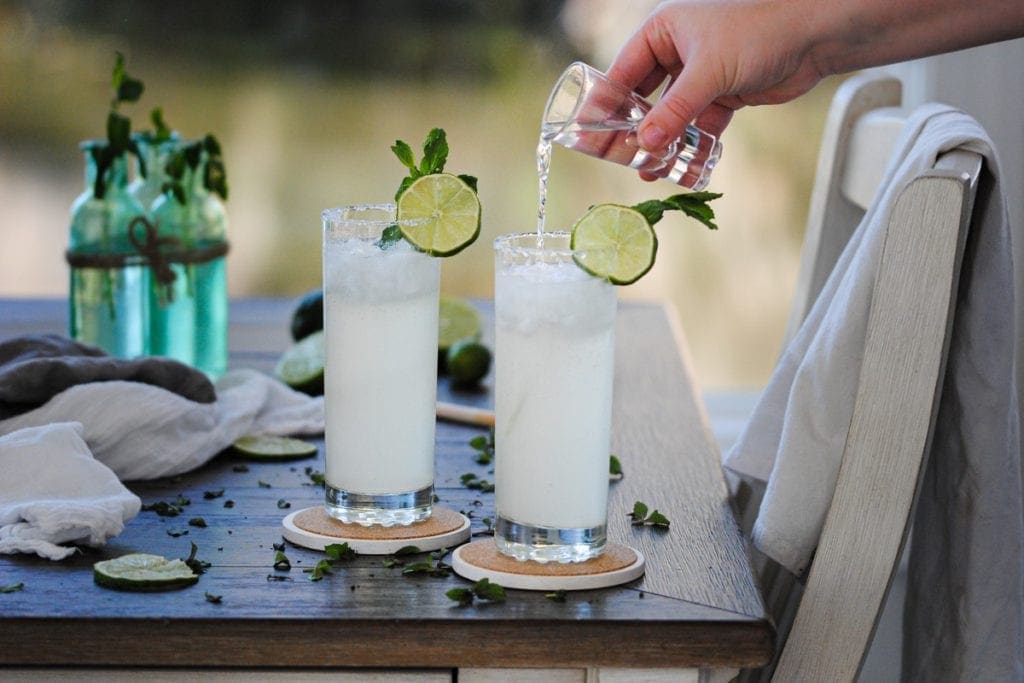 Ginger Beer Mojito Frequently Asked Questions
---
---
Can I make this Ginger Beer Mojito a mocktail?
Absolutely. These GBMo's are just as delicious without the rum. Add an extra teaspoon of lime juice instead and you're off and running!
Spearmint or peppermint?
They both work! Peppermint has a much stronger minty flavor than spearmint. This recipe is written with spearmint in mind, so if you do use peppermint, just pull back a little bit, to avoid a taste reminiscent of toothpaste.
Can I substitute ginger ale for ginger beer?
You certainly can, but you can expect your drink to be a little less fizzy and a little sweeter.
This refreshing Fiery Ginger Beer Mojito is the perfect blend of spicy, citrus, and sweet, and the best way to drink rum! If you want more refreshing cocktail recipes, check out this list of 10+ Mixology Cocktails To Try At Home. Cheers!
The Inspiration Behind this Cocktail
My husband picked up this recipe from two of his great friends and perfected it over the years. He actually made a pitcher for my friends the first time he met them and well, let's just say one sip and he was in.
So this Fiery Ginger Beer Mojito has earned a reputation of guaranteeing you make a good impression on every new person you meet and have the opportunity to mix a drink for. Next time you're bartending to impress, pull out this guy and you'll be sure to succeed.
Cheers!