Wondering what to do with leftover cranberry sauce? This Leftover Cranberry Sauce Cosmo is the most delicious (and fun) way to reinvent your canned or leftover crans!
It's vibrant, it's fresh, and it's festive. And it's got enough booze in just one glass to warm you up, making it the perfect winter cocktail.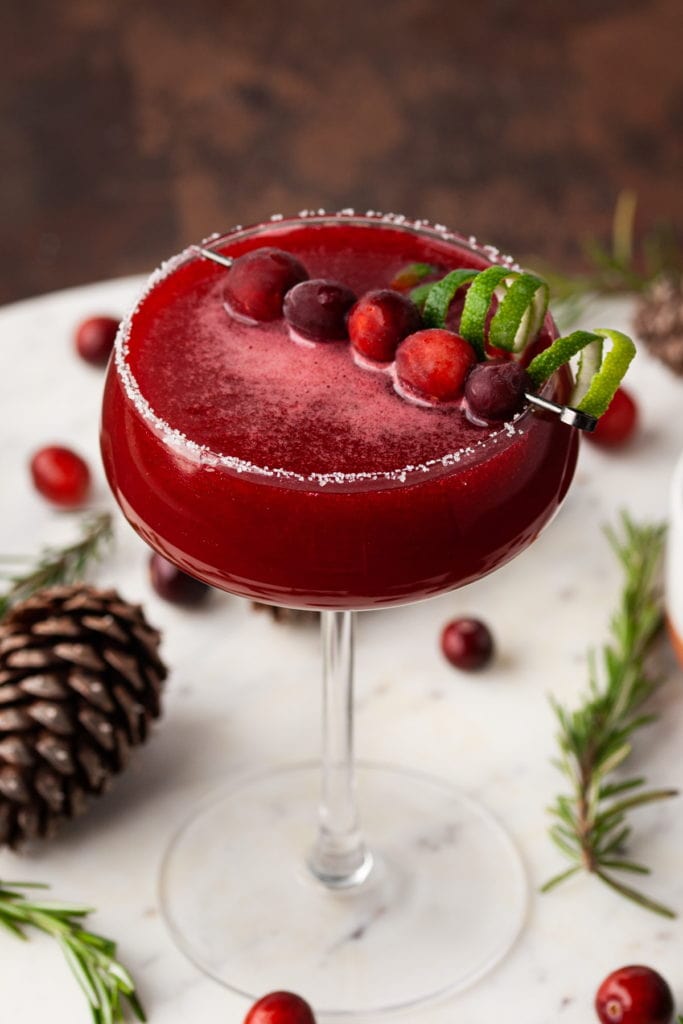 Cranberry sauce is one of those obligatory side dishes on Thanksgiving along with sweet potato, mashed potato, green bean casserole…
Okay, I could probably write a novel on all the food-focused traditions we have in America! But the point is, the cranberry sauce adds a vibrant sweetness to cut through all the buttery savory casseroles piled high on your plate.
Now I don't know if it's just our family or if you can say the same for yours, but after a couple of days of reheating and gobbling up leftovers, EVERYTHING else is gone except for the cranberry sauce.
There is inexplicably ALWAYS some leftover even though every single person puts it on their plate.
And even with all the Thanksgiving leftover sandwiches slathered in cranberry sauce and gravy, we are always left wondering what to do with that extra sweet and tart deliciousness.
Green tip: Did you know that of the billions of pounds of food wasted annually, it is estimated that 50% of it happens in our homes. It's always best to avoid food waste as much as you can!
Because, well, we hate food waste, but also it's way too good to pour down the drain!
Enter this Leftover Cranberry Sauce Cosmo—the deep red fancy and festive drink you'll want to enjoy all year round. And the new approach to the classic Cosmopolitan that (dare I say it?) may even taste better than the original. We will let you be the judge of that.
Leftover Cranberry Sauce Cosmo Tips & Tricks
---
Gather Your Ingredients
You'll just need three other ingredients outside of your leftover cranberry sauce. Here's everything you'll need:
Cranberry sauce. Canned, homemade, whole, or jellied. Whichever cranberry sauce you have will work!
Vodka. Use your favorite! Traditional, unflavored vodka is preferred, but fruity-flavored vodka also works here.
Triple sec. To add a hint of orange.
Lime juice. For freshness and citrus. You should be able to get enough juice from just one lime.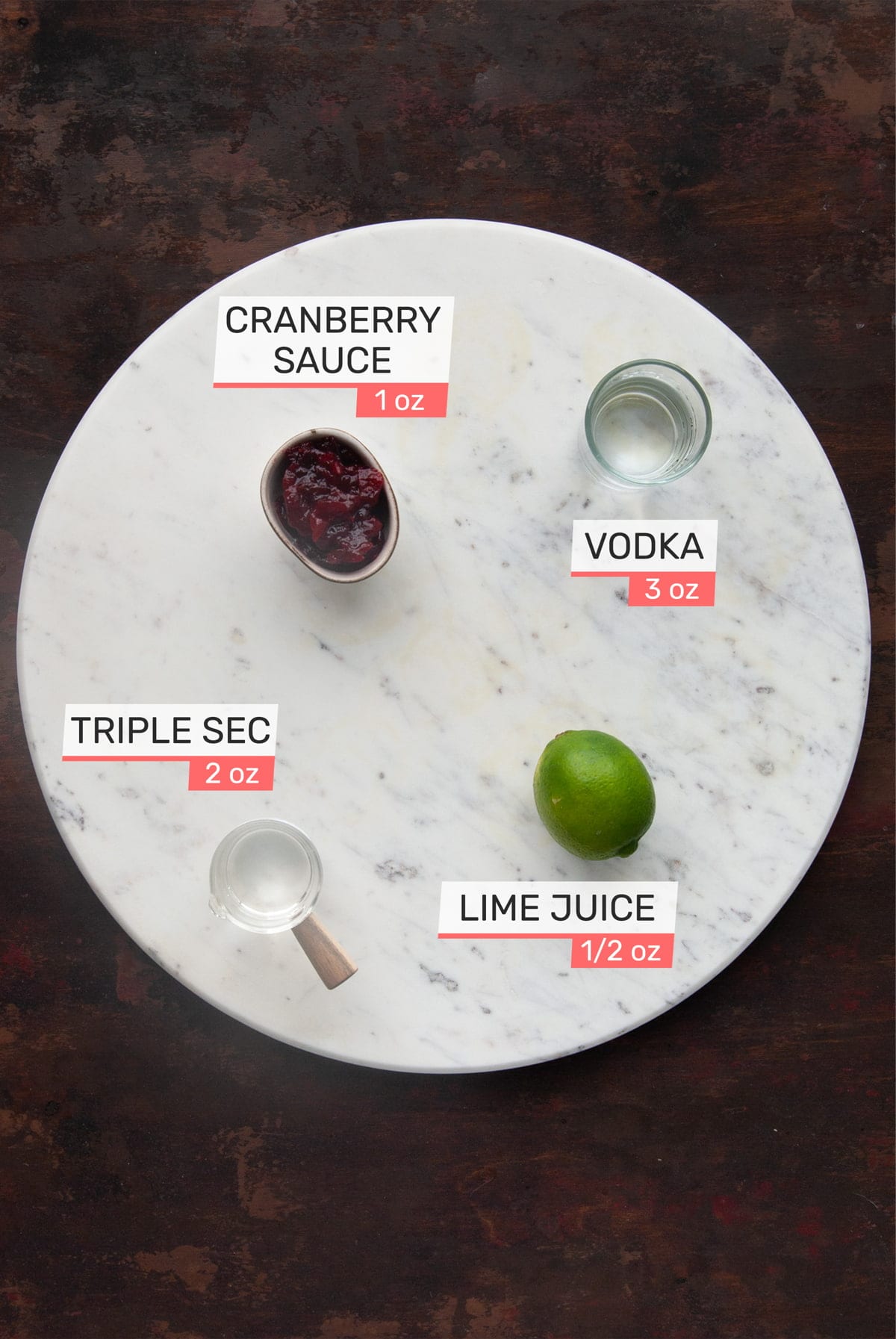 You'll Need A Blender or Food Processor
In addition to your four ingredients, you'll also need either a blender or a food processor, preferably a blender! I use this Ninja Blender for this milkshake and a lot of my sauces and vinaigrettes. It works like a charm!
Just throw all your ingredients into a blender, process on high for about 30 seconds to one minute, and voila! No need for crushing, muddling, or mixing!
This cocktail is best cold and smooth, which means we have to get out the solids.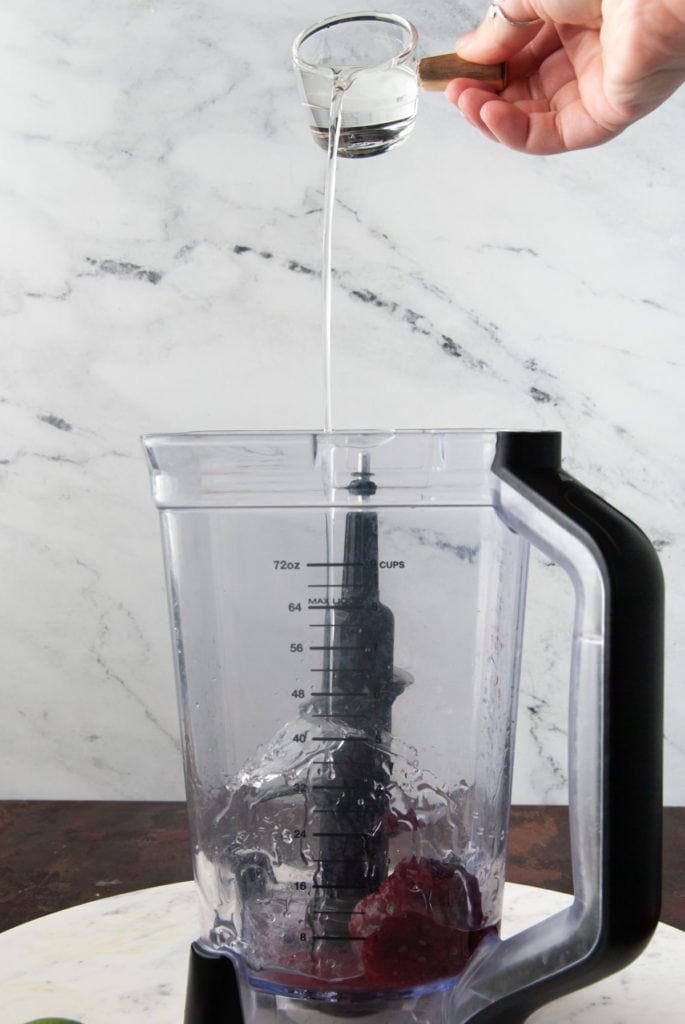 Use a Fresh Lime
It goes a long way in this recipe! When you're working with minimal ingredients, you really want all four of them to pack a punch!
Using a fresh lime brings that fresh citrus taste you need to balance out the sweet and tangy cranberry sauce. Usually, you can get 1 tablespoon of lime juice out of 1/2 of a lime.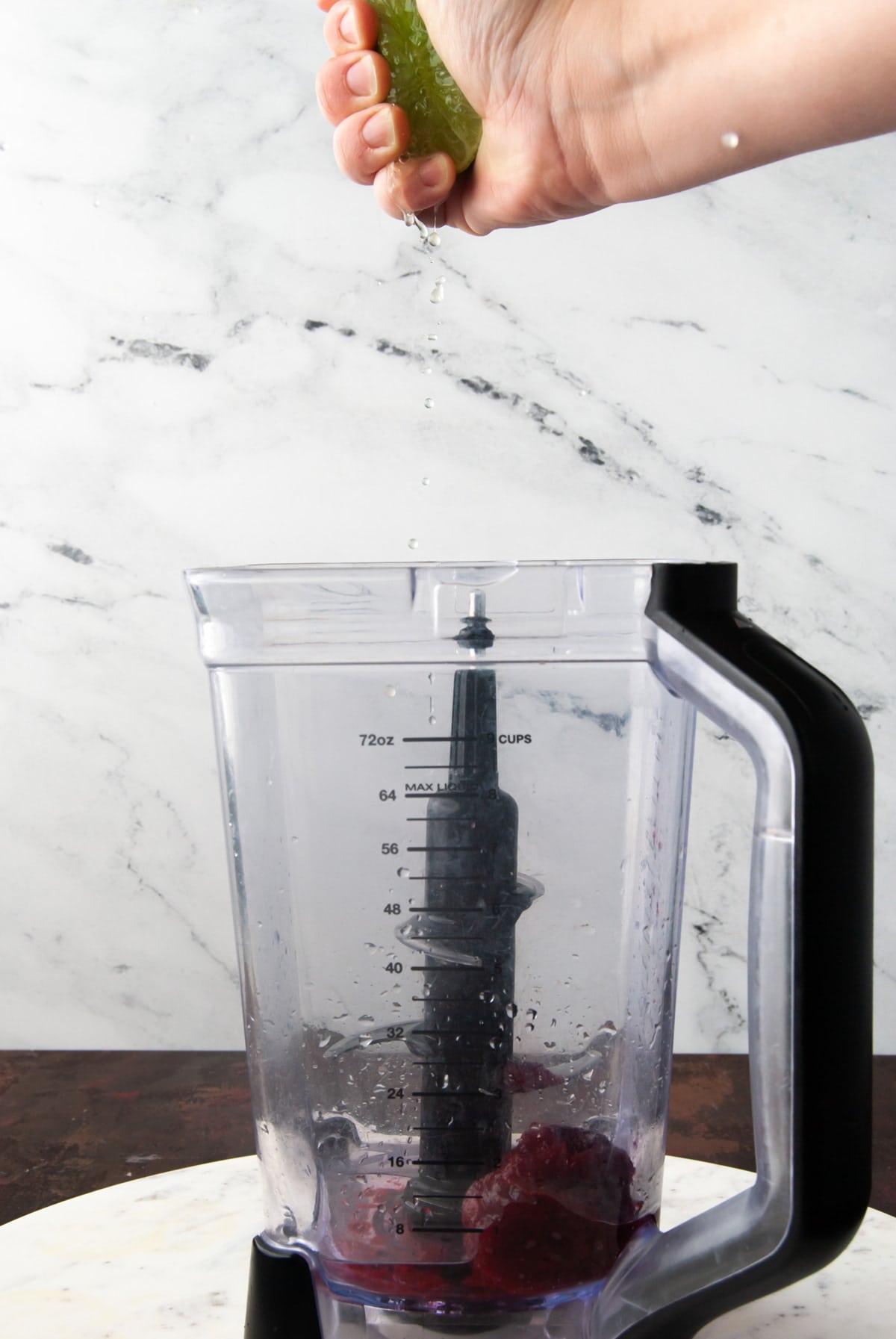 Sugaring Your Rim
This part is optional, but if you want the ultimate cosmo experience, it's highly recommended! It's simple to do. Just wet the rim of your glass with lime and then dip it into sugar.
You can put the sugar on a plate, in a shallow bowl, or easiest of all—use a cocktail rimmer.
Green tip: Consider buying your alcohol in glass bottles to avoid extra plastic packaging, and always recycle your vodka and triple sec bottles!
Use a Sieve
Once you blend your ingredients together, you'll want to strain your cocktail into your glass.
For a smooth sip, use a sieve. Hold it over your glass, and pour the contents of your blender into the sieve. The liquid will strain into the glass.
Once you pour all of the contents of the blender into the sieve, you may want to use a spatula to push down, to make sure you get the most liquid separated as possible.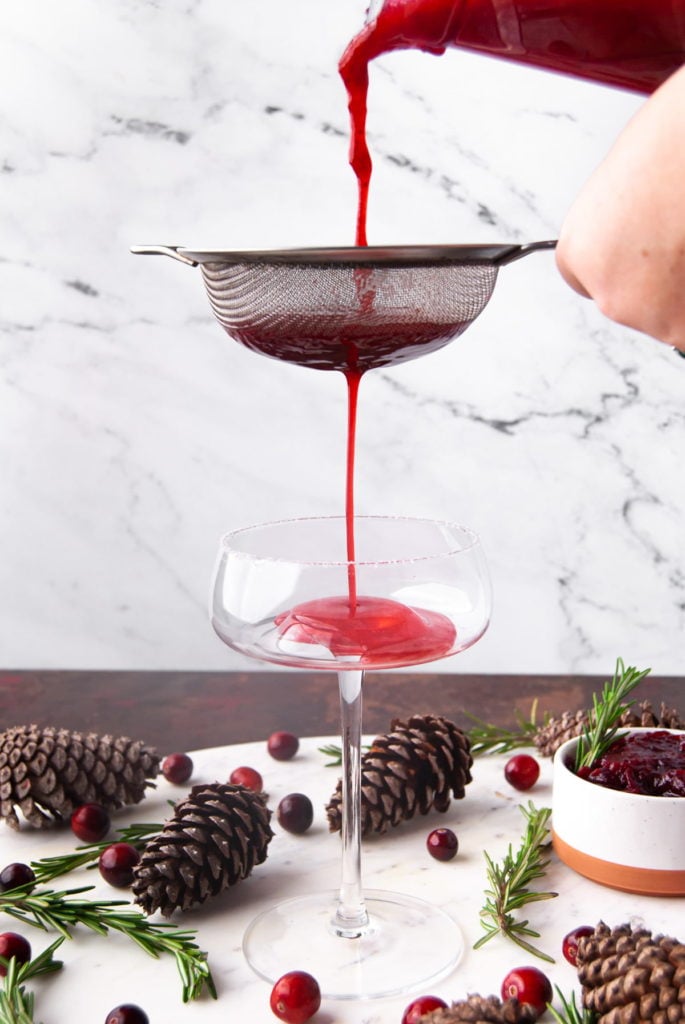 Serve Over Ice
When I know I'm making this cocktail, I stick my vodka and triple sec in the freezer. It keeps the whole cocktail nice and cold for a solid 15 minutes. And if you're anything like me, these dangerously delicious cocktails are gone quicker than that.
(Even when I make a conscious effort to savor every sip! 😅)
I try to avoid using ice in this drink because when it melts it will dilute your beautifully balanced cocktail. Try making ice out of lime juice so that when it melts, it just adds a little extra flavor.
Or maybe use Rocks Ice, which is larger ice intended for cocktails. My husband and I use these ice molds to make ice for all of our cocktails and mocktails and highly recommend them!
But I know you are seeing this recipe right at happy hour, after a long day, and thinking, "umm hello, I'm gonna need one of these immediately. I don't have time to wait for my alcohol to sit in the freezer for hours or to make your fancy ice—give me another option!"
To which I say, "I TOTALLY get it".
And in that case, just chill your glass in the freezer while you're making your drink!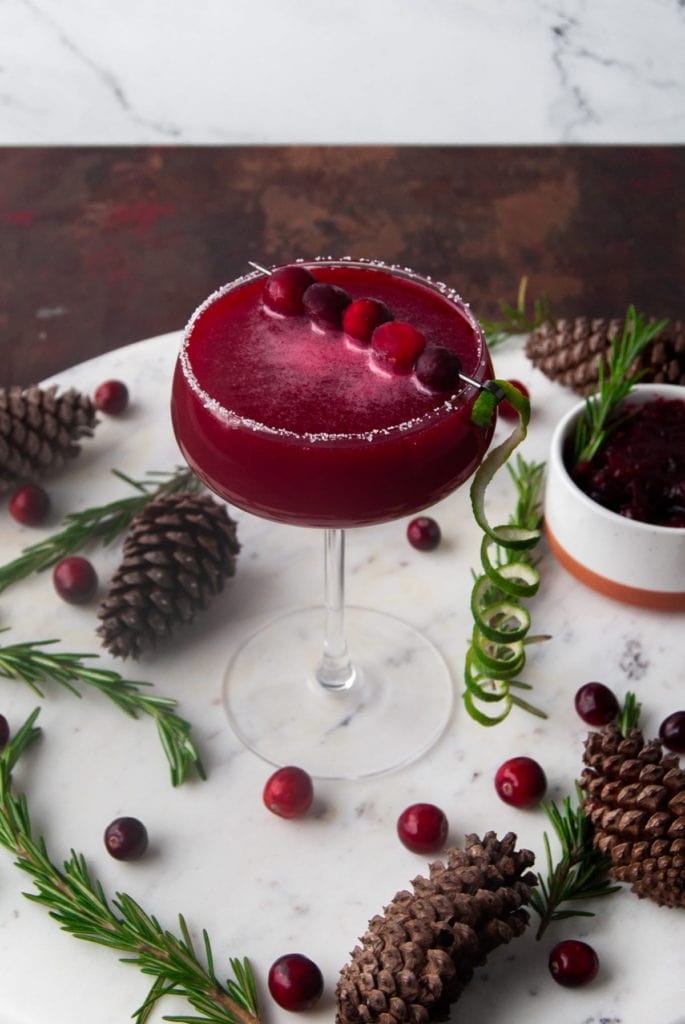 Leftover Cranberry Sauce Cosmo Frequently Asked Questions
---
How long can you keep leftover Cranberry Sauce?
Cranberry sauce lasts 10-14 days in a sealed, airtight container stored in the refrigerator.
Can you freeze leftover cranberry sauce?
Just a blender and a sieve. My favorite thing about this Leftover Cranberry Sauce Cosmo is the ease of it!
What can I do with leftover cranberry sauce?
My favorite thing to do with leftover cranberry sauce is to make this Leftover Cranberry Sauce Cosmo! The cranberry sauce adds sweetness, some tartness, and fresh flavor to this festive and resourceful take on the classic Cosmopolitan.
Want to sharpen your kitchen skills?
Why You Should Make This Leftover Cranberry Sauce Cosmo
---
It's resourceful! Why waste that delicious cranberry sauce when you can turn it into a cocktail?
It's balanced. The sweetness and tang from the cranberry sauce are balanced perfectly by fresh citrus, sweet triple sec, and the kick from the vodka.
It's festive! That vibrant color and taste make you feel all the Holiday cheer!
For more delicious holiday cocktail ideas, check out this Cheery Peppermint Mocha Martini and Gin and Cranberry Christmas Cocktail.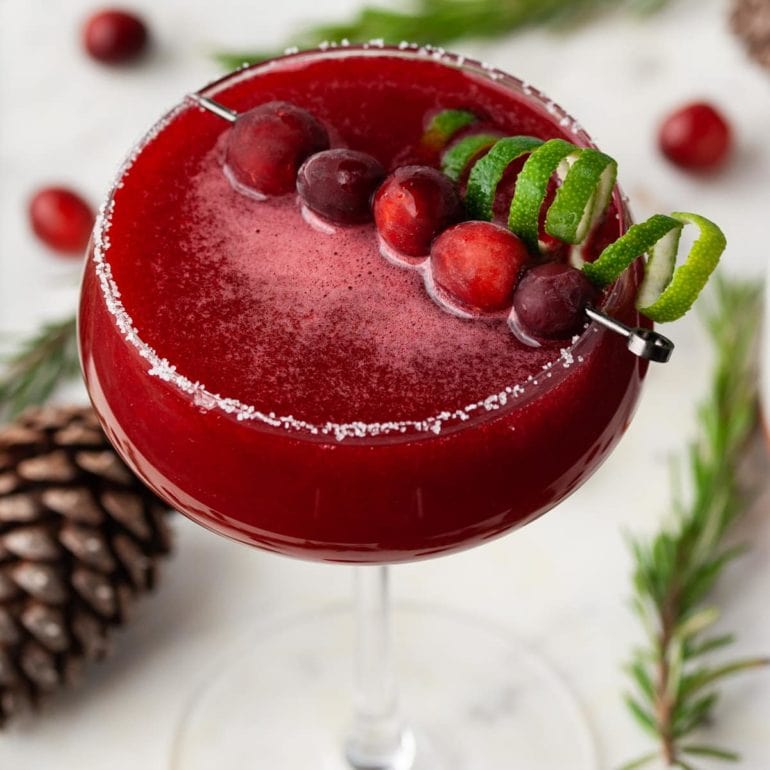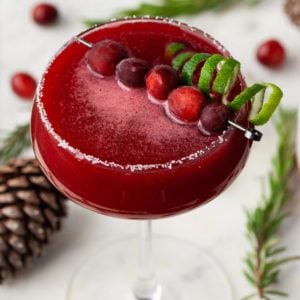 Leftover Cranberry Sauce Cosmo
PRINT
PIN
RATE
With sweetness from the cranberry sauce, citrus from the triple sec and lime juice, and a generous amount of vodka, this Leftover Cranberry Sauce Cosmo is sure to bring the holly jolly this Holiday season.
Ingredients
1

ounce

cranberry sauce

(1 oz = 2 tbsp)

3

ounces

vodka

(3 oz = 6 tbsp)

2

ounces

triple sec

(2 oz = 1/4 cup)

1

ounce

lime juice
Optional Garnish
sugar for rim

5

fresh cranberries

lime peel
Instructions
Add all ingredients to a blender and process on high until smooth.

Pour through a strainer twice to remove any remaining solids from your cranberry sauce.

Serve cold in a sugar-rimmed martini glass and garnish with sugared cranberries and lime peel (optional).
Pro Tips
Stick your vodka and triple sec in the freezer a couple of hours before preparing these drinks, to achieve an ice-cold drink, without needing the ice.
I prefer to use Whole Cranberry Sauce vs Jellied, but either will work!

This dish is a classic holiday recipe. For more like this, check out my comprehensive list of the

best Thanksgiving recipes

.
Did you make this recipe?
Let me know by leaving a recipe rating below, or by tagging @marleysmenu on Instagram.