Looking for the perfect balance of zesty and sweet to start your day off on the right foot? These Fluffy Lemon Pancakes bring bold lemony flavor to perfectly textured pancakes for a mood-boosting breakfast the whole family can enjoy!
In this recipe, you will learn how to make lemon sugar to easily and effectively infuse lemon flavor into your pancakes and how to make a quick at-home buttermilk mixture to yield the fluffiest pancakes.
You'll also learn how to tell when the pancakes are ready to flip and some of my favorite ways to serve up these delicious homemade pancakes.
Plus, you'll be left with your new favorite fluffy homemade pancake recipe, that comes together in less than 30 minutes and utilizes both the juice and zest of a fresh lemon to infuse tons of zesty flavor!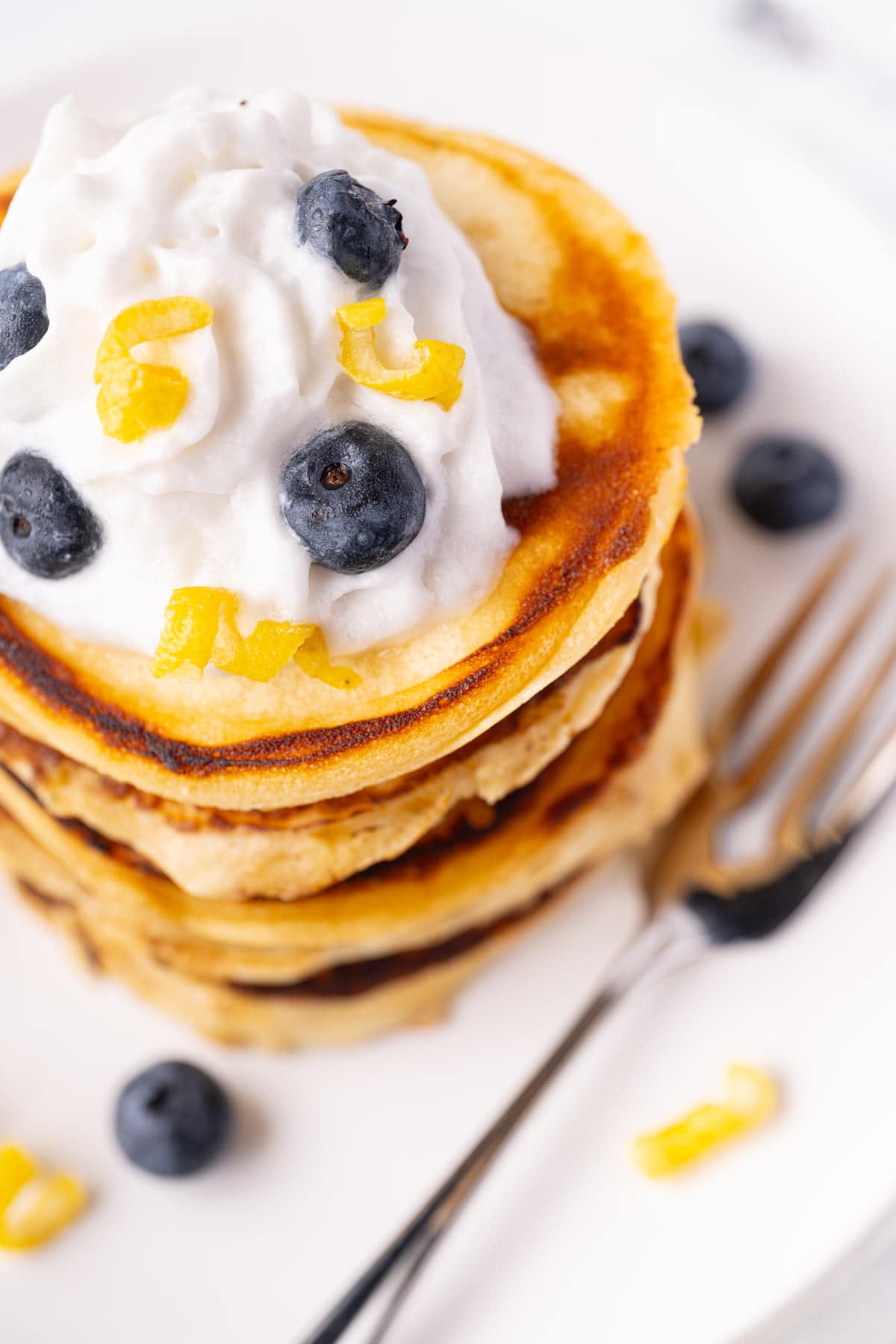 As an environmental scientist, I try hard to source ingredients for all of my meals in a responsible and sustainably-minded way. Making things from scratch rather than buying pre-made pancakes or mixes allows you to have more control over the ingredients.
This helps me to eliminate unnecessary preservatives from my diet, which can ultimately pollute our planet.
Green tip: Food preservatives, like pesticides, are harmful to the environment. They contain toxins that are harmful to plants, animals, and soil. Homemade food with all-natural ingredients that allows you to avoid preservatives lowers your ecological footprint.
Lemon Pancakes Ingredients
---
Here's everything you need:
Granulated sugar and lemon zest. You should be able to get enough lemon zest from one large lemon. Adding the zest to the sugar will infuse the sugar with bold lemon flavor, so you can seamlessly integrate it into your pancakes.
Milk & lemon juice. Adding the lemon juice to the milk will turn it to a thick buttermilk and makes for the fluffiest pancakes. You should be able to get enough lemon juice from half of a large lemon.
All-purpose flour. The base of your pancake batter.
Baking powder. So that your pancakes rise in the pan and get extra fluffy.
Salt. To boost the other flavors.
Egg. To bind your batter together.
Vanilla extract. For extra flavor.
Butter for frying. To get perfectly golden-brown pancakes.
Maple syrup for serving. This is optional but recommended for extra moisture and that classic pancake and syrup combo!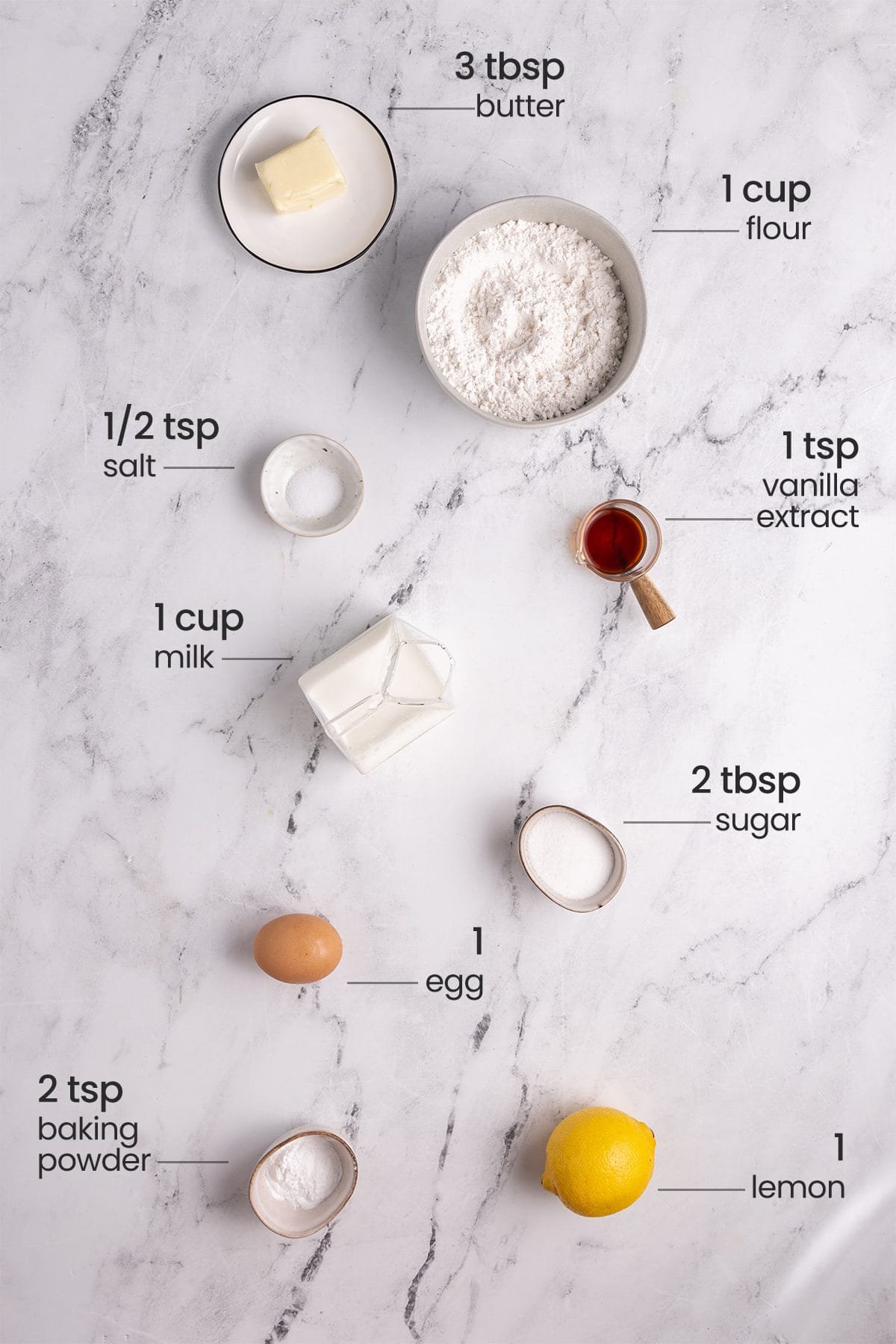 Lemon Pancakes Tips and Tricks
---
How to Make Lemon Sugar for Lemon Pancakes
First things first! We're going to whip up lemon sugar to extract the most flavor out of the lemon zest and infuse it into the sugar so that it seamlessly integrates into your pancake batter.
So how do we make lemon sugar? It's simple! Add the granulated or raw cane sugar to a shallow bowl. Rinse your lemon and then zest it right into the bowl of sugar.
When your zesting your lemon, simply use a sharp cheese grater to grate the outer layer of the lemon directly into the sugar. We're aiming for the yellow part, not the pith (the whiten part) as the pith can be a little bitter and unpleasant.
This recipe calls for one tablespoon of lemon zest, which is typically what you get from fully zesting one large lemon.
Once both your sugar and zest are in your bowl, use clean hands to massage the zest into the sugar. The act of massaging the zest releases the oil (hint: the flavor is in the oil!) and infuses the sugar.
While this may seem like just on extra step, it's definitely worth it! While testing this lemon pancake recipe, I made one batch using this technique, and one batch with just adding the sugar and zest to the batter separately.
The results? The batch with the lemon sugar had a significantly stronger lemon taste.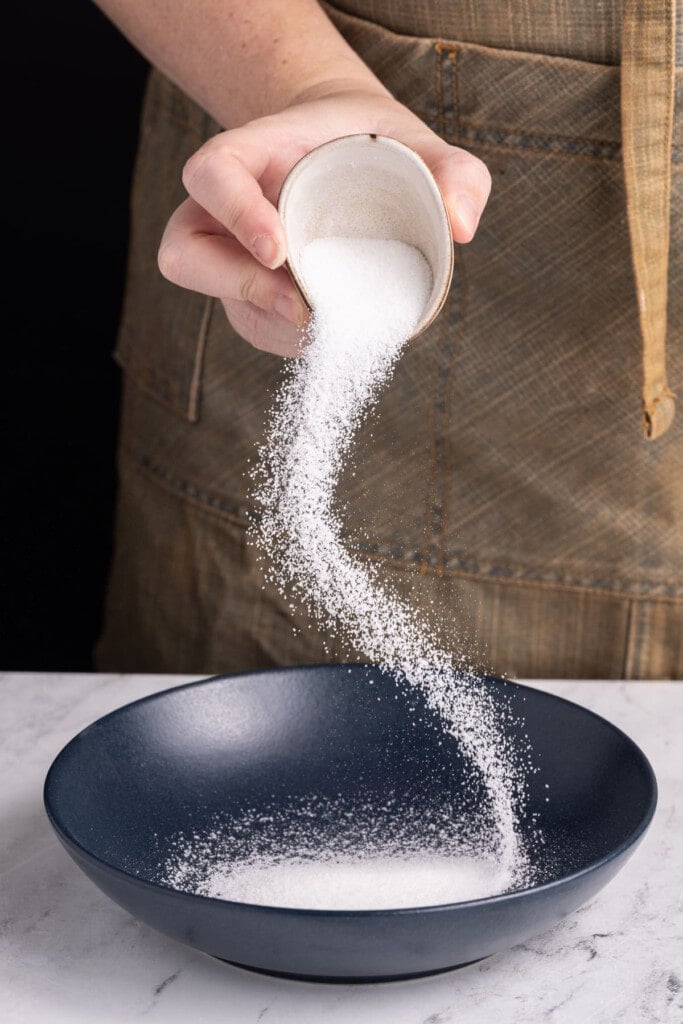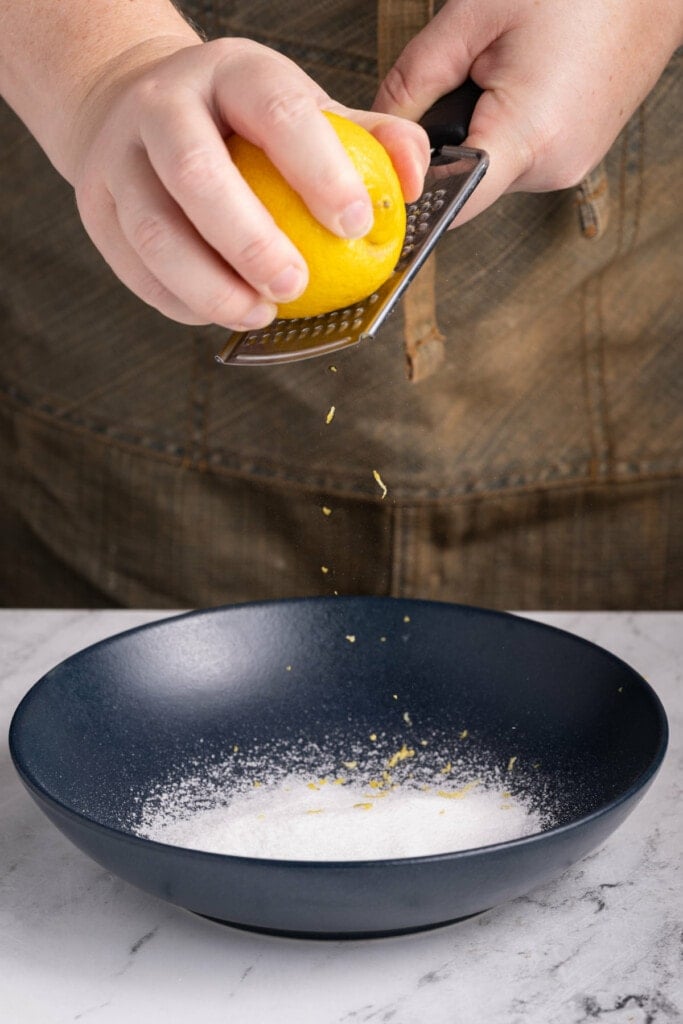 How to Make Acidified Buttermilk for Fluffy Pancakes
This recipe calls for acidified buttermilk, which will give you a thicker pancake batter and thus, fluffier Lemon Pancakes. Acidified buttermilk can quickly and easily be made at home and can be made with any type of milk (dairy or plant-based!).
Let's talk about my buttermilk hack, guaranteed to save the day when you're pancake-crazed and buttermilk-shy!
Picture this: you're ready to conquer the kitchen and curb your pancake craving. But, uh-oh, the buttermilk is nowhere to be found! Fear not, for I have a delightful secret recipe up my sleeve!
Who needs storebought when you can whip up your very own acidified buttermilk in a flash?
Here's the scoop on how to do it: Grab a cup of your favorite milk (dairy or non-dairy, it's your call) and add two tablespoons of tangy lemon juice. Give that merry mix a stir and set it aside, and in just a blink of an eye, behold the magic that unfolds!
You see, the milk will dance itself into a slight curdle, transforming into a dreamy buttermilk right before your eyes. It's like witnessing a kitchen alchemy show! And don't you fret, this fantastical buttermilk is totally safe to indulge in.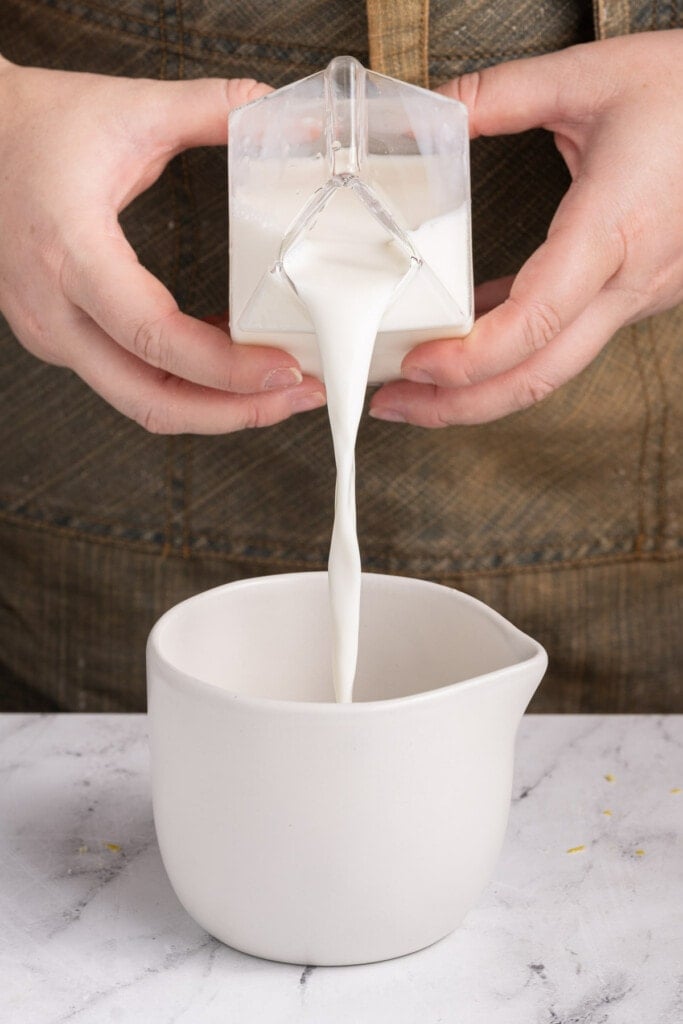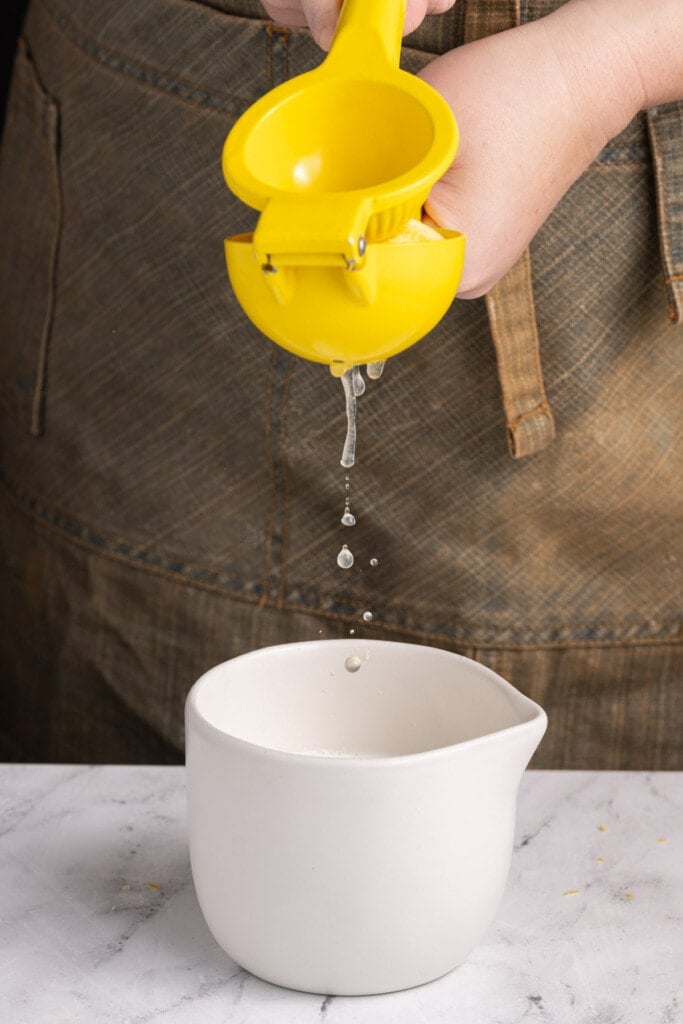 Whisk Together Your Dry Ingredients
Once you've waved your buttermilk wand and set that creation aside, it's time to summon the trusty mixing bowl, your ally in this culinary escapade!
In goes the all-purpose flour, the lemon sugar with all its bold flavor, the baking powder, and the salt! Whisk, whisk, whisk—this is the secret ritual that banishes those pesky lumps, leaving your batter nice and smooth!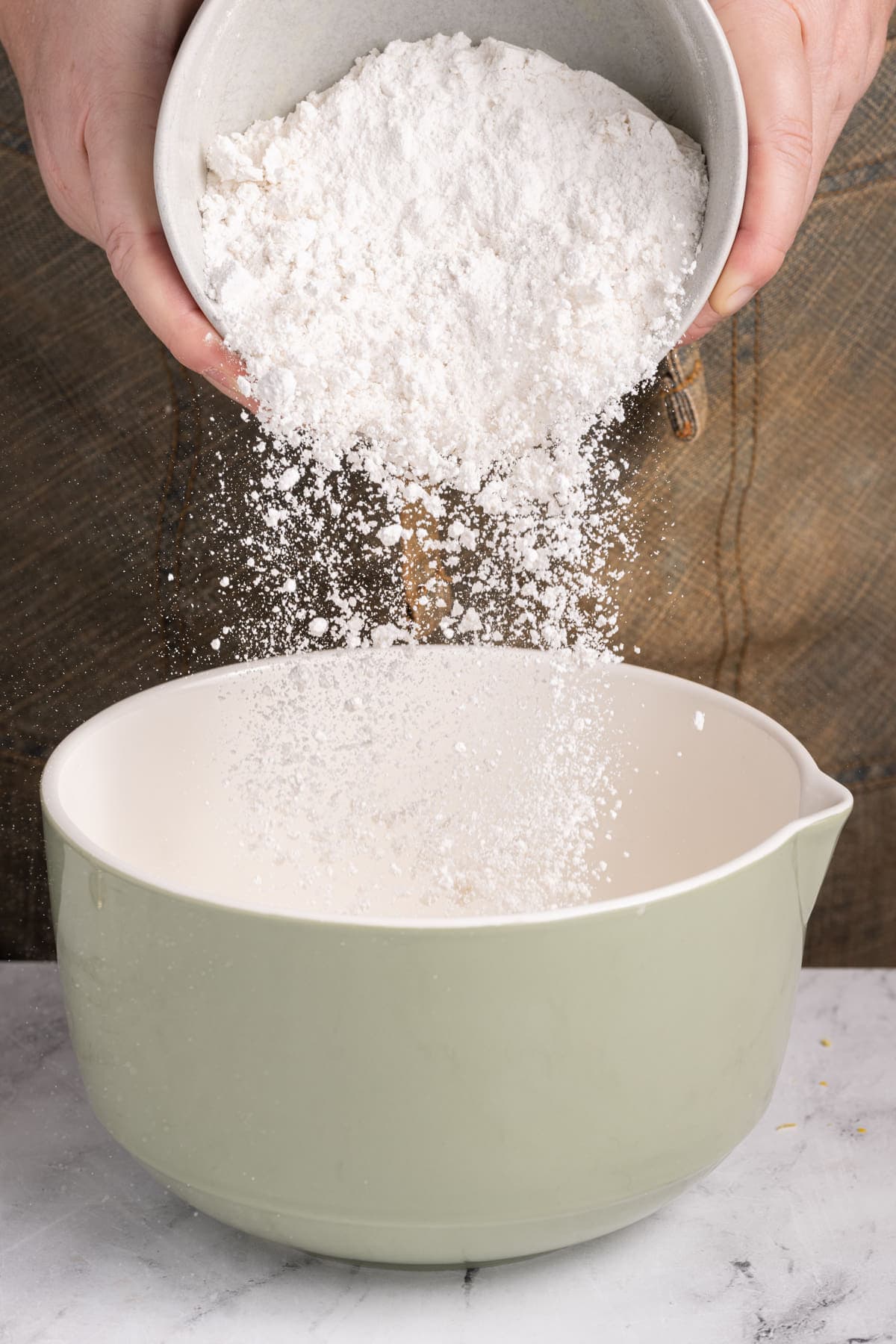 Add the Wet Ingredients to Complete the Pancake Batter
Alright friends, ready your whisking wands because here's where the real kitchen magic unfolds!
Add the egg, vanilla extract, and the buttermilk concoction into the dry ingredients. Whisk again until a thin and bubbly batter emerges like a culinary masterpiece.
But wait, there's another secret to ensure pancake perfection! Crack the egg into its own little separate bowl. By doing so, you can spot any cheeky eggshell invaders that dare to join the party.
And of course, in the rare occasion you get a rotten or bloody egg, you won't halt your progress and waste the ingredients you already used.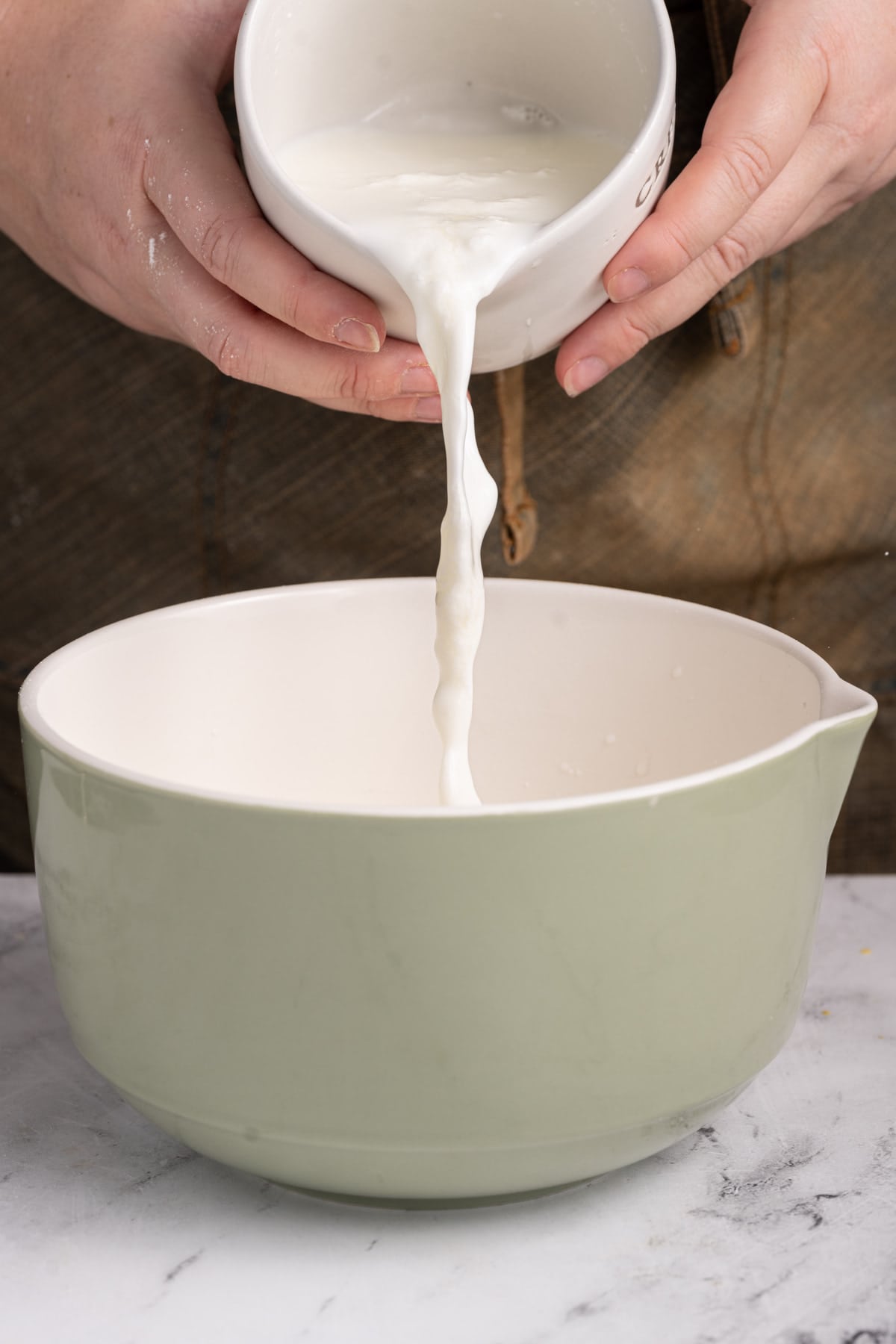 Get Butter Hot in the Pan First
Alright, pancake pros, listen up for some sizzling secrets to pancake paradise! Before you add any batter to the pan, it's time to get that trusty frying pan or griddle on the stovetop and crank up the heat with a generous tablespoon of unsalted butter!
Melt the butter until it's all warm and toasty. ensuring your pan is hot before you pour in that pancake party potion.
Why, you ask? Because this is the key to that heavenly golden-brown, crispy exterior. Plus, by heating the pan just right, your pancakes won't spread too much and end up as "flat as a pancake" as the saying goes.
So, give that pan some love, let the buttery goodness sizzle with joy, and prepare to flip your way to pancake bliss! Crispy edges, fluffy centers, and pancake perfection await you, my friends!
Green tip: Look for organic and palm oil-free butter if you can. Buying organic means you are supporting farms that do not use damaging pesticides and fertilizers, and palm oil production is a huge driver behind deforestation.
How to Perfectly Fry Pancakes with Lemon
Get ready for some sizzling pancake fun in the kitchen! Once that butter in the pan is dancing with excitement (and smelling oh-so-yummy!), it's showtime for your homemade pancake batter infused with lemon sugar!
Now, here comes the pro tip for all you pancake enthusiasts: if your mixing bowl isn't all fancy and sporting a spout, no worries! Grab a measuring cup or any container with a spout, and let's give that batter a smooth, easy ride into the pan.
Less mess, more deliciousness, and more fun!
Make sure to leave a little breathing room, like an inch or two, between each pancake. That way, you can work your spatula magic with ease when it's time to flip 'em over.
Now, I've got a secret to share: when I'm flipping my flapjacks, I usually stick to making just 2 homemade pancakes at a time. If I'm feeling extra ambitious, I might go for 3, but no more than that in my trusty 11-inch pan.
We want our pancakes to be happy and not crowded, right?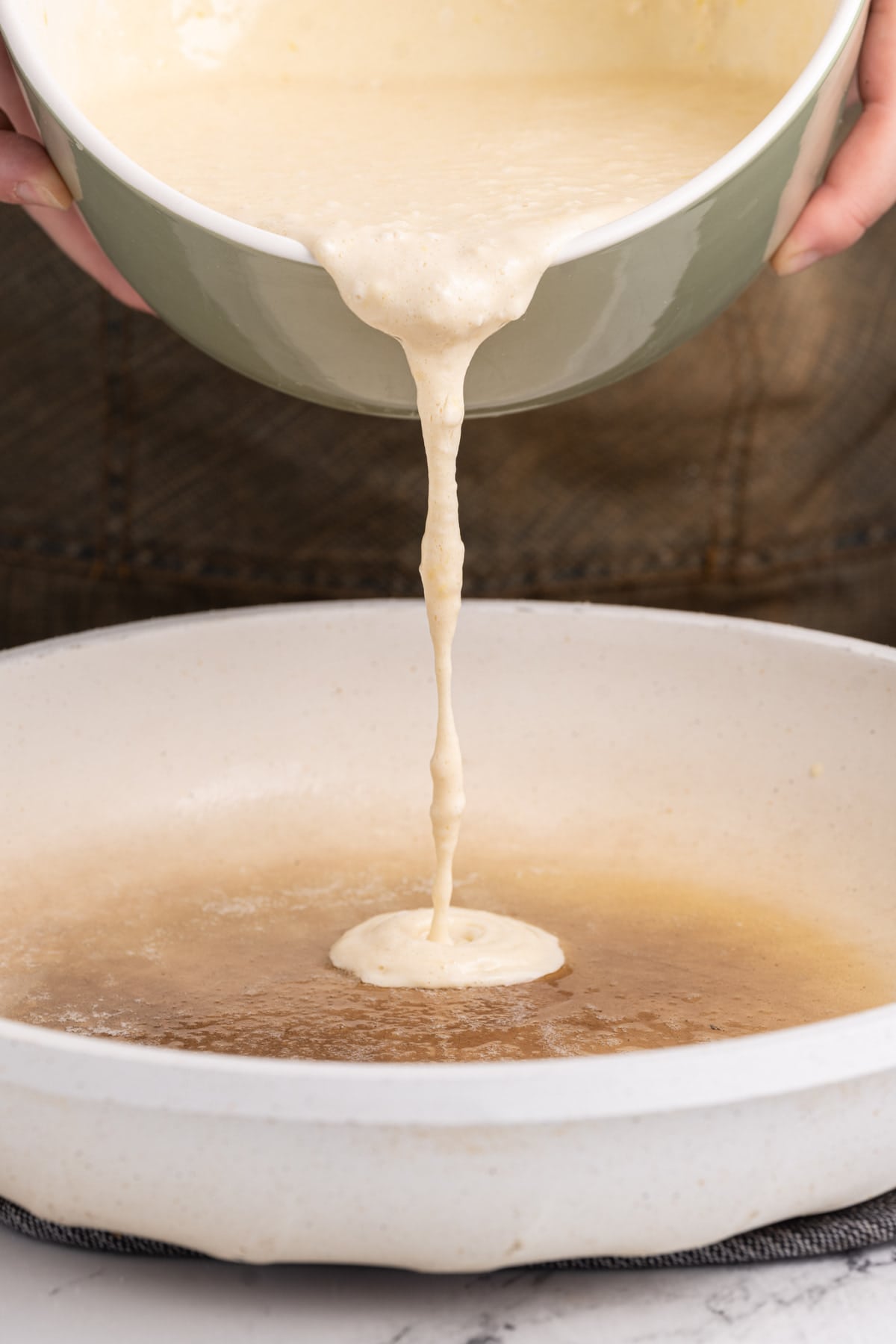 How to Know When Pancakes Are Ready to Flip
Now, let's talk cookin' time for those fluffy delights! The secret signal to know it's time to flip: watch for those cute little air bubbles popping up in the pancake batter, just like a pancake party in progress (check out the pic below, it's like a bubbly work of art)!
Golden-brown perfection is our goal, so fry those beauties till they glow like the sun on each side. Oh, but don't forget to butter them up! It's like a buttery hug for your pancakes, making them taste extra divine. Keep that thin layer of butter in the pan, so every pancake gets its share of buttery love!
Pro tip: For thicker, perfectly round pancakes, use these pancake molds!
And here's the buttery truth: maybe you're a butter ninja, and 3 tablespoons are plenty for your pancake army. But hey, if you feel like your pancakes need a bit more love, go ahead and add some more buttery goodness! Your taste buds, and your pancakes, will thank you for it!
So, there you have it, pancake rockstars! Cook to the beat, flip with flair, and butter 'em up for the ultimate pancake experience! Time to flip, fry, and feast!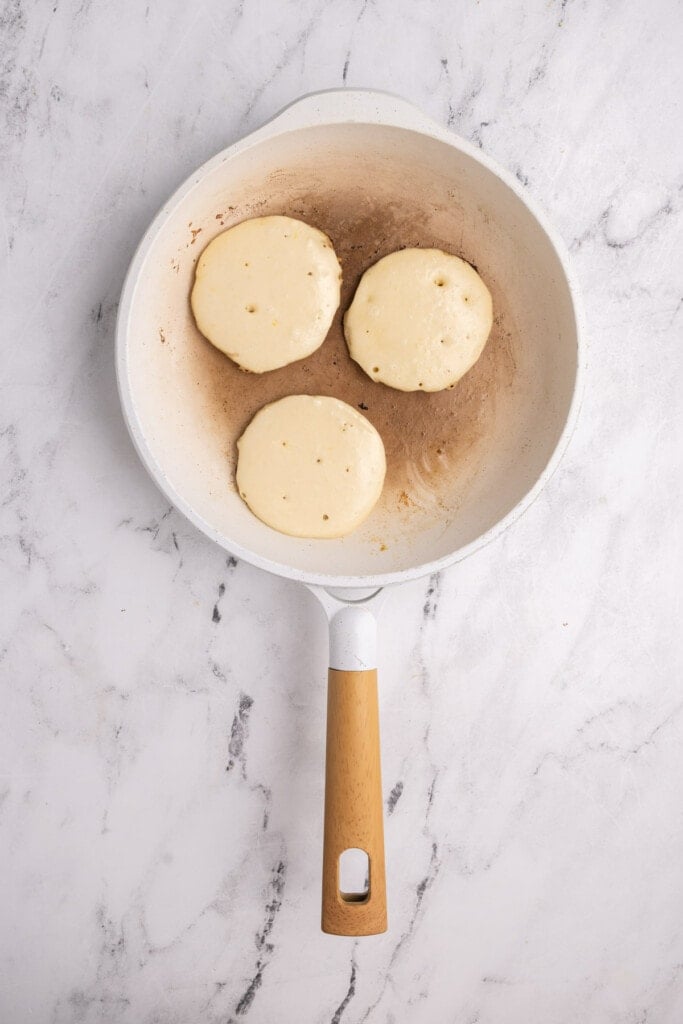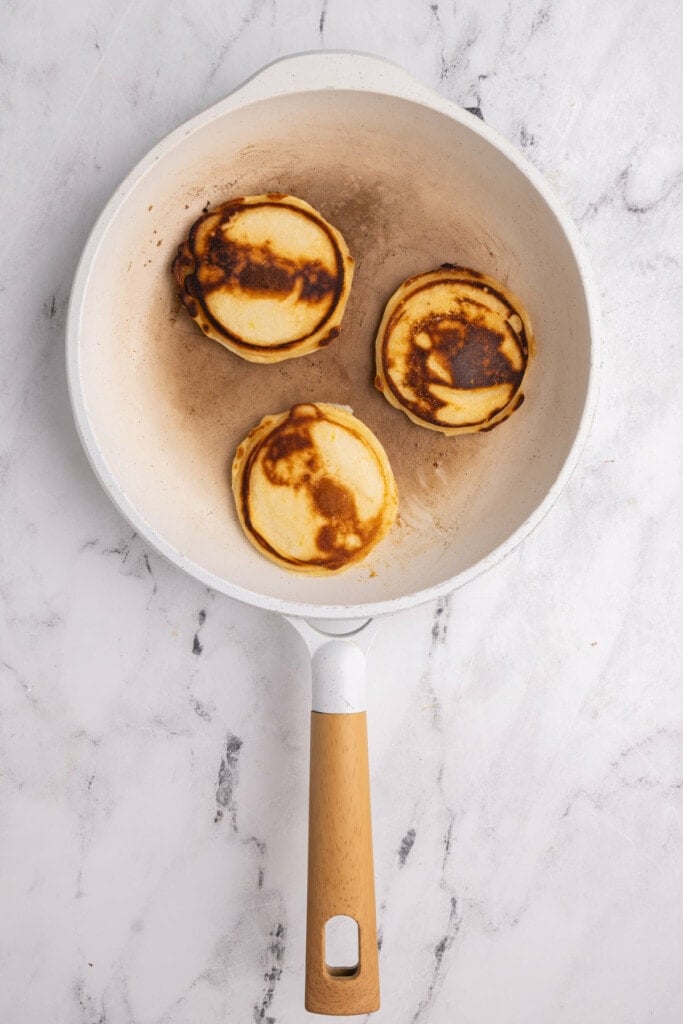 Serving Your Fluffy Lemon Pancakes
These homemade pancakes with lemon are delicious on their own or with just a drizzle of maple syrup! I like to serve them up with these Over Hard Eggs or Soft Scrambled Eggs and/or Vegan Breakfast Sausage Patties for a complete breakfast!
These fluffy lemon pancakes are also a great vessel for a variety of fun toppings. Here are some of my favorite topping ideas:
A pat of butter (dairy or plant-based, preferably unsalted).
Whipped cream (dairy, coconut or almond milk based).
Blueberries, strawberries, or blackberries.
Sliced bananas, peaches, or pears.
Chopped apple.
Cinnamon or cinnamon sugar.
Dark chocolate chips or chocolate syrup.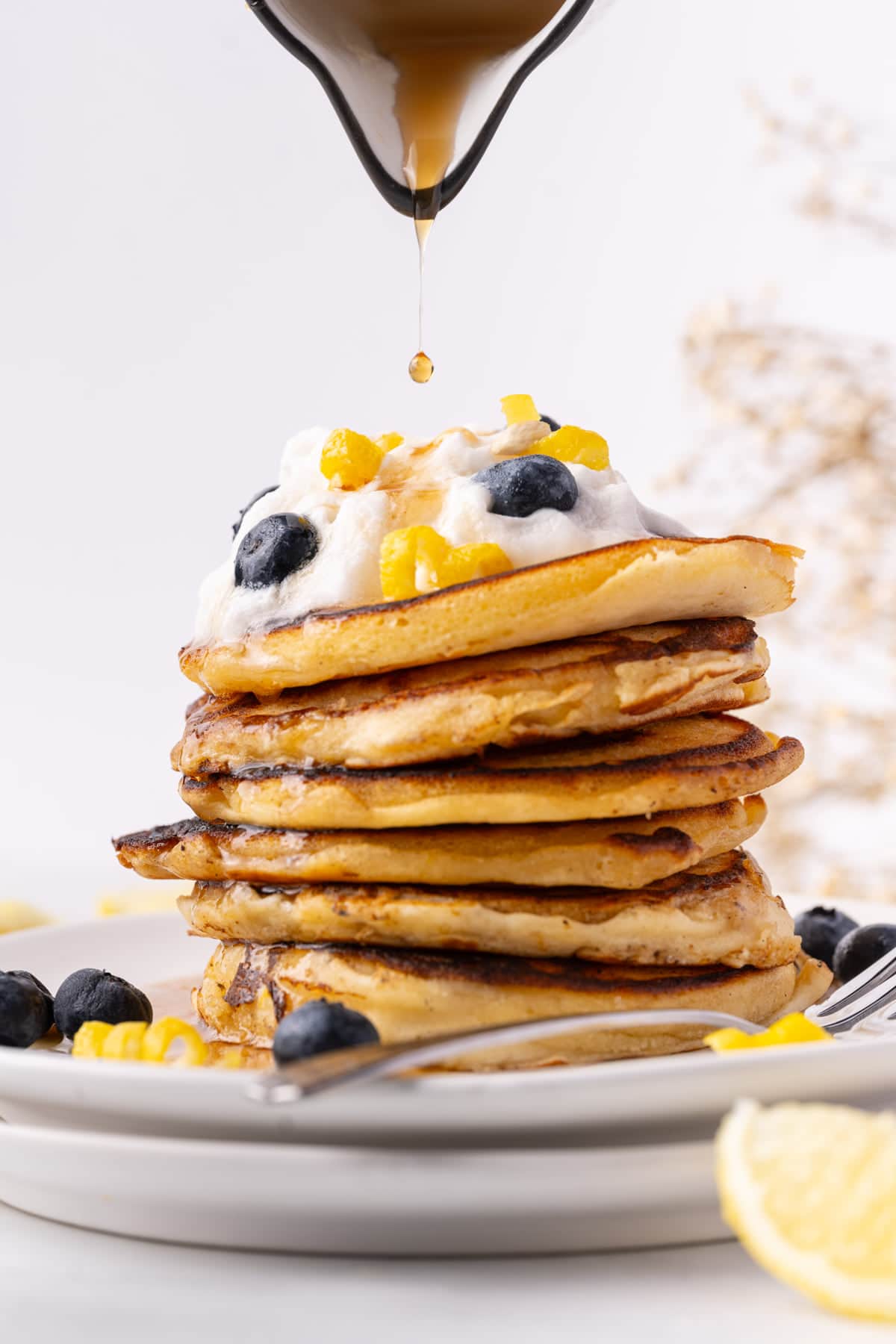 How to Properly Store and Reheat Pancakes with Lemon
Pop them in a cozy airtight container, and they'll stay fresh in the fridge for up to 3 days. Oh, but that's not all! These pancakes are freezer-friendly too, and they'll stay frozen in their icy kingdom for a triumphant 3 months!
Now, let's talk pancake reheating techniques! You've got two ways to bring these flapjacks back to life.
Option one: take 'em back to the pan for a sizzling performance (no need to add extra butter, they've got plenty on the exterior already!). Option two: give 'em the oven spa treatment at 350°F for about 5 minutes until they're warmed all the way through.
When the clock is ticking, and you're in a microwave mood, go ahead and zap those leftover pancakes on high for 10-15 seconds per pancake. But proceed with caution: they're easy to over-do. We want them tender and tasty, not rubbery and nuked!
One little tip to keep the pancake texture intact while microwaving: resist the urge to stack them up. Give each pancake its moment in the microwave spotlight by spreading them out on a plate for a more even cook.
For our frozen pancakes, let them thaw overnight in the fridge before bringing them back to life with the methods we shared earlier. Or if you need to reheat them from frozen in a flash, simply add a little extra time to your pancake reheating process.
And remember, if you've got leftover pancake batter, no worries! Pop a lid on that party, and let it chill in the fridge for up to 3 days. When the pancake craving strikes, fire up the pan, add your butter, and let the pancake magic happen!
So there you have it, pancake pals! Keep 'em fresh, keep 'em fluffy, and keep the pancake love alive!
Green tip: Of the billions of tons of food wasted annually, 50% of food waste happens at home. Reduce your contribution to food waste by properly storing, reheating, and consuming leftovers.
Lemon Pancakes Frequently Asked Questions
---
Can you use bottled lemon juice for baking?
Yes! You can typically use bottled lemon juice in place of fresh lemon juice when baking and have success. That being said, lemon juice cannot replace lemon zest.
In a recipe that calls for both lemon zest and lemon juice, it's best to grab a fresh lemon and use it to it's fullest!
Want to sharpen your kitchen skills?
Why You Should Make these 20-Minute Fluffy Lemon Pancakes
---
It's bursting with flavor! Pancakes are already delish, but when you add zesty lemon, they are truly next level!
The texture! Fluffy, pillowy perfection.
They're quick. Whip 'em up in under half an hour.
If you're loving these Lemon Pancakes and want more delicious breakfast delights, check out these Dairy-Free Waffles and this Vegetarian Breakfast Burrito.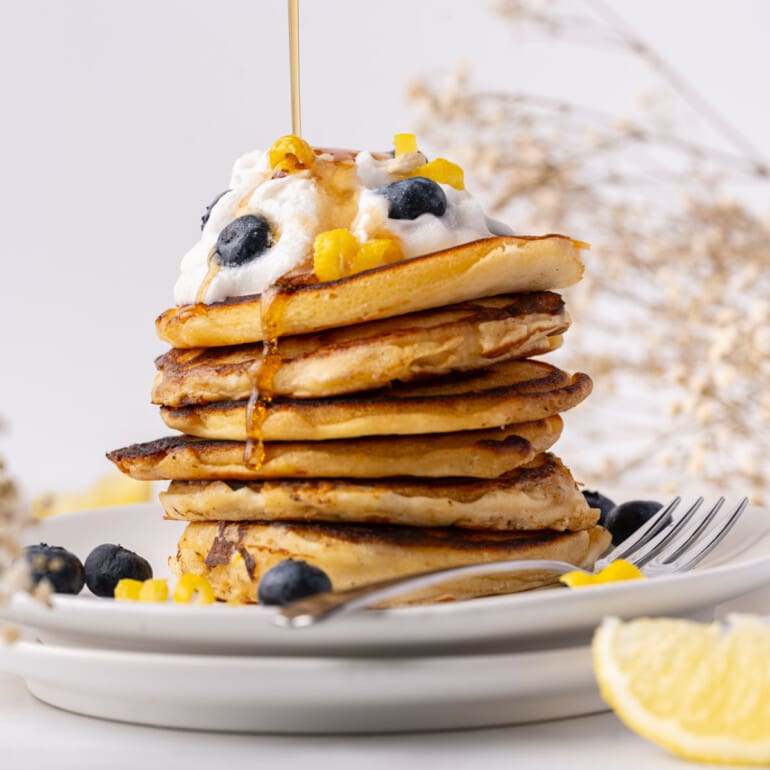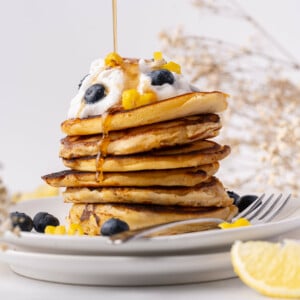 25-Minute Fluffy Lemon Pancakes
PRINT
PIN
RATE
These Fluffy Lemon Pancakes are pillowy on the inside, crispy around the edges, and infused with bold and zesty lemon flavor. Under 30 minutes!
Ingredients
2

tablespoons

granulated sugar

(or raw cane sugar)

1

tablespoon

lemon zest

(zest of 1 lemon)

1

cup

milk

(dairy or plant-based)

2

tablespoons

lemon juice

(½ lemon = approx. 2 tbsp juice)

1

cup

all-purpose flour

2

teaspoons

baking powder

½

teaspoon

salt

1

large

egg

1

teaspoon

vanilla extract

3

tablespoons

unsalted butter for frying

(dairy or plant-based)
Instructions
In a small bowl, add the granulated sugar and lemon zest. Use clean hands to massage the zest into the sugar, to extract the most lemon flavor from the zest and infuse it into the sugar.

In a measuring cup or small bowl, add the lemon juice to the milk, stir, and set aside to slightly curdle to make acidified buttermilk.

In a large mixing bowl, whisk together the flour, baking powder, lemon zest sugar, and salt.

Add the egg, vanilla extract, and your buttermilk mixture, and whisk until smooth, careful not to overbeat. You want a bubbly mixture that is thin enough to run off your spoon, but not too thin that it spreads too flat on the pan. If the mixture seems too thin at this point, you can add up to 2 more tablespoons of flour to the batter.

Add butter to your griddle or frying pan and allow it to heat up on medium-high until the butter is melted.

For the fluffiest, most perfectly round pancakes, use pancake molds. Pour batter into your molds or freeform circles onto the pan and cook over medium heat.

When it's ready to flip, the batter on the uncooked side will start to form little air bubbles. Use a spatula to flip the pancakes, and allow them to cook on the other side for 2-3 minutes.

Continue to fry the pancakes, 2 or 3 at a time, until all of your batter is used up, adding butter when necessary. Serve warm with maple syrup. Try them with these Vegan Breakfast Sausage Patties!
Pro Tips
You can easily make this recipe vegan by using flax egg in the batter and frying the pancakes in non-dairy butter.
You can use cooking spray instead of butter for a lighter version, but these pancakes taste really good with a little crisp on the outside. Please note, you may have to leave them on your pan or griddle a bit longer to get them golden-brown if you're using the spray.
If you're like me and love starting your day with pancakes, you're gonna need to check out the collection of my best pancake recipes!
Did you make this recipe?
Let me know by leaving a recipe rating below, or by tagging @marleysmenu on Instagram.