Looking for a decadent pasta dish that comes together quickly? This Creamy Smoked Salmon Pasta with Parmesan requires only one pot and 20 minutes, yet is sophisticated and dare I even say, fancy?
The fresh pasta tossed in creamy sauce is elevated by the smoky salmon and umami and earthiness brought by the onion and garlic. Plus, the addition of white wine actually enhances the flavor of the salmon, making this salmon pasta with white wine sauce extra special.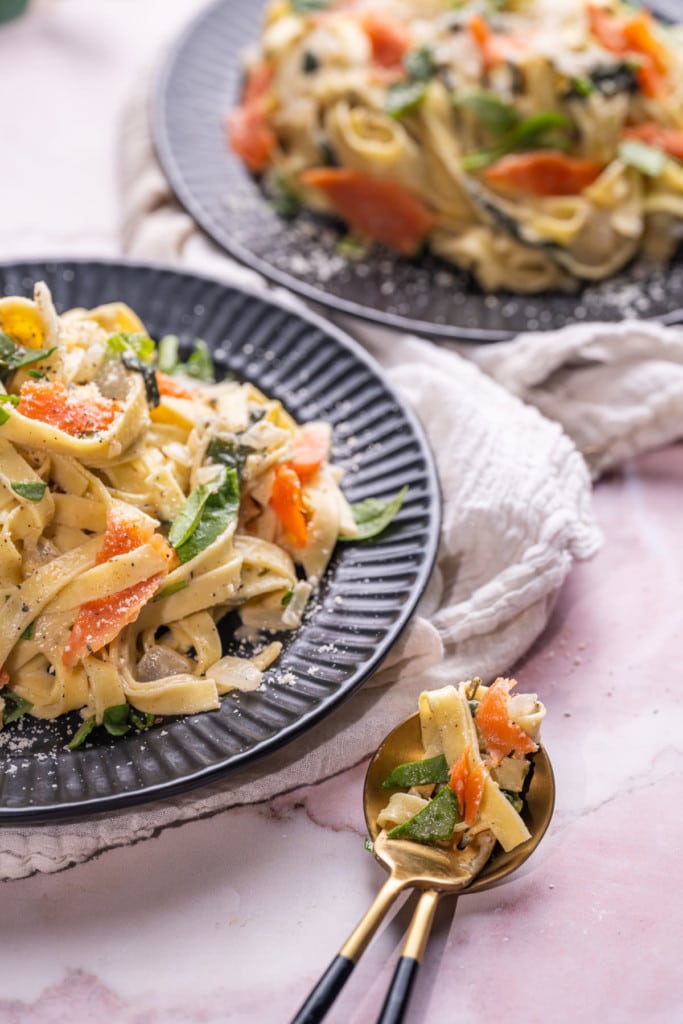 This salmon pasta dish is cozy and warm and while it's made to feed 4, there are never any leftovers in our house. It's a put-on-your-sweats-before-you-feast kind of meal.
Ever wonder why lox and schmear is such a good combination? The velvety cream cheese is the perfect base for the smokiness and saltiness of the lox. I wanted to somehow translate that greatness into a true dinner dish.
Oh, and I didn't want a lot to clean-up. Big ask? Maybe. But with this one-pot wonder, you can totally have it all!
Quick to cook, quick to clean, tons of flavor. This One-Pot Pasta recipe with smoked salmon and Parmesan will quickly become a frequent dinner option for you and your family. This is now on heavy rotation on our household dinner menu.
Green tip: Speaking of cleanup, if you have a dishwasher-use it! Comparing dishwashing to handwashing, using an efficient dishwasher uses 1/6th the amount of water to get your dishes clean!
Smoked Salmon Pasta Ingredients
---
Here's everything you'll need:
Butter. To sauté your veggies in and to start off with a creamy base.
Onion & garlic. For umami, earthiness and a little differentiation in texture.
Spinach. For freshness, robustness, and color.
White wine. This actually enhances the flavor of your smoked salmon and adds some crispness to your dish. Pinot Grigio or Sauvignon Blanc is preferred, but any white wine that's on the dryer side will work.
Nutmeg. For a little nuttiness and very subtle sweetness.
Linguine. This recipe is designed for fresh pasta from the refrigerated section.
Vegetable broth. You can buy it or make your own vegetable broth.
Parmesan. Grated Parmesan works great in this recipe. It will thicken your sauce and add flavor.
Milk, Half & Half, or cream. Just for moisture and extra creaminess.
Smoked Salmon. The star of this dish! I used lox, but you can also use a chunkier smoked salmon.
Salt & pepper. To ramp up the other flavors and to season.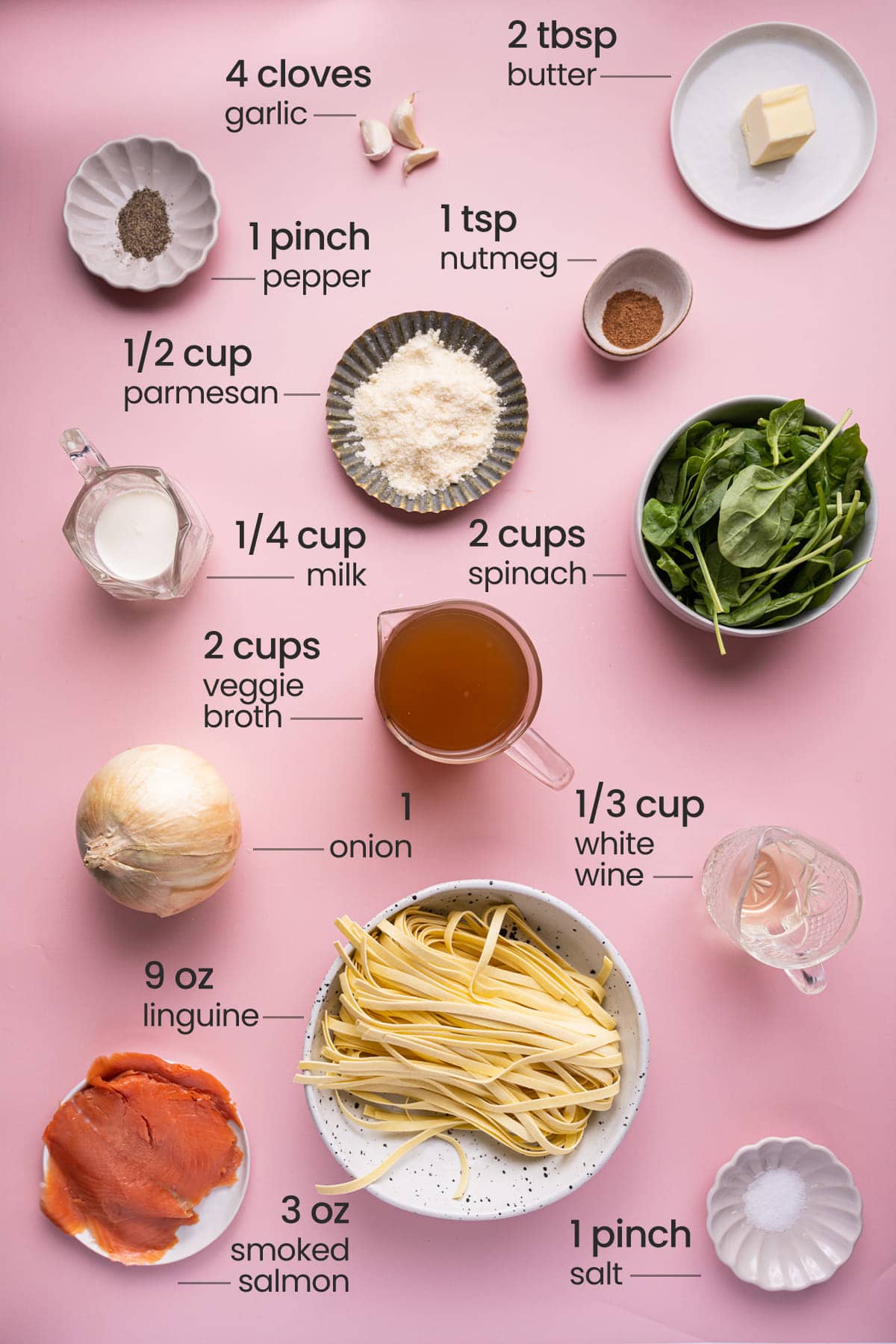 Sustainable Seafood
Unless it's done with extreme care, salmon farming often poses risks to our environment, especially because of the antibiotics used by the farms that can then leach into the surrounding environment and the depletion of other wild fish harvested to feed the salmon.
On the other hand, wild-caught salmon poses different, but equally as damaging risks, including overfishing and bycatch. Plus, there are often issues with availability and access to wild caught salmon.
So how do we source salmon sustainably? We have two great choices: sustainably farmed salmon, or wild-caught Alaskan salmon. This goes for any salmon, including Smoked Salmon.
Green tip: Look for Marine Stewardship Council and Friend of the Sea labels on your fish to ensure they were harvested sustainably.
Smoked Salmon Pasta with Parmesan Tips and Tricks
Slice and Sautee First
The first step is to reduce excess liquid from the spinach and to start to cook your onion. Start by dicing your onion and roughly chopping your spinach. If you are using baby spinach, you are welcome to leave it whole.
Add the onion and spinach to a large pot or Dutch Oven with the butter, salt and pepper. Cook over medium heat, allowing the onion and spinach to reduce for about 5-7 minutes, until almost all of the liquid is gone, and the onions are translucent.
Stir occasionally to ensure nothing sticks to the bottom of the pot. It should be fragrant at this point.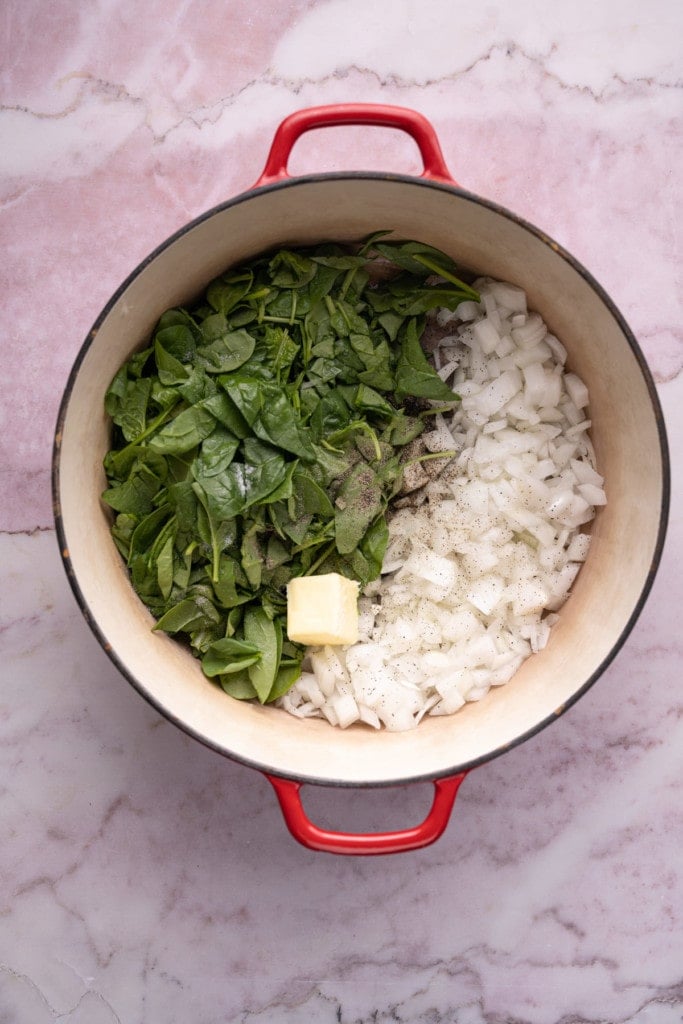 Next Comes the Wine
Once you've cooked down your onions and spinach, add the garlic, wine, and nutmeg. Dry white wine works best in this recipe.
The reason we add the garlic now instead of with the onions and spinach is because the more you cook the garlic, the more subtle it tastes. We want to make sure the garlic comes through in every bite.
Continue to cook over medium heat, stirring occasionally, until most of the liquid has evaporated (about 5 minutes).
Pro tip: Save your top-shelf stuff for drinking! The heat from cooking will cause the wine to lose those subtle nuances.
A Note on The Pasta
This creamy pasta dish is designed for fresh pasta for a quicker cooking time and because this is a more elevated dish.
That being said, you can absolutely use dried pasta from your pantry if you don't have fresh. This will increase your cooking time from about 10 total minutes to 14 minutes total. Just make sure to watch it closely.
For fresh pasta, it's best to separate the noodles with your fingers first, so that they don't stick together in the pot. This is the easiest way to get it to cook evenly, without any surprising raw noodles that couldn't cook because they stuck together.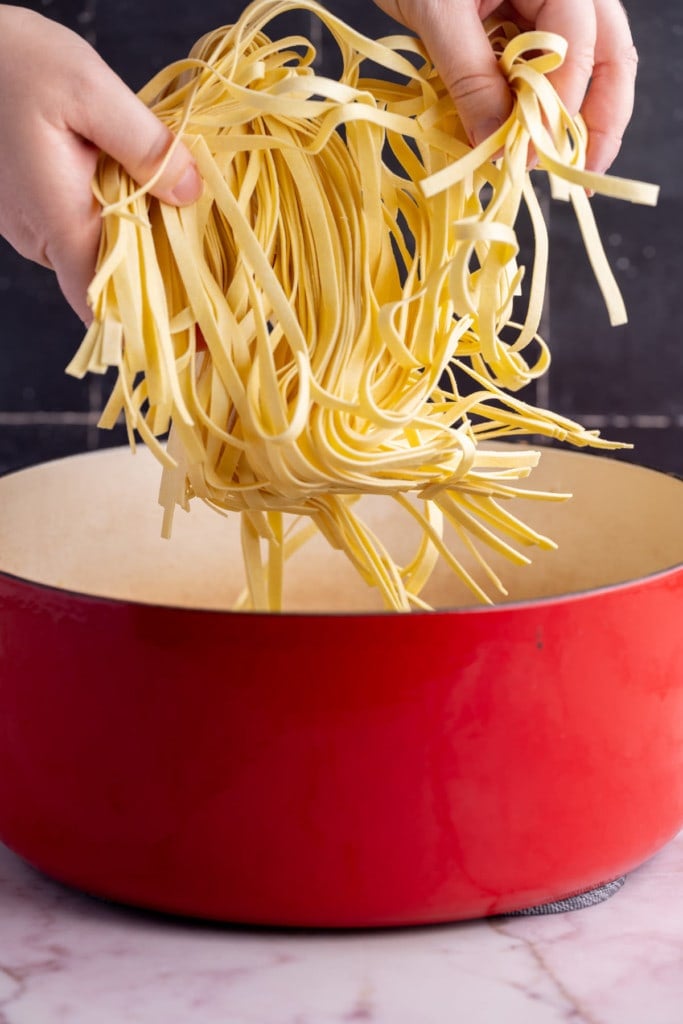 One Up Your Water
We have one pot to infuse flavor, and we're not straining the pasta. So, naturally, we will use this opportunity to cook the pasta in something more flavorful than water.
Cooking it in a combination of white wine-infused vegetables and veggie broth allows the pasta noodles themselves to soak up all that delicious flavor.
Add your vegetable broth on top of your fresh pasta, so that the noodles are almost completely submerged in the liquid. Cover your pot and cook until tender (7 minutes) before removing the lid and allowing any extra liquid to cook off.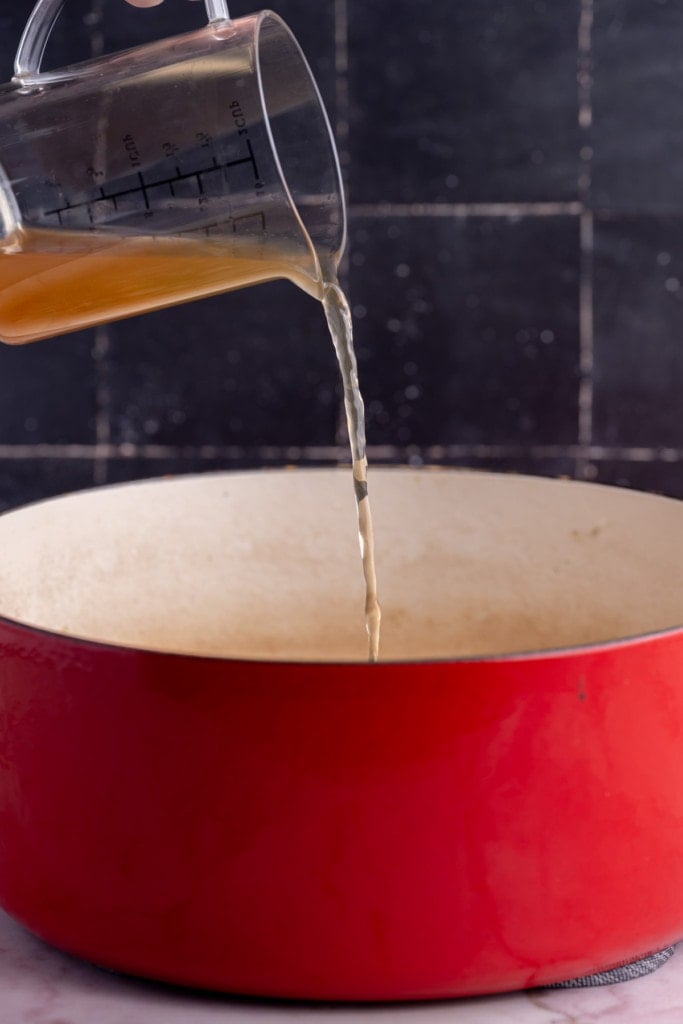 Be Adaptable
Once your pasta is cooked, add your Parmesan first. You can then determine how much milk or cream you will need to add to loosen the sauce. When it's too thick, it's not the best mouthfeel.
Mix in your Parmesan and then add the milk, about a tablespoon at a time, until you achieve the right consistency. You may not need all 1/4 cup.
You can easily use a nondairy milk in this recipe, as well. I often do! Just make sure its unsweetened.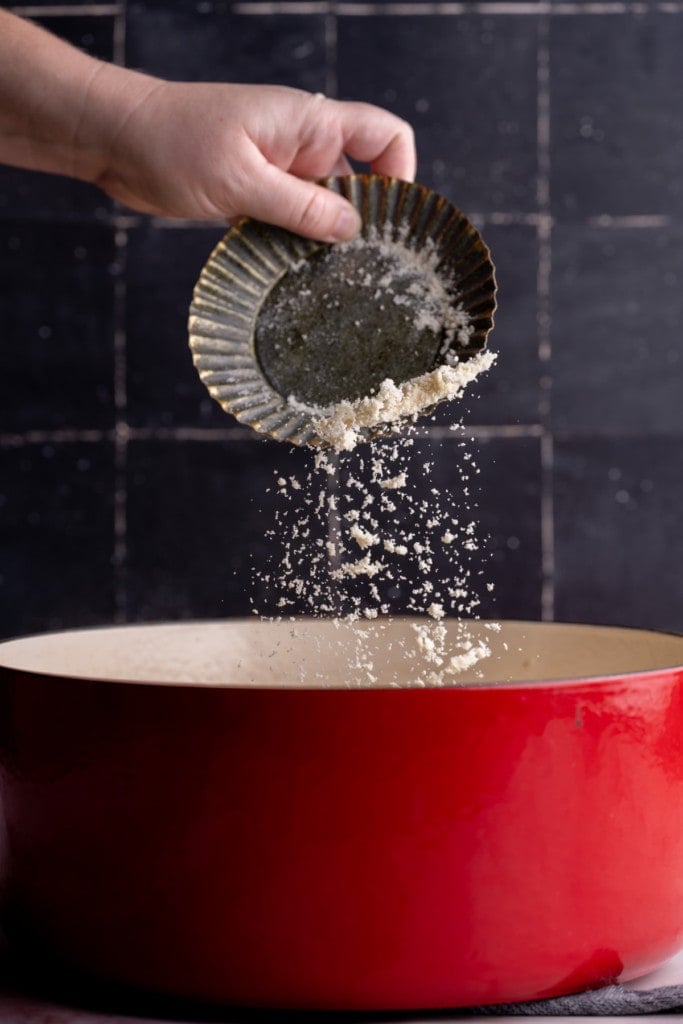 Add Your Smoked Salmon Last
Adding your smoked salmon last will ensure that it keeps its smooth texture and smoky flavor. Overheating it can compromise both, often leaving it a little rubbery.
I like to add the smoked salmon to each serving after plating it for the freshest salmon.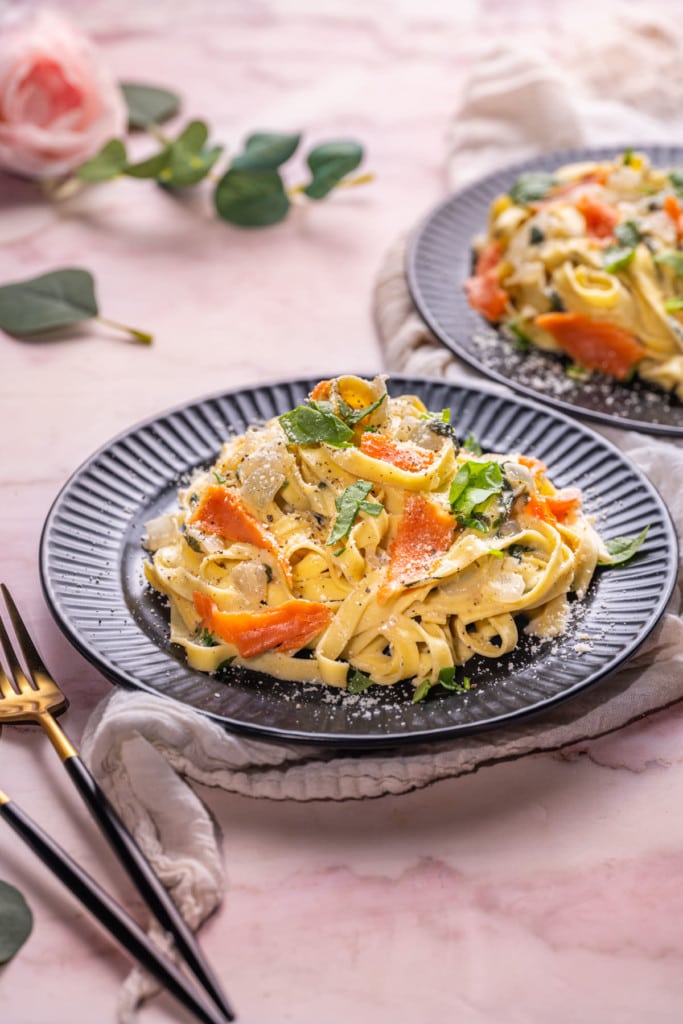 Should You Have Leftovers
This Creamy Smoked Salmon Pasta will stay fresh in an airtight container in the refrigerator for 3-4 days. Leftovers can be enjoyed hot or cold. I don't recommend freezing this recipe, as the cream will separate and leave you with an undesirable texture.
To reheat, it's best to add the pasta back to a pot with a little extra milk (about 1-2 tablespoons per serving) and cook over medium until it is heated thoroughly.
You can also reheat Creamy Smoked Salmon Pasta in the oven at 350°F, covered, for about 15 minutes.
Green tip: Of the billions of tons of food wasted annually, it is estimated that 50% of food waste happens at home. Minimize your contribution to food waste by properly storing, reheating, and enjoying leftovers.
Creamy Smoked Salmon Pasta Frequently Asked Questions
---
---
Does cheese and smoked salmon go together?
Absolutely! Undoubtedly smoked salmon's most common sidekick is cream cheese. But it also goes well with goat cheese, Parmesan, Manchego, and even a sharp cheddar.
Smoked salmon is a great addition to a charcuterie board, and delicious in a creamy, cheesy pasta, too.
What is the best way to serve smoked salmon?
Smoked salmon has a strong, lush flavor, and is actually very versatile. You will often find it served on a bagel with cream cheese or in other breakfast dishes like Eggs Royale.
It's also a delicious addition to pasta or a charcuterie board.
Want to sharpen your kitchen skills?
Why You Should Make this Smoked Salmon Pasta
It's indulgent. That creamy sauce over fresh pasta is the quintessential treat yo'self meal.
It's easy. A little dicing and a little stirring. No fancy techniques, here. But hey, you get tasty results.
It's achieved in one pot. Less hassle, less cleanup.
It's complex. Smoky, salty, and creamy all in one.
If you're loving this Creamy Smoked Salmon Pasta, you'll love this love Heavenly Smoked Salmon Eggs Benedict and Easy Cheesy Pasta Bake.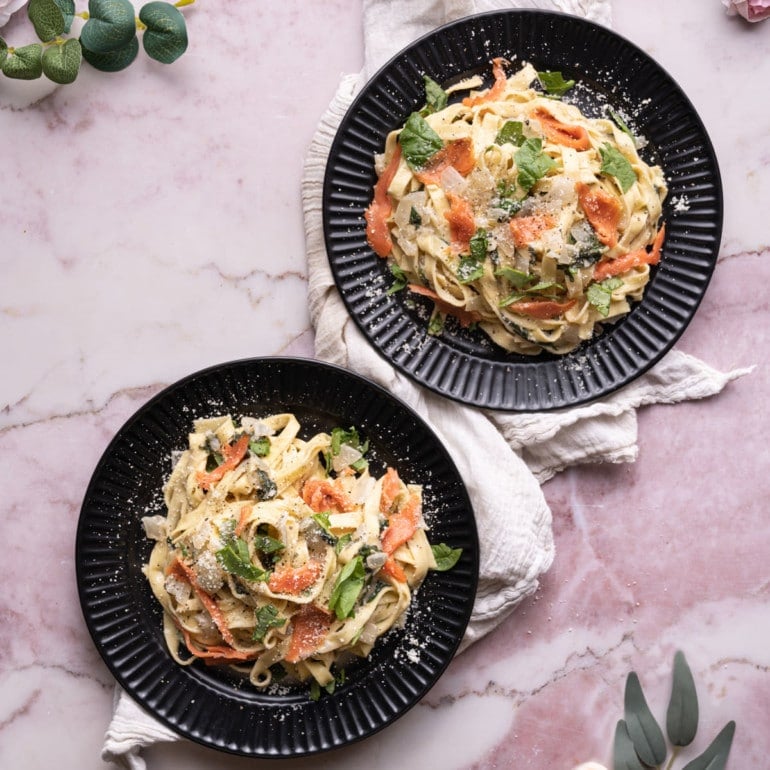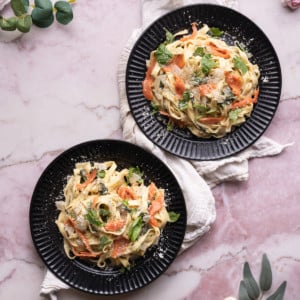 One-Pot Creamy Smoked Salmon Pasta
PRINT
PIN
RATE
This Creamy Smoked Salmon Pasta Parmesan is the perfect balance of rich and creamy sauce and the smoky and salty flavor of lox. Only one pot and 20 minutes required!
Ingredients
2

tbsp

unsalted butter

1

large

onion, diced

2

cups

fresh spinach, chopped

1

pinch

salt

1

pinch

pepper

4

cloves

garlic, minced

⅓

cup

dry white wine

(like Pinot Grigio or Sauvignon Blanc)

1

teaspoon

ground nutmeg

9

ounces

fresh linguine

2

cups

vegetable broth

½

cup

grated Parmesan cheese

¼

cup

milk, half & half, or cream

3

ounces

smoked salmon
Instructions
Dice your onion and chop your spinach. In a Dutch Oven or large pot, cook the onion and spinach in the butter, salt, and pepper until the onion is translucent and the liquid has evaporated from the spinach (about 5-7 minutes).

Add the white wine, garlic, and nutmeg. Stir, and simmer for a couple of minutes until most of the liquid is evaporated (3-5 minutes).

Separate the fresh pasta with your fingers to make sure none of the noodles are stuck together and add to the pot. Stir to coat in veggies and white wine.

Add the vegetable broth, cover, and simmer on medium heat for 7 minutes. Remove the lid and continue to simmer until most of the liquid is evaporated (about 3 more minutes).

Remove from heat and add the Parmesan. Mix until combined.

Slowly add your milk, about 1 tablespoon at a time, continuously stirring until desired consistency is reached—you may not need all 1/4 cup.

Fold in smoked salmon just before serving.
Pro Tips
For a vegetarian version, simply leave out the smoked salmon. You may need to add a little extra salt to taste. If you eat meat and don't like fish, this would be a great recipe to add prosciutto to.
If you like citrus, you can garnish with lemon zest to ramp up the flavor.
Use cream if you're splurging, and milk for a lighter meal.
If you think you may have leftovers, it's best to add smoked salmon to each serving, so you can reheat the leftovers first before adding smoked salmon again.
Pasta lover? Me too! I think you'll love this collection of my best pasta recipes.
Salmon and pasta are such a great pairing. If you think so too, then you'll love this collection of my best salmon pasta recipes!
Did you make this recipe?
Let me know by leaving a recipe rating below, or by tagging @marleysmenu on Instagram.