Looking for a filling and nutrient-filled dinner to whip up in 30 minutes? This Salmon Spinach Pasta with White Wine Sauce is easy, feeds 4-6, and is so dang delicious!
The buttery, zesty, white wine sauce is the perfect accompaniment to the pasta and spinach, and really allows the salmon to shine! Plus, the ease of this recipe and how quickly it comes together will make this salmon pasta dish a part of your weekly rotation.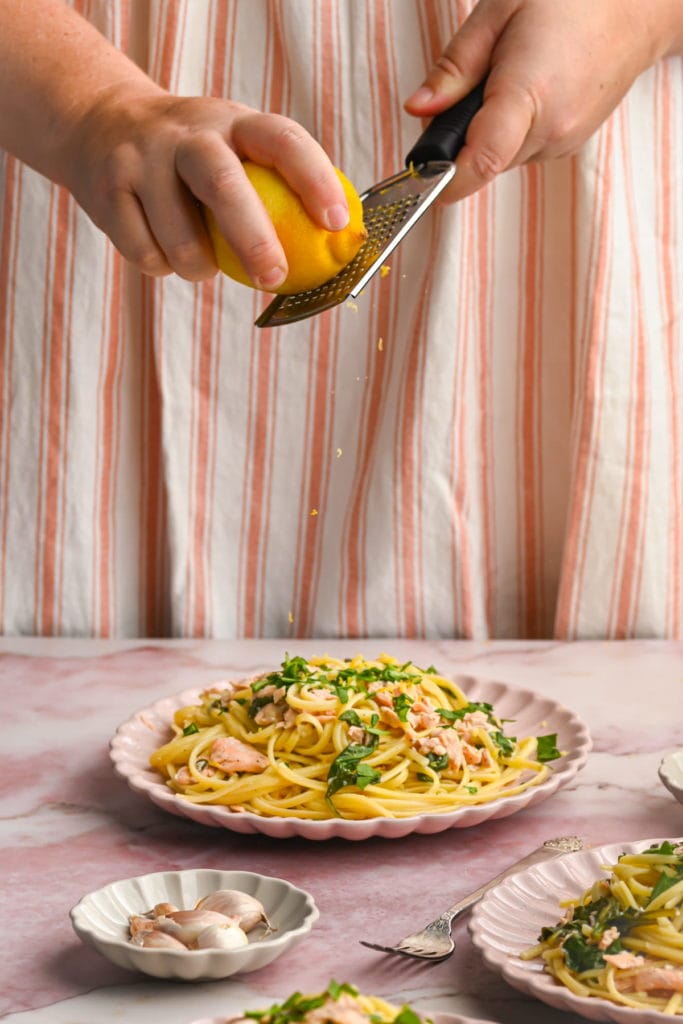 As an environmental scientist and busy mom, I often rely on pasta as a staple in my house for a comforting meal with an environmentally conscious base.
Green tip: When it comes to choosing a starch with a lower carbon footprint, pasta is a great option! Manufacturing is a relatively less intensive process (less energy used), and its long shelf-life means you're less likely to waste it!
Salmon Spinach Pasta Ingredients
---
---
Here's everything you need:
Salmon. You can buy skinless or remove the skin before getting started. 1 pound should be plenty to serve four and is a great ratio for a full box of pasta. Fresh or frozen both works here, just allow frozen to thaw before using it.
Salt and pepper. To amp up the flavor. You'll season the salmon with it, then add the rest to your white wine sauce.
Lemon. You'll need the zest and juice of one large lemon for this recipe.
Olive oil. To cook the salmon and garlic in.
Garlic. To flavor your white wine sauce.
Spinach. For some freshness and nutrients. I like to use fresh baby spinach in this recipe.
White wine. Pinot Grigio or Sauvignon Blanc is preferred, but any white wine that's on the dryer side will work.
Unsalted butter. To allow you to have control over the salt content in your sauce.
Long pasta. Like linguine, fettuccine, spaghetti, angel hair, bucatini, tagliatelle, pappardelle, or vermicelli.
Salmon Spinach Pasta Tips and Tricks
---
---
Prep Your Salmon First
Before we get cookin', the first step is to prep your salmon. Whether you're using fresh or frozen, to get a crispy exterior on your salmon, it's best to pat it dry before seasoning it.
Green tip: Paper products contribute to deforestation. Consider these bamboo paper towels! Bamboo naturally regenerates every few months, whereas trees cannot regrow once harvested.
Place your fish filets in between two paper towels and press down to pat dry. Drying the fish will ensure your seasoning sticks, and will avoid extra hot oil splatter from additional water on the fish.
Once your salmon is dry, sprinkle a pinch of salt and pepper on each side of your salmon. Set the rest of the salt and pepper aside to add to your pasta later on.
Squeeze just a touch of lemon juice onto the salmon as well, conserving the rest of the lemon juice and the zest to add later.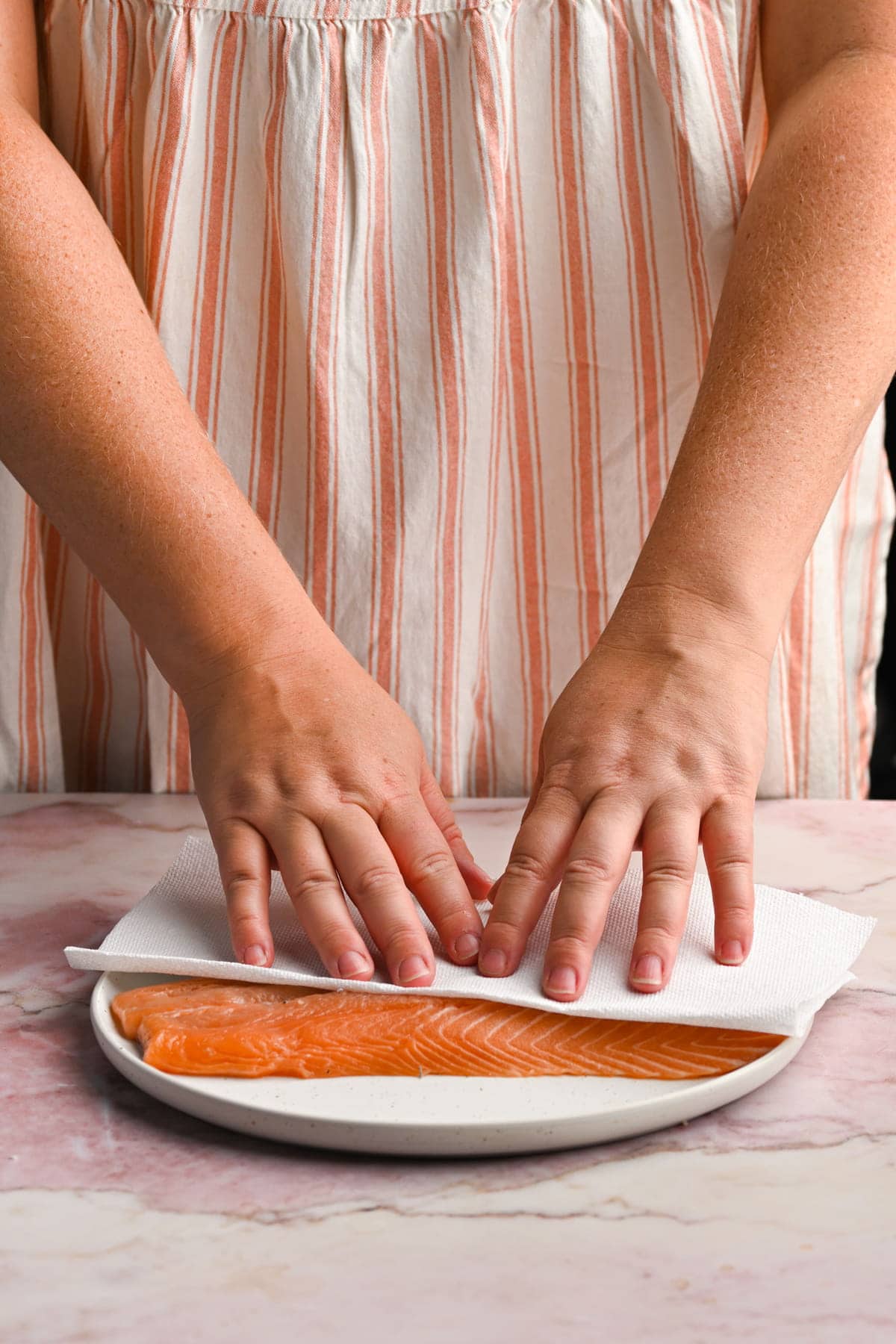 Sear Your Salmon
Add your oil to your saucepan or shallow pot over medium heat and allow the oil to heat up. Then, carefully place your salmon into the hot oil and sear for about 2 minutes on each side.
At this point, you'll get a little crispiness on the outside of the salmon, which will give it a delicious texture. It's okay if the salmon is not cooked fully through, as it will have plenty of time to finish cooking later.
Remove the salmon and set it aside, to add back to your pot later to poach in the white wine sauce.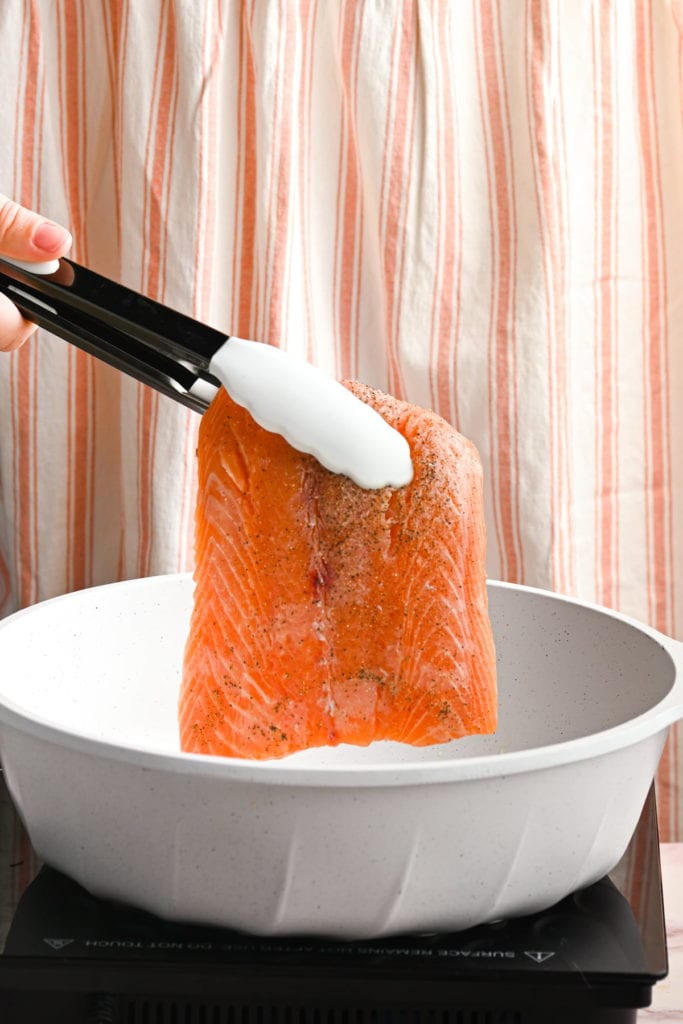 Toast Your Garlic
Next, add your minced garlic to the hot, salmon-flavored oil to toast. Keeping your heat source on medium-high, cook the garlic until its fragrant, just about 2 minutes, before adding more ingredients.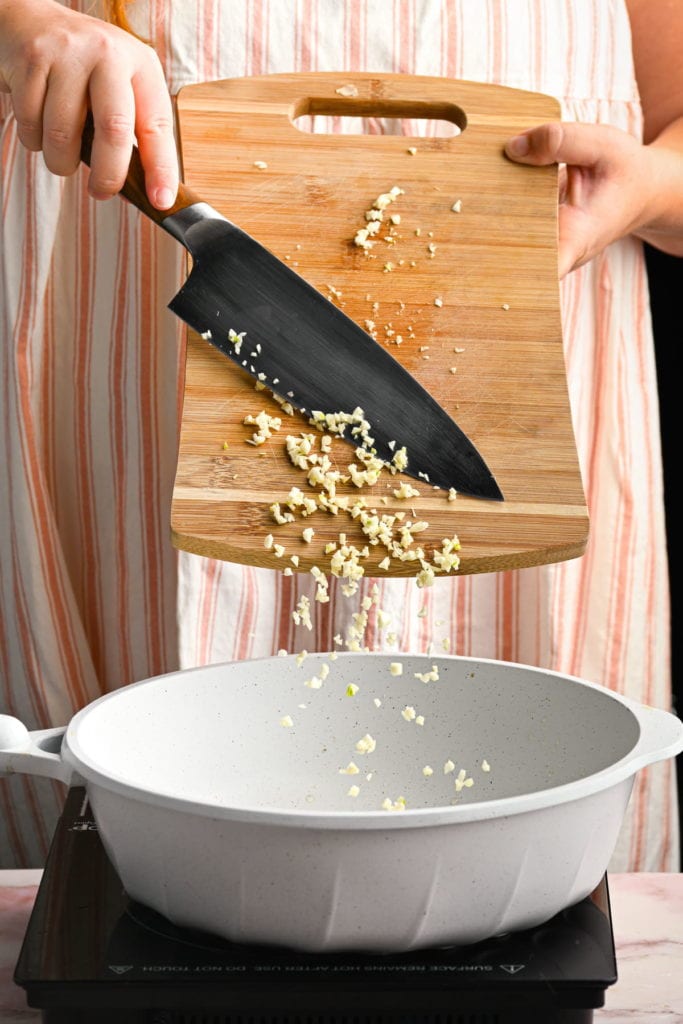 Wilt Your Spinach
Next, add your spinach to the garlic and oil to release some of the liquid from the spinach.
Give it a couple of stirs, and watch as your spinach starts to shrink. Once you've cooked off the liquid for about 2 minutes, you can add the rest of your ingredients back to your pot.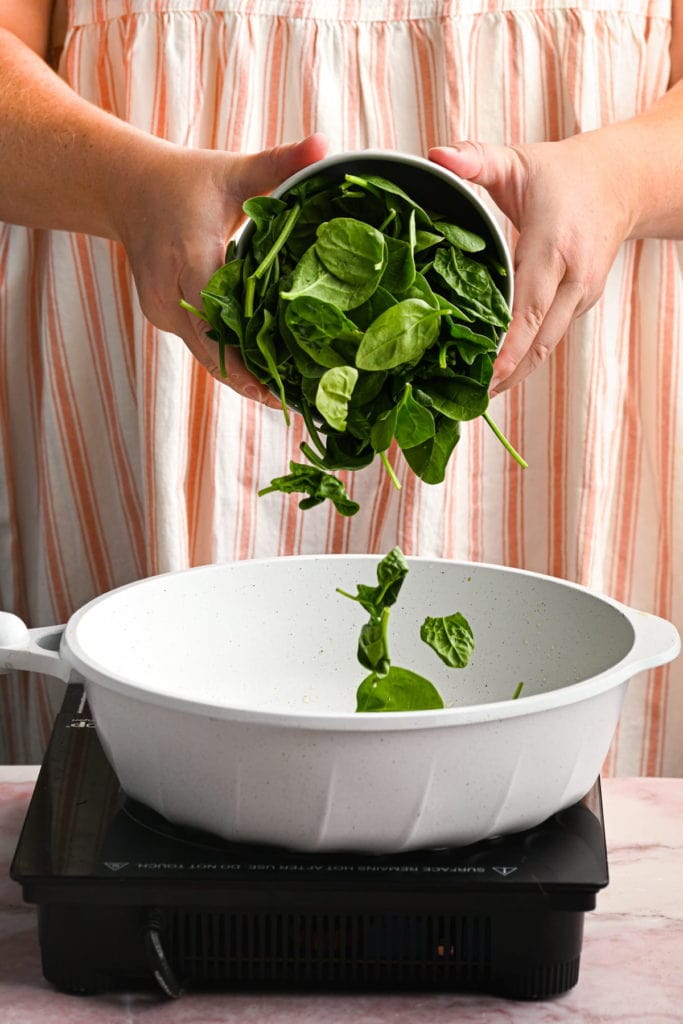 Add Your Salmon Back to the Pot
Use your tongs, a fork, or a knife to break the salmon into bite-size pieces. Again, don't worry if it's not cooked all the way through.
The broken-up salmon will poach in the sauce, giving both the sauce and the salmon a deeper flavor.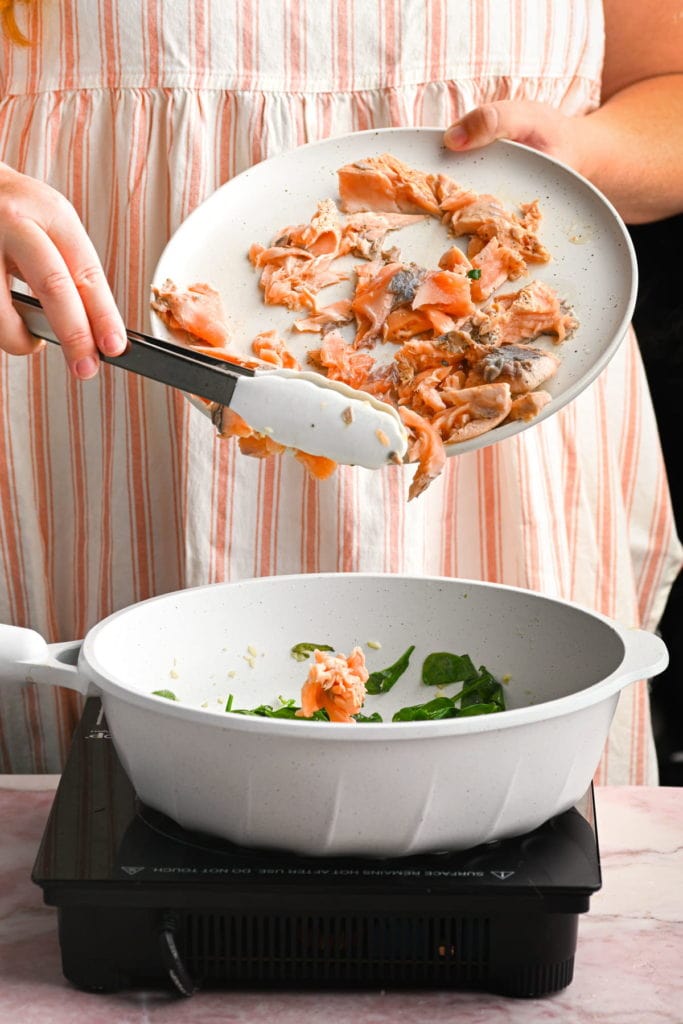 Develop Your Sauce
Add your white wine, butter, lemon zest, and the remaining juice of the lemon to your pot.
Turn down the heat to low and allow the butter to melt and the sauce to simmer, uncovered, until the salmon is cooked through.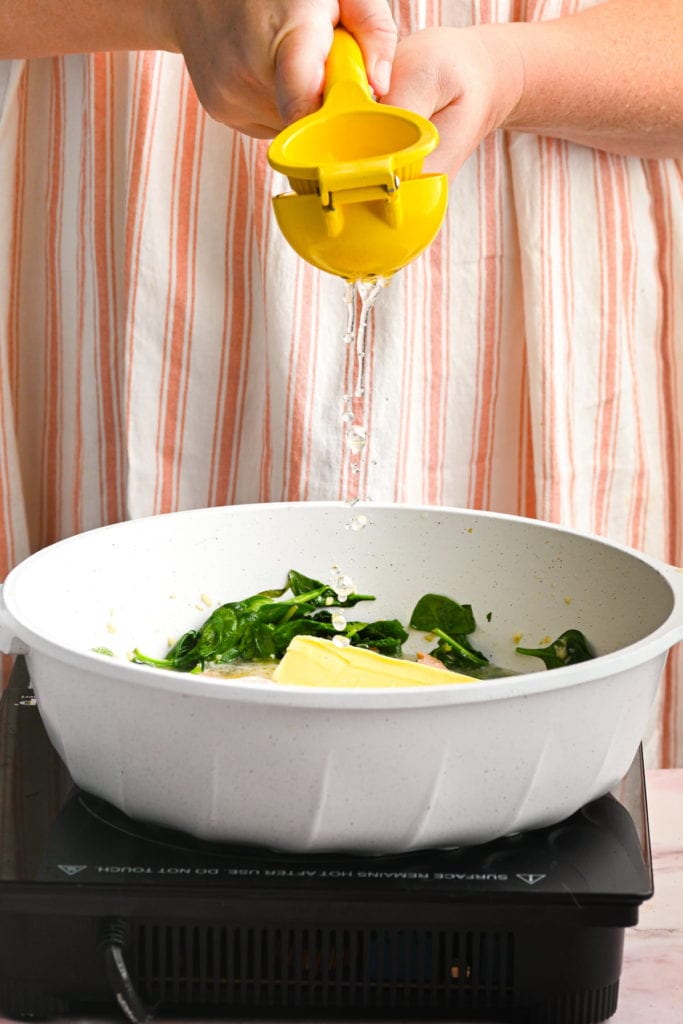 Add Your Pasta
Your pasta will be cooked in a separate pot according to the directions on the box.
Green tip: Don't waste your pasta water, use it to water your plants! So long as it's not salty, the starchy water helps fertilize plants and help them grow.
I used linguine in this Salmon Spinach Pasta pictured, but you can use any long pasta. Some long pasta options that will taste great in this dish include fettuccine, spaghetti, angel hair, bucatini, tagliatelle, pappardelle, and vermicelli.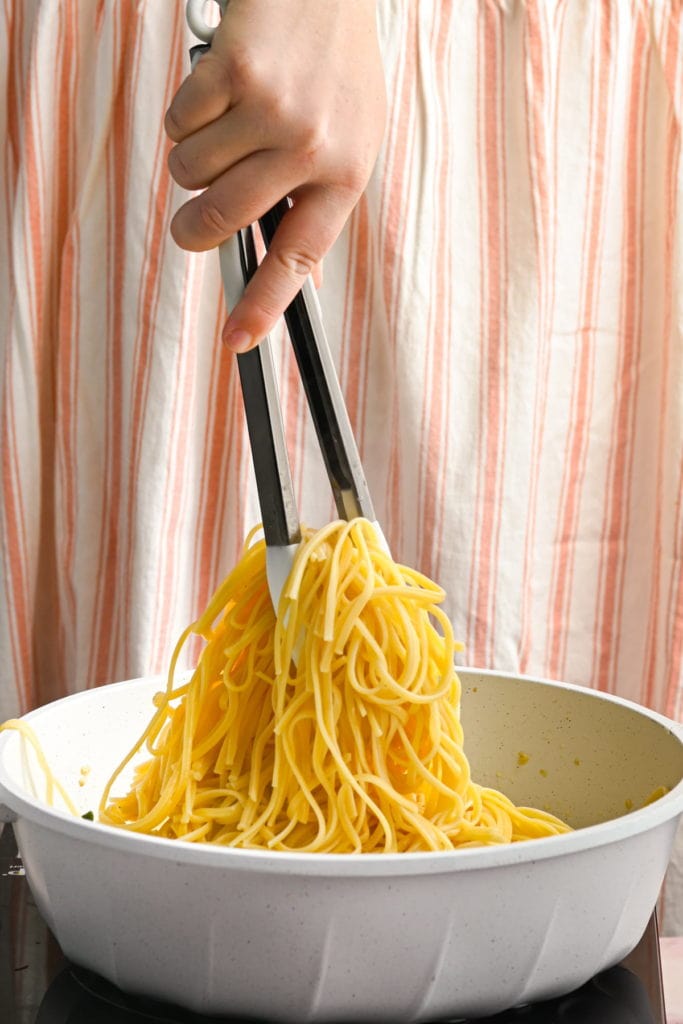 Should You Have Leftovers
This Salmon Spinach Pasta will last for 3-4 days stored in an airtight container in the refrigerator.
The best way to re-heat it is by adding your leftovers to a baking dish and preheating your oven to 375°F. Cover the baking dish completely with tin foil to trap moisture and heat the pasta and salmon in the oven for 20-25 minutes until heated thoroughly.
Similarly, you can freeze this Salmon Spinach Pasta for up to 3 months. Reheat the same way as described above, but for an additional ten minutes (30-35 minutes).
If you want a quicker and easier reheating method, you can safely reheat leftovers in the microwave covered and on high for about 3 minutes. However, the microwave may dry out both the salmon and the white wine sauce. So, if you have the time, use the oven!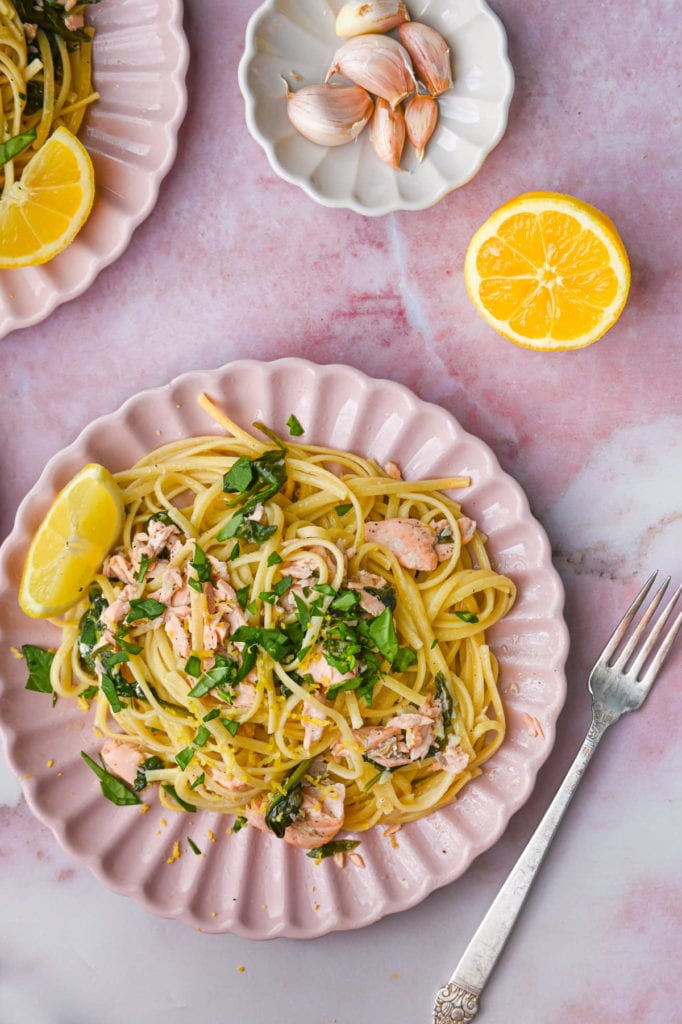 Salmon Spinach Pasta Frequently Asked Questions
---
---
What can I make with salmon and spinach?
If you have salmon and spinach to use, this Salmon Spinach Pasta with White Wine Sauce is perfect for you!
You'll often see the winning combination of salmon and spinach in Mediterranean dishes, and this pasta is no exception.
Can you freeze salmon pasta?
Yes! Salmon Spinach Pasta with White Wine sauce can be frozen for up to 3 months. To reheat, add it to a baking dish and cover completely with tin foil to trap moisture. Heat the pasta and salmon in the oven at 375°F for 30-35 minutes until heated thoroughly.
What do you eat with salmon?
Salmon is a great main course filled with healthy omega-3s and protein. It's super flavorful on its own and is a great compliment to pasta, like in this Salmon Spinach Pasta or Cajun Salmon Pasta dish.
Otherwise, it's tasty with a number of different delicious sides, including Saffron Rice, Roasted Asparagus, or even mashed potatoes!
Want to sharpen your kitchen skills?
Why You Should Make this Salmon Spinach Pasta
---
---
It's fresh. The fresh lemon and spinach give this pasta dish a vibrant flavor and color.
It's filling. Between the pasta and salmon, this recipe will yield generous portions of Salmon Spinach Pasta that will fill you up and keep you satisfied.
It's nutritious. Between the salmon and spinach, this yummy dinner is packed with protein and nutrients.
If you're loving this Salmon Spinach Pasta and want more seafood mains, check out this Creamy Smoked Salmon Pasta and Blackened Shrimp and Old Bay Mashed Potatoes.