Looking for a mouthwatering veggie-packed side dish to feed a crowd? This Cheesy Baked Asparagus Casserole is the ultimate crowd-pleasing accompaniment to any meal!
This green-vegetable-based baked casserole boasts tender asparagus spears, enrobed in a velvety blend of garlic, shallots and rich, creamy of mushroom soup all topped with a peppery golden-brown, Panko crunch.
The perfect combination of crisp veggies, creamy soup, melty cheese, and crispy breadcrumbs culminates into a symphony of textures and flavors that up-levels your asparagus while bringing comfort food feelings and flavors to your plate.
In this recipe, you will learn how to store and prep asparagus, shallots, and garlic and how to use cream of mushroom soup as a one stop shop for creaminess and flavor to envelop your veggies into a casserole.
Plus, you'll be given simple, achievable tips and tricks along the way to be more sustainability-minded in the kitchen.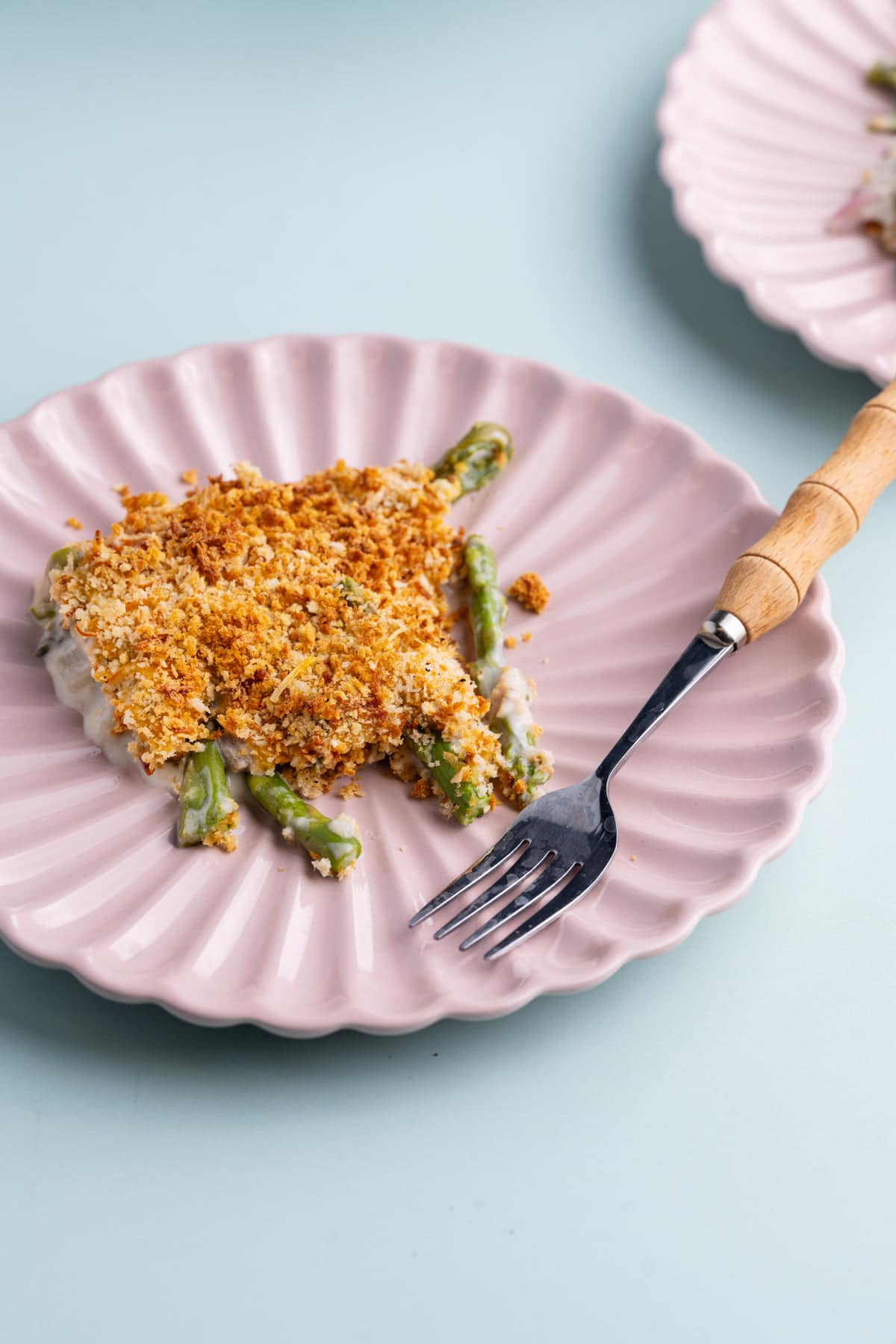 As an environmental scientist, I always try to stick to seasonal eating! It's one of the easiest (and most delicious!) ways to support local farmers and improve your carbon footprint.
Green tip: Seasonal and local foods have less associated transportation costs and fuel emissions. Check when asparagus is in season in your area with this Seasonal Food Guide.
Asparagus Casserole Ingredients
---
Here's everything you need:
Asparagus. Fresh is preferred, but you can also use thawed frozen asparagus. Canned will work but will change the texture significantly.
Shallots. Two large shallots bring tons of flavor to this dish.
Garlic. Freshly minced garlic is highly recommended.
Cream of mushroom soup. This recipe requires about 3 cups of soup, or one large family-sized can.
Cheddar cheese. You can buy pre-shredded for ease and convenience, but if you want the best of the best quality and flavor, grate your own cheddar! I used sharp but choose any cheddar from mild to sharp depending on your preference.
Panko breadcrumbs. Italian breadcrumbs work in a pinch, but Panko will give you the crunchiest top.
Black pepper. To finish this off with a little heat.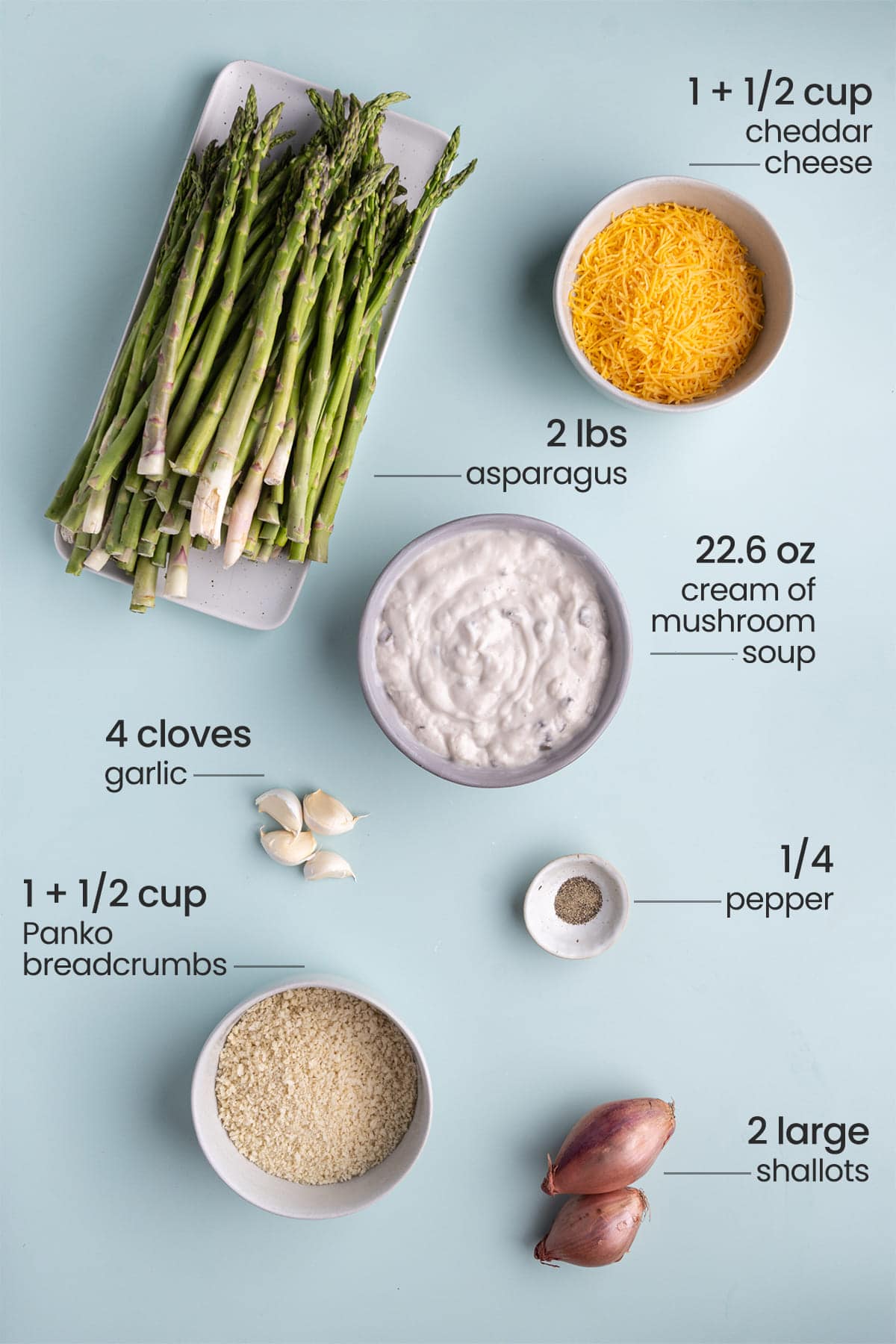 Asparagus Casserole Tips and Tricks
---
How to Keep Asparagus Fresh
Once you've selected your asparagus and brought it home, maintaining its freshness over the next week is a breeze if you follow these simple steps.
Arrange the asparagus spears upright in a glass jar, ensuring their tips are positioned upward. Fill the jar with approximately 2 inches of water, ensuring the lower ends are submerged.
You have the option to cover the top with a reusable storage bag, or you can leave it uncovered. Store the entire jar in your refrigerator until you're ready to enjoy your asparagus. This method is effective for white asparagus and purple asparagus varieties as well.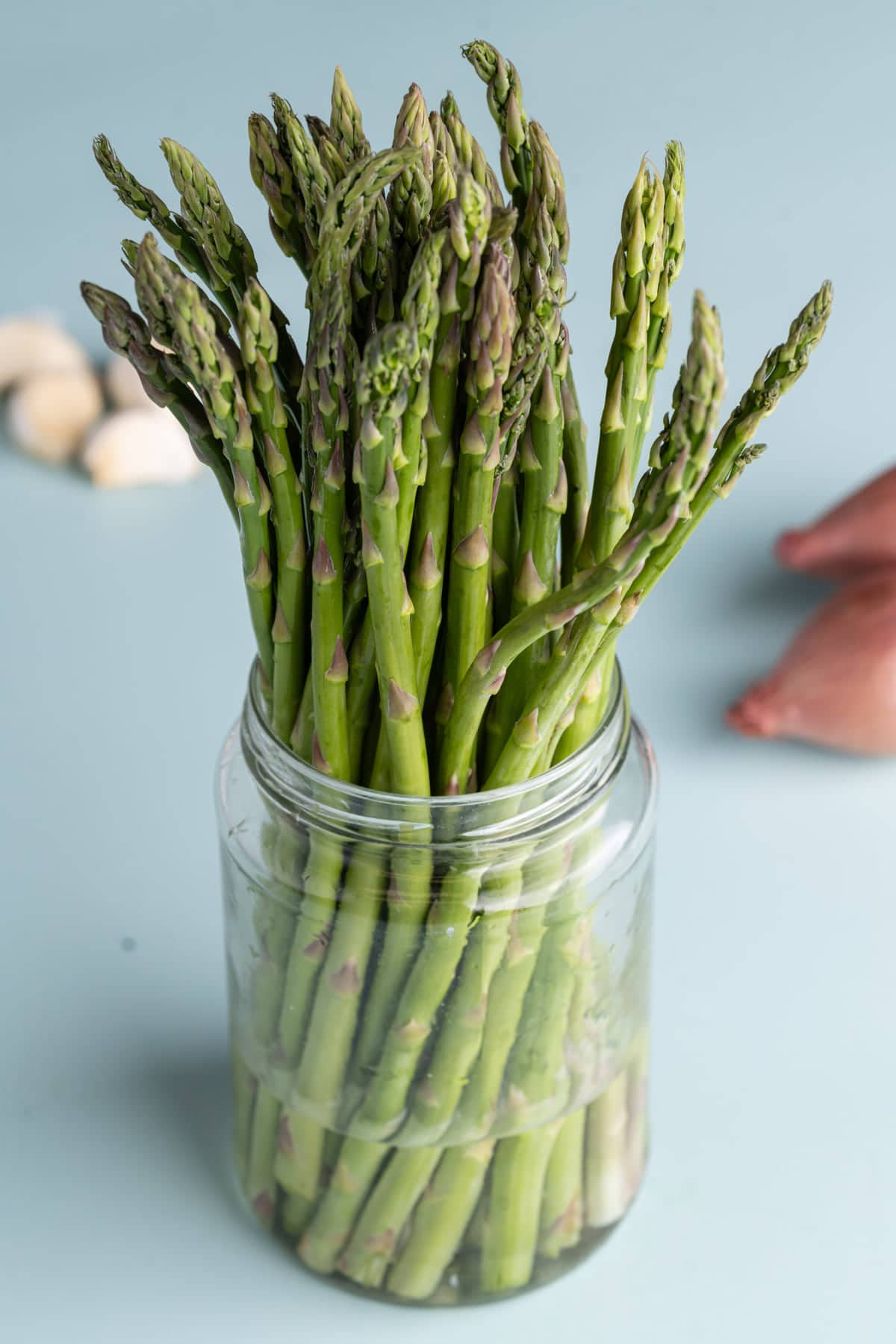 How to Wash and Prep Asparagus
Give your asparagus a good rinse or a soak to give it a clean slate before you start prepping. Those asparagus tips can be sneaky little hideouts for grit or dirt, so a good soak works wonders to clear them out.
Asparagus has those rugged, "woody" ends that are a chewy challenge. So, it's a total must to remove those ends before you get to cooking.
But don't just toss those ends in the trash! You can stash them in a freezer bag along with other veggie scraps to make your own delicious veggie broth, or you can compost them.
I find that the easiest way to get rid of those ends is to simply snap them off. Grab that asparagus with your clean hands and give it a gentle break – it'll naturally snap where the ends turn stubborn.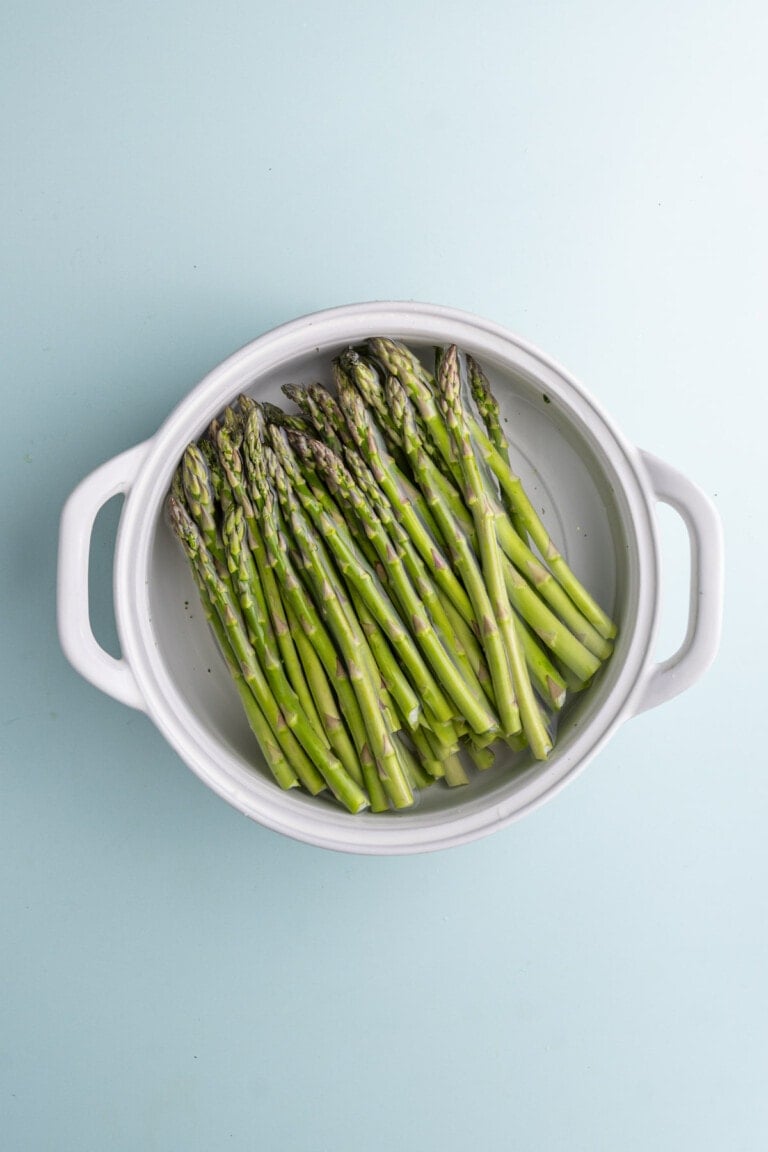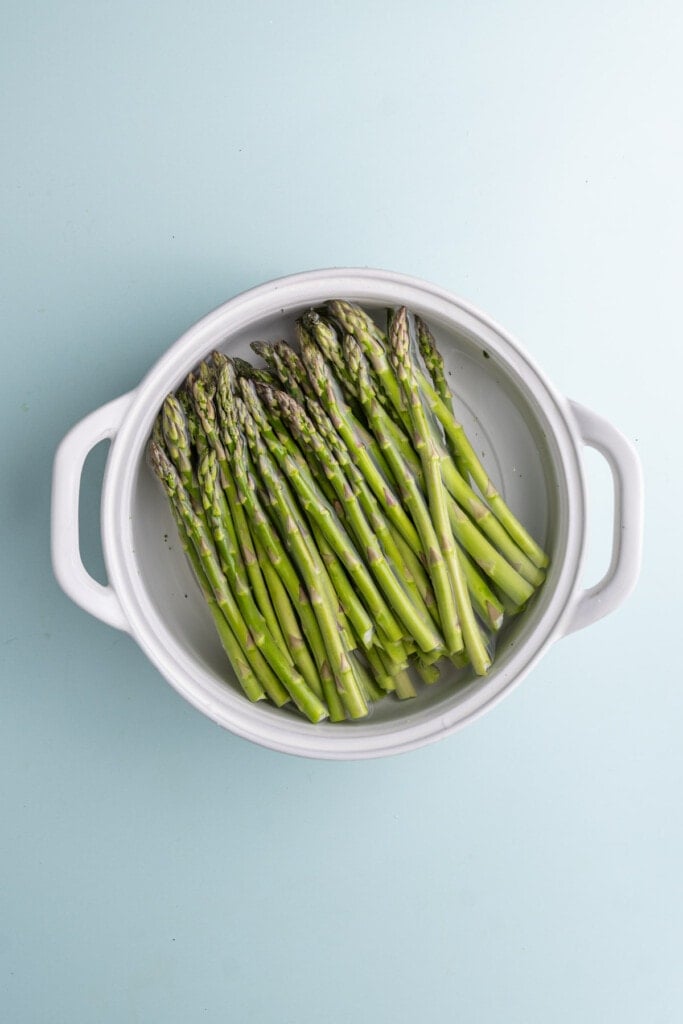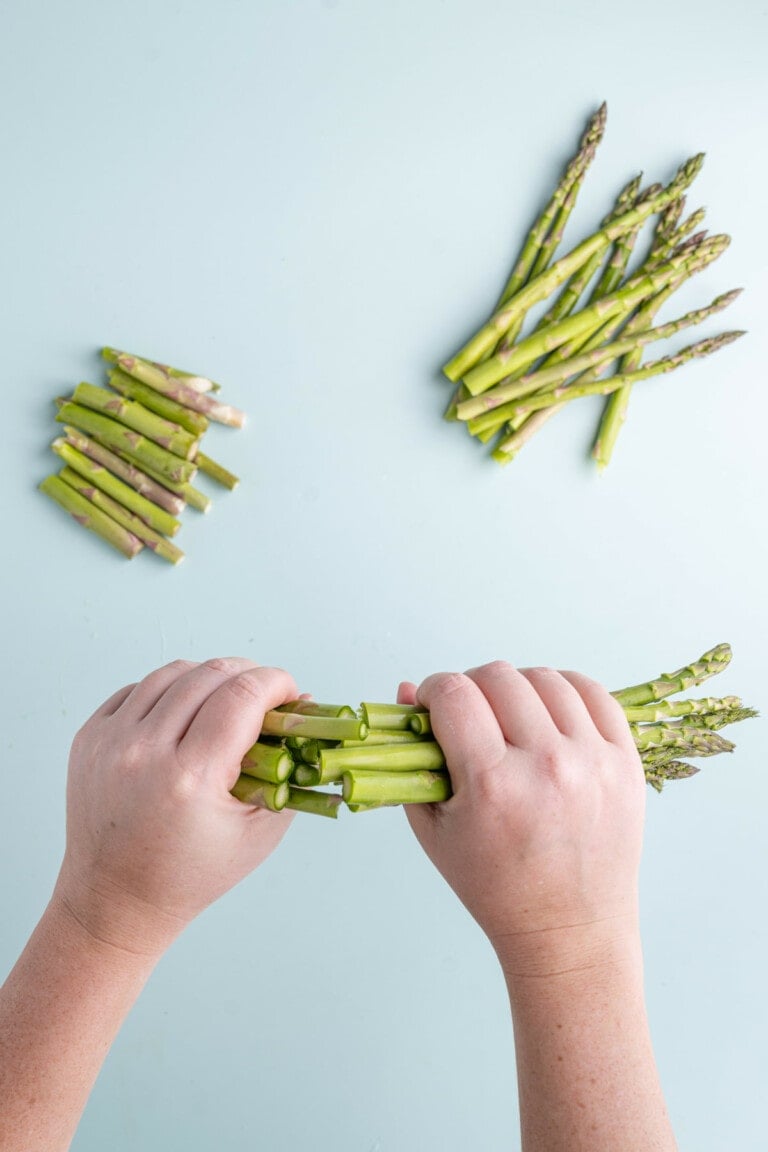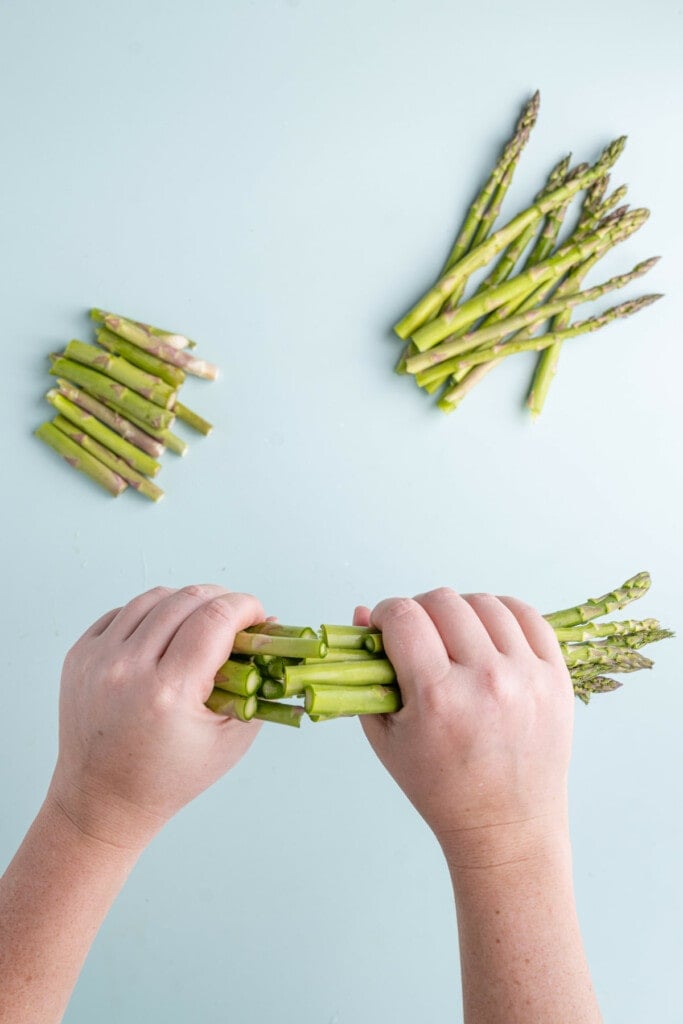 Chop Your Asparagus
Once your crisp asparagus are clean and free of those woody ends, all that's left to do is to chop it into 3 or 4 pieces. We're looking for roughly bite-sized chunks, or slightly larger to help you easily eat it with a fork once it's all baked up and cheesy.
Just lay your asparagus flat on your cutting board and cut them in 1–2-inch pieces lengthwise.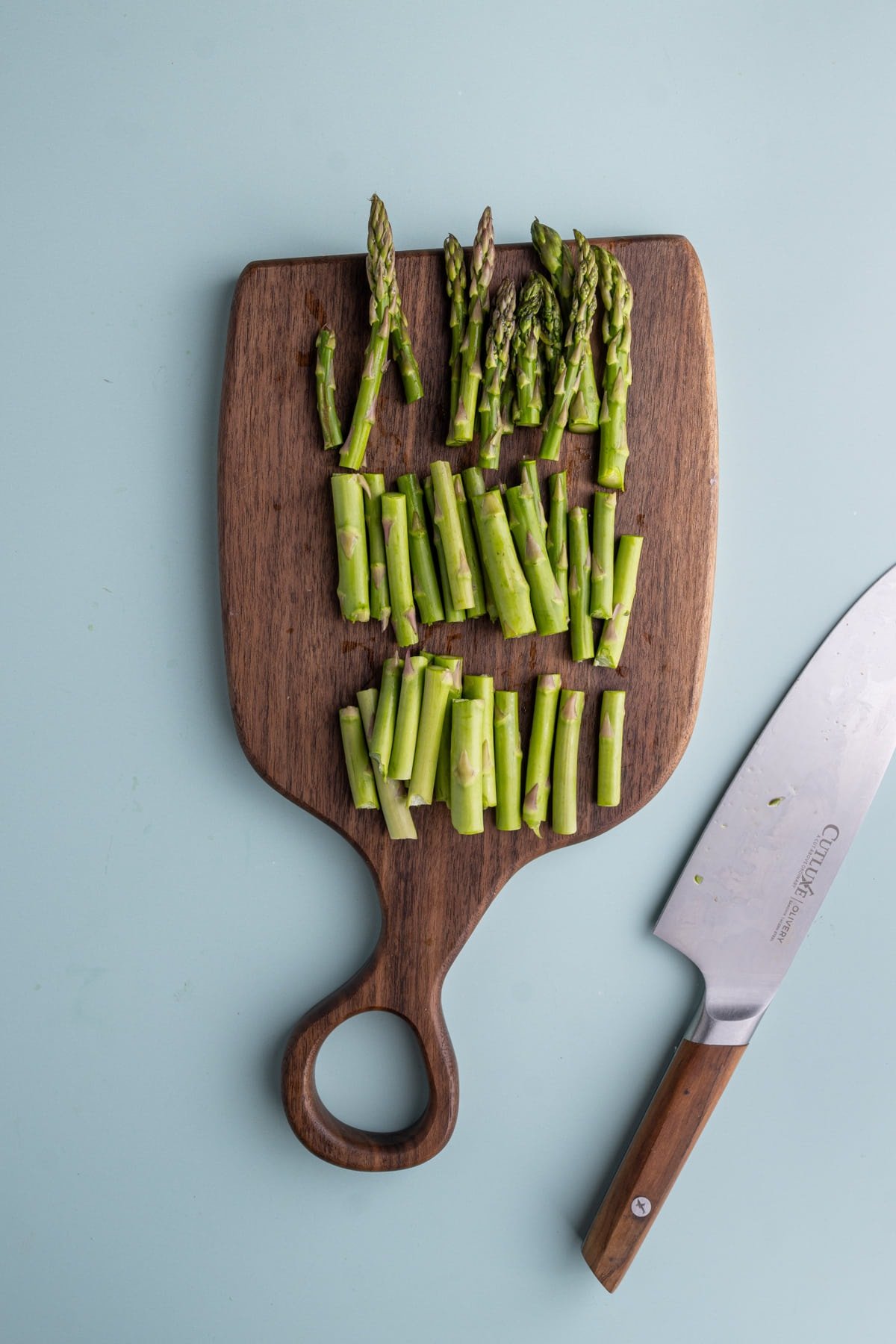 How to Dice Shallots
Similar to other types of onions, shallots possess multiple layers, which makes them convenient to dice – aside from the inevitable eye-tearing experience, of course! To begin, trim both ends of the shallot and proceed to halve it lengthwise.
After this step, you'll find it effortless to remove and dispose of the outermost, delicate paper-thin layer of the shallot. As before, you can compost the ends and peels or save them crafting your own vegetable scrap broth.
Once the outer layer has been removed, you can easily lay both halves flat on your cutting board and proceed with dicing. Once diced, simply use clean hands to gently separate the layers until you are left with small, individual pieces.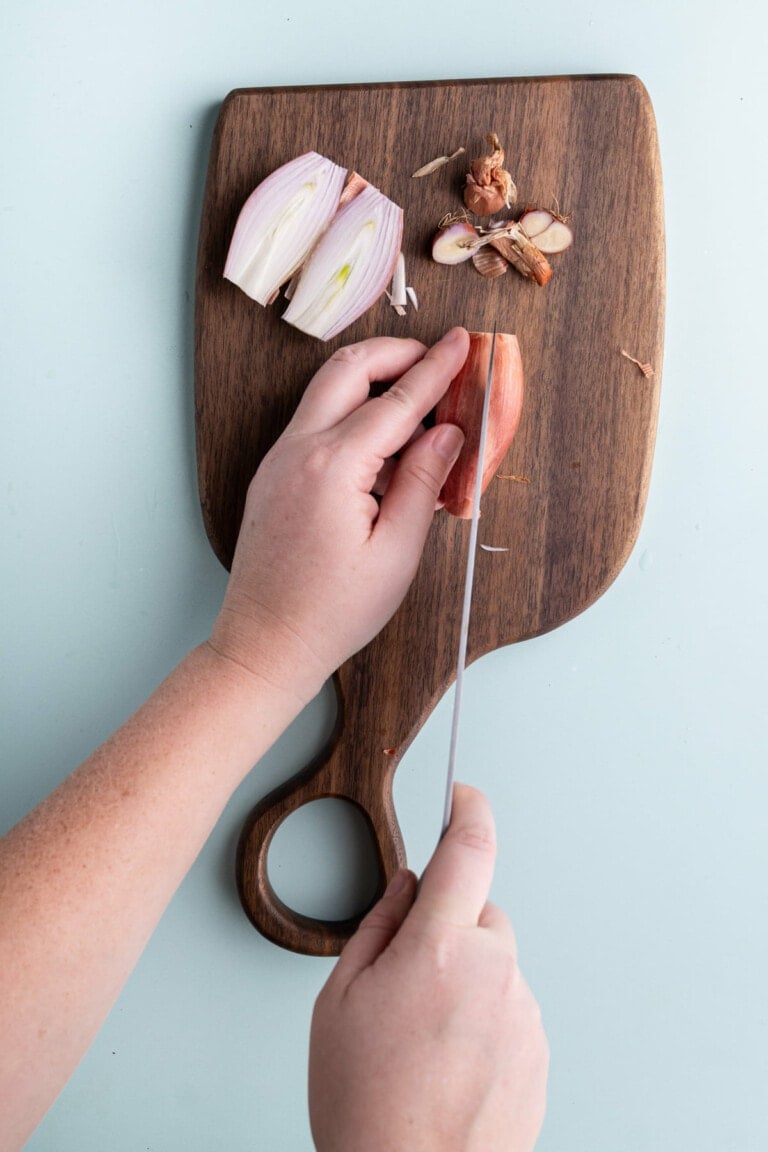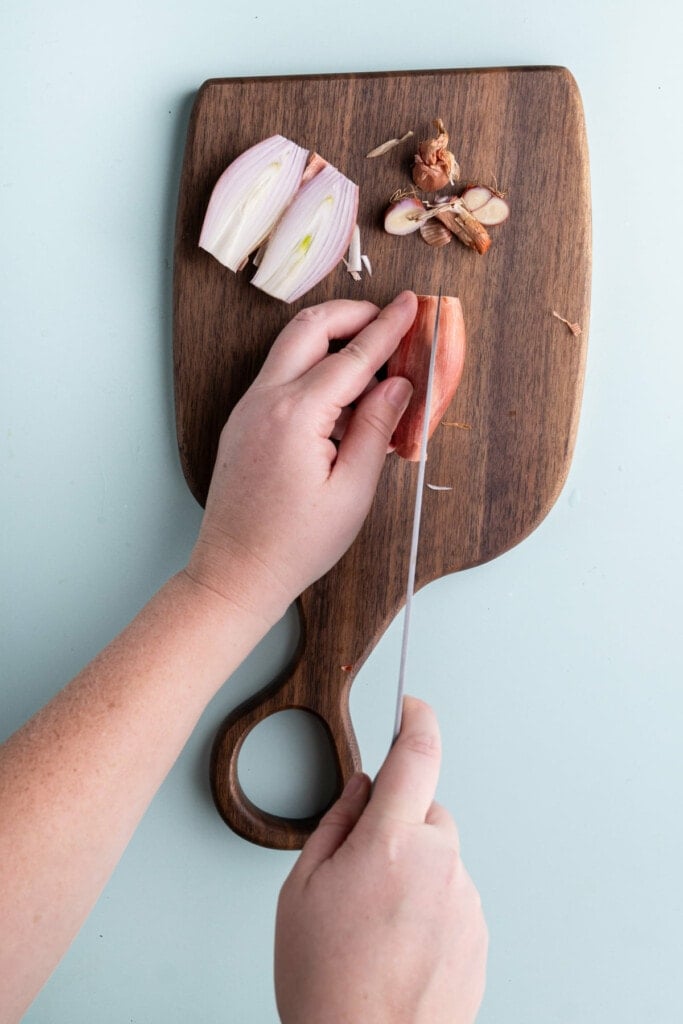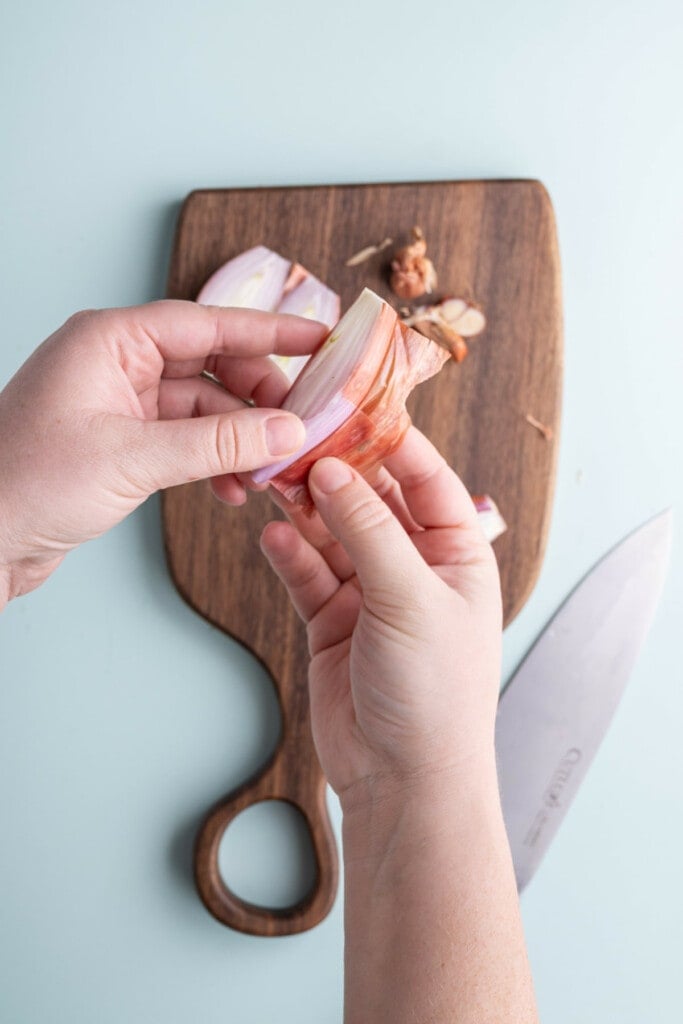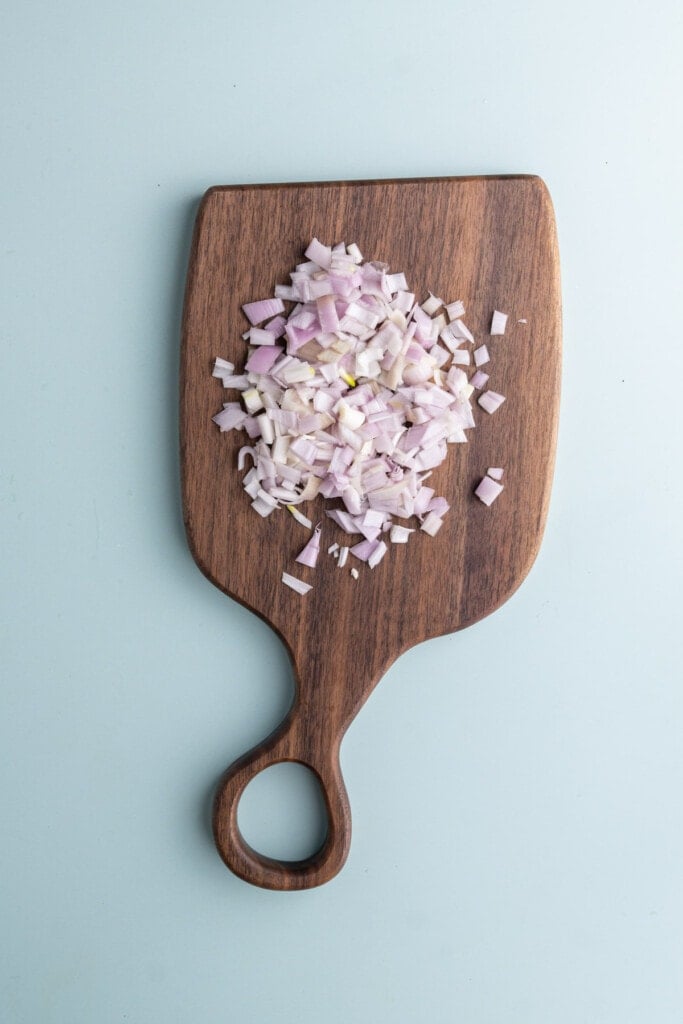 How to Mince Fresh Garlic
In order to mince the garlic, you'll have to peel it first.
My preferred technique for effortlessly peeling garlic is to gently crush its outer layer. Using the flat end of a knife, apply a bit of pressure with your bodyweight until you hear a satisfying crunch.
With the outer layer now cracked, the peeling process becomes considerably easier. After peeling, arrange your garlic cloves on the cutting board and utilize a sharp knife to finely chop and continue chopping until the garlic is minced into small pieces.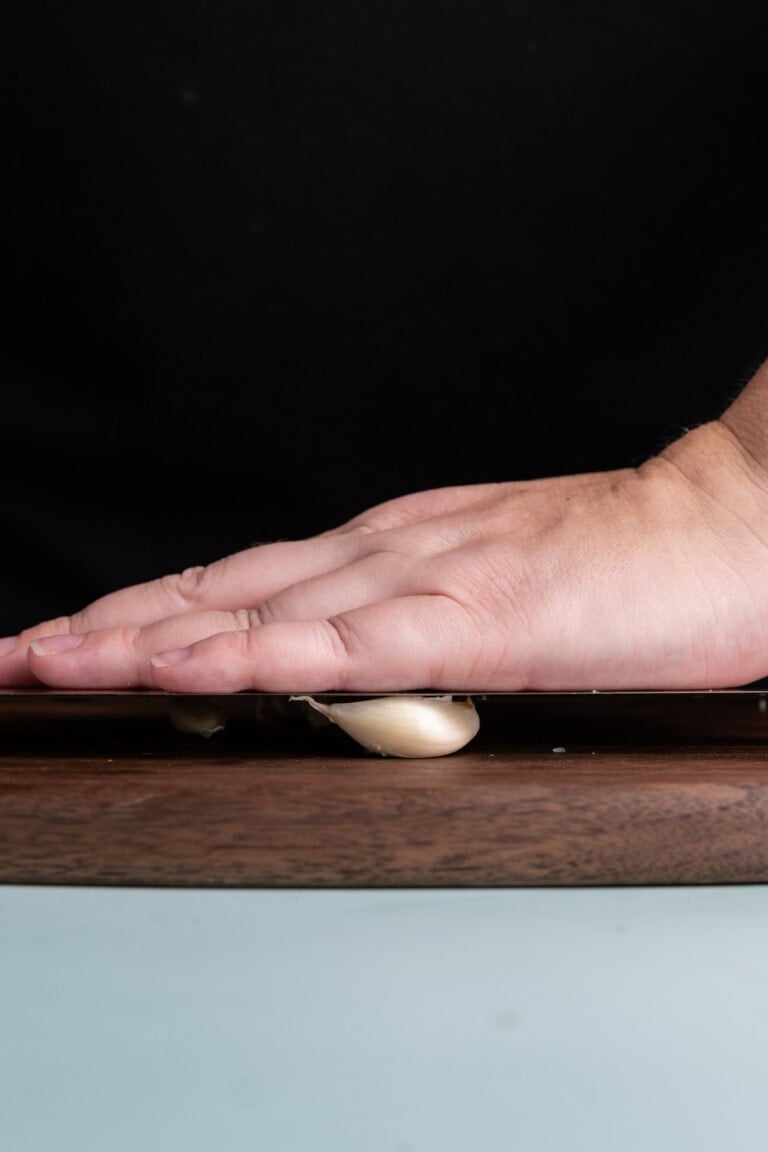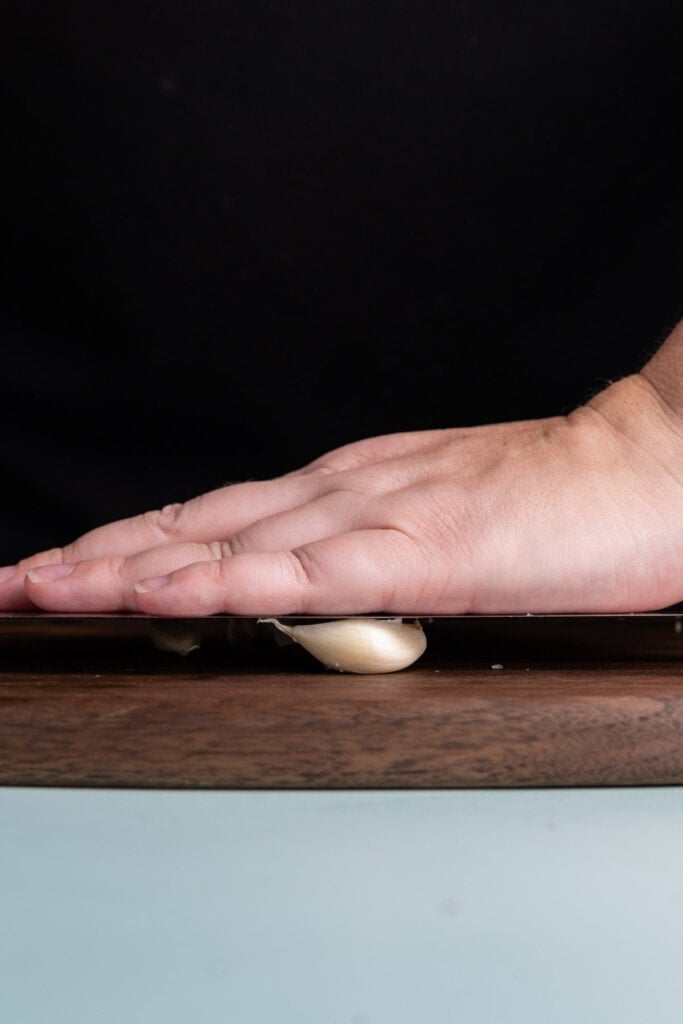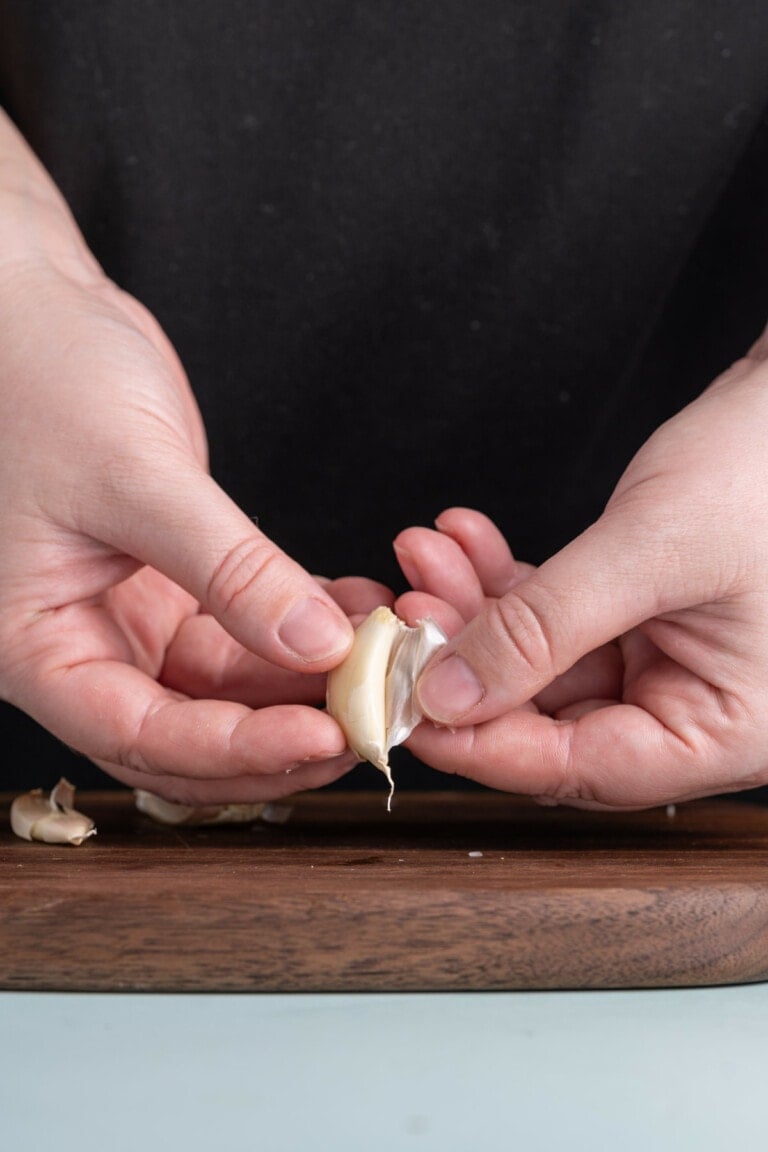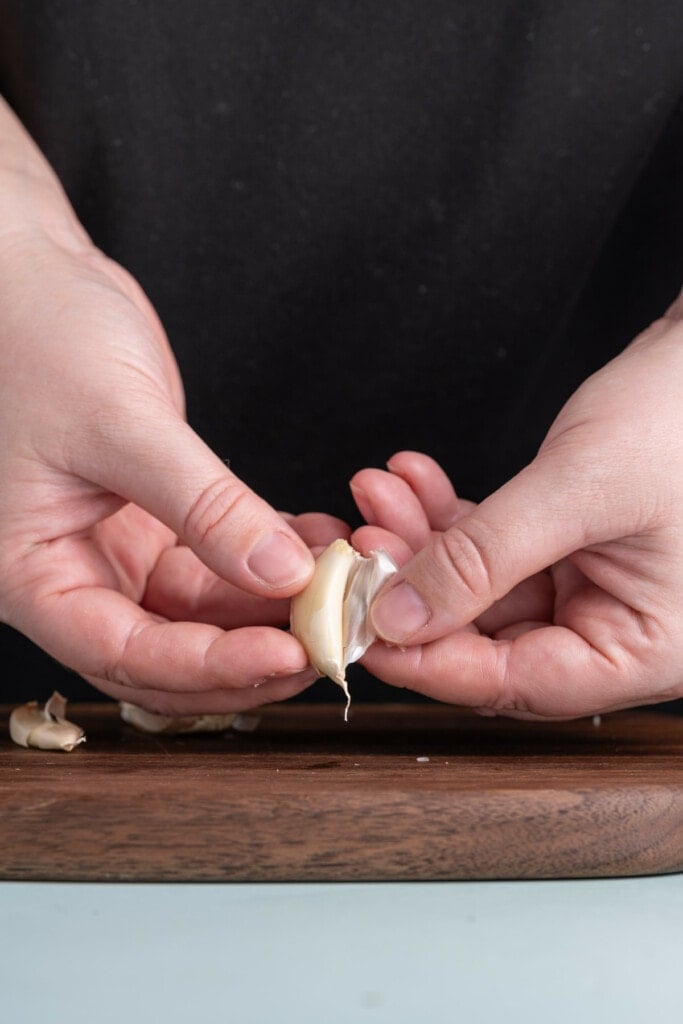 How to Assemble Cheesy Asparagus Casserole
Once your veggies are prepped, it's all smooth sailing from here.
Start by adding the prepped fresh asparagus, shallots, and garlic to the casserole dish and toss it to mix it all together.
Then, add the cream of mushroom soup and mix to coat. Next, up — a generous layer of cheese.
Now as for the cheese, I'll be the first to admit that pre-shredded cheese is much easier and quicker to work with and can absolutely be used for this recipe.
However, this is a good opportunity to remind you that pre-shredded cheese contains extra preservatives to keep the strands from sticking together, giving it a noticeable difference in quality when it comes to taste and melting factor.
Green tip:
If you have the patience (or a food processor with a grating attachment), it's always worth it to grate your own cheese.
After the cheese comes an even layer of Panko breadcrumbs and finally, black pepper on top.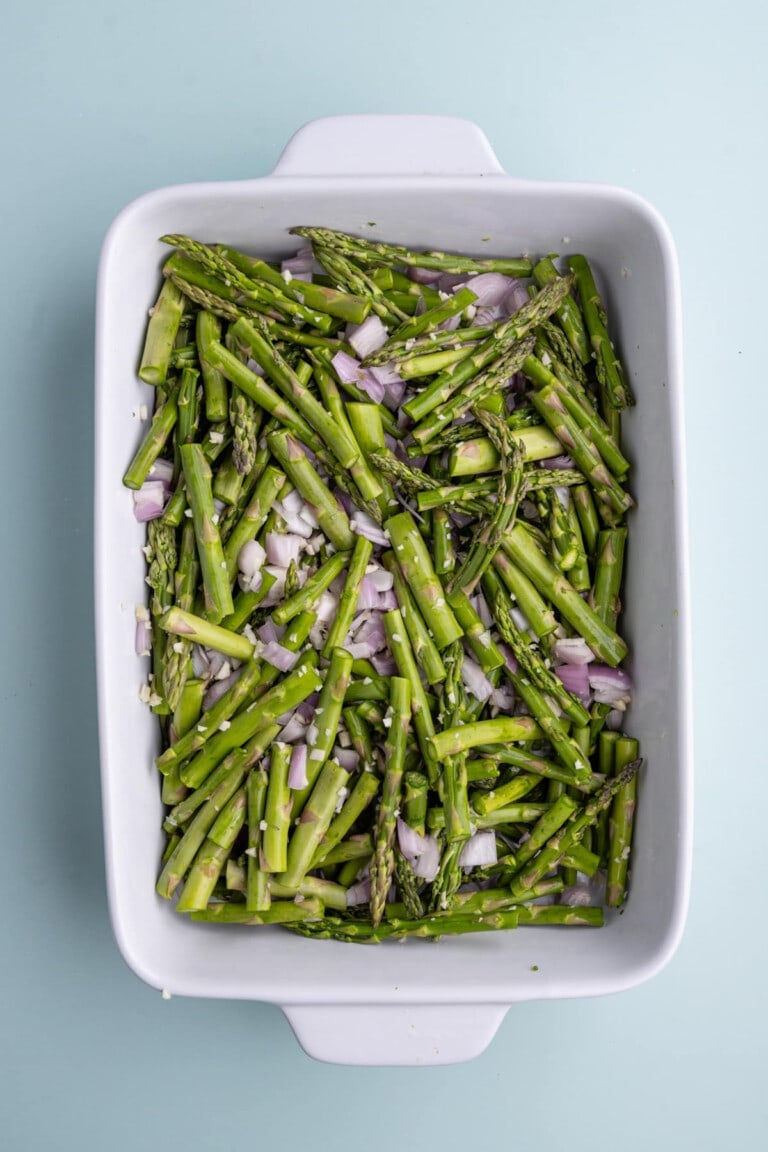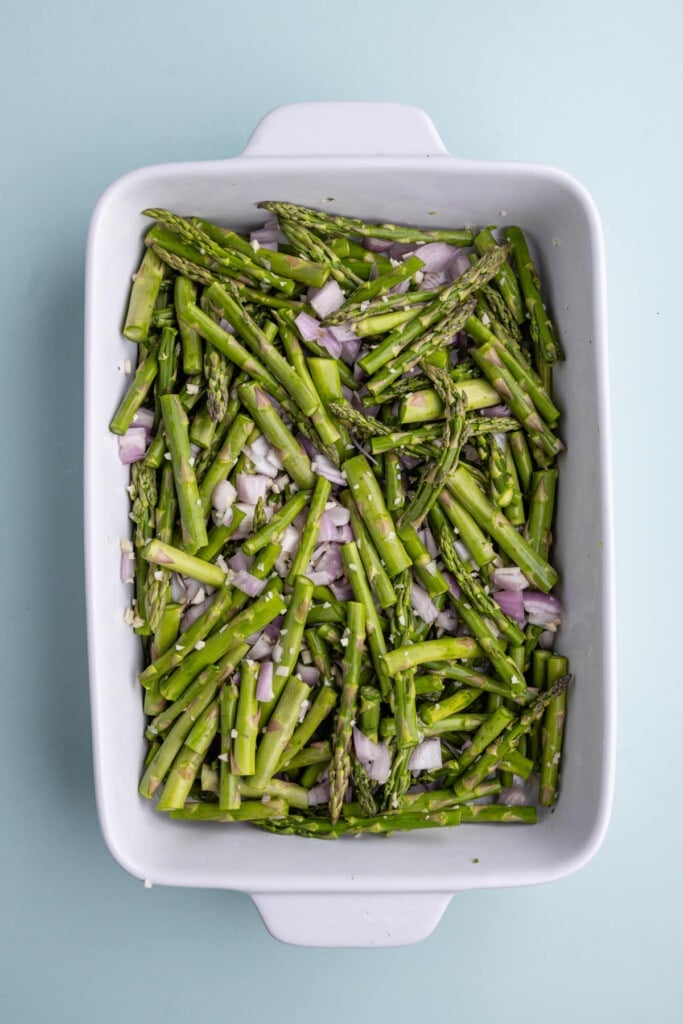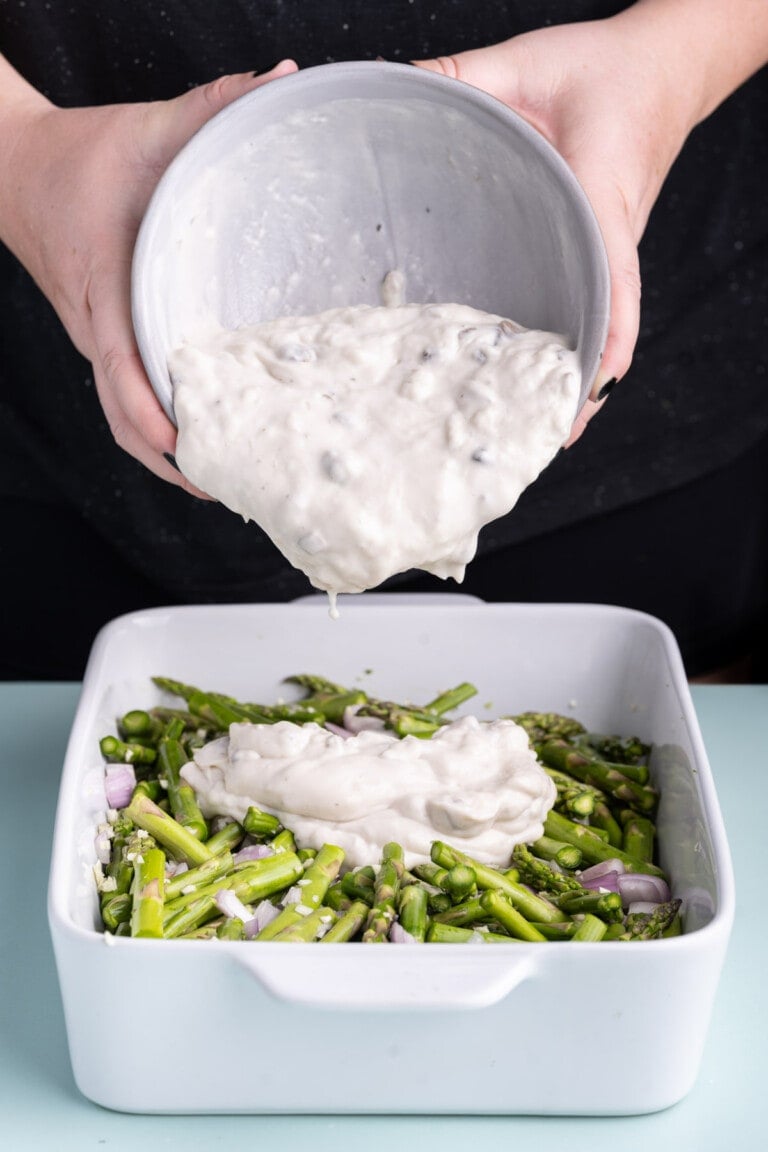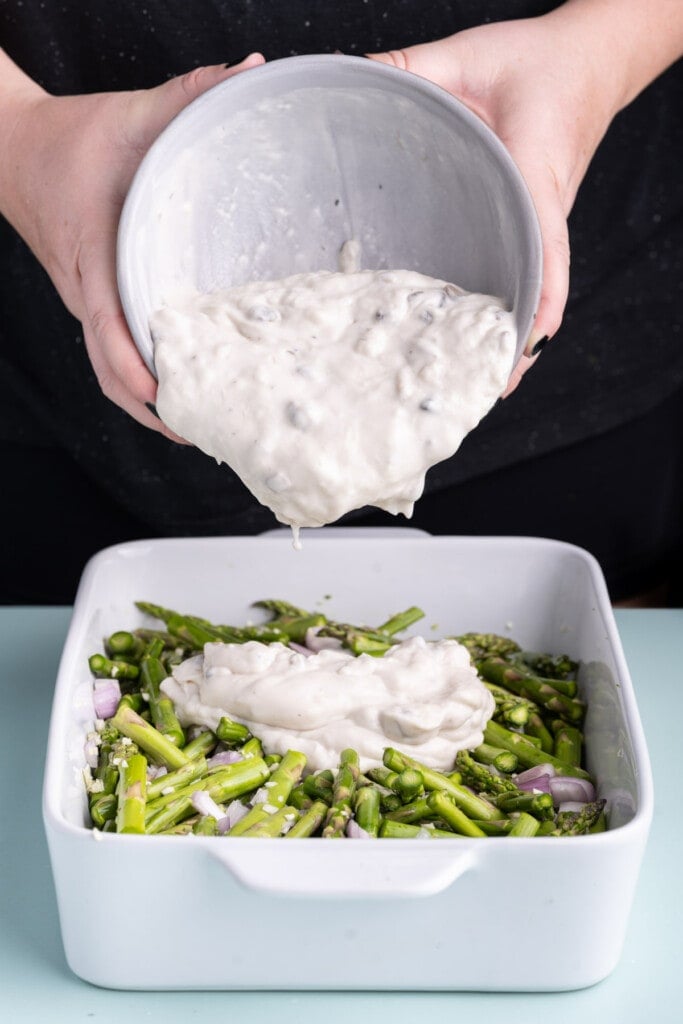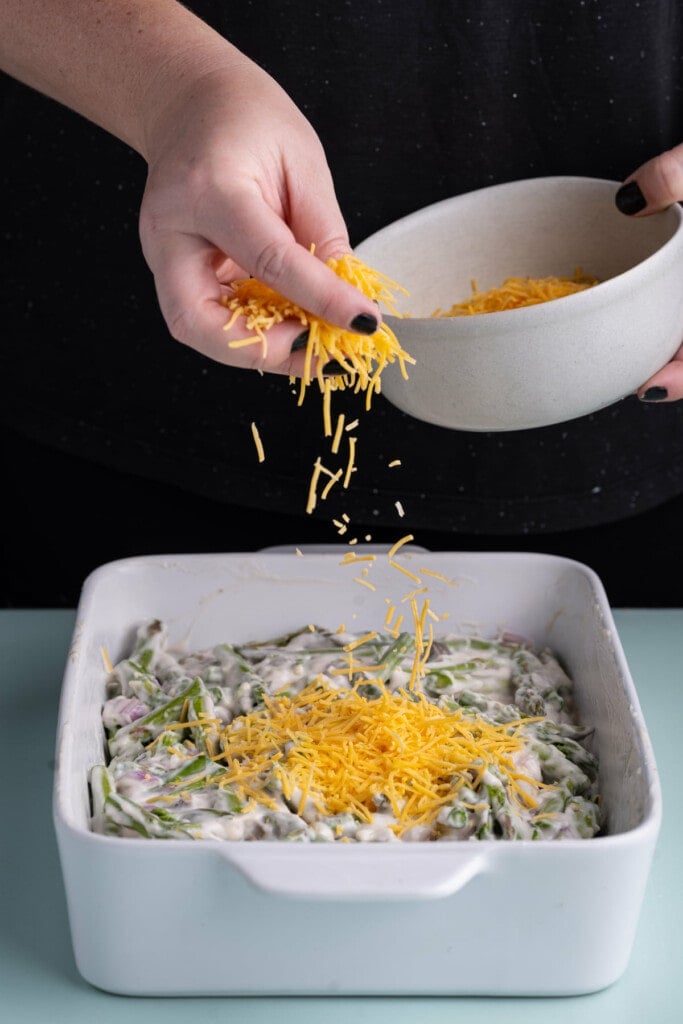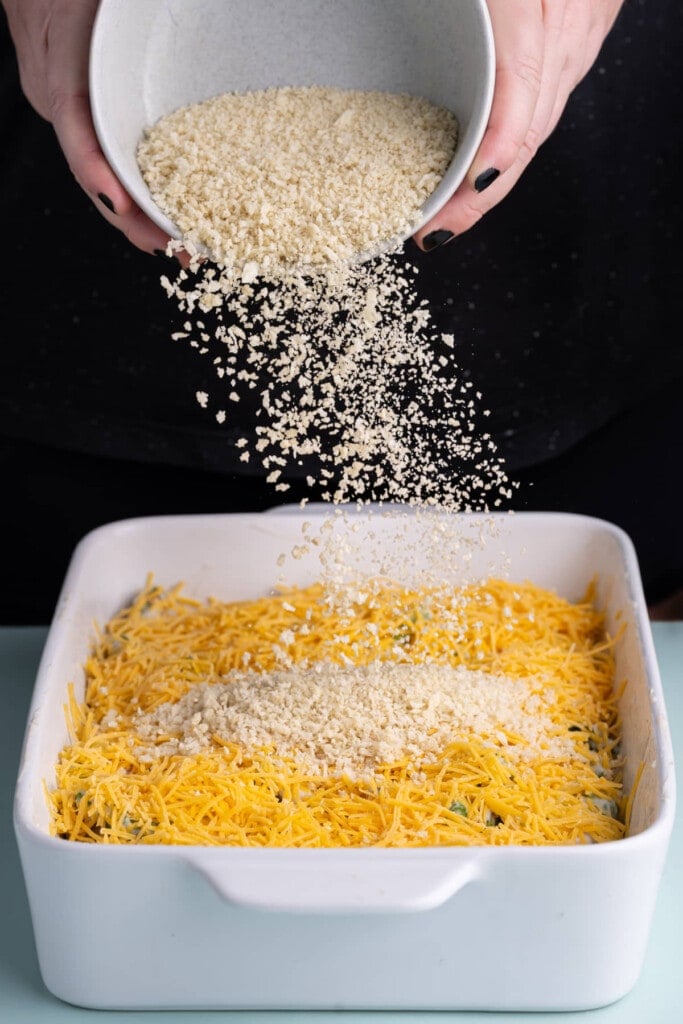 How to Know When Your Asparagus Casserole is Ready
Bake your asparagus casserole in a pre-heated 375°F oven for about 45-50 minutes. You'll know it's ready when the cheese and soup is bubbling and the Panko top is crispy and golden brown.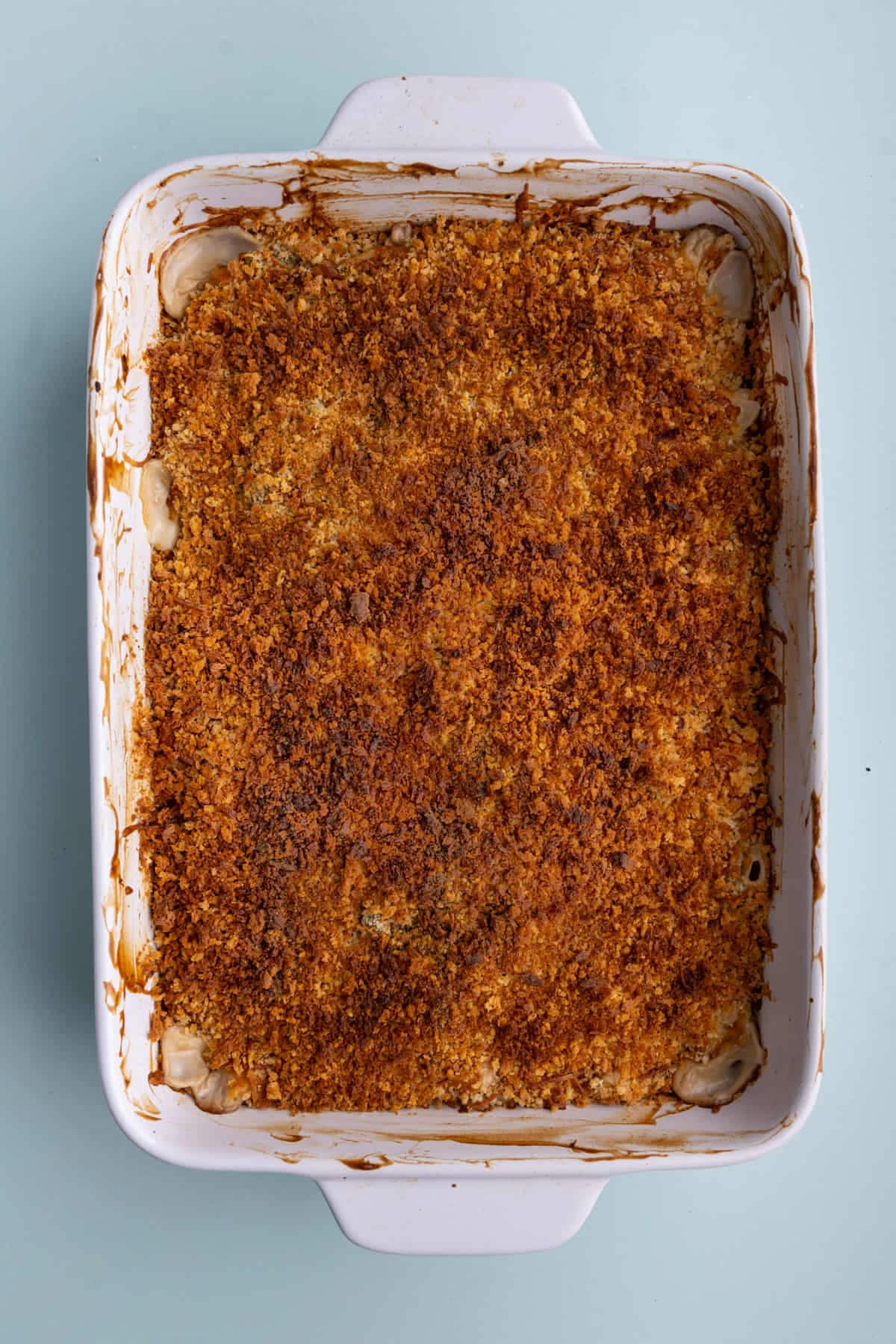 How to Serve Asparagus Casserole
This delicious asparagus casserole is an absolute winner of a side dish for the Holidays, dinner parties, and for family gatherings because it's a total crowd pleaser and is absolutely versatile.
Here are some of my favorite dishes to serve with this asparagus casserole: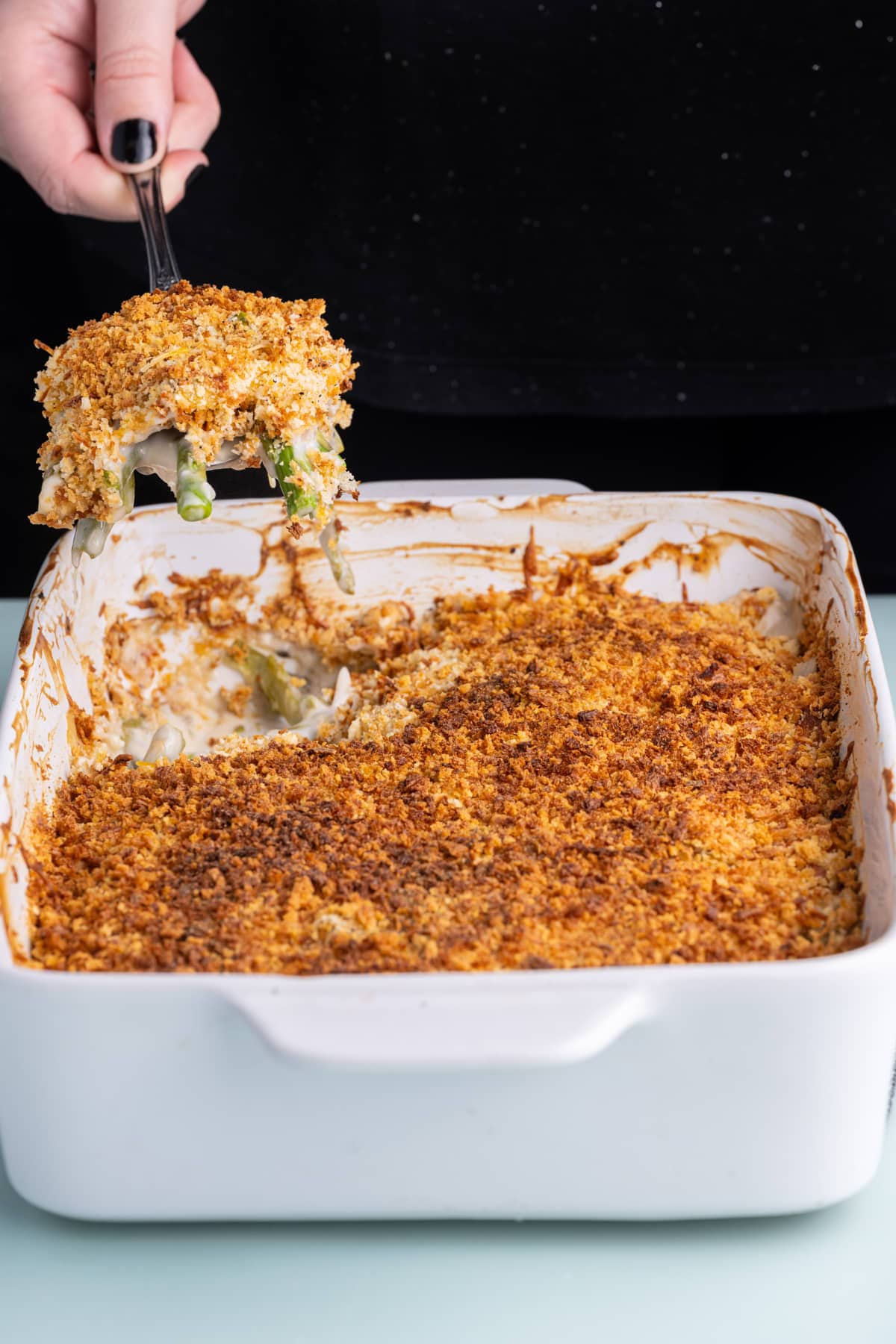 How to Store and Reheat Leftover Cheesy Asparagus Casserole
Leftover asparagus casserole will last for 2-3 days in the refrigerator. It's best to allow it to cool completely first and then cover with aluminum foil. Of course, you can use a reusable cover or beeswax wrap, but it's best reheated with aluminum foil, so may as well get ahead!
To reheat, preheat your oven to 350 and keep the leftover casserole tightly covered with foil. Bake for 25-30 minutes until thoroughly reheated.
Leftover casserole can also be frozen in a freezer-safe airtight container for up to 6 months. Allow it to thaw overnight in the fridge and then follow reheating instructions above (preferred) or add 15-20 minutes to your reheating time in the oven.
Green tip: Of the billions of tons of food wasted annually, 50% of food waste happens at home. Reduce your contribution to food waste by properly storing, reheating, and consuming leftovers.
Asparagus Casserole Frequently Asked Questions
---
Can you put asparagus in a casserole?
Asparagus is a great fresh addition to oven-baked casserole. It gives a fresh flavor and crisp texture, especially when combined with garlic, shallots, cream of mushroom soup, cheese, and breadcrumbs like in this Cheesy Asparagus Casserole.
Want to sharpen your kitchen skills?
Why You Should Make this Cheesy Baked Asparagus Casserole
---
The textures! Crisp asparagus, creamy soup, gooey melted cheese, and crispy, crunchy Panko brings ALL the textures!
It's easy! Prep your veggies, throw them in a casserole dish, layer on the goodness, and bake!
It feeds a crowd. This is the perfect dish for a dinner party, large family, or Holiday meal!
If you're loving this Cheesy Asparagus Casserole and want more dinner party worthy side dishes, check out this Sheet Pan Caprese Asparagus and Maple Balsamic Brussels Sprouts.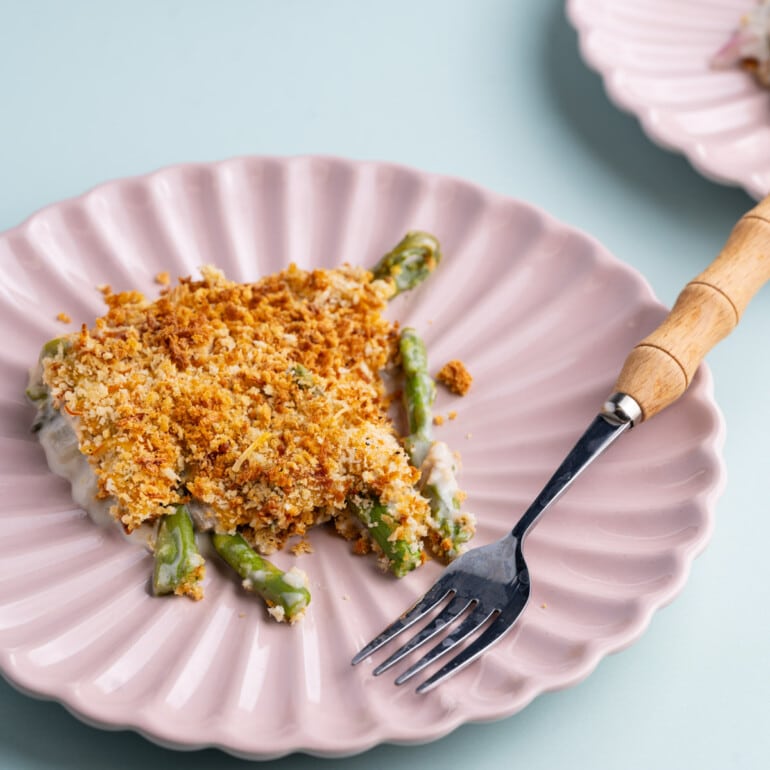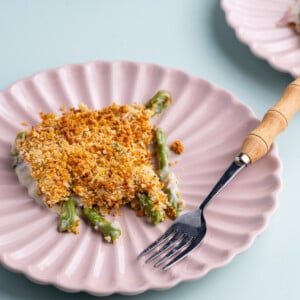 Cheesy Baked Asparagus Casserole
PRINT
PIN
RATE
This Asparagus Casserole combines the earthy goodness of asparagus, garlic, shallots, and cream of mushroom soup, with the bold flavor of melty cheddar cheese and tops it with golden panko breadcrumbs for that perfect crunch.
Ingredients
2

pounds

asparagus

(fresh or thawed)

2

large

shallots

4

cloves

garlic

22.6

ounces

cream of mushroom soup

(22.6 oz soup = 1 large family size can )

1 ½

cup

shredded cheddar cheese

1 ½

cup

Panko breadcrumbs

¼

teaspoon

black pepper
Instructions
Preheat your oven to 375°F.

Prep your vegetables by snapping off the "woody" ends of the asparagus and chopping into bite-size pieces, peeling and dicing your shallot, and peeling and mincing your garlic.

Add the vegetables and soup to a 9×13-inch casserole dish and stir to combine.

Add a generous layer of cheese on top.

Finish with a layer of Panko and black pepper.

Bake for until the top gets nice and crispy and starts to turn golden brown.
Did you make this recipe?
Let me know by leaving a recipe rating below, or by tagging @marleysmenu on Instagram.