Looking for a festive way to cheers to the Holidays? This Gin and Cranberry Christmas Cocktail hits all the right Holiday notes with Cranberry, gin, foam, and fizz, topped with sprinkles for a festive finish.
Think classic gin fizz, but make it Christmas with Cranberry!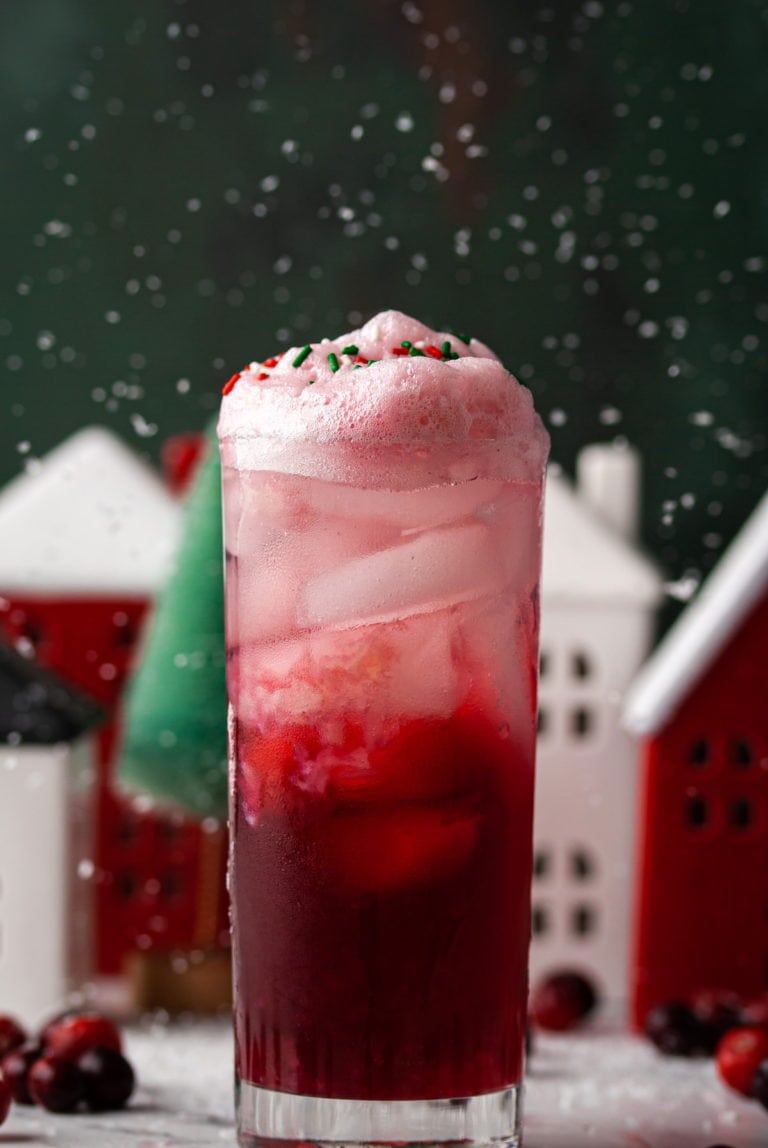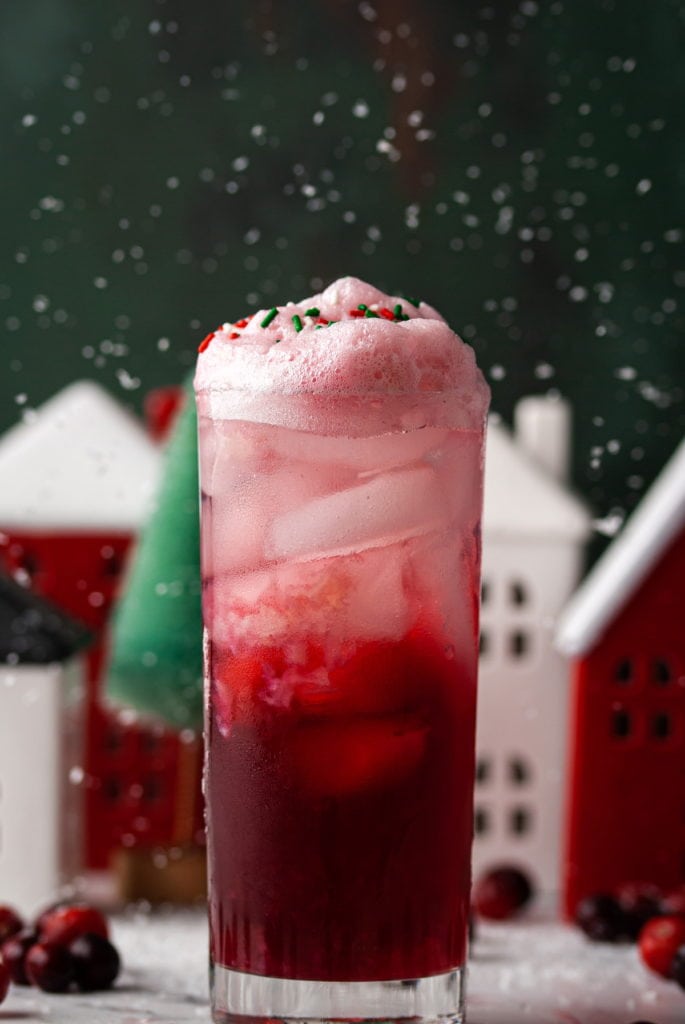 Gin and Cranberry Christmas Cocktail Tips and Tricks
---
---
Gather Your Ingredients
The floral and herbaceous gin is complimented perfectly by the tart cranberry. Then, all you need is some citrus, a little bit of sweetness, and some bubbles and foam. Here is everything you need:
What's With the Egg White?
The egg white in this cocktail is absolutely optional but is the best way to get that gorgeous foam on top.
Green tip: Look for pasture-raised eggs (over free-range or cage-free) to support agriculture that is less reliant on chemicals and fossil fuels.
Separating the egg white from the yolk is easily achieved by cracking your eggshell in half over your cocktail shaker and transferring the egg yolk back and forth between either half of the shell, allowing the egg white to fall into the bowl.
You are now left with the egg whites in the shaker and the egg yolks in the shell. And voila! Just like that, your eggs are separated.
But don't toss those yolks! They can be used in these Margarita Cookies, Rosemary Cookies, or even this Smoked Salmon Eggs Benedict.
If you have an allergy or dietary restrictions that prevent you from eating eggs, but you still want the foam, there is a solution! Check out this Eggless Cocktail Foamer.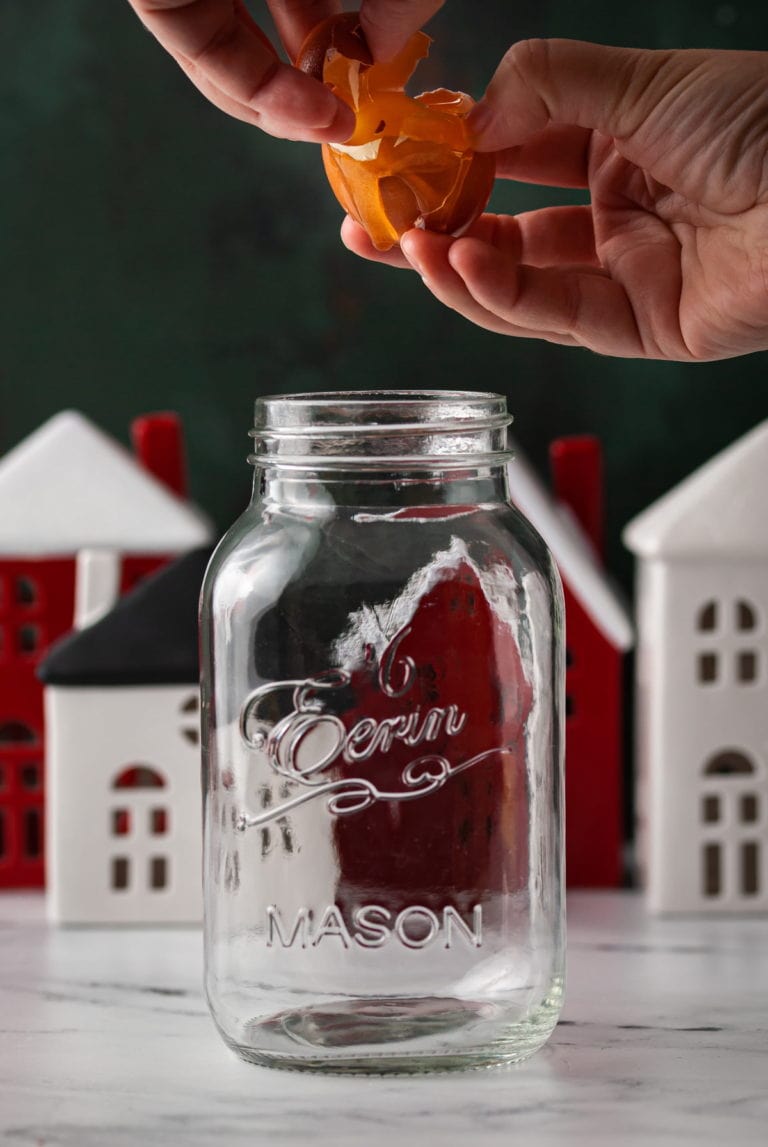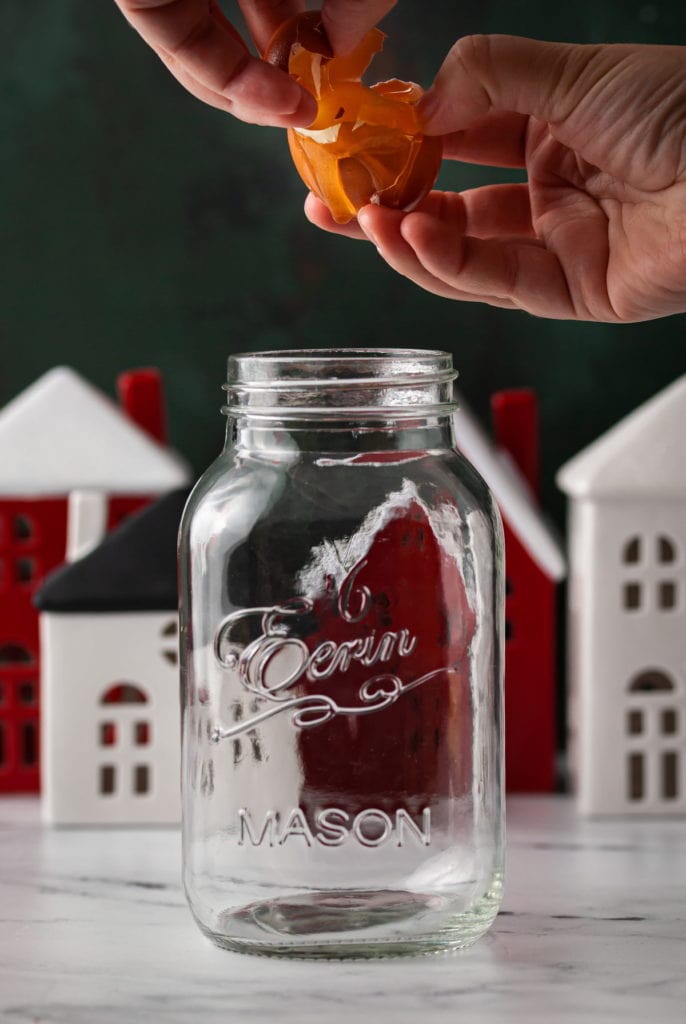 Add It All Without Ice First
In order to get that perfect foam, you will have to follow a simple two-step process. First, add your egg white, gin, simple syrup, pure cranberry juice, and lemon juice to your cocktail shaker without any ice.
This first step is called a "dry shake". This step is essential to a tall foam as it activates the proteins in the egg whites!
Shake Again with Ice
After your "dry shake", you are ready to add ice to your shaker and shake again. This step gets your drink nice and cold, of course.
But it also helps aerate the foam, giving it lots of height. Seal your cocktail shaker and shake for a good 30 seconds.
If you don't have a cocktail shaker, you can always use a mason jar with a lid.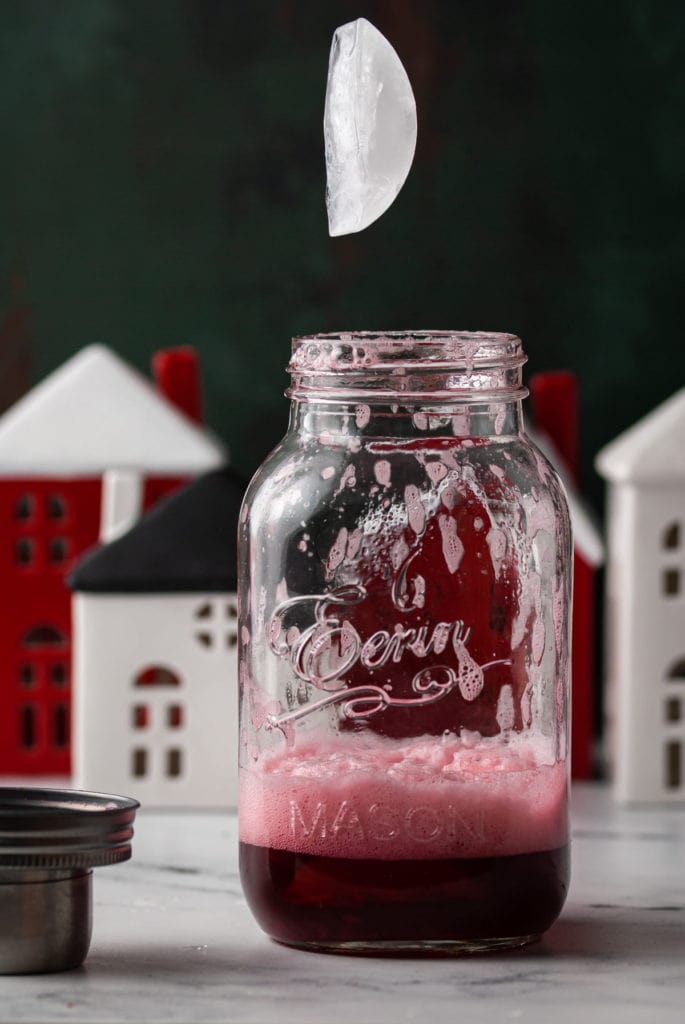 Making Your Own Simple Syrup
If you don't have simple syrup at home, you can make your own with sugar and water. You can use brown sugar, granulated sugar, or even coconut sugar.
This recipe works best with granulated sugar, as it's a perfect balance to the sour lemon and zingy cranberry, without adding any undertones of vanilla or caramel.
To make a simple syrup, just add equal parts sugar and water to a small pot over high heat and whisk until the sugar is dissolved. Next, transfer it to a heat-safe glass and allow it to cool before using it for your Christmas Gin Cocktail.
Green tip: Making your own sauces and syrups is a great way to avoid extra plastic packaging that eventually ends up in landfills or makes its way into the environment and becomes microplastics.
Use Fresh Lemon
Using fresh lemon as opposed to pre-squeezed lemon juice goes a long way in this Christmas Cocktail.
The citrus enhances the taste of the cranberry and really rounds out this drink. You can usually get 1 tablespoon of lemon juice out of 1/4 of a lemon.
When using a cocktail shaker, you can freely squeeze the lemon juice into your shaker without worrying about the seeds. They will remain in the cocktail shaker when you strain your cocktail into your glass.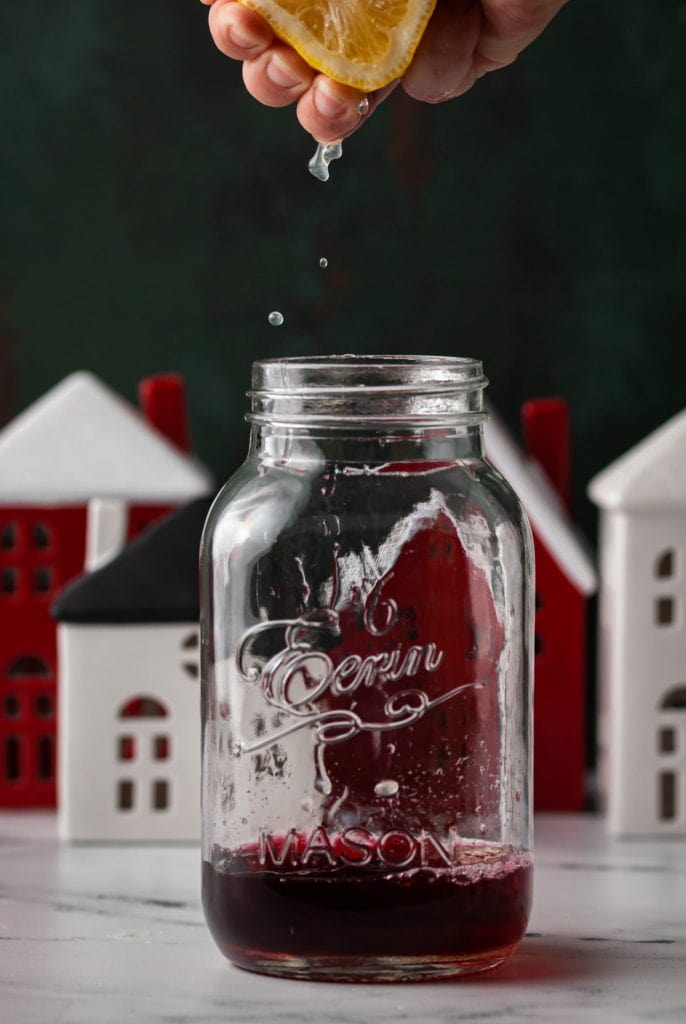 Sugar Rim
A sugar rim is optional, but highly recommended for the full effect! Just use your lemon wedge to wet the rim of your glass, running the citrus along the edge.
Then, dip the rim of your glass in sugar. You can put the sugar on a plate, in a shallow bowl, or easiest of all—use a cocktail rimmer.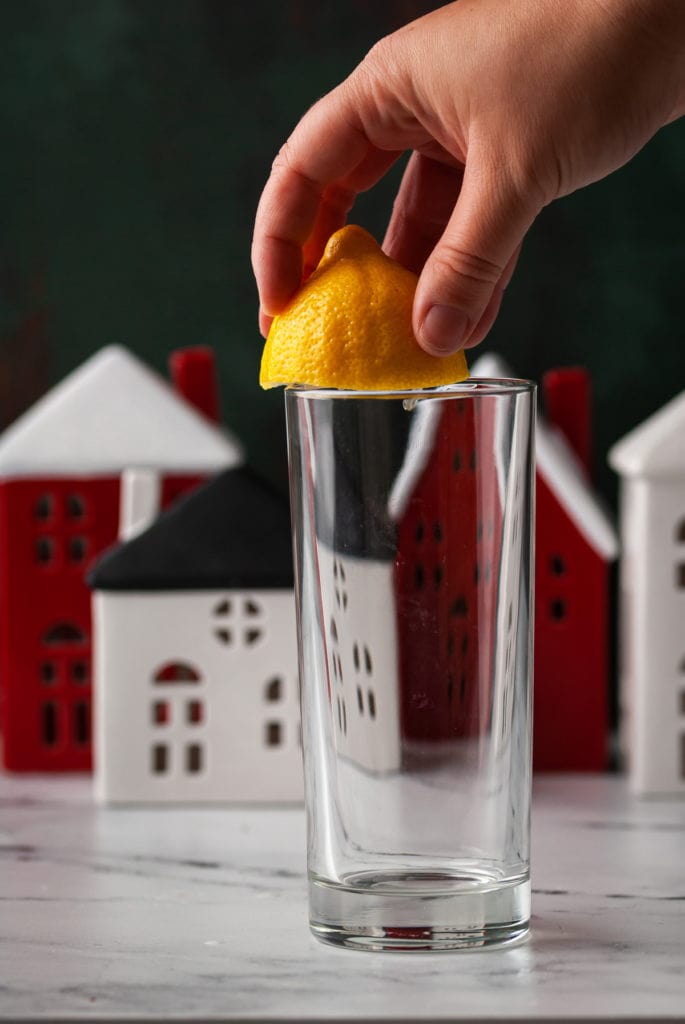 Strain
This step is important in this cocktail. This will strain out any seeds from the lemon and, any leftover globs of egg white that haven't turned into foam.
I like to serve my Gin and Cranberry Christmas Cocktail over ice. It just makes it nice and refreshing, but that part is up to you!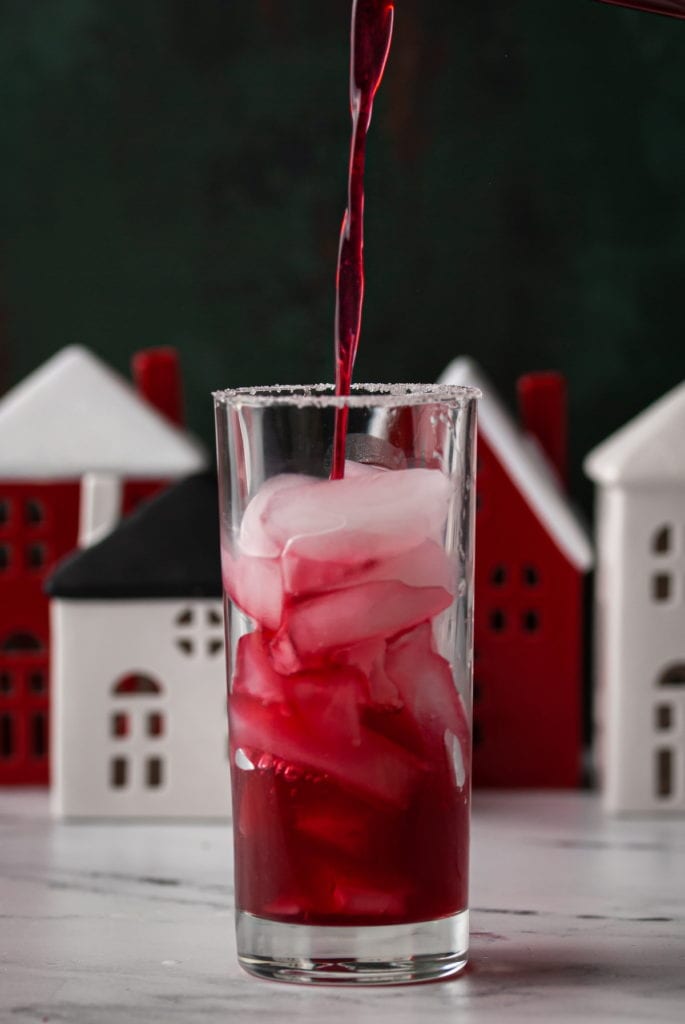 Pour Bubbles on Top
It's important that you do not your club soda to the cocktail shaker, and instead just pour it over top of your cocktail.
Shaking up carbonated drinks is always a mess. Plus, shaking them can cause you to lose some of those bubbles. That final club soda pour-over will also cause your foam to rise.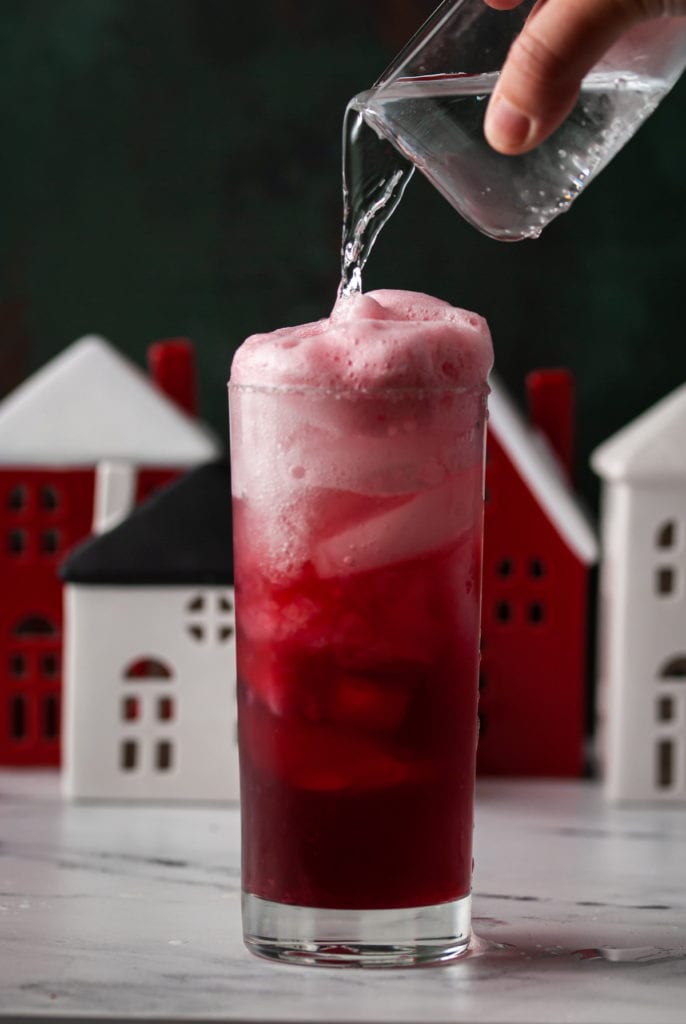 The Finishing Touch
This part is optional but super festive and fun! Top your Christmas Gin Cocktail with some Holiday-themed sprinkles for a festive finish.
They will float on top of the foam, bringing that little bit of extra merry and bright.
Tested Substitutions
You can leave the egg white out altogether if you are not fussed about the foam. Or, you can opt to add a couple of drops of this Eggless Cocktail Foamer for a similar effect.
If you don't have pure cranberry juice, but do have cranberry juice cocktail, simply omit the simple syrup. The cranberry juice cocktail usually has enough added sugar to cut through the tart cranberry and citrus.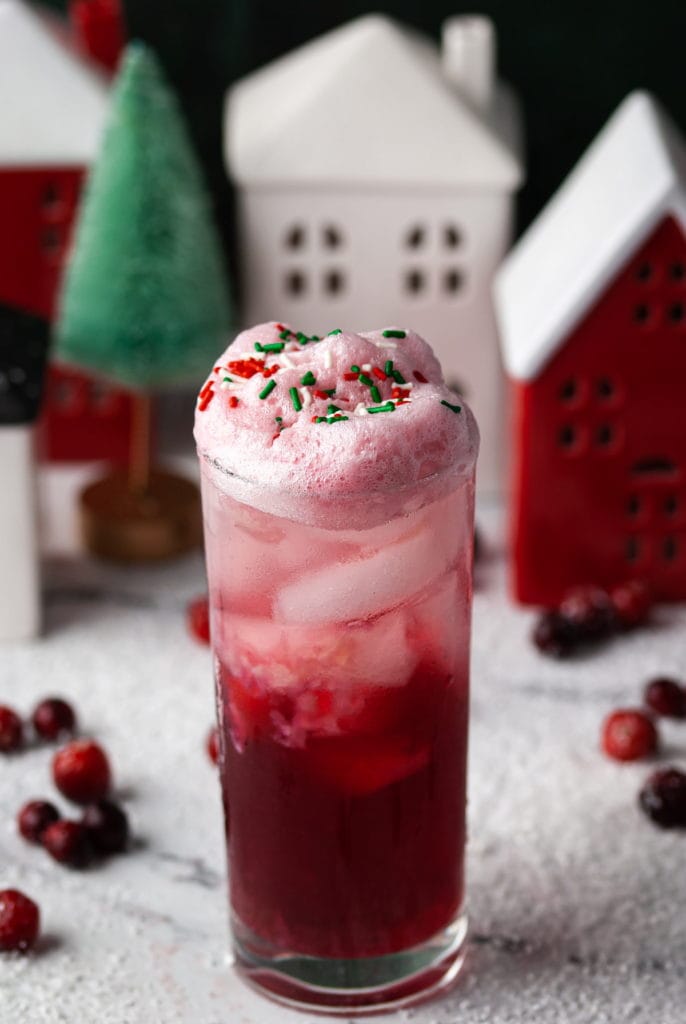 Why You Should Make this Gin and Cranberry Christmas Cocktail
---
---
It's festive! Between the Holiday flavors and colors, this cocktail brings all the merry and bright!
It's refreshinig. Between the zingy cranberry, fresh citrus, and finishing foam, each sip is super refreshing.
It's bubbly! That bubbly finish is the perfect way to cerlebrate.
If you're loving this Gin and Cranberry Christmas Cocktail and want more festive cocktails, check out this Leftover Cranberry Sauce Cosmo.