Looking for a refreshing, flavorful, crisp summer snack, app, or side? This Grilled Corn on the Cob with Old Bay Seasoning is the most delicious way to consume your kernels.
Sweet corn is amazing on the grill! It gives it a little bit of a smoky flavor while keeping the texture perfectly juicy and crisp. And when you slap on some butter and spice, the magic really happens.
Old Bay is typically used as a seafood seasoning, but I'm here to prove that it's delicious on anything from French fries to corn!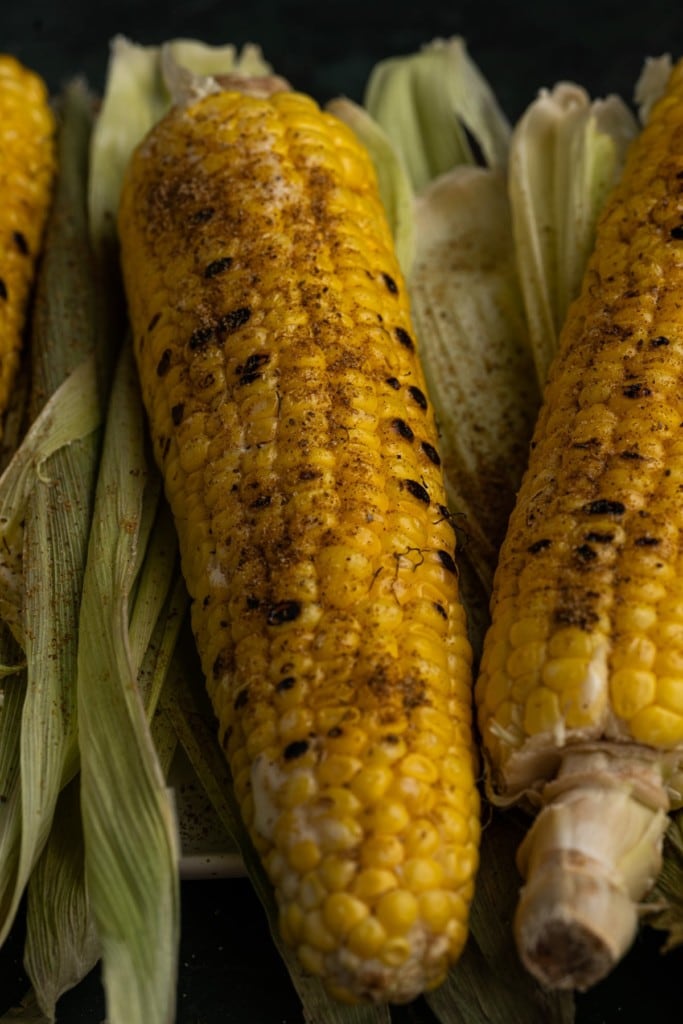 As an environmental scientist, I am always looking for simple ways to add seasonal crops into my family's diet. And this corn on the cob with Old Bay Seasoning is just about as simple as it gets!
Green tip: Eating seasonally is one of the best (and most delicious) ways to support local agriculture and improve your carbon footprint. Check when corn is in season in your area with this Seasonal Food Guide.
Grilled Corn on the Cob with Old Bay Ingredients
---
Here's everything you need:
Corn. Fresh corn on the cob, preferrable still in their husks.
Butter. Any unsalted butter of your choice. Dairy-free works too! It's best if it's softened.
Old Bay Seasoning. My all-time favorite! It's great on seafood and vegetables! None on hand? Check out this article on Every Old Bay Seasoning Substitute.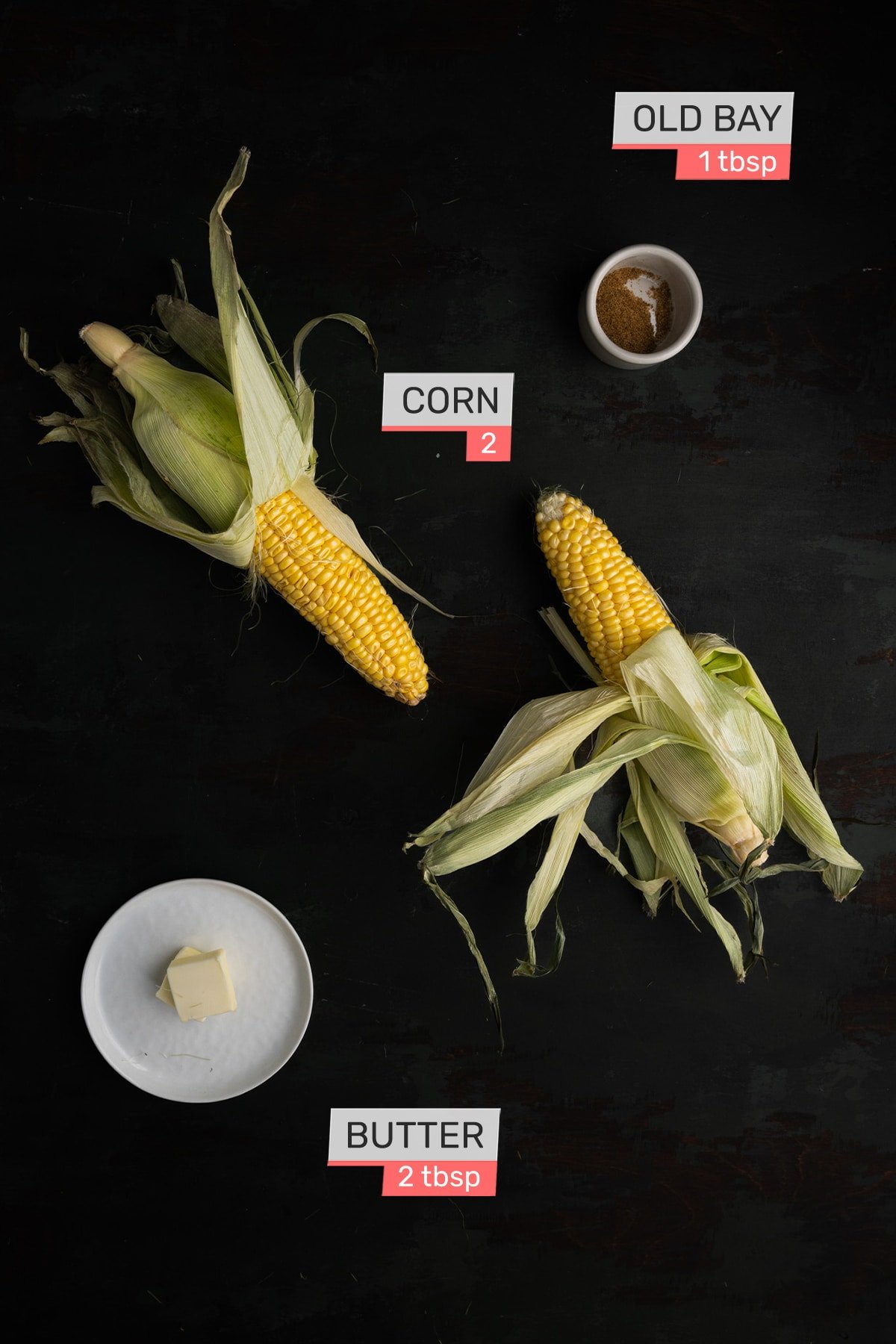 Grilled Corn on the Cob with Old Bay Tips and Tricks
---
Grill it Plain, Jane
The corn should go directly on your grill, after shucking, of course. This will give it that juicy, crispy, charred on the outside crunch we are looking for. You may even be able to get some grill marks!
But don't add your butter until after the corn comes off the grill.
Green tip: Look for organic and palm oil-free butter if you can. Buying organic means you are supporting farms that do not use damaging pesticides and fertilizers, and palm oil production is a huge driver behind deforestation.
Keep it Cool
Your corn will be nice and hot when it's just off the grill, so give it a couple of minutes to cool before handling it. If it's too hot, the butter will melt right off. We want the softened butter to stick to the corn so your seasoning can cling to it.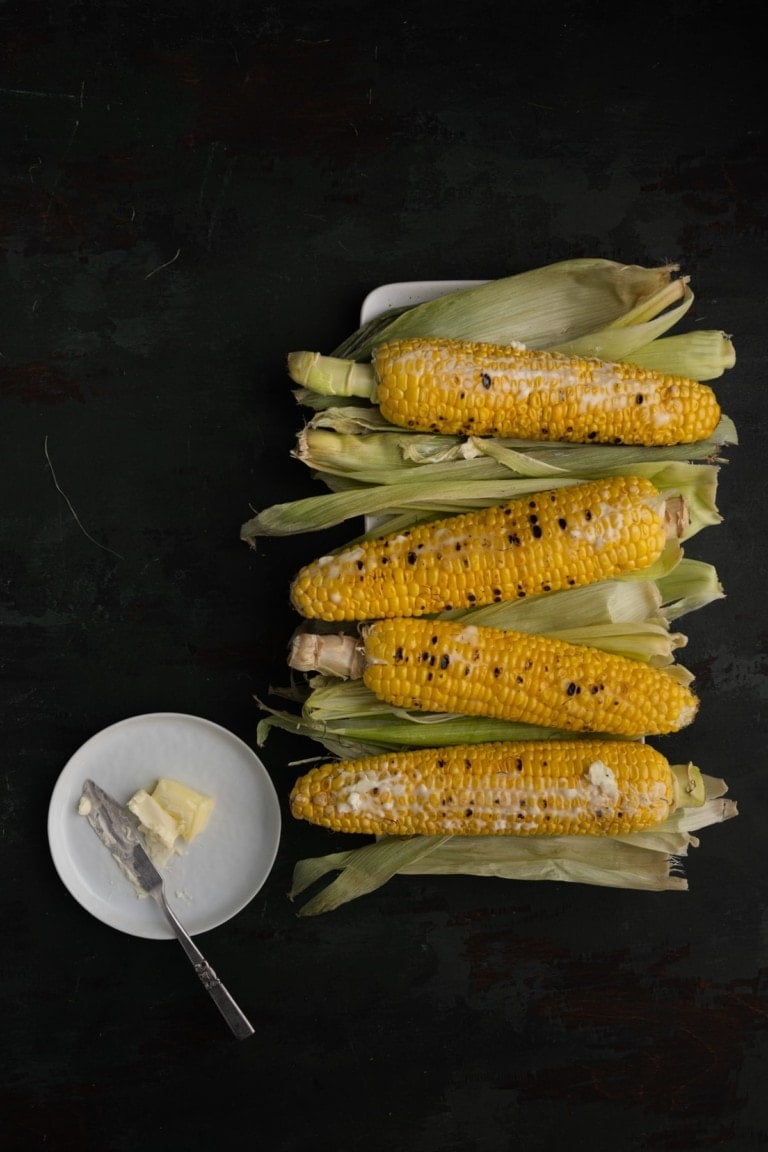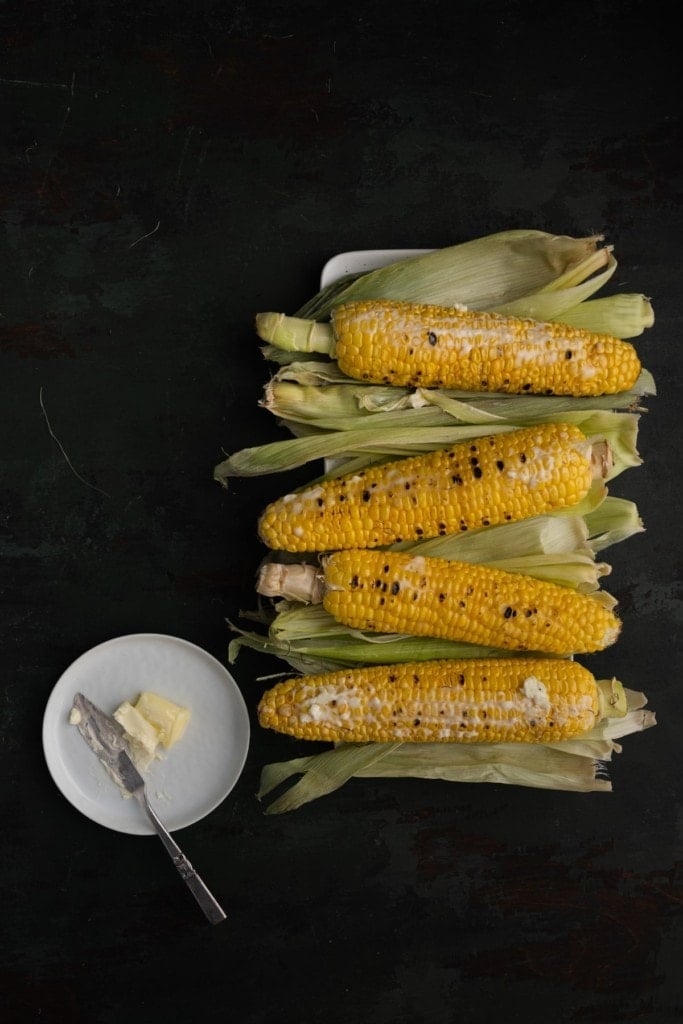 Don't Be Shy
I grew up in Maryland, so Old Bay is like powdered GOLD in my book. And for this and any recipe involving this treasured dust, I say: BRING IT ON.
The corn can handle it. I find the easiest way to coat the corn is to keep one end on the table, lift the other end, and slowly rotate it while using your other hand to sprinkle with the seasoning.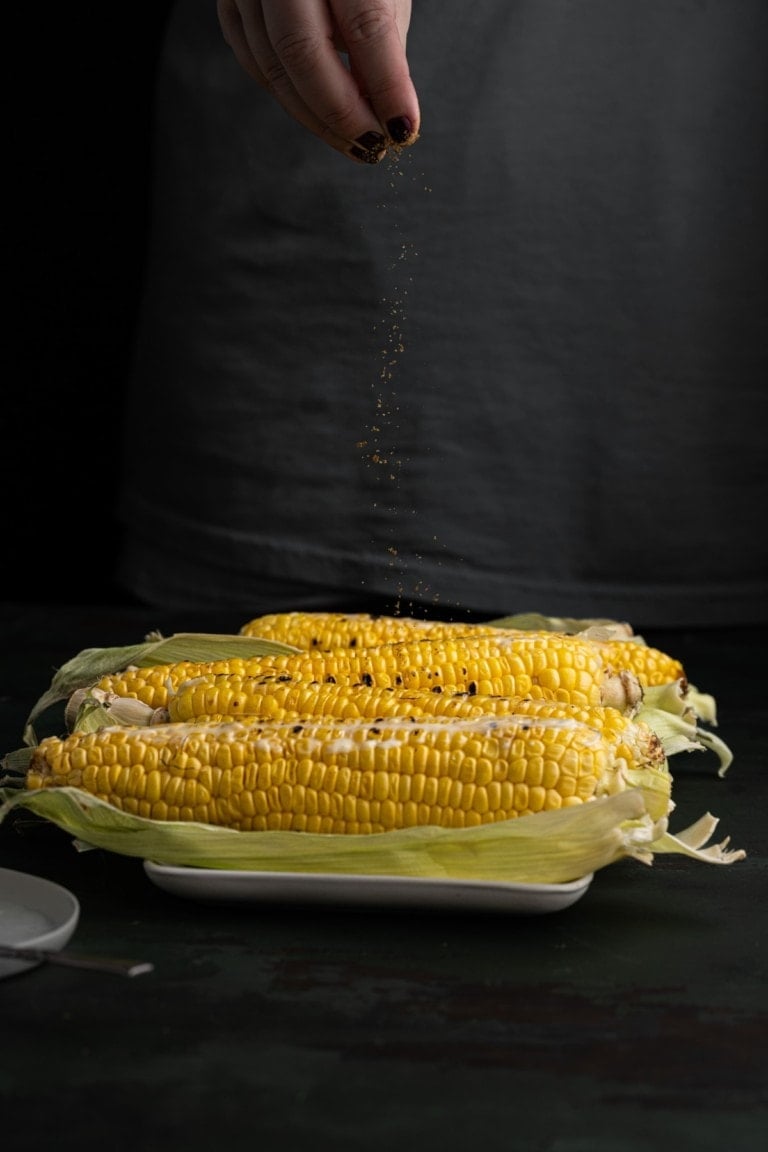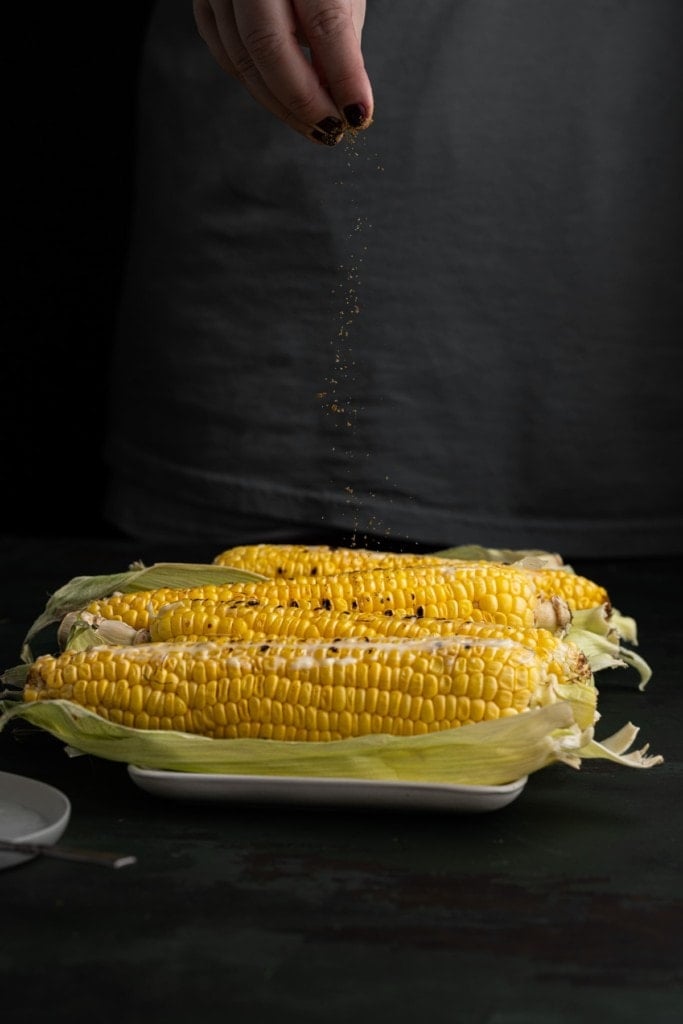 Tested Substitutions
This corn can easily be made vegan by using a non-dairy butter substitute. Old Bay Seasoning and corn are both naturally vegan ingredients.
If you don't have Old Bay Seasoning on hand, you can use your favorite seasoning or make your own Old Bay!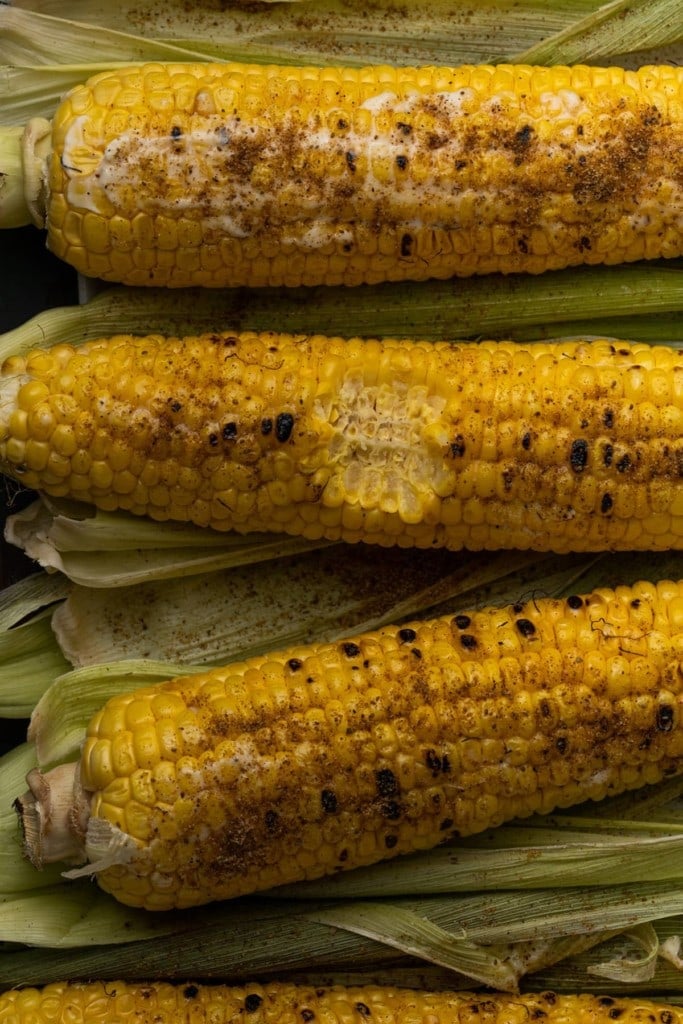 Old Bay Corn on the Cob Frequently Asked Questions
---
What goes well with Old Bay?
Old Bay seasoning is super versatile and great on a number of dishes! Though it is widely thought of as a seafood seasoning (like in this Blackened Shrimp & Old Bay Mashed Potatoes recipe), it's also so great to make these Old Bay French Fries and delicious on Grilled Corn.
What does Old Bay Seasoning taste like?
The most evident flavor in Old Bay Seasoning is celery salt, but the seasoning also has subtle notes of spicy cayenne, nutmeg, and paprika.
Want to sharpen your kitchen skills?
Why You Should Make This Corn on the Cob with Old Bay Seasoning
---
It's simple. 3 ingredients. Enough said.
It's fresh. Nothing like shucking fresh corn on the cob.
It's summery. Getting those grill marks really sets the mood.
If you're looking for something awesome to serve this Grilled Street Corn with Old Bay with, try these Smoky & Spicy Black Bean Burgers or this Blackened Mahi-Mahi!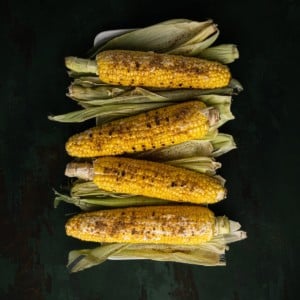 Grilled Corn on the Cob with Old Bay Seasoning
PRINT
PIN
RATE
This Grilled Corn on the Cob with Old Bay Seasoning is cooked to perfection and topped with a blend of spices to make the ideal fresh summer side dish.
Instructions
Shuck your corn and heat directly on the grill for about 15 minutes, rotating every five minutes or so. Your corn should have grill marks or at least some charring.

Remove your corn from the grill and allow it to cool enough so that it is easy to handle. Butter evenly on all sides.

Generously sprinkle with Old Bay, rotating the corn so that all sides are evenly seasoned.
Pro Tips
Grill your corn dry! You will butter it once you remove it from the grill.
Make sure your corn has cooled for a couple of minutes before buttering. It will avoid burning your hands but will also allow butter to remain on the corn so your seasoning sticks.
Did you make this recipe?
Let me know by leaving a recipe rating below, or by tagging @marleysmenu on Instagram.