Want all the flavors of your favorite soup but aren't a soup-in-the-summer kinda foodie? These Healthy Rustic Broccoli Cheddar Bites prove you can literally hold all the comfort of warm, creamy soup in one hand by rolling up all that cheesy healthful goodness in a quick dough to make the perfect pop-in-your-mouth summer snack.
I am a Floridian that eats hot creamy soup all summer. Partly because it's pretty much always summer in Florida, but mostly because I LOVE IT. Especially my Vegetarian Broccoli Cheddar Soup.
But I understand not EVERYONE wants to sweat into their soup, so I figured why not reinvent it into a bite-sized snack?
More About Healthy Rustic Broccoli Cheddar Bites
---
---
The Dough
This recipe makes a dozen of these little devils and even though I always promise myself to just eat a few, that pop-in-your-mouth part? Yeah, it makes these disappear in the blink of an eye.
The great news is, the star of this snack is broccoli, so swallowing a dozen in one sitting is somewhat justifiable.
Just look at those tiny little trees peering out of the simplest, thin, crispy dough smothered in cheese!! Talk about disguising a veggie as a treat!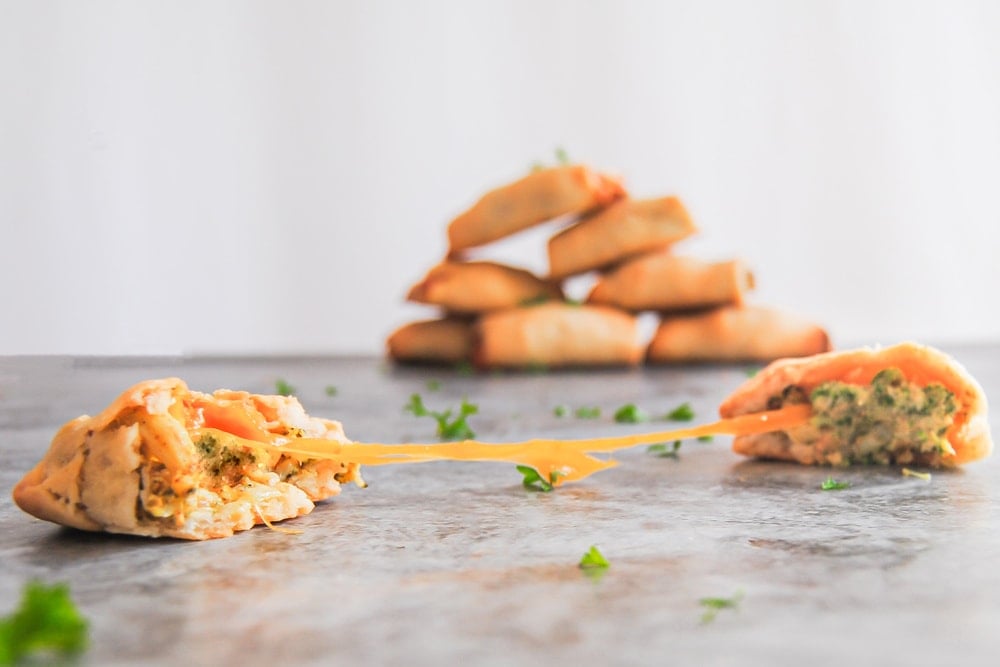 Speaking of simple dough, it's really nice having a 4-ingredient quick savory dough recipe in your repertoire. This one works with 1 cup of all-purpose flour or 3/4 cup whole wheat flour and it is SO VERSATILE.
It's pretty mild and definitely thin, so it makes a perfect little shell around your superstar ingredients without taking away from their flavor.
I use it often in quiches, savory pies, and little tarts. It's rare to find a crust without butter or shortening, so this one's a gem for cutting out most saturated fats without compromising on taste.
I love to use robust olive oil for this dough to give it a bolder and richer flavor. It gives it a ridiculously delicious peppery finish.
YUM!
The Stuffing
But enough about the dough, let's get into the important stuff. The broccoli. The cheese. YES, please!!!
I feel confident in claiming this Rustic Broccoli Cheddar Bites recipe as a healthy one despite the oozing cheese because broccoli is a superfood with tons of antioxidants and nutrients that positively impact your health down to the cellular level. No amount of cheese can take that away!
Green tip: Eating seasonally is one of the best (and most delicious) ways to support local and decrease your carbon footprint. Local foods have less associated transportation costs and fuel emissions.

Simply put, eating seasonally = less environmental impact. Check when broccoli is in season in your state with this Seasonal Eating Guide.
Plus, no butter in the dough? Come on! And, okay, maybe it's just the cheese junkie in me speaking, but I think most things are better with cheddar.
If you like this recipe and are looking for healthy handheld snack ideas, try these Vegan Coconut Energy Balls!