Looking for an easy-to-whip-up meal that's super strong in flavor? This Mushroom Pesto Pasta is my favorite way to bring bold to the table with only a few simple ingredients.
This recipe uses meaty mushrooms to add texture to pesto pasta to keep you full and satisfied. You can opt to buy fresh pesto ready-made or make your own pesto!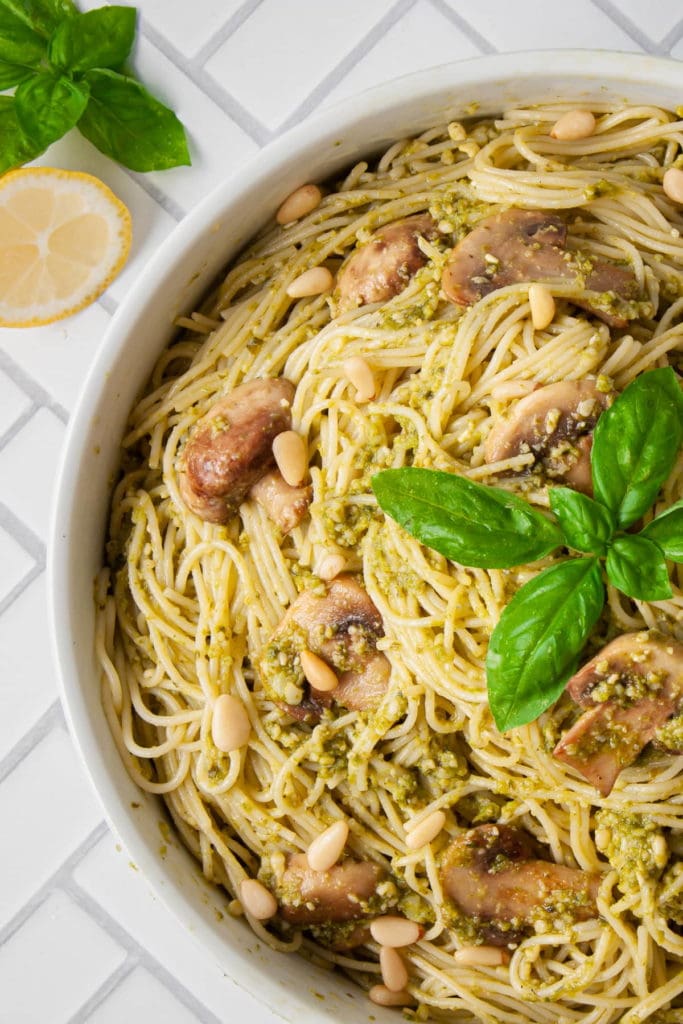 As an environmental scientist, I'm always looking for ways to make eco-friendly produce shine! Mushrooms are not only delicious but considered sustainable food.
They have a relatively small environmental footprint as they take little water and energy to grow and emit little CO2.
Green tip: Organic farms rely on biodiversity to generate rich soil, avoiding the use of pesticides and fertilizers, which means no toxic runoff. Consider organic mushrooms for this recipe!
Plus, as a busy mom, one-pot meals are at the top of my list! Less clean-up means you save on time and water. Win, win!
Mushroom Pesto Pasta Ingredients
---
I love how simple this recipe is! Just 4 ingredients and you're off and running!
If you opt to make your own pesto, I highly recommend this recipe for Arugula Basil Pesto with basil and arugula. And for vegan pesto, this creamy vegan walnut pesto is my go-to!
Here's everything you'll need:
Pasta. Any pasta will do—long or short! Just make sure to reserve some of the water you cook the pasta in.
Olive oil. To cook your mushrooms in.
Mushrooms. To add texture and umami.
Pesto. The focus flavor in this dish!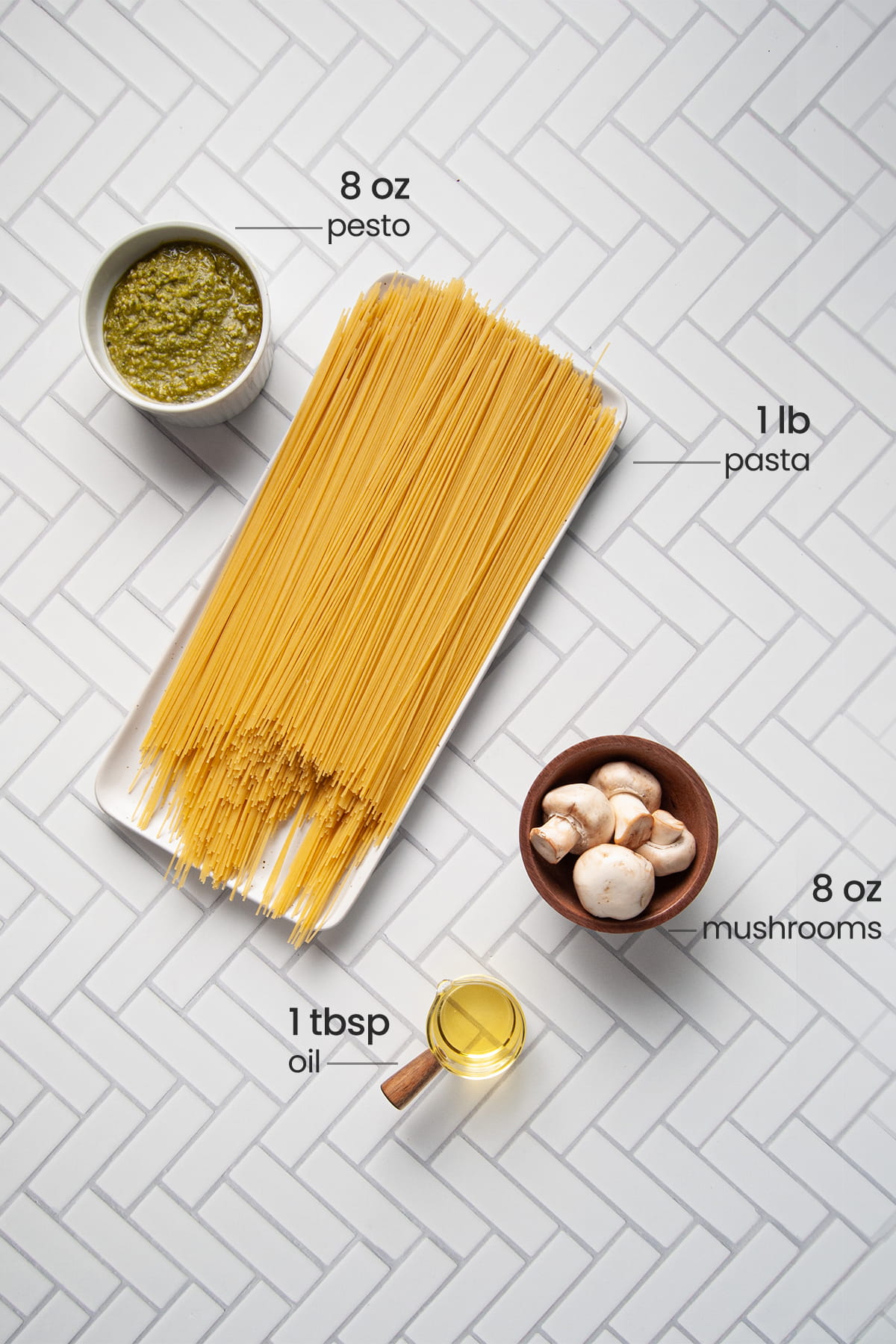 Mushroom Pesto Pasta Tips and Tricks
---
Cook Your Pasta Al Dente
I've made this recipe with pretty much every type of pasta and loved it every single time. Use your favorite pasta—long or short. Pictured here I used Angel Hair Pasta.
No matter what type of pasta you choose, it's best to cook it to al dente. Since we end up adding the pasta back to the pot with the mushrooms to mix it with the pesto, it will continue to cook just a little bit even after you remove it from the boiling water.
Overcooking the pasta will make it a little too mushy.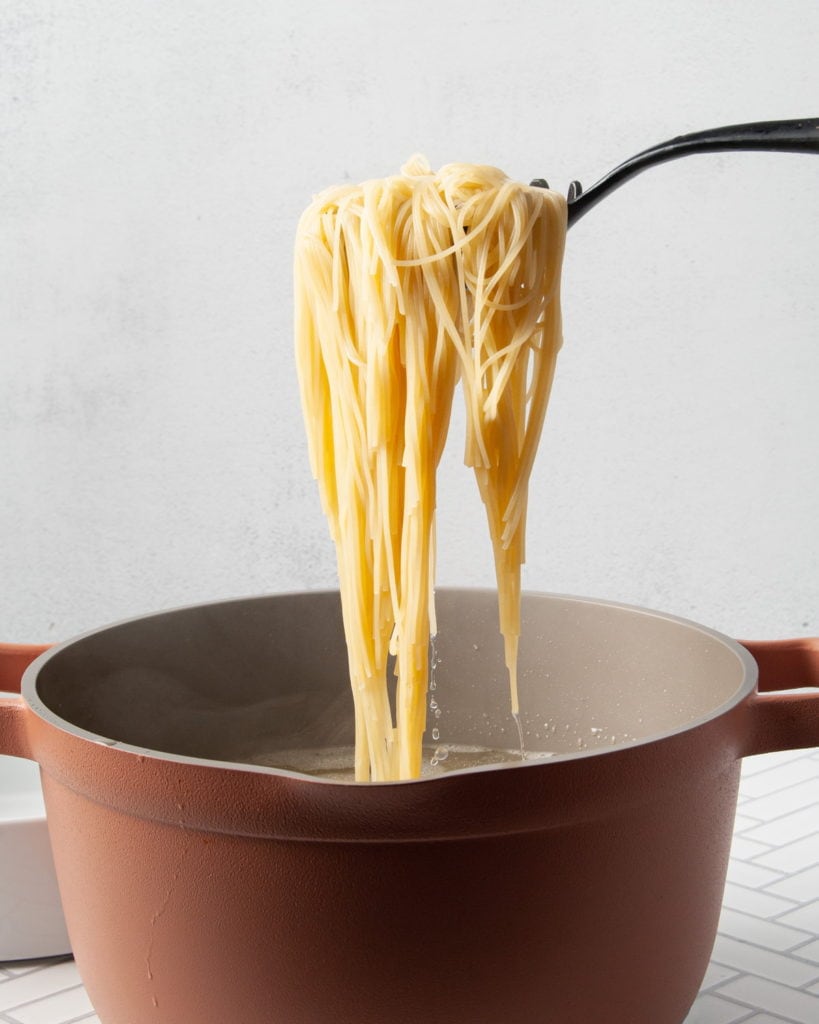 Conserve Some Pasta Water
Pasta water is simply the water used to boil the pasta. It's used in the recipe to achieve the right consistency. The pesto on the pasta alone may be a little too thick and dense.
Pasta water is starchy and a little salty and will help achieve a looser consistency without being watery. We will add it just a little at a time, stirring as we go, to make sure we get our Mushroom Pesto Pasta exactly how we want it!
Pro tip: If you're looking for a protein to add to this dish, I highly recommend this 3-Ingredient Pesto Butter Salmon!
There are two easy ways to conserve some of your pasta water. You can use a slotted spoon or pasta server to remove the pasta from the boiling water. Then, just simply pour some of the remaining water into a measuring cup or heat-safe glass.
Alternatively, right before straining your pasta when it's cooked, you can dip your measuring cup or any heat-safe cup with a handle into the boiling water and scoop some out.
You will probably only end up using about 1/4 cup of the water, but it can't hurt to have extra.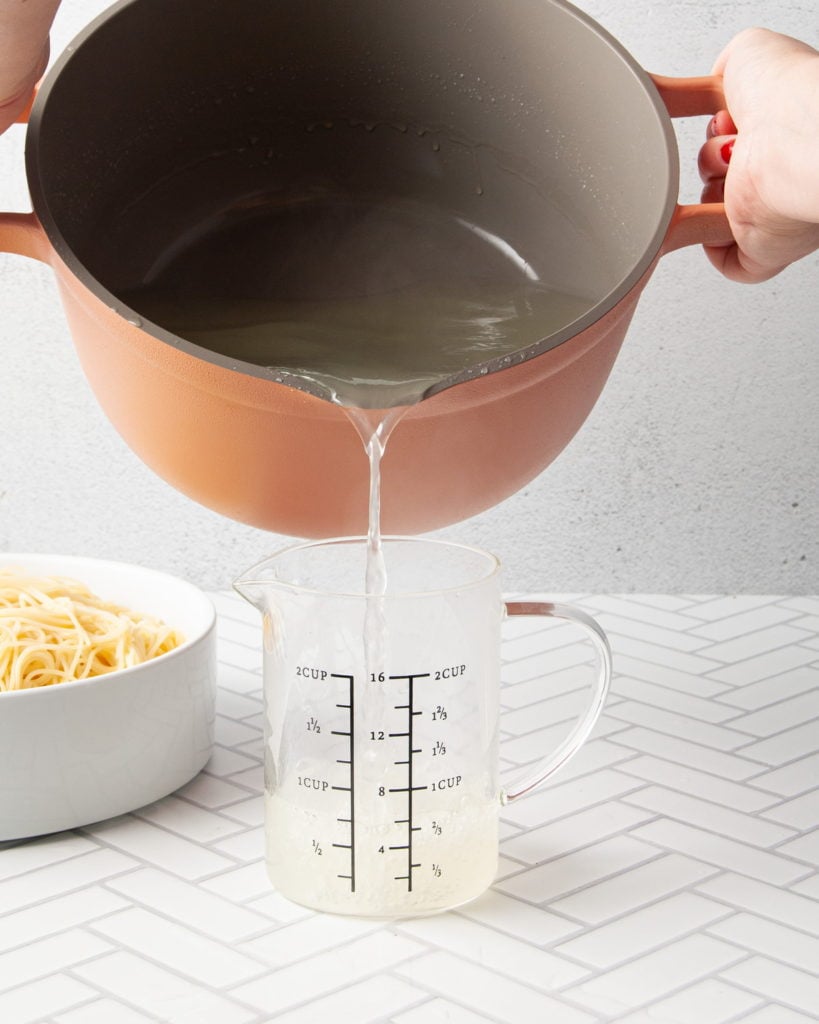 Dice Your Mushrooms
The mushrooms in this recipe add extra texture and meatiness, giving this meal a heartier finish. Rinse and dice them, chopping each mushroom in roughly 2-4 thin slices, depending on their size.
Once you remove the pasta and water from your pot, simply add your diced mushrooms to that pot with your olive oil.
Sautee the mushrooms until their juices releases and they start to get a little caramelized (5-8 minutes).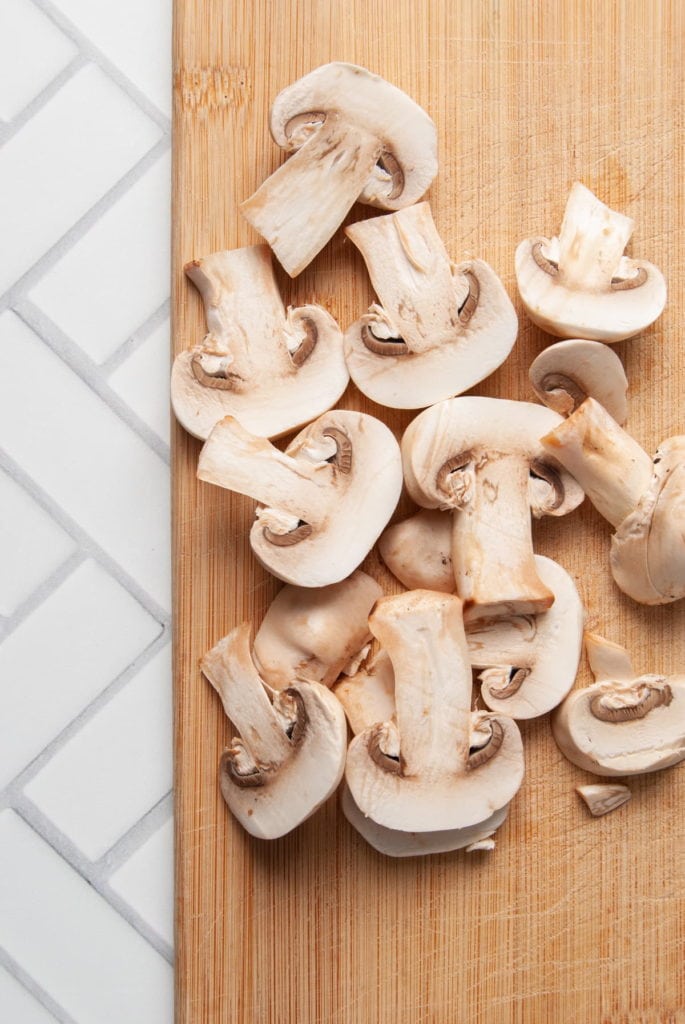 Add It Back To The Pot
Once your mushrooms are ready, remove your pot from heat and add your pasta right back to it. Then add your pesto before tossing your pasta, pesto, and mushrooms.
At this point, you can assess the consistency. If it seems too thick and dense, add a little bit of pasta water and toss again. I like to add the pasta water just about 1 tablespoon at a time. You shouldn't need more than about 1/4 cup to loosen the Pesto.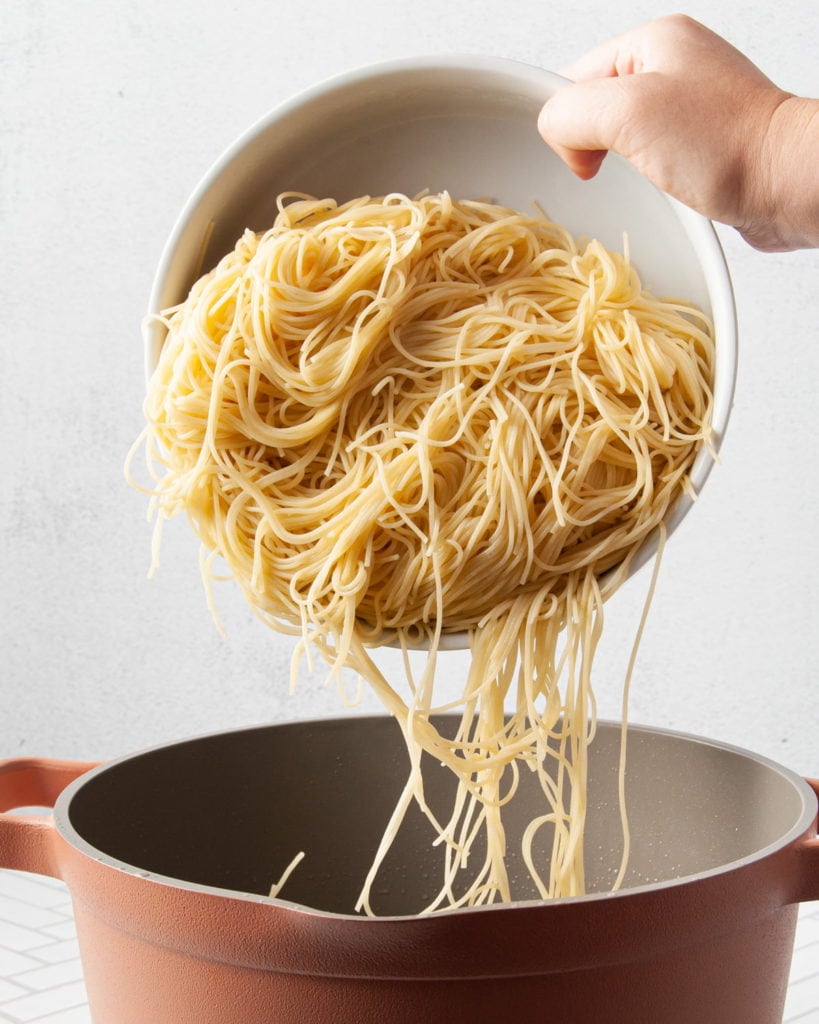 Should You Have Leftovers
One of my favorite things about this one-pot pasta dish aside from its awesome taste and ease is its versatility. It's equally delicious warm and cold! You can eat it warm for dinner and then cold for lunch the next day, and feel like you're having two different meals!
This Mushroom Pesto Pasta will last for up to 7 days sealed in the fridge. Sometimes I like to revamp it by adding a little more pesto and a squeeze of lemon juice before eating the leftovers.
Green tip: Did you know that of the billions of pounds of food wasted annually, it is estimated that 50% of it happens in our homes? It's always best to avoid food waste as much as you can!
If you wish to reheat it, it's best to make it warm, not super hot, to preserve the flavor of the fresh basil and garlic. Put your serving in a microwave-safe dish, cover, and microwave for 40 seconds and stir.
Make sure there are no cold spots, and if there are, put it back in the microwave, uncovered for another ten seconds. Enjoy it warm.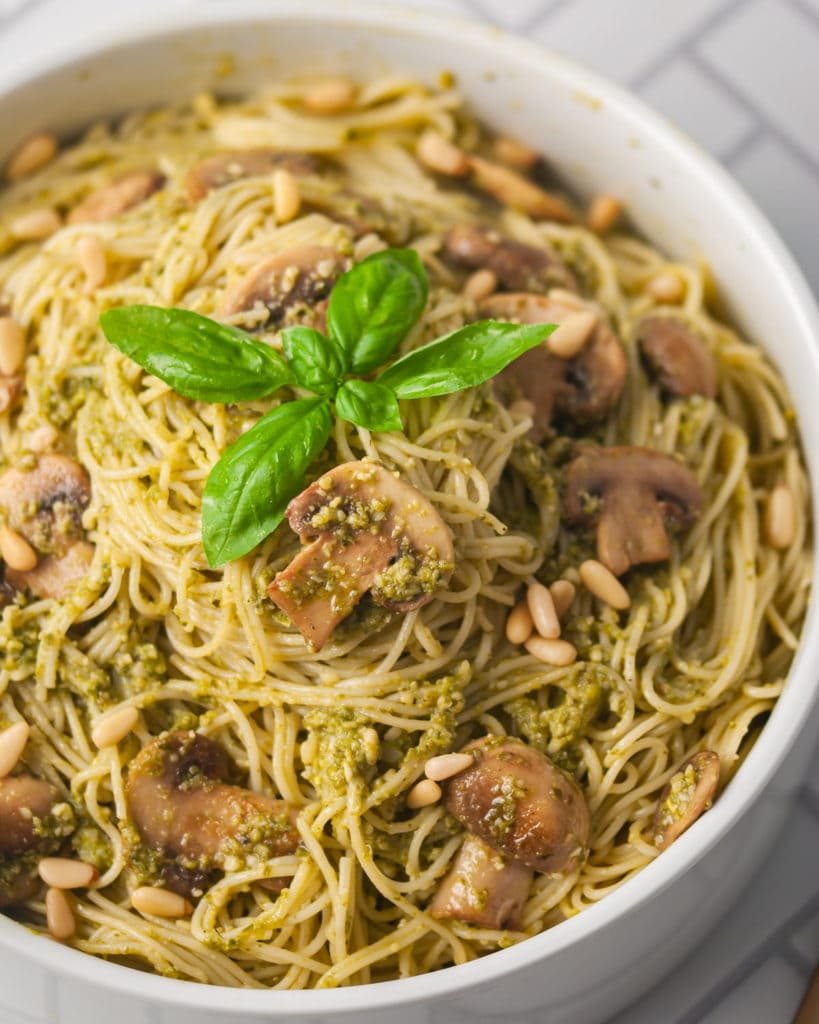 Mushroom Pesto Pasta Frequently Asked Questions
---
What goes best with pesto pasta?
The addition of hearty mushrooms to pesto pasta is a great way to add umami and texture. The earthiness of the mushrooms plays so well with the fresh herbaceousness and nuttiness of the pesto.
Tuna is also a great addition to pesto pasta to add extra protein like in this Tuna Pesto Pasta Salad.
What is the best way to use pesto?
Pesto is a versatile spread that can be used to add extra flavor to your dishes. Whether it be toast, flatbread, or even salmon. Still, my favorite way to enjoy pesto is with pasta.
Want to sharpen your kitchen skills?
Why You Should Make This Mushroom Pesto Pasta
---
It's simple. 4 pantry ingredients (5 if you count the pasta water) and one pot. Enough said.
It's flavorful. Nothing like a flavor punch from fresh pesto!
It's filling. Hearty pasta with meaty mushrooms and zesty sauce will keep you full and satisfied.
If you're loving this Mushroom Pesto Pasta and want more other meatless meals, check out this list of 10+ Vegetarian One-Pot Meals.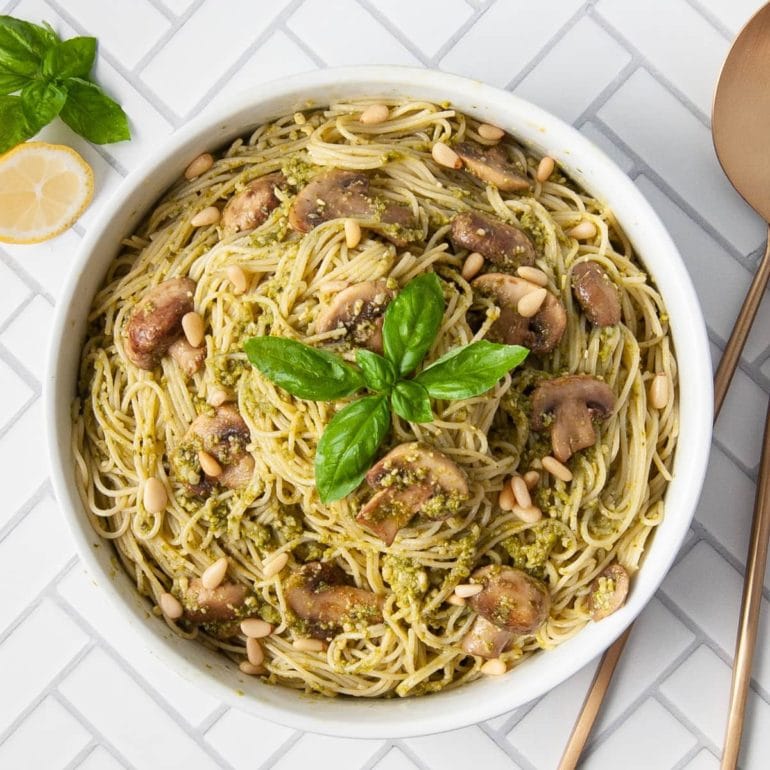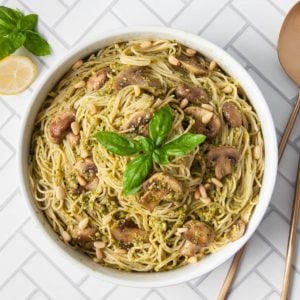 4-Ingredient Mushroom Pesto Pasta (One-Pot)
PRINT
PIN
RATE
This Mushroom Pesto Pasta is quick, easy, packed with flavor, and requires only one pot and 4 ingredients to come together!
Ingredients
1

pound

pasta of choice

(long or short)

8

ounces

white or baby bella mushrooms

8

ounces

pesto

(8 ounces pesto = approx. 1 cup)

1

tablespoon

olive oil
Instructions
Cook the pasta to al dente according to the directions on the box. Before straining, make sure to conserve at least 1/2 cup of the pasta water. Set pasta aside in a large bowl.

Slice your mushrooms longways in 2-4 thin pieces, depending on their size. Add them to the pot with olive oil.

Sautee mushrooms over medium heat until their juices release and they start to caramelize (5-8 minutes).

Remove from heat and add the pasta back to the pot with the mushrooms. Add the pesto and toss.

Assess the consistency. If it seems too thick and dense, add the pasta water about 1 tablespoon at a time until the desired consistency is achieved.
Did you make this recipe?
Let me know by leaving a recipe rating below, or by tagging @marleysmenu on Instagram.