Stumped how to serve up your butternut squash ravioli? I got you! This Coconut Sauce with Garlic and Sage is the perfect creamy sauce for butternut squash ravioli.
The subtle sweetness of the coconut with the earthy sage makes the absolute best pairing for the butternut squash ravioli, which leans into the same flavor profiles. Plus, creamy sauce and pasta is an age-old match made in heaven.
This sauce is naturally dairy free, quick (20 minutes!!) and easy (less than 10 ingredients!!) to whip up, and versatile. This butternut squash and creamy sauce combo is especially delightful as a Fall pasta dish!
In this recipe, you will learn how to make a roux for the base of your creamy sauce, how to infuse strong garlic and sage flavors, and how to store and serve this creamy sauce for butternut squash ravioli and more!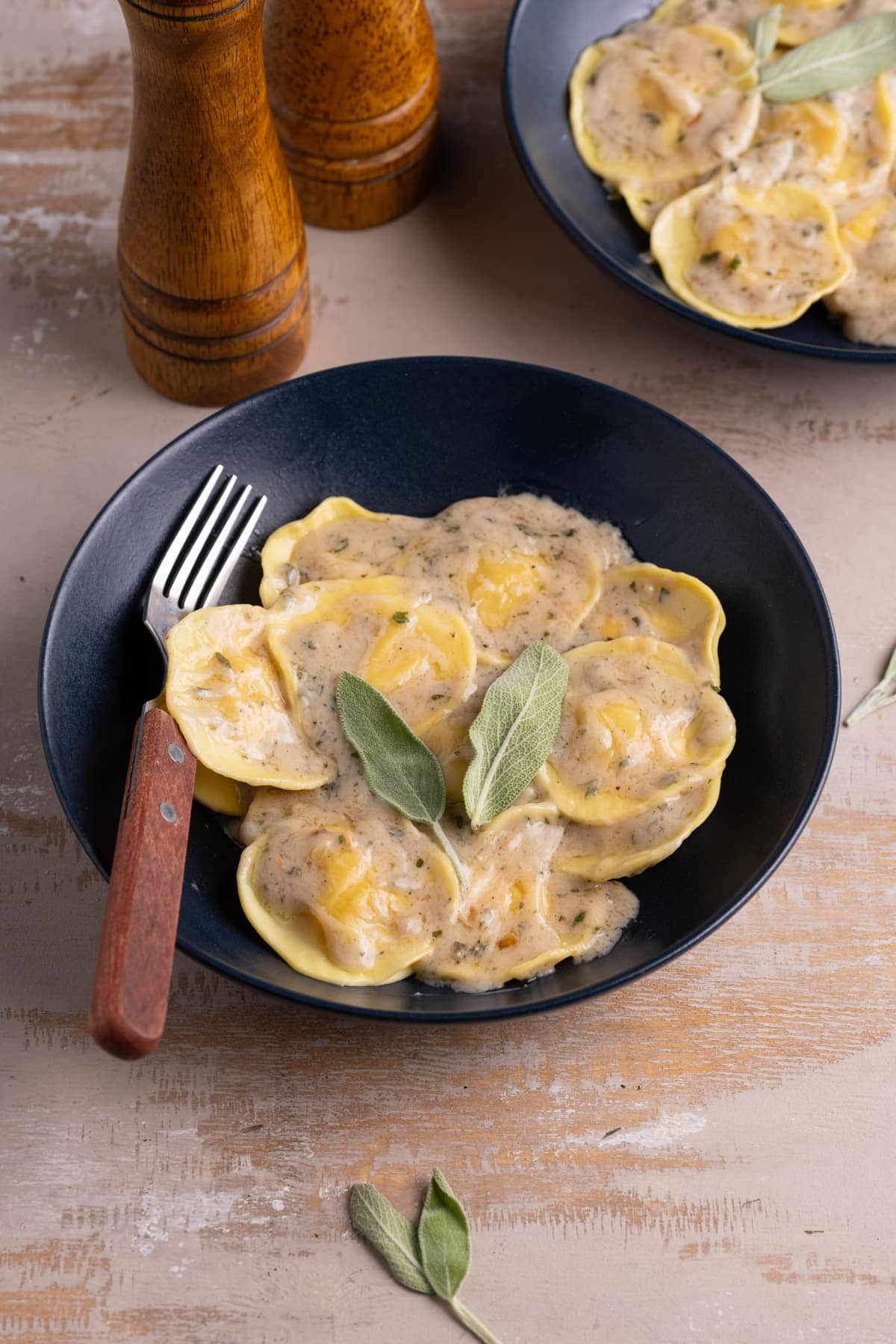 As a foodie and environmental scientist, making my own sauces and vinaigrettes is one of my favorite things to do to elevate my meals!
Green tip: Making your own sauces, syrups, and dressings is a great way to avoid extra plastic packaging that eventually ends up in landfills or makes its way into the environment and becomes microplastics.
Butternut Squash Ravioli Sauce Ingredients
---
Here's everything you need:
Coconut oil. Or butter. I like using coconut oil because it infuses a little extra coconut flavor.
Garlic. Cooked right into the sauce for intense flavor.
Sage. This brings earthy, herbal flavors that balances out the sweetness of the coconut perfectly.
Flour. To form your roux for a thick and creamy sauce.
Coconut milk. To bring the creaminess and some subtle sweetness that is perfectly harmonious with the subtle sweetness of the butternut squash.
Salt, pepper, & nutmeg. For nuttiness, heat, and salinity. Just these three basic seasonings go a long way in this sauce.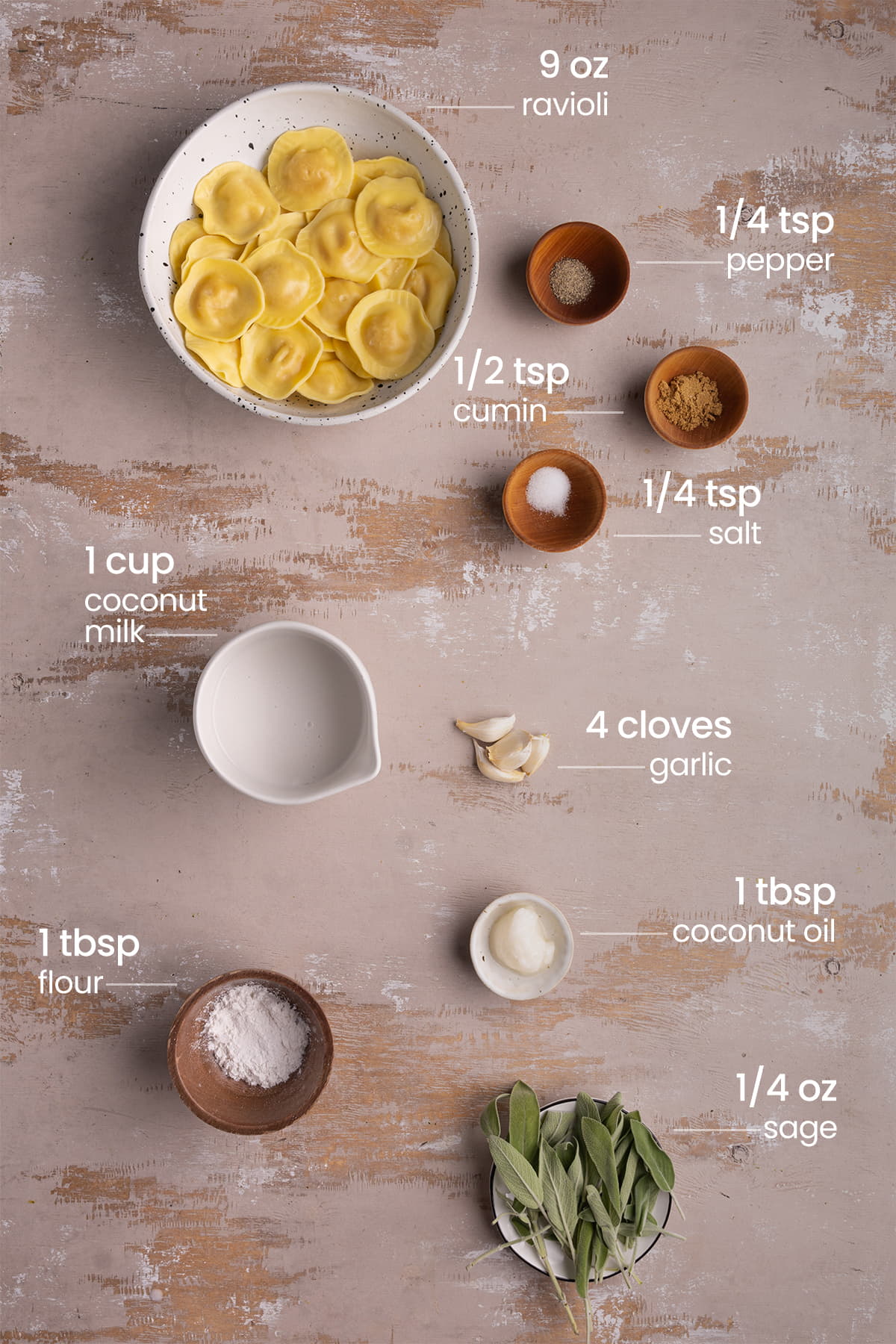 Creamy Sauce for Butternut Squash Ravioli Tips and Tricks
---
How to Mince Garlic for Butternut Squash Ravioli Sauce
Using fresh minced garlic goes a long way in this delicious homemade sauce recipe. The first step to mincing garlic is actually peeling it.
For me, the easiest way to peel off the outer layer of the garlic is by crushing it first. Lay each garlic clove flat on your cutting board and use the flat end of your knife to push down on the garlic as pictured below until you hear it crunch.
This will split open that outermost layer, breaking it away from the garlic and making it much easier to peel away. Once peeled, use a sharp knife to mince your garlic.
Just continue to chop and dice until the garlic is in teeny tiny fragments.
The paper-thin layer of garlic can be saved with other veggie scraps to make your own vegetable broth. Otherwise, it can easily be composted.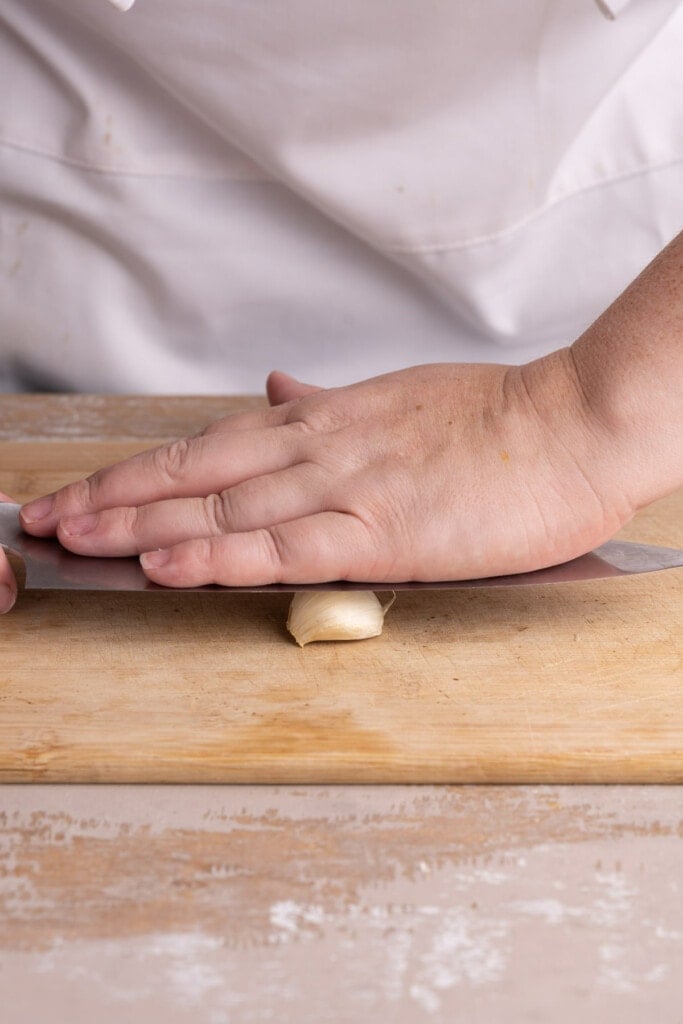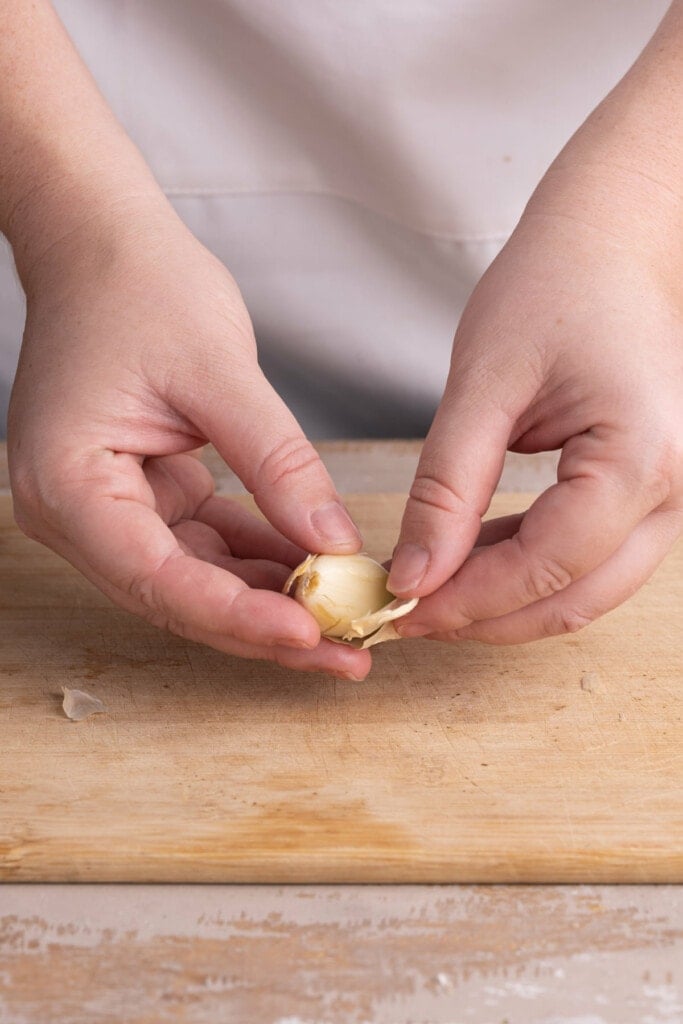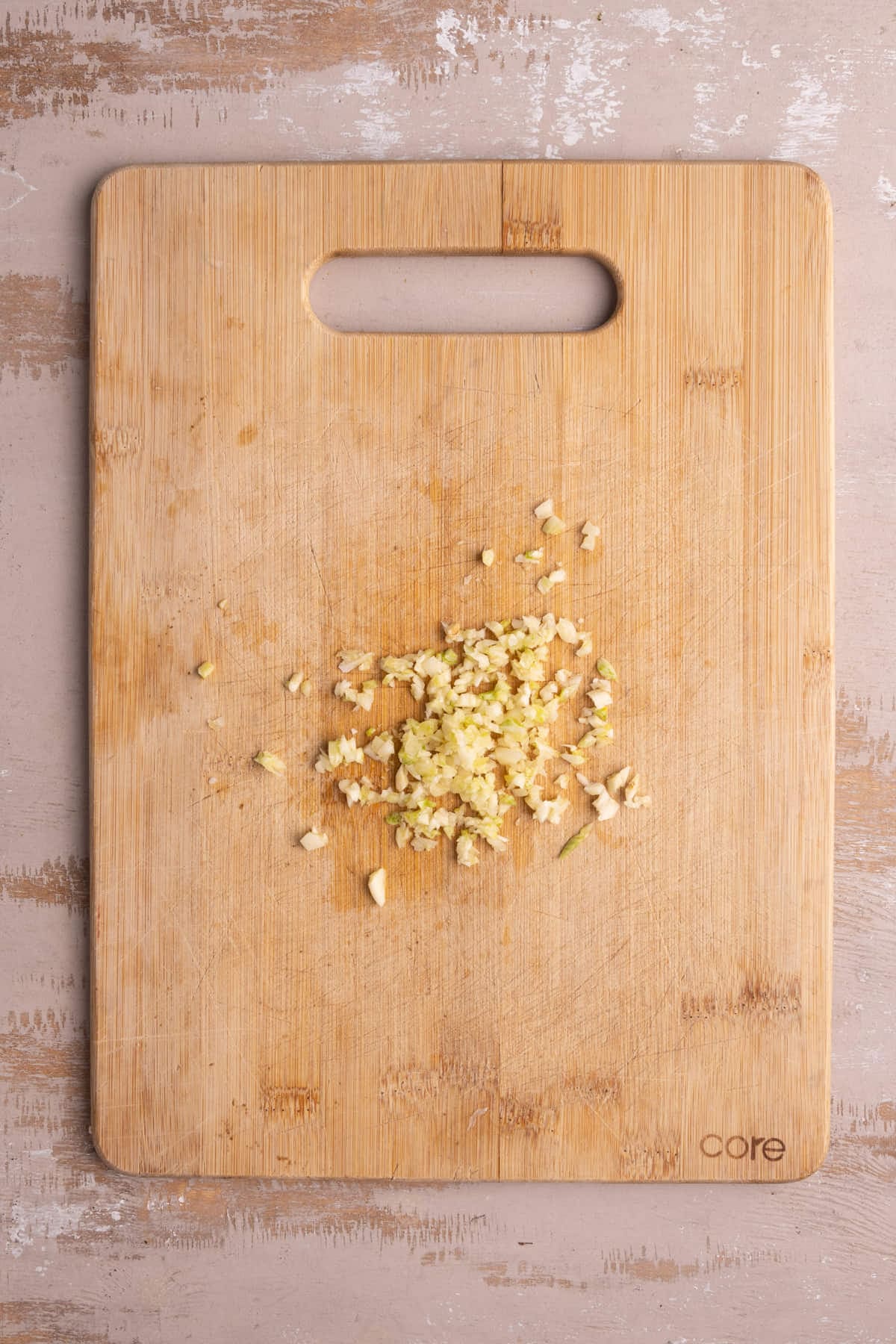 How to Prep Sage for Sauce
When it comes to the sage in this sauce, we want it diced. I highly recommend using fresh sage for the best flavor.
Clean and dry your sage if necessary. The stems of the sage is actually very flavorful, and when minced, brings a nice texture. I typically remove any extra-thick stems, but keep the thinner ones and dice them right with the leaves.
For the quickest technique for dicing sage, stack a couple of sage leaves on top of one another. Then, roll them up and dice. This will allow you to dice several sage leaves at once.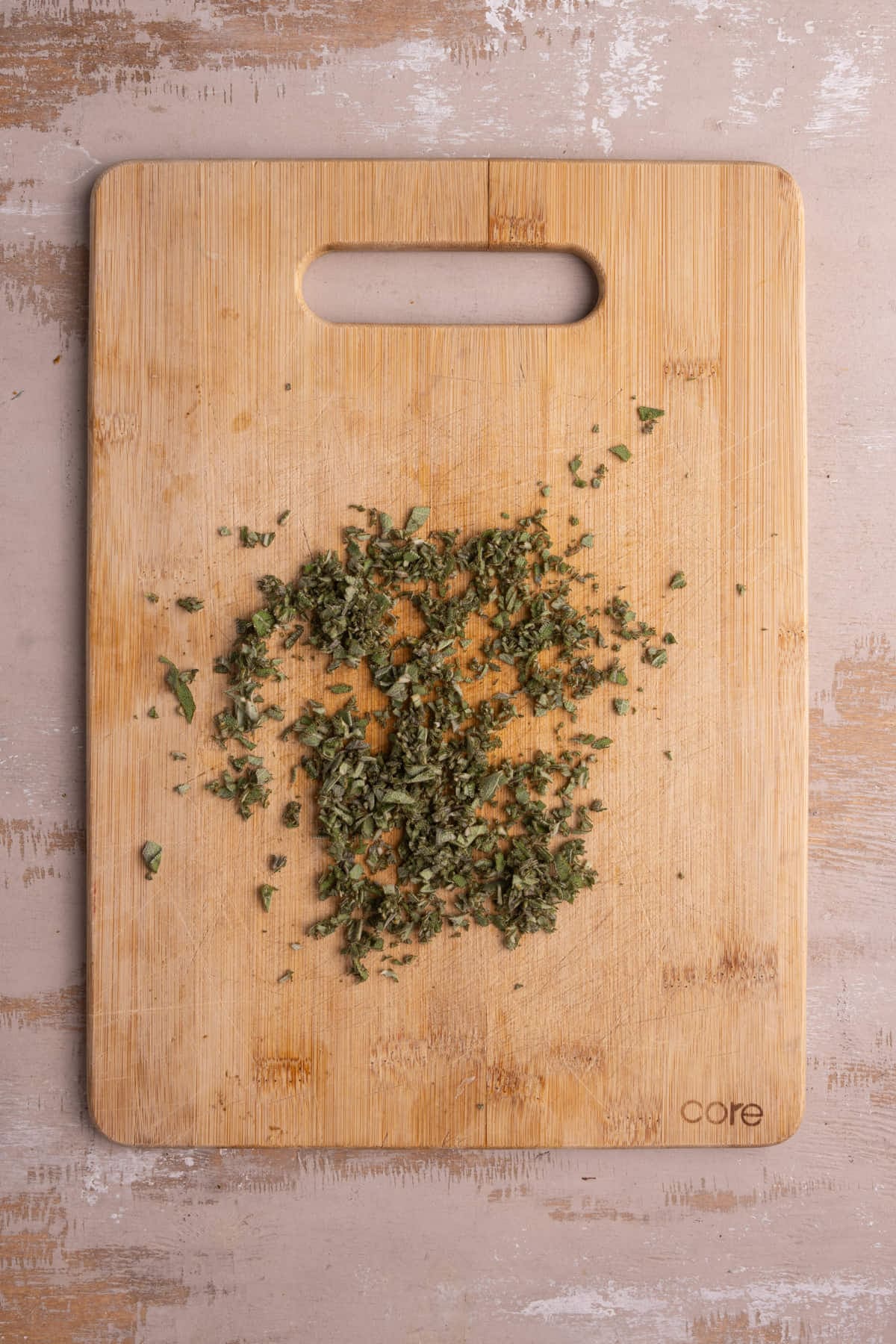 Cook the Garlic and Sage in the Seasoning
Once your garlic and sage is prepped, add the coconut oil (or butter) to a large saucepan over medium heat.
Add the garlic, sage, salt, pepper, and nutmeg. Sautee over medium for about 5-8 minutes, stirring frequently, until the garlic starts to brown.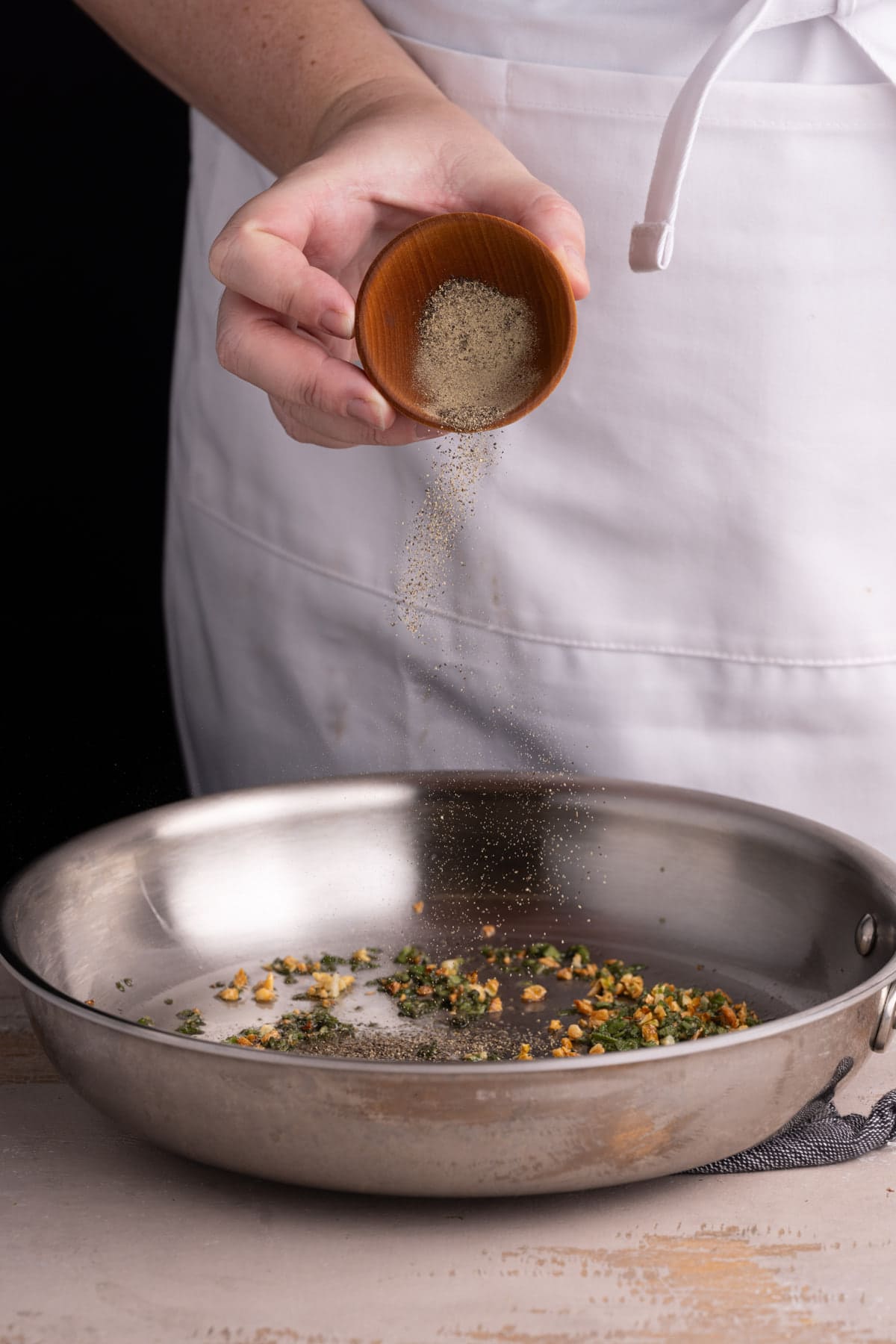 Make a Roux for the Creamy Sauce
Once your garlic is browned, add the flour and use a wooden spoon or standard whisk to mix, forming a roux,
The coconut oil or melted butter will mix with the flour to form a thick paste around the seasoned garlic and sage. This will set you up for success when it comes to a thick and creamy sauce.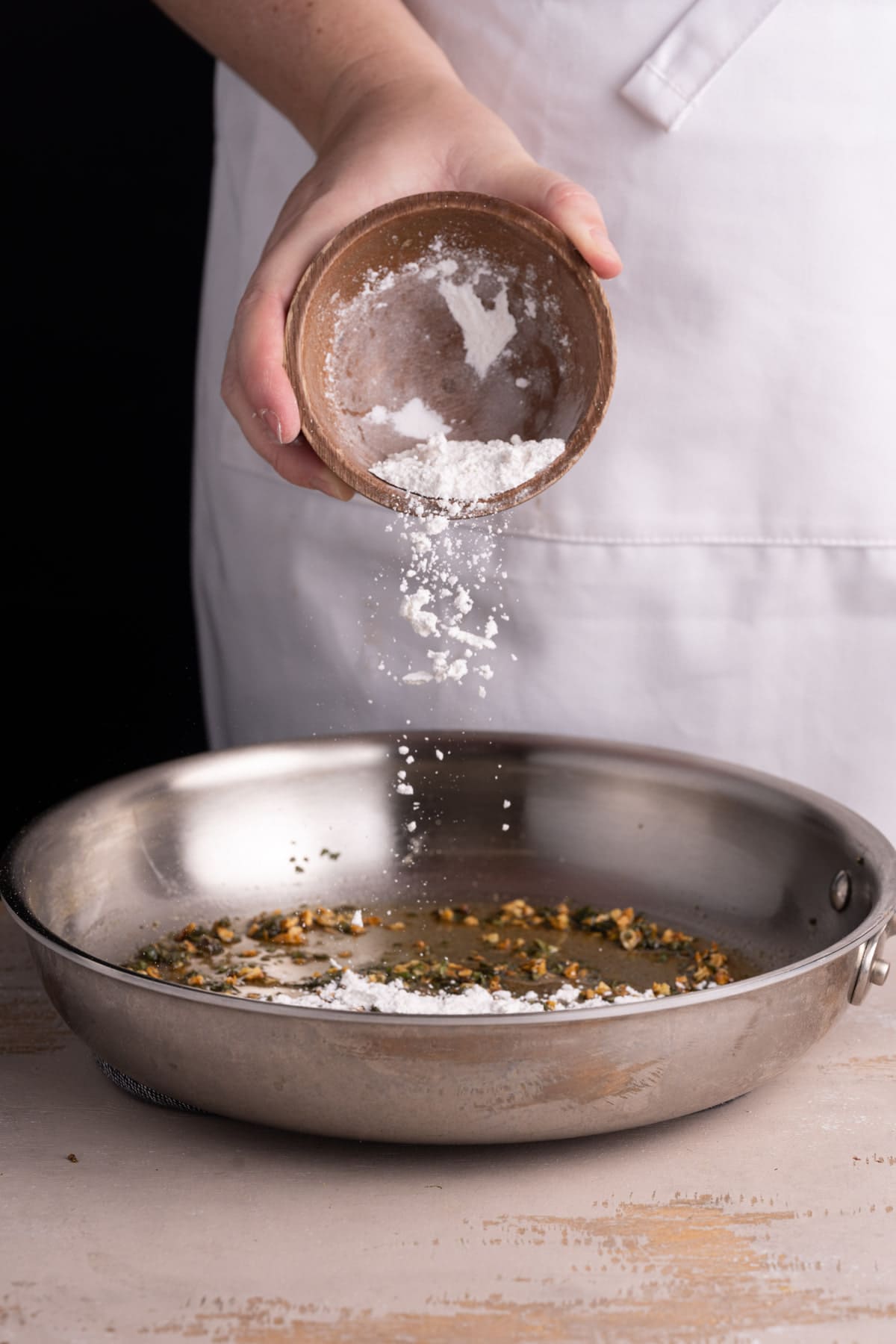 Add the Coconut Milk and Allow it to Thicken
Once you've made your roux, all that's left to do is add your coconut milk. Keep your pan on the heat while you add the milk.
Use a rubber spatula or wooden spoon to stir, integrating the roux into the milk. Continue to heat and stir, bringing the sauce to a simmer. Stir frequently as the sauce thickens, removing it from heat when you are satisfied with the creaminess and thickness of the sauce.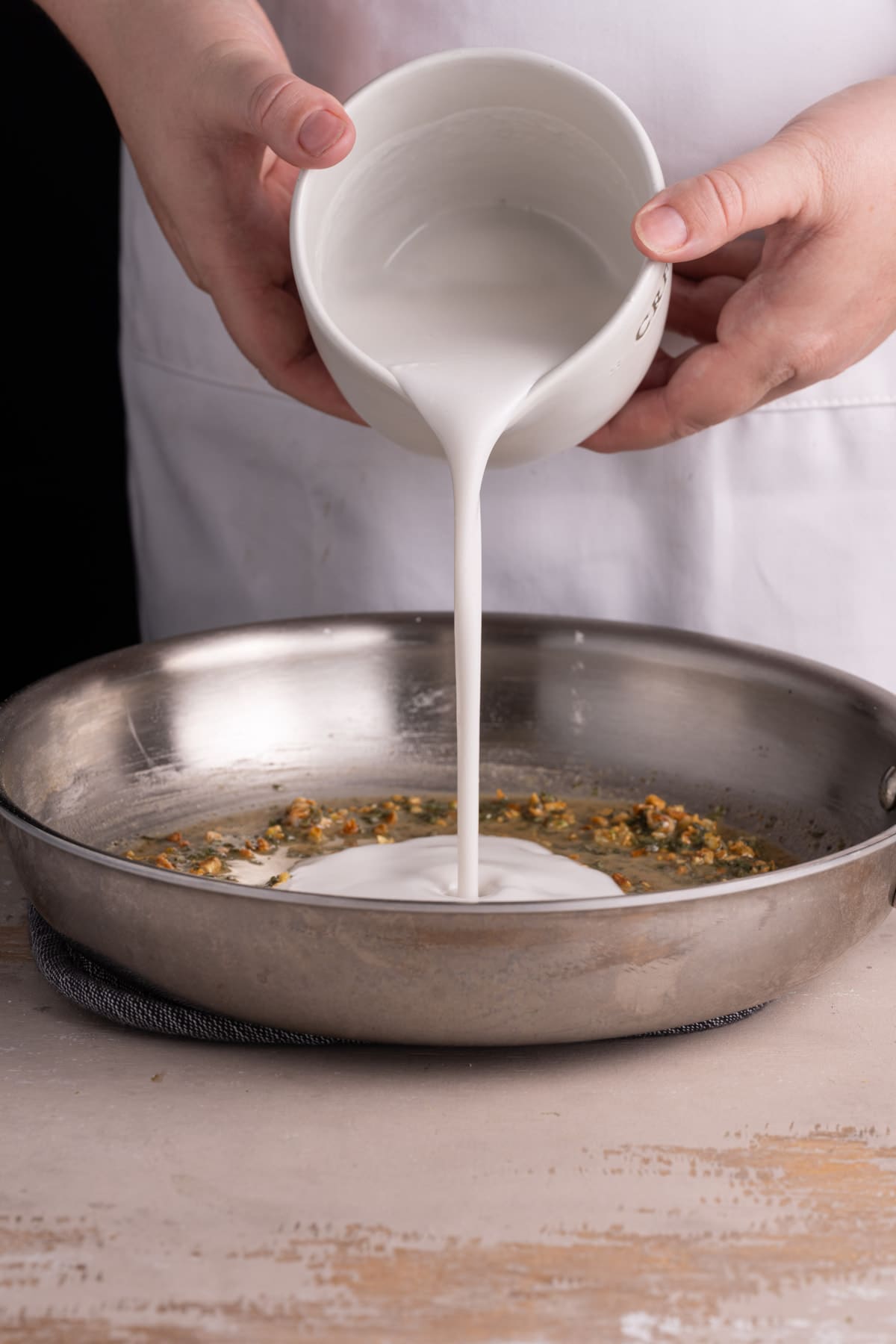 Serving Your Butternut Squash Ravioli Sauce
You can toss your cooked butternut squash ravioli in the pan with the sauce to coat it, or you can use my preferred method of pouring the sauce over top.
Serving the sauce on the side means each serving can be dressed to taste. Some may like more; some may like less sauce.
This creamy sage and garlic infused coconut sauce for butternut squash ravioli is enough of a meal on its own, but if you're looking for something to serve it up with, here are some of my favorite appetizers:
This butternut squash ravioli sauce pasta dish also pairs really well with fish! Here are some of my faves to serve it up with: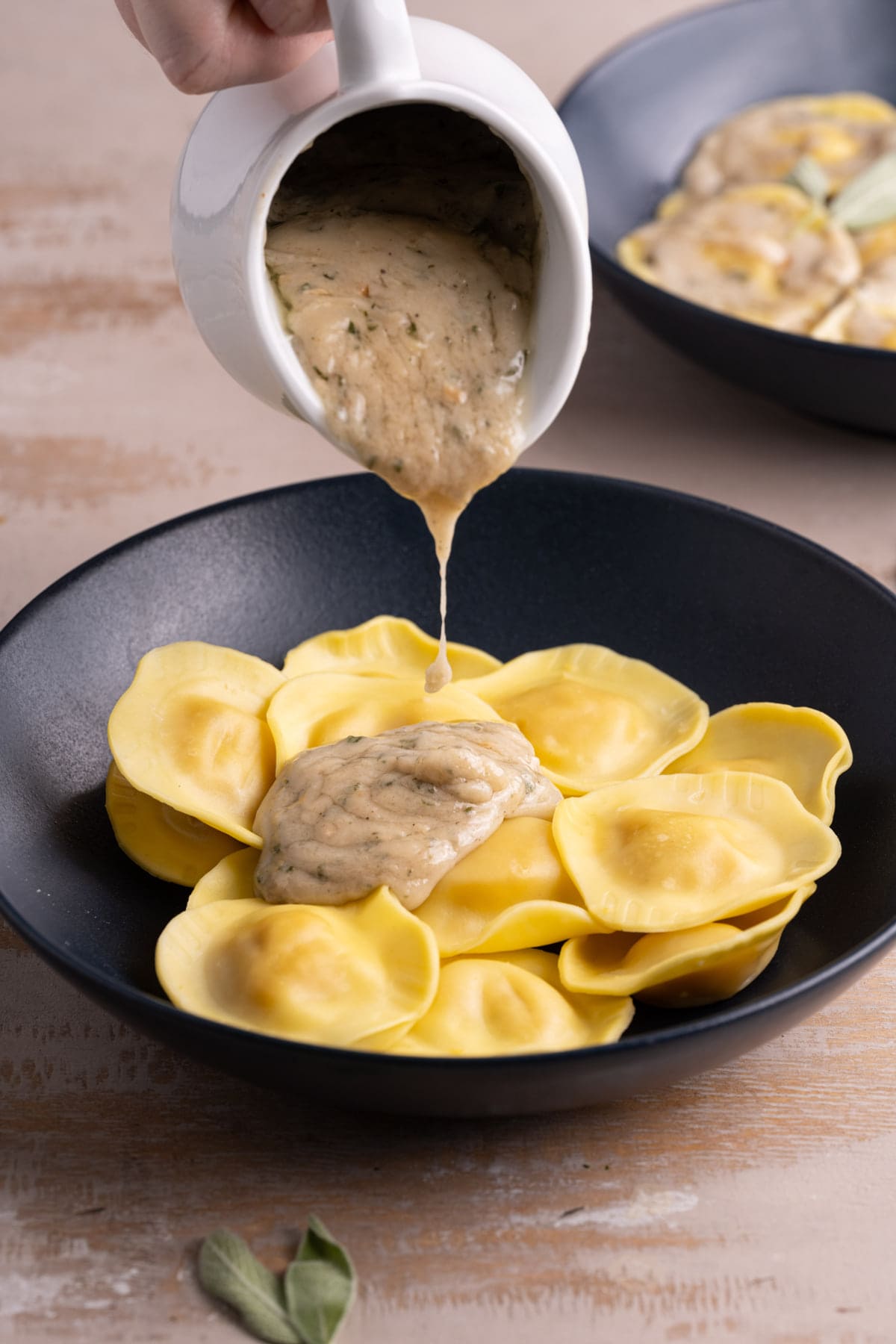 How to Properly Store and Reheat Your Creamy Coconut Sage Sauce
This Sage and Garlic Coconut Cream Sauce will last up to one week in the refrigerator in an airtight container. However, for this and any cream sauce, it's best not to freeze for risk of separation.
As for reheating the sauce, the name of the game is low and slow. You can reheat it in either the microwave or on the stove. Heat on the stove over low heat, stirring occasionally until thoroughly heated.
In the microwave, heat on the lowest setting in 30 second intervals, stirring in between. If the sauce seems to be too thick, adding more coconut milk is the best way to thin it out.
Green tip: Of the billions of tons of food wasted annually, 50% of food waste happens at home. Reduce your contribution to food waste by properly storing, reheating, and consuming leftovers.
Sauce for Butternut Squash Ravioli Frequently Asked Questions
---
What goes well with butternut squash ravioli?
Butternut squash ravioli can be paired with a simple combination of butter and sage, olive oil and Parmesan, or, for the ultimate pairing, this Creamy Coconut Sage sauce.
Butternut squash ravioli has hints of subtle sweetness and nuttiness. It pairs really well with like-flavors, and is enhanced heavily by fresh herbal and earthy notes.
What red wine pairs with butternut squash ravioli?
My favorite red wine to pair with butternut squash ravioli is Pinot Noir. It's earthy notes work really well with the squash and the fruitiness of this red is a prefect balance to the creamy sauce.
Want to sharpen your kitchen skills?
Why You Should Make this Creamy Coconut Sage Sauce for Butternut Squash Ravioli
---
The texture. This sauce is super creamy and velvety!
The flavors. Earthy sage, pungent garlic, and subtle sweetness from coconut.
It's quick! This easy sauce comes together in just about 20 minutes.
If you're loving this Creamy Coconut Sage Sauce for Butternut Squash Ravioli and want more pasta dishes with similar flavors, check out this Sweet Potato Pasta Sauce and this Pasta with Pumpkin Sauce.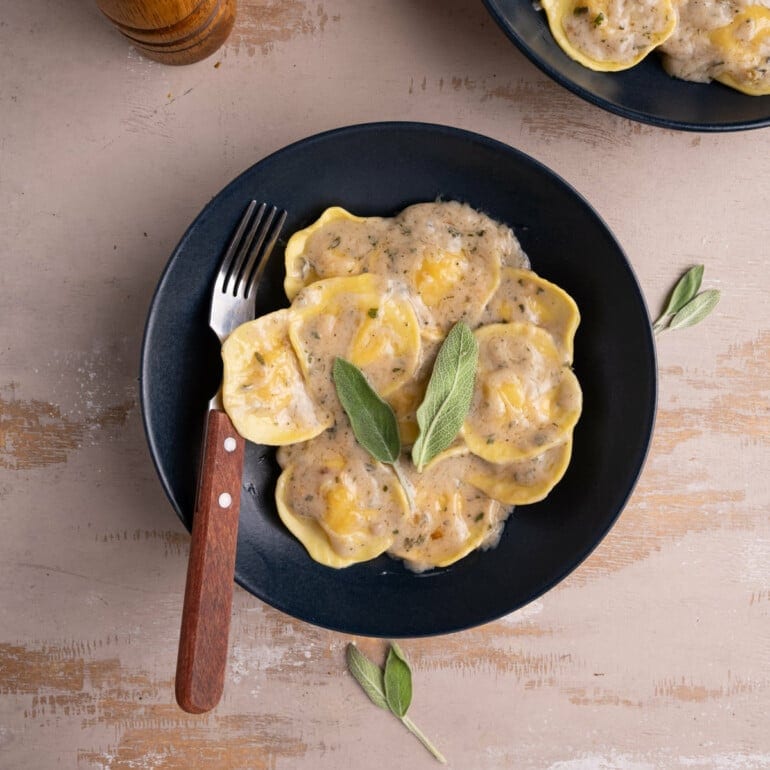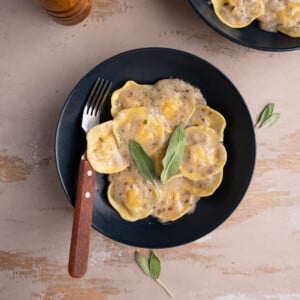 Creamy Coconut Sage Sauce for Butternut Squash Ravioli
PRINT
PIN
RATE
If you're looking for the perfect sauce for butternut squash ravioli, this creamy coconut sage sauce is combines the richness of coconut milk with the earthy aroma of sage, and deep flavors of garlic to create a harmonious sauce.
Ingredients
9

ounces

butternut squash ravioli

4

cloves

garlic

¼

ounce

sage

(¼ oz = approx. ¼ cup diced sage)

1

tablespoon

coconut oil

(or unsalted butter)

¼

teaspoon

salt

¼

teaspoon

black pepper

½

teaspoon

cumin

1

tablespoon

all-purpose flour

1

cup

coconut milk
Instructions
Cook the butternut squash al dente according to the directions on the packaging.

Meanwhile, peel and mince your garlic and dice your sage.

To a small pot or saucepan over medium heat, add the coconut oil (or butter), garlic, sage, salt, black pepper, and cumin. Sautee until the garlic and sage and fragrant and the garlic begins to brown (about 5 minutes).

Turn the heat down to low and stir in the flour to form a roux. Use a whisk or wooden spoon to stir until there are no lumps of flour remaining and it has joined with the oil or butter to form a thick paste.

With the heat still on low, add the coconut milk and stir to combine into the roux. Simmer for 8-10 minutes to thicken or until you are happy with the consistency of your sauce.

Serve the sauce over your cooked ravioli. Garnish with a little bit of extra sage (optional) and enjoy!
Pro Tips
Using a rubber whisk will allow you to whisk your sauce without damaging the bottom of your pot or saucepan. 
For more delicious sauces to kick the flavor of your dish up a notch, check out these sauces and dressings. 
Did you make this recipe?
Let me know by leaving a recipe rating below, or by tagging @marleysmenu on Instagram.