Cheese lover who also loves pumpkin? You won't want to miss this creamy, cheesy, out-of-this-world delicious Baked Pumpkin Mac and Cheese!
Pumpkin mac and cheese is a delicious twist on the classic comfort food, combining creamy macaroni and cheese with the rich and earthy flavors of pumpkin puree.
The velvety cheese sauce and the subtle sweetness of pumpkin create a harmonious and comforting savory pumpkin dish perfect for Fall gatherings or your Thanksgiving table.
In this recipe you will learn how to make a roux to form a creme-de-la-creme pumpkin infused cheese sauce and how to perfectly bake mac and cheese with a top cheese layer every time.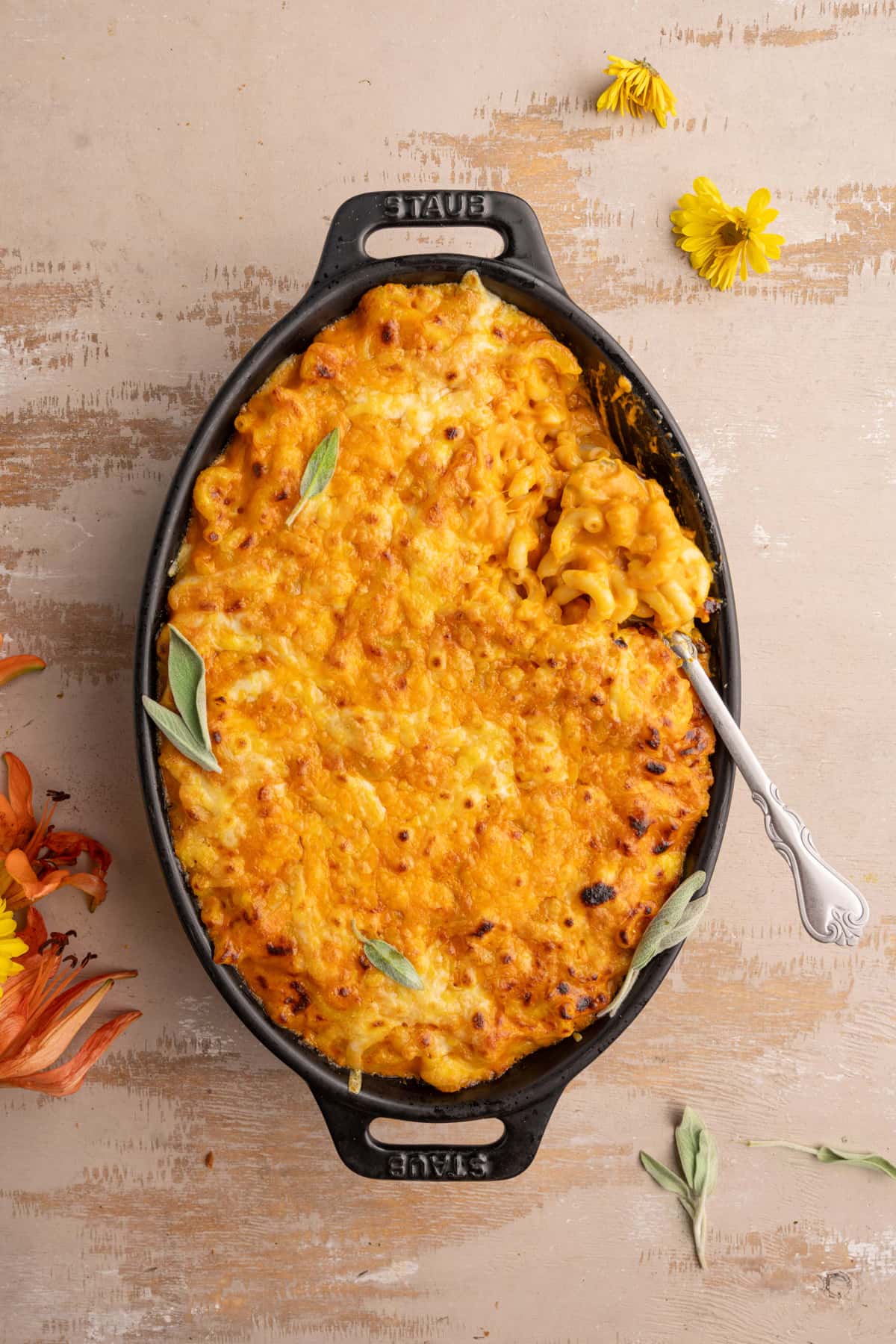 Mac and cheese is an all-time favorite for me. Partly because of the nostalgia a piping bowl of creamy, cheese mac brings, but also because I am just utterly in love with cheese!
However, as an environmental scientist, I do try to reduce my cheese consumption as much as I can. This means when I do eat cheese, I go ALL OUT!
Green tip: Industrial dairy production has a huge impact on the environment, especially because of the amount of land it takes to sustain and its high amount of greenhouse gas emissions. Reducing your dairy consumption is one great way to reduce your ecological footprint.
So, needless to say, I take mac and cheese VERY seriously. And this one? Well, this one is undoubtedly my favorite Fall dish.
Pumpkin Mac and Cheese Ingredients
---
Here's everything you need:
Macaroni. Or really any other short pasta shape you prefer.
Butter. The fat component of your roux, which sets you up for the best-textured sauce.
Flour. The other half of the roux mentioned above.
Garlic powder. For flavor.
Nutmeg. For nuttiness.
Black pepper. For a little bit of heat.
Cheddar cheese. I highly recommend buying a block of cheddar and shredding it yourself with a food processor or cheese grater. Pre-shredded cheese contains extra preservatives to keep the shreds from sticking together, which can sometimes affect the way this cheese melts into a sauce.
Milk. To complete your cheese sauce.
Pumpkin puree. To add richness, moisture, and deep flavor to your mac.
Mac and Cheese with Pumpkin Tips and Tricks
---
Cook Your Pasta Al Dente
Though I am typically a proponent of salting your pasta water, it's actually best not to do so here. You get A LOT of salt from the cheddar cheese.
Infusing more salt into the pasta may run the risk of making your pumpkin mac and cheese too salty. Remember, you can always add more salt, but it's really hard to come back from a dish that's oversalted.
Plus, not adding salt to your water means you don't have to waste it! The salty water is really nutritious for your plants. Wait until it cools down and then feed it to your plants, instead of the drain.
Cook your macaroni al dente, then pour into a colander, so the water can drain.
Green tip: Pasta is a great starch option carbon-footprint wise! Manufacturing is a relatively less intensive process than most other starches, and its long shelf-life means you're less likely to waste it!
Start Your Pumpkin Cheese Sauce with a Roux
To get the perfect consistency for your cheese sauce, you'll have to start by making a roux. A roux is formed when you heat and mix fat (in this case butter) and is typically used as a starting point for creamy sauces (like this Shallot Cream Sauce).
Add the butter to the pot over low heat and allow it to melt completely. Add the flour and whisk, ensuring there are no lumps of flour remaining.
You'll be left with a thick and sticky roux that will ultimately thicken your sauce.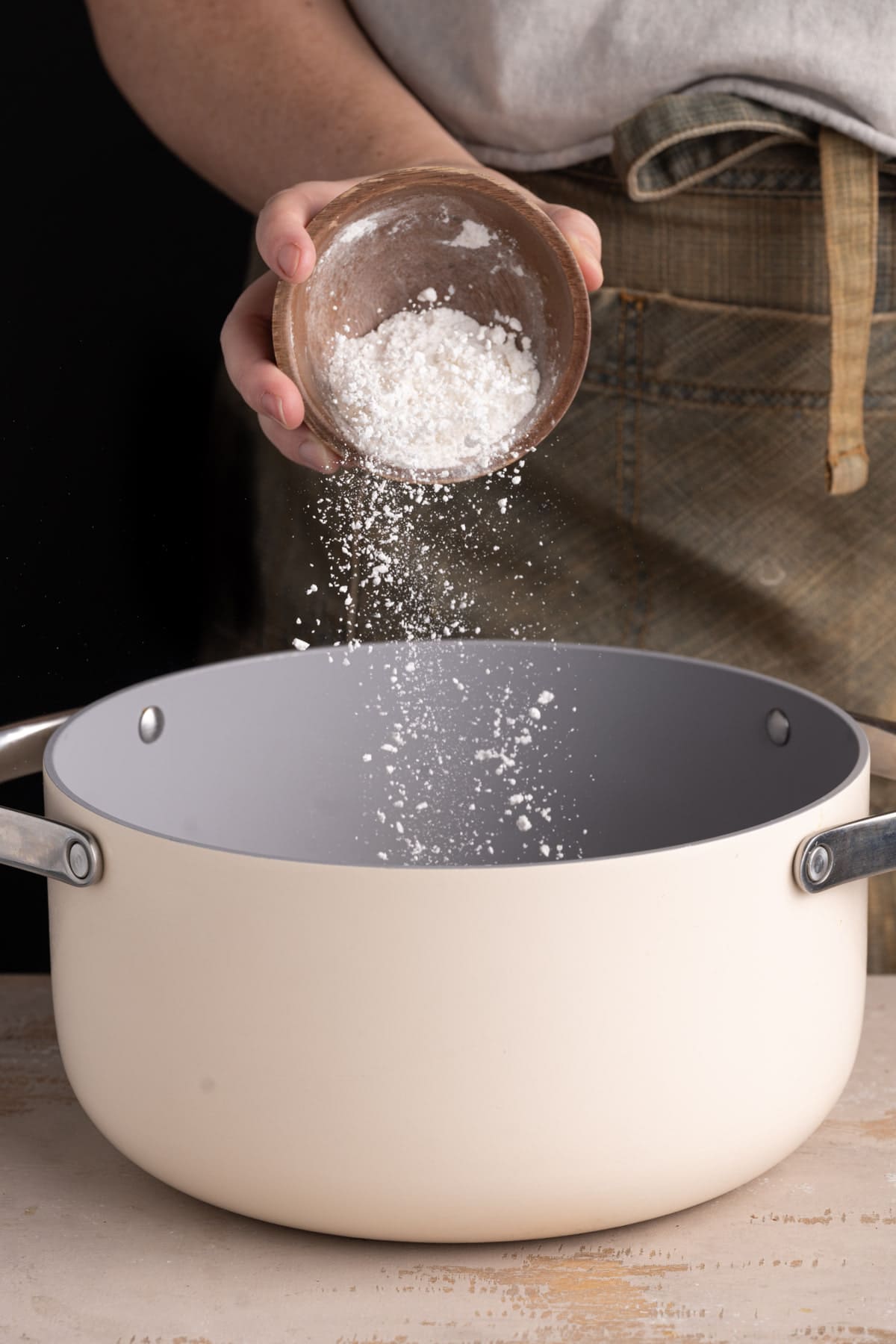 Add the Milk Next
Once you've formed your roux, keep your pot over low heat and add the milk.
Slowly heat and stir, whisking the milk into the roux until it's nice and smooth. This will set you up to add the rest of your ingredients and seamlessly mix them together.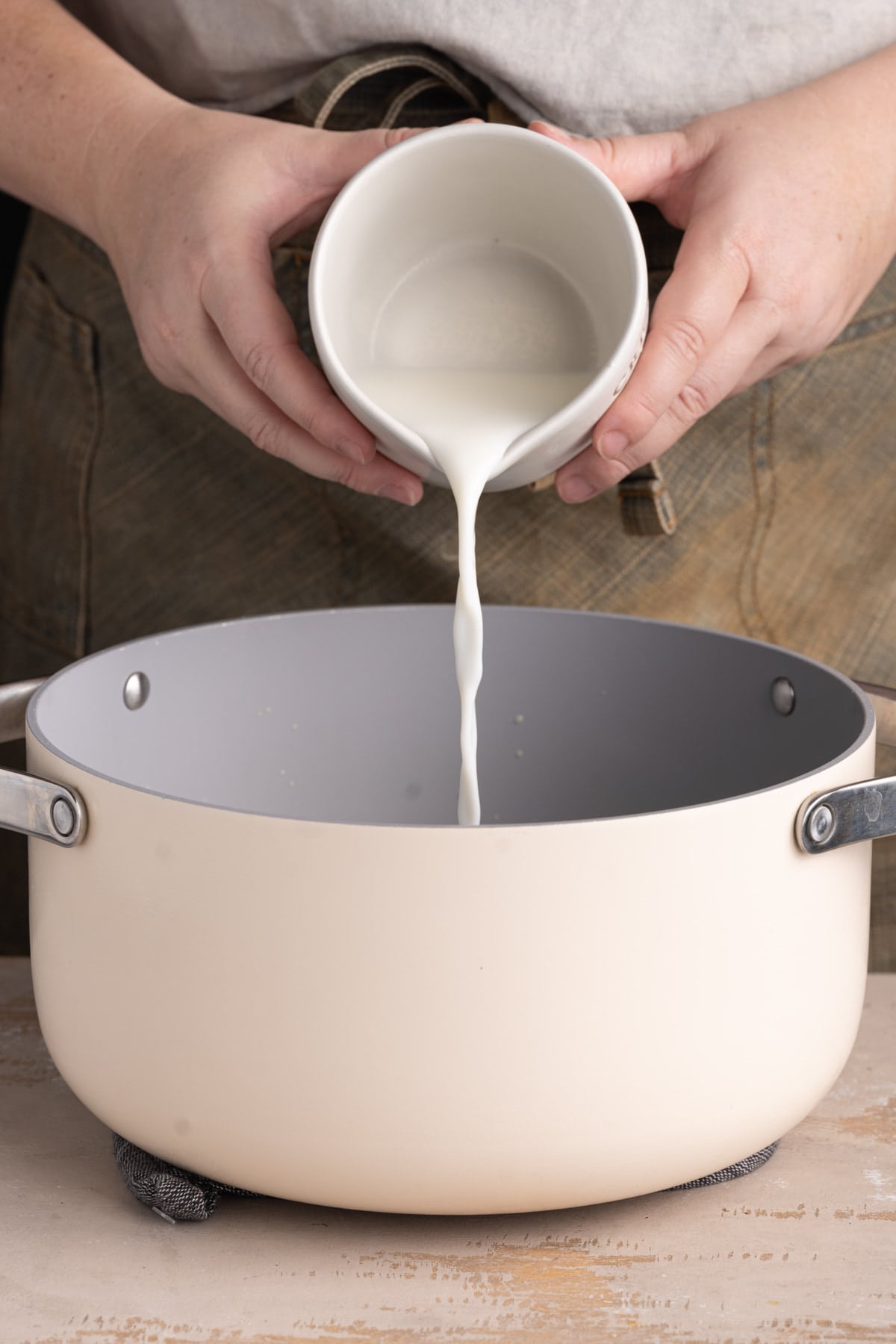 How to Make Creamy Pumpkin Cheese Sauce
Once the milk is stirred in, it's time to combine the rest of your cream sauce ingredients.
Add the pumpkin puree, pepper, nutmeg, and garlic powder. Then, set aside and conserve about 1/2 cup of shredded cheese to add on top for baking later. Add the rest of the cheese to the pot with everything else.
Now, your Fall pasta dish is really starting to come together!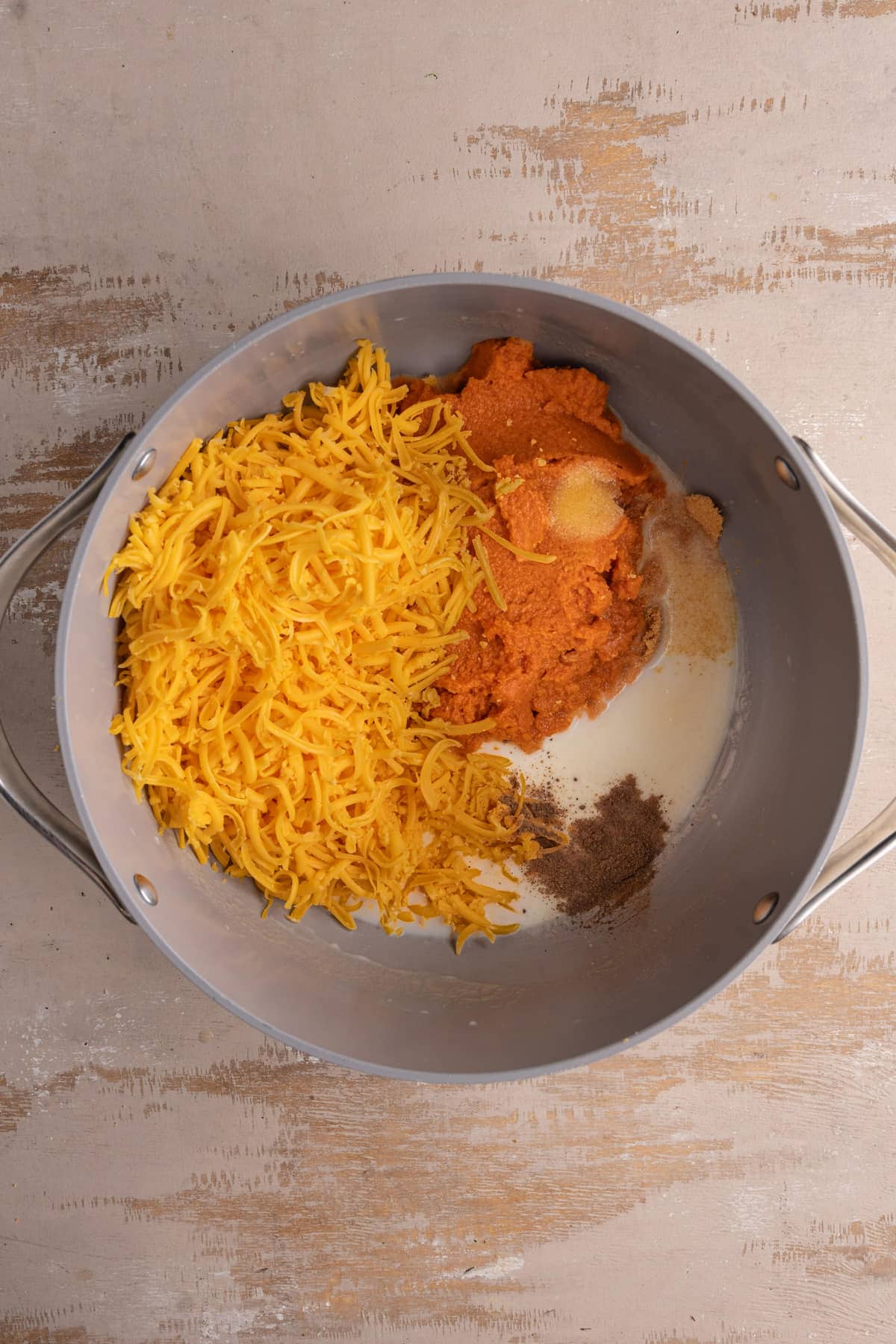 Stir in the Cooked Macaroni
Once your macaroni is cooked and strained, add it to the pumpkin cheese sauce and use a spatula to stir to coat.
At this point you will have a thick sauce. Before baking, the sauce may not adhere to the macaroni how you want it to. But have no fear, it will become more cohesive in the oven.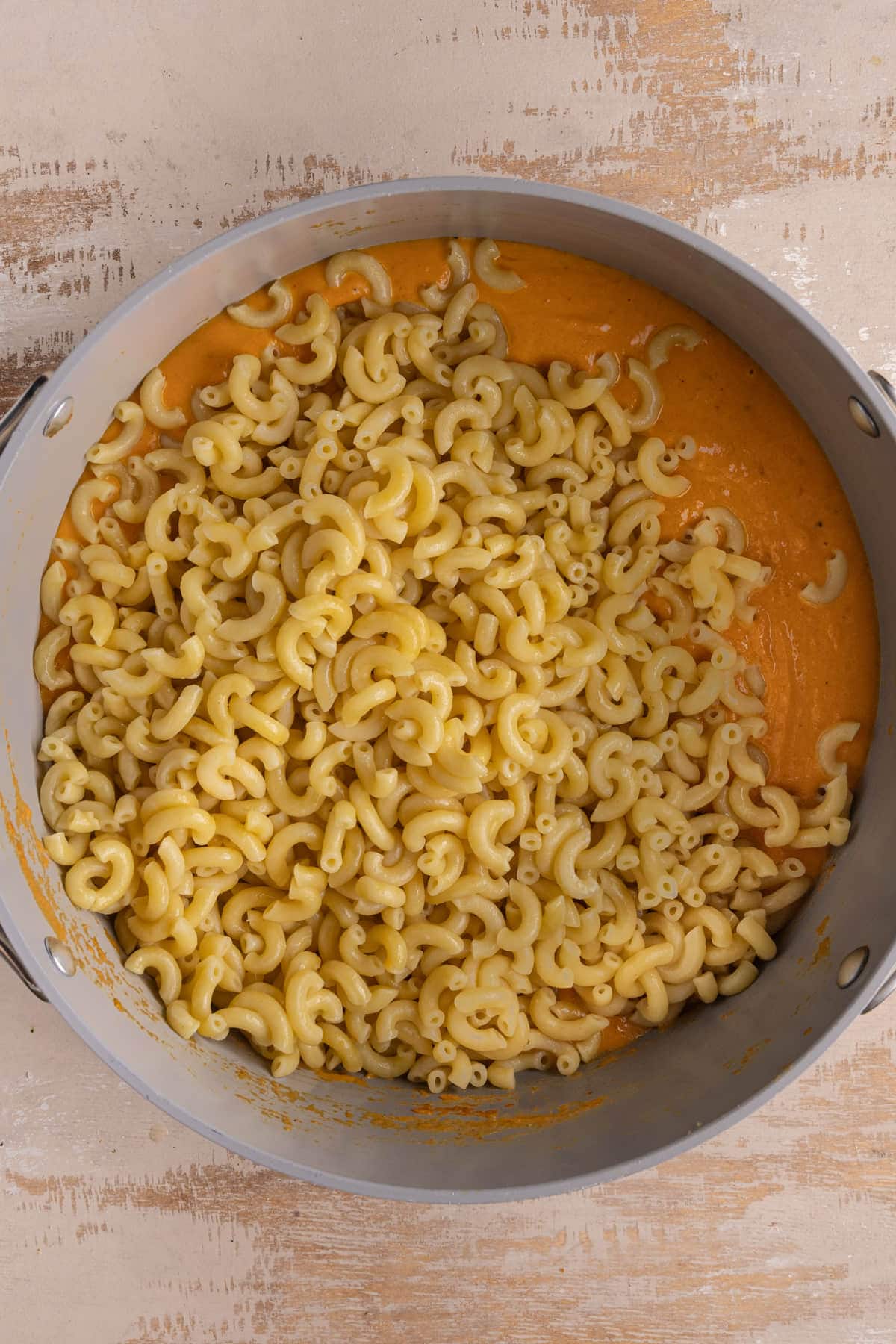 Add Extra Cheese on Top
Once you've stirred the pasta into the cheesy pumpkin pasta sauce, transfer the pumpkin mac and cheese to a 9×13 baking dish.
Add the cheese that you conserved to the top for an extra cheesy, melty finish.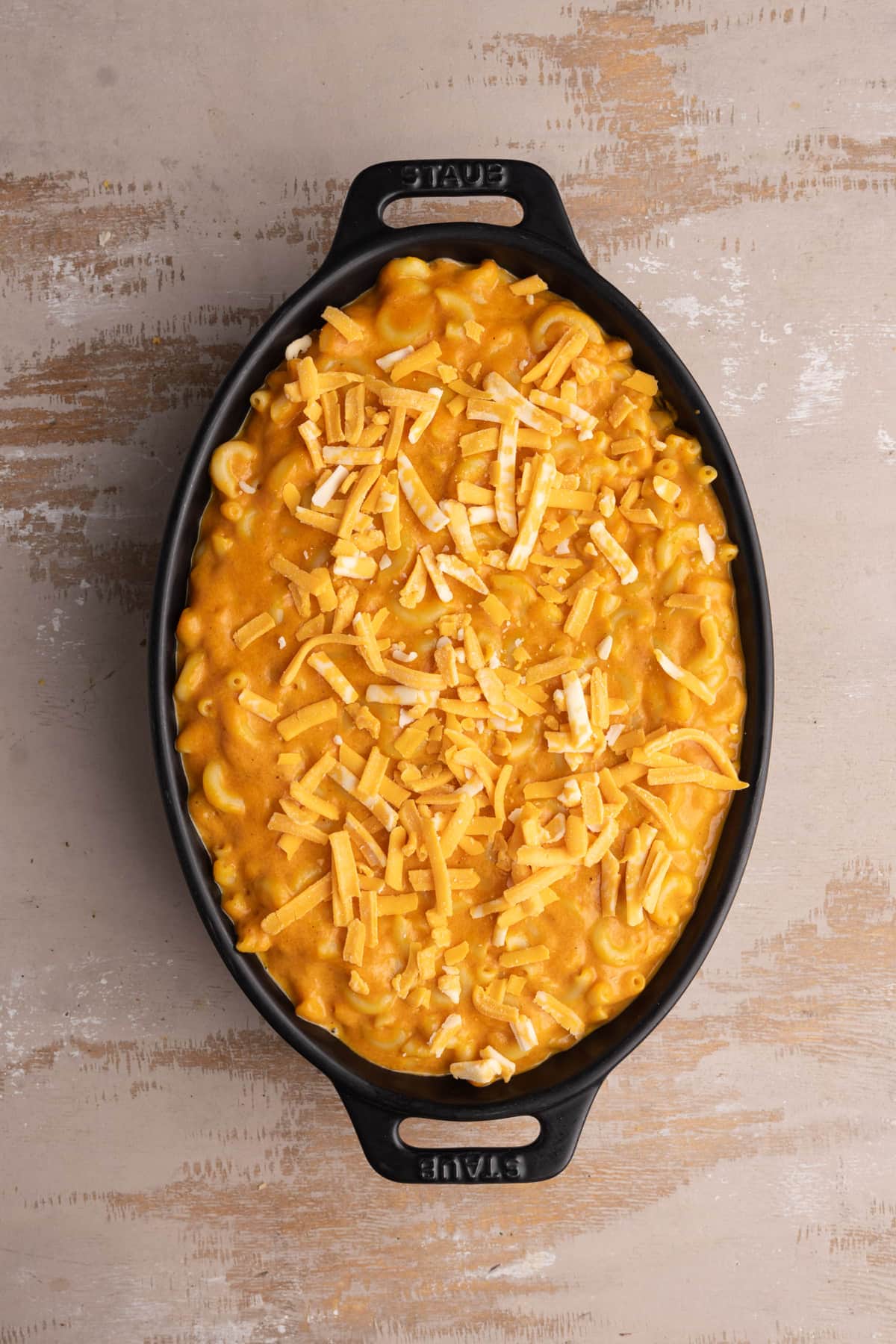 How to Perfectly Bake Mac and Cheese in the Oven
Now that your pumpkin macaroni and cheese is ready for the oven, all that's left to do is bake it! Bake at 350°F for 15 minutes, then set your oven to broil to finish it off.
Keep your pumpkin mac in the oven under the broiler just until the cheese on top starts to brown. Make sure you watch closely, as it can go from bubbly to burnt really fast!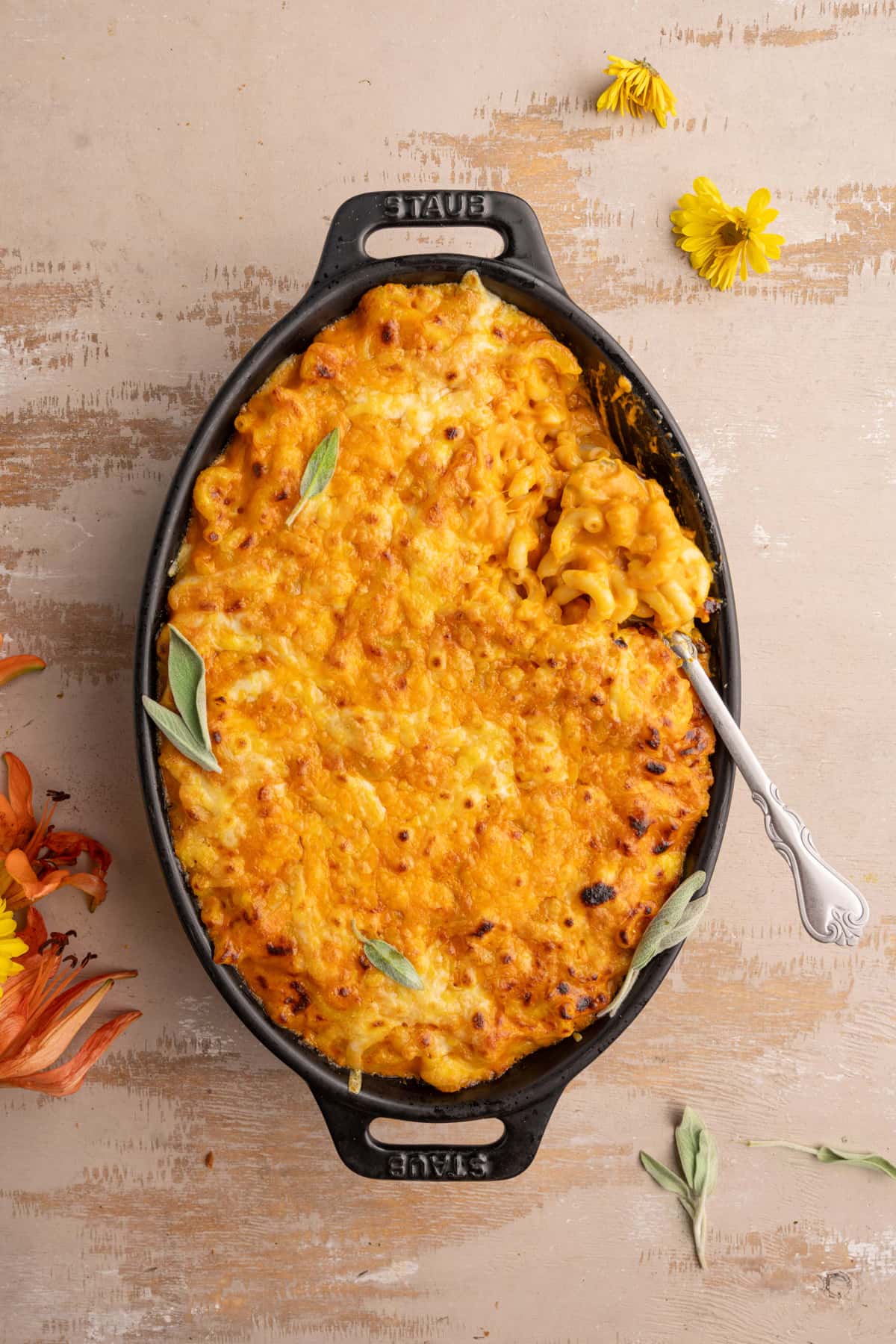 Pumpkin Macaroni and Cheese Serving Ideas
This Macaroni and Cheese with Pumpkin is a whole meal all on its own! But if you want something fun to serve it up with, here are my favorite mains and sides to serve with this creamy cheesy delight:
Mains:
Crispy Blackened Mahi-Mahi. A flavorful seafood dish featuring fillets of Mahi-Mahi coated in a blend of bold spices and herbs, seared to create a charred and aromatic crust.
Grilled Portobello Mushroom Steak. A hearty and savory vegetarian option with meaty portobello mushrooms marinated, grilled to perfection, and served as a substantial and flavorful "steak" alternative.
Pistachio Crusted Salmon. A delectable fusion of textures and flavors, coupling succulent salmon fillets with a crunchy and nutty pistachio crust.
Sides:
How to Properly Store and Reheat Mac and Cheese with Pumpkin Puree
This baked pumpkin mac and cheese can absolutely be saved and reheated. Store leftovers in an airtight container for up to 5 days or freeze them for up to a year.
Reheating is as easy as adding the portion you want to reheat to an oven-safe dish and adding 1 tablespoon of milk per serving you are reheating. Then, cover it with aluminum foil and reheat in the oven preheated to 350°F for about 20-30 minutes.
For a much quicker but less optimal reheating option, you can use the microwave. Add the milk as instructed above with the mac and cheese in a microwave-safe bowl, cover, and heat on high in 45-second intervals, stirring in between until heated through.
Green tip: Of the billions of tons of food wasted annually, 50% of food waste happens at home. Reduce your contribution to food waste by properly storing, reheating, and consuming leftovers.
Pumpkin Mac and Cheese Frequently Asked Questions
---
What cheese goes well with pumpkin?
My favorite cheeses to pair with pumpkin are cheddar cheese and Parmesan cheese as the saltiness in these cheeses balances out the natural subtle sweetness of pumpkin.
What is a popular cheese for mac and cheese?
The most popular cheese for a classic mac and cheese is undoubtedly cheddar, though many mac and cheese recipes use a blend of cheeses. You'll often see cheddar cheese mixed with Colby jack, gruyere, or gouda.
Want to sharpen your kitchen skills?
Why You Should Make this Easy Baked Pumpkin Mac and Cheese
---
It's cheesy. Between the pumpkin cheese sauce and broiled melty cheese layer on top, this recipe is sure to make cheese lovers rejoice!
The flavors are balanced. Subtle sweetness from the pumpkin is the perfect balance to naturally salty cheddar.
It's unique. Not that mac and cheese needs anything more to be absolutely delicious, but a fun twist on a classic is always welcomed, especially when that twist involves pumpkin!
If you're loving this Easy Baked Pumpkin Mac and Cheese and want more cheesey carbs, check out this Easy Cheesy Pasta Bake and this Meatless Lasagna!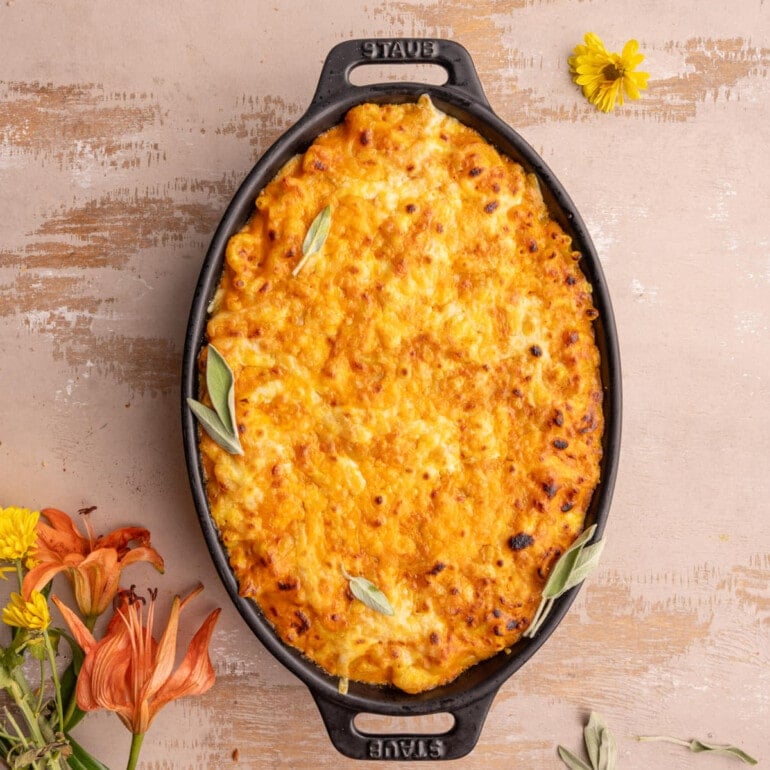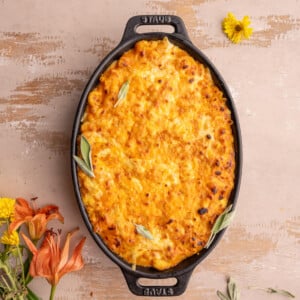 Easy Baked Pumpkin Mac and Cheese
PRINT
PIN
RATE
This Easy Baked Pumpkin Mac and Cheese takes creamy macaroni and cheese and infuses it with the rich and comforting flavors of pumpkin.
Ingredients
16

ounces

macaroni

(or any short pasta)

2

tablespoons

unsalted butter

2

tablespoons

all-purpose flour

1

cup

milk

(dairy or unsweetened plant-based)

16

ounces

cheddar cheese

(I used sharp cheddar)

15

ounces

pumpkin puree

(15 oz = 1 can pumpkin puree)

½

teaspoon

garlic powder

¼

teaspoon

nutmeg

¼

teaspoon

black pepper

¼

ounce

fresh sage

(optional for garnish)
Instructions
Preheat your oven to 350°F.

Cook your macaroni al dente according to the instructions on the packaging.

To a large pot over medium heat, add the butter and flour. Form a roux by heating and whisking until the butter is melted and it is combined with the flour.

Add the milk and whisk to combine.

Set aside about ½ cup of cheese for the top and add the rest along with the pumpkin puree, garlic powder, nutmeg, and black pepper. Continue to heat and stir until cheese is completely melted and you have a thick sauce.

Add the cooked macaroni to the cheese sauce and stir to coat. Transfer to a 9×13-inch oval or rectangular casserole dish and top with the cheese you set aside.

Bake for 10 minutes, then turn your oven up to broil. Watch closely and remove when the top starts to brown.

Garnish with fresh sage (optional) and serve hot.
Pro Tips
This pumpkin mac and cheese is best reheated in the oven at 350°F for 20-30 minutes. Add the portion you want to reheat to an oven-safe dish with a splash of milk, cover, and place on the top rack.
For more mac and cheese, check out this Brie and Gouda Mac and Cheese and this Classic Macaroni and Cheese. 
And if you're craving more pumpkin, you gotta carve your way across to my Favorite Pumpkin Recipes!
Did you make this recipe?
Let me know by leaving a recipe rating below, or by tagging @marleysmenu on Instagram.